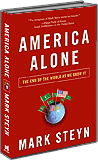 All this week we're observing the tenth anniversary of my bestselling book America Alone: The End of the World as We Know It by revisiting some of the early reaction. You can find the first part of this series here, and the second here. For this third episode, here's the "of course" passage that got me in hot water with the totalitarian hacks of Canada's "human rights" commissions:
You can argue about what these trends mean, but surely not that they mean absolutely nothing, which is what the complaceniks assure us. On the Continent and elsewhere in the west, native populations are aging and fading and being supplanted remorselessly by a young Muslim demographic. Time for the obligatory "of courses": Of course, not all Muslims are terrorists - though enough are hot for jihad to provide an impressive support network of mosques from Vienna to Stockholm to Toronto to Seattle. Of course, not all Muslims support terrorists – though enough of them share their basic objectives (the wish to live under Islamic law in Europe and North America) to function wittingly or otherwise as the "good cop" end of an Islamic good cop/bad cop routine. But, at the very minimum, this fast-moving demographic transformation provides a huge comfort zone for the jihad to move around in. And in a more profound way it rationalizes what would otherwise be the nuttiness of the terrorists' demands. An IRA man blows up a pub in defiance of democratic reality – because he knows that at the ballot box the Ulster Loyalists win the elections and the Irish Republicans lose. When a European jihadist blows something up, that's not in defiance of democratic reality but merely a portent of democratic reality to come. He's jumping the gun, but in every respect things are moving his way.

You may vaguely remember seeing some flaming cars on the evening news toward the end of 2005. Something going on in France, apparently. Something to do with – what's the word ? – "youths". When I pointed out the media's strange reluctance to use the M-word vis a vis the rioting "youths", I received a ton of e-mails arguing there's no Islamist component, they're not the madrassah crowd, they may be Muslim but they're secular and westernized and into drugs and rap and meaningless sex with no emotional commitment, and rioting and looting and torching and trashing, just like any normal healthy western teenagers. These guys have economic concerns, it's the lack of jobs, it's conditions peculiar to France, etc. As one correspondent wrote, "You right-wing shit-for-brains think everything's about jihad."

Actually, I don't think everything's about jihad. But I do think, as I said, that a good 90 per cent of everything's about demography. Take that media characterization of those French rioters: "youths". What's the salient point about youths? They're youthful. Very few octogenarians want to go torching Renaults every night. It's not easy lobbing a Molotov cocktail into a police station and then hobbling back with your walker across the street before the searing heat of the explosion melts your hip replacement. Civil disobedience is a young man's game.

Now ponder that bland statistic you heard a lot in the news reports: "about ten per cent of France's population is Muslim". Give or take a million here, a million there, that's a broadly correct 2005 statistic - as far as it goes. But the population spread isn't even. And when it comes to those living in France aged 20 and under, about 30 per cent are said to be Muslim and in the major urban centers about 45 per cent. If it came down to street-by-street fighting, as Michel Gurfinkiel, the editor of Valeurs Actuelles, points out, "the combatant ratio in any ethnic war may thus be one to one" – already, right now. It is not necessary, incidentally, for Islam to become a statistical majority in order to function as one. At the height of its power in the eighth century, the "Islamic world" stretched from Spain to India yet its population was only minority Muslim. Nonetheless, by 2010, more elderly white Catholic ethnic frogs will have croaked and more fit healthy Muslim youths will be hitting the streets. One day they'll even be on the beach at St Tropez, and if you and your infidel whore happen to be lying there wearing nothing but two coats of Ambre Solaire when they show up, you better hope that the BBC and CNN are right about there being no religio-ethno-cultural component to their "grievances".
A few weeks ago, I chanced to visit the beach at St Tropez: The infidel whores are still wearing nothing but two coats of Ambre Solaire, but between them patrol heavily-armed guardians of the French state. It is, as I told Bill O'Reilly on Fox News, both a sad sight and an absurd sight. Granted that, ten years after America Alone, almost every activity in France now takes place under military or paramilitary protection, the beach is an odd choice of hill to die on. But then, as Churchill said, "We shall fight on the..." - and now they do: So all around the burkini wars rage, and up the coast from St Trop 85 people were killed on the Promenade des Anglais. Their murderer was a Soldier of Allah armed with nothing but a truck. As I wrote in my book a decade ago:
The enemies we face in the future will look a lot like al-Qaeda: transnational, globalized, locally franchised, extensively outsourced – but tied together through a powerful identity that leaps frontiers and continents. They won't be nation states and they'll have no interest in becoming nation states, though they might use the husks thereof, as they did in Afghanistan and then Somalia.
...and Syria, and Iraq and Libya and Yemen and...
As for us "right-wing shit-for-brains who think everything's about jihad", here's the latest to join the club:
President Hollande has admitted 'France has a problem with Islam' and warned that the country's national symbol will one day be a woman in a burka.
In rare moments of honesty, even a socialist Euro-sophisticate can sound like a right-wing shit-for-brains. I just wish he'd got there a little earlier: the ten years since America Alone has mostly been a wasted decade.
For all I got right, though, Scaramouche thinks there was one big thing I got wrong:
There's one thing, however, that not even Steyn could have predicted, and it rather negates the title of his book. At this stage, in the eighth year of Obama's term, America does not stand alone. In fact, it hardly stands at all. Instead, it fudges and equivocates and indulges in suicidal fantasies about the true nature of Islam/jihad/sharia. And, terrifyingly for Israel and its supporters, Obama has manifested a bizarre man-crush for Iran's Ayatollah, a leader who has been given free rein by a pusillanimous, submissive, appeasing America to pursue his dreams of hegemony and genocide.

"America Alone"? As if.
It's true I didn't foresee the election of a president openly in favor of global retreat via the express checkout. But America Alone's thesis did acknowledge where the hyperpower's defeatist elites might lead us:
The Russians and the Chinese face down the road Muslim problems of their own, but figure that for the moment the jihad is America's problem and it's in their interest to keep it that way. As for India and other well-disposed nations who in essence share America's view of the Islamist threat, you hear increasingly doubts about Washington's will to see this thing through. If you're watching John Kerry and Harry Reid and Jack Murtha and Ted Kennedy and Nancy Pelosi and Dick Durbin on CNN International all week long, you can't blame Indians and Singaporeans and Danes and Dutch for questioning American credibility. At some stage, that will reach a kind of tipping point, and even friendly nations will feel inclined to reach their accommodations with alternative forces. America has to use its moment, or lose it.
It chose to lose it. The Russians are back in the Middle East. The Iranians are a de facto nuclear power and back in the bosom of the "international community". And the Chinese are all over the Pacific and Africa. Everyone's now "reaching their accommodations with alternative forces": welcome to the post-American world. Indeed, in November's election, the choice is between a candidate committed to Obama-style ineffectualism (wrecking countries - Libya, Syria - and then mass-importing their refugees) and a candidate committed to repudiating Bush interventionism. Outside a couple of magazines and think-tanks, there are few takers for the burdens of a world in which everything is America's responsibility and everything is America's fault.
That quote above comes from one of the first interviews I did for the book - with Kathryn Jean Lopez in National Review:
LOPEZ: North Korea may have tested a nuke this weekend. Couldn't that in and of itself be "The End of the World as We Know It?"

STEYN: Absolutely. People say Kim Jong Il's a joke who doesn't know what he's doing. But who do you want with nukes? A functioning nation state capable of rational calculation of its strategic interests? Or a kook who can barely operate the thing? Robert D. Kaplan refers to the failing parts of the map as "Indian territory," which is a cute joke but misses the point, in that it presupposes that these rogue states will naturally be brought within the bounds of the civilized world. The opposite is happening. We're seeing the reprimitivization of parts of the planet, but with a wrinkle: Primitive basket-case nothing states that can't feed their own people are now nuclear powers. There'll be a lot more of that in the years ahead.

LOPEZ: The press materials for your book announce that "Not since Samuel P. Huntington's 1996 release The Clash of Civilizations and the Remaking of World Order has there been a book this compelling and this important." All that?

STEYN: Actually, I never saw that press release. And now you mention it I'm furious they didn't say the most compelling and important book since Gibbon's Decline and Fall of the Roman Empire at least. What kind of cheeseparing publicity department damns their own author with faint praise about the most compelling book merely of the last decade? It's hardly my place to do the big butch "If you only read one book this year" commercial, and if I did I'd probably make do with "If you only read one book this year make it ...the new Harry Potter. But if you read three a week you might consider getting to this one round about the eighth month." But, all fake modesty on my part aside and with whatever caveats are necessary to avoid class-action suits from disappointed readers, I don't think there are many books that consider demography in geopolitical terms. There are certainly social scientists who've written about reversing birth-rate declines through proposed new entitlements, etc. But I don't know many books that look at demography strategically: What happens when a society's fertility rates are in steep decline and a replacement population is moving in (as in Europe)? What happens when a failing nation has deathbed demography and nothing to slow the fall other than initiatives that are likely to be strategically disruptive to the peace of the world (as in Russia)? That sounds to me like one of the most compelling and important books of the next 48 hours, assuming Paris Hilton hasn't got one coming out...

LOPEZ: You talk a lot about demographics and Muslims. What's so wrong with more Muslims in the West?

STEYN: The short answer is: in theory, nothing. But we're talking about immigrants with a strong sense of identity emigrating to countries with virtually no sense of their own identity. And the history of the last few decades in Europe is that, when you're raised in the nullity of cultural relativism and invited to despise the inheritance of the land whose citizenship you hold, you look elsewhere for identity: The modern multicultural identity is too weak to have any purchase on most people, and so some of them look elsewhere and find the jihad. Not all of them, but enough. The man behind the Daniel Pearl beheading, the Tube bombers, the Torontonians plotting to behead the Canadian prime minister: these are all citizens of the west — British subjects born and bred, second- and third-generation — but their primary identity is not British, or French or Belgian. My book argues that Islamism is merely the first of many post-nationalist identities to threaten the nation state.

LOPEZ: The war on terror is a civil war in Europe already? Is there any hope for our friends across the pond?

STEYN: Yes, to this extent. The first Western European nation to collapse into total civic breakdown over its fundamentally contradictory bicultural tensions will, I hope, concentrate the minds of others. The best sign that you're about to go over the waterfall is if the canoe 200 yards ahead suddenly disappears. That gives you a chance at least to pull for shore.
You see that already on the Continent. One reason for Hungary and Poland's firmness on Muslim migration is that they see where France and Germany are, and don't want to go there. To one degree or another, Merkel's madness was also part of the Brexit background, as clear an example as we've had of a major western nation "pulling for shore" (and, indeed, personally potentially lucrative for me).
Kathryn invited me to wrap up with a big thought:
There is no "stability": history is always on the move and if you're just standing on the escalator you better be pretty sure it's headed in your direction... My bottom line in America Alone is that long wars can't be left to even the best militaries. Armies don't win wars, nations win wars — and that's especially true of long existential struggles. The pacifying of the Sunni Triangle can be left to the Third Infantry Division. But the recovery of civilizational confidence — which is the real long-term battlefield — is something every American needs to get real about.
We'll see how that goes in November. You can read the full interview here.
~Readers and viewers enjoyed our reprise of Part One and Part Two of Michelle Malkin's ten-year-old interview with me re America Alone. So here's Part Three:
~For a musical accompaniment to our anniversary observances, don't forget to swing by our Song of the Week department.
If you haven't read America Alone during its first ten years, well, you're missing a treat. It's still in print in hardback and paperback, and personally autographed copies are exclusively available from the SteynOnline bookstore.