In case you missed it, here's a moment from this year's Mark Steyn Christmas Show that Mark especially enjoyed. Linda Purl in seasonal song with a medley of "God Rest Ye Merry, Gentlemen" and "Santa Claus Is Coming To Town":
As viewer Sal tweeted to Linda:
My wife and I just happen to be watching The Mark Steyn Christmas Show this morning and listening to you sing was awesome!
Indeed. Linda has been a fixture on American TV screens from "Happy Days" to "The Office", "Matlock" to "Homeland", and later in the show she and Mark looked back on a few of her many telly Yules, including this Christmas episode of "Happy Days" with Linda, her fiancé Fonzie, played by Henry Winkler, and the late Heather O'Rourke all under the mistletoe: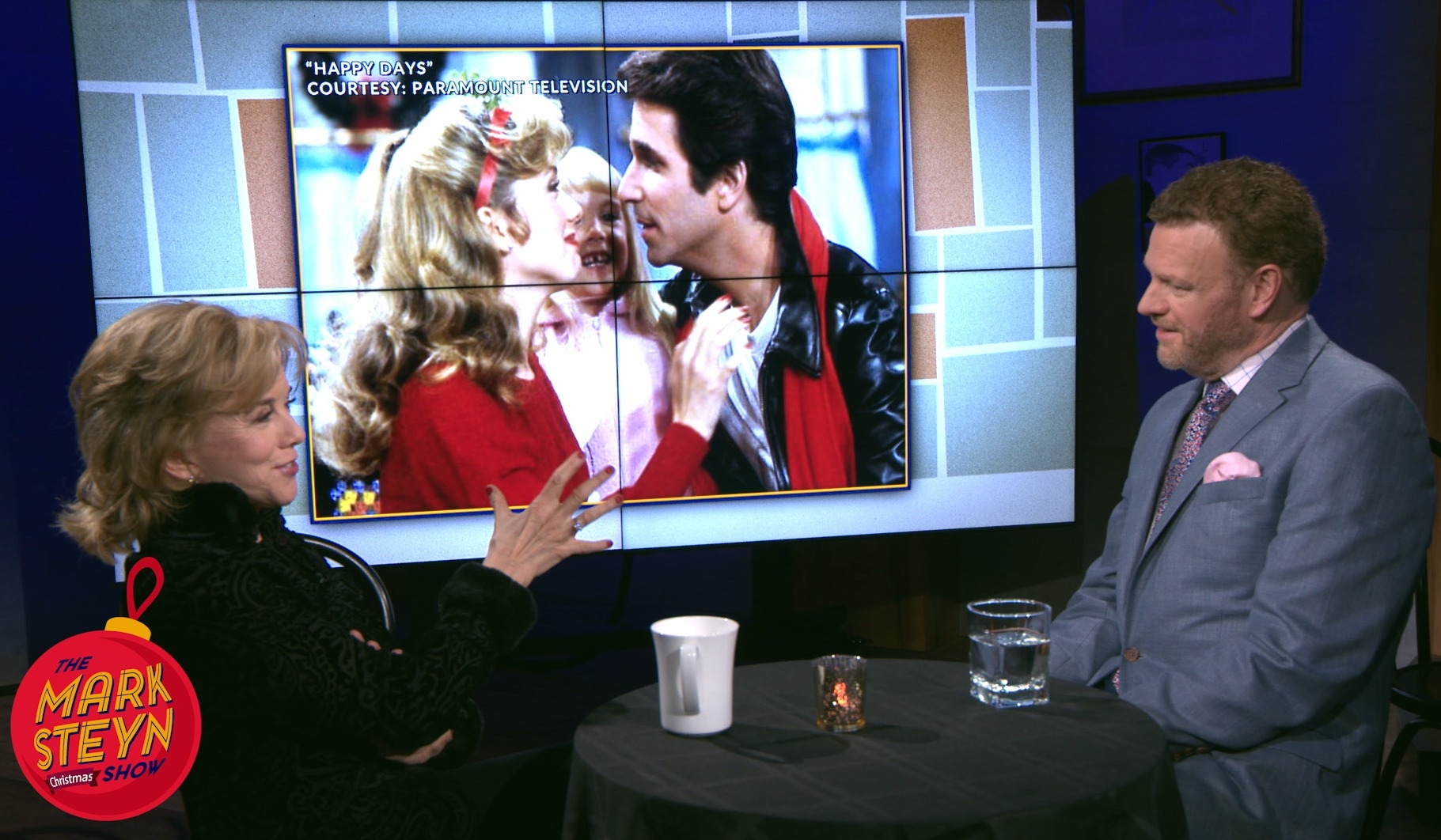 This year's Christmas Show also included:
~Dame Siân Phillips, last heard of round these parts reprising her Tony-nominated performance as Marlene Dietrich in our Frank Loesser special, remembering Dylan Thomas and "A Child's Christmas In Wales";
~jazz guitarist Russell Malone with a Yuletide surprise for Mark;
~the story of Snowflake Bentley, an unlettered Vermont farm boy who discovered one of the most widely known scientific facts about our winter wonderland;
~the great Irish tenor Anthony Kearns singing the most haunting of his native land's Christmas carols;
~Denis and Agnès from the Owl's Bread boulangerie in Quebec helping Steyn enjoy some bootleg bûche de Noël;
~and Mark and the girls celebrating the return of a favorite bioluminescent larva.
As this satisfied viewer tweets:
Great Christmas special - traditional music and stories and a great pastry to boot!
We'll try to post a few other moments from the show over this Christmas weekend.
PS For some ghosts of Christmas past, from the Nineties and Oughts, join Mark and Hugh Martin, composer of "Have Yourself A Merry Little Christmas", Elisabeth von Trapp of the beloved singing family immortalized on stage and screen, America's homemaker Martha Stewart, a brace of hit lyricists Don Black and Tim Rice, the star of the Oscar-winning film Barbarian Invasions, Dorothée Berryman, and many more here.