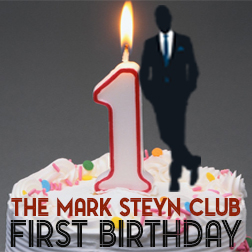 Welcome to the launch of the second season of our monthly audio adventures, Tales for Our Time. This is the fifteenth of our radio serials, and we're starting year two with the author who kicked off this series last May: Arthur Conan Doyle.
Our very first Tale for Our Time was Sir Arthur's cracking yarn of an early conflict between jihadists and westerners: The Tragedy of the Korosko, a story that remains one of our most popular serializations. But, of course, Conan Doyle is best known as the creator of Sherlock Holmes and so, to close out The Mark Steyn Club's first-anniversary observances, I thought we'd offer a bonus two-parter, a little known short story of 1917 in which the great detective takes "His Last Bow".
As I've emphasized since we launched The Mark Steyn Club last year, our regular content - all my daily commentary, cultural and geopolitical essays, our weekend movie and music features, SteynPosts and On the Town and all the rest - will always be free to everyone around the planet. In fact, every week we now offer more free content than at any point in our fifteen-year history. But we have spent the last year letting Club members in on a few experimental features which, in the event they turn out sufficiently non-incompetent, we might eventually make more widely available. Tales for Our Time is one such experiment: If you're not a Club member, or you are but you've never partaken of this series, you can hear what you're missing in our first-birthday Tales for Our Times sampler, a 75-minute audio special hosted by me and including excerpts from some of our ripping yarns of the last year - not only Conan Doyle, but also Joseph Conrad, H G Wells, Anthony Hope, Jack London, Rudyard Kipling, Scott Fitzgerald and Robert Louis Stevenson. Nancy Wenlock found it a fun anthology:
Mark,

Your sampler was indeed a joy! Hearing those snippets again, with the music of each story, was such a delight! You are a genius at composing anew from past creations. I certainly hope your club membership is growing by leaps and bounds. Hats off to you for each and every type of content you create. Really boggles the mind!
Thank you, Nancy. Much appreciated. So we hope you'll heed Nancy's rave review, and give our sampler a whirl. And, if it whets your appetite, you can find the above authors and a half-dozen more collected here.
This weekend's birthday bonus to kick off our second season features Holmes and Watson, but not engaged in solving a conventional crime. The clue to what's really at stake is in the season in which this story is set - the summer of 1914:
It was nine o'clock at night upon the second of August--the most terrible August in the history of the world. One might have thought already that God's curse hung heavy over a degenerate world, for there was an awesome hush and a feeling of vague expectancy in the sultry and stagnant air. The sun had long set, but one blood-red gash like an open wound lay low in the distant west. Above, the stars were shining brightly, and below, the lights of the shipping glimmered in the bay. The two famous Germans stood beside the stone parapet of the garden walk, with the long, low, heavily gabled house behind them, and they looked down upon the broad sweep of the beach at the foot of the great chalk cliff in which Von Bork, like some wandering eagle, had perched himself four years before. They stood with their heads close together, talking in low, confidential tones. From below the two glowing ends of their cigars might have been the smouldering eyes of some malignant fiend looking down in the darkness.
Another clue that this is no mere detective mystery is in Conan Doyle's sub-title: "The War Service of Sherlock Holmes". To hear Part One of "His Last Bow", prefaced by my own introduction to the tale, please click here and log-in.

We launched The Mark Steyn Club a year ago, and I'm overwhelmed by all those members across the globe who signed up to be a part of it and then enthusiastically re-subscribed this past month - from Fargo to Fiji, Vancouver to Vanuatu, Cook County to the Cook Islands, West Virginia to the West Midlands. As I said at the time, membership isn't for everyone, but it is a way of ensuring that all our content remains available for everyone. None of it's going behind a paywall, because I want it out there in the world, being read and being heard and being viewed, and maybe changing an occasional mind somewhere along the way.
However, we are offering our Club members a few extras, including the opportunity to join us at sea on the inaugural Mark Steyn Club Cruise, on which, among other highlights, I'll be doing a live Tale for Our Time. I'm truly thrilled to see that our nightly radio serials have proved one of the most popular of our Club extras these last twelve months. I did do a little professional story-reading a zillion years ago, so, if these fancies tickle you, we may release them as audio books on CD or Audible a ways down the road. But for the moment it's an exclusive bonus for members. If you've enjoyed our monthly Steyn Club radio adventures and you're looking for a present for a fellow fan of classic fiction, I hope you'll consider our limited-time-only Club Gift Membership. Aside from Tales for Our Time, The Mark Steyn Club does come with other benefits:
~Exclusive Steyn Store member pricing on over 40 books, mugs, T-shirts, and other products;
~The opportunity to engage in live Clubland Q&A sessions with yours truly (such as this coming Tuesday's);
~Transcript and audio versions of The Mark Steyn Show, SteynPosts, and our other video content;
~My video series of classic poetry;
~Priority booking for the inaugural Mark Steyn Club Cruise from Montreal to Boston;
~Advance booking for my live appearances around the world;
~Customized email alerts for new content in your areas of interest;
~and the opportunity to support our print, audio and video ventures as they wing their way around the planet.
To become a member of The Mark Steyn Club, please click here - and don't forget that special Gift Membership. As soon as you join, you'll get access not only to "His Last Bow" but to all the other audio adventures listed below.
One other benefit to membership is our Comment Club privileges. So, whether you like this fifteenth Tale for Our Time or think my reading skills are less than elementary, my dear Watson, then feel free to comment away below. And do join us tomorrow for the concluding episode of "His Last Bow".
For previous Tales for Our Time, click below:
#1: The Tragedy of the Korosko
by Sir Arthur Conan Doyle
#2: The Time Machine
by H G Wells
#3: The Secret Agent
by Joseph Conrad
#4: The Prisoner of Zenda
by Anthony Hope
#5: The Cat That Walked By Himself
by Rudyard Kipling
#6: The Diamond as Big as the Ritz
by F Scott Fitzgerald
#7: The Rubber Check
by F Scott Fitzgerald
#8: A Christmas Carol
by Charles Dickens
#9: Plum Duff
by Mark Steyn
#10: To Build a Fire
by Jack London
#11: The Overcoat
by Nikolai Gogol
#12: The Thirty-Nine Steps
by John Buchan
#13: The Strange Case of Dr Jekyll and Mr Hyde
by Robert Louis Stevenson
#14: The Man Who Would Be King
by Rudyard Kipling