Just ahead of my appearance in Toronto this Friday for the very first George Jonas Freedom Award, I checked in with the great John Oakley at Toronto's Global News Radio 640 - about twenty minutes after a huge thunderstorm blew through town. Up for discussion were Trump, Trudeau and tariffs, the North Korea summit, and Lindsay Shepherd's decision to sue her tormentors at Wilfrid Laurier University. Click below to listen:
Lindsay Shepherd, as you may recall, was a guest on The Mark Steyn Show a few weeks ago. Another Steyn Show guest, Lionel Shriver, has just been sacked as a short-story judge for pointing out the ruthless uniformity of diversity in the publishing industry. QED and all that.
~On Thursday the Inspector General's report will supposedly be released south of the border. After its elephantine pregnancy, it may be a wee undernourished thing upon delivery, but we shall mull it over on "Tucker Carlson Tonight" live across America.
~As mentioned, I'll be in Toronto this Friday for the Justice Centre for Constitutional Freedoms' George Jonas Freedom Award gala. It's a great honor to be given an award named for a man head and shoulders above any other Canadian essayist. The big beano, at the Eglinton Grand, should be a splendid night, and if you're in Southern Ontario or even Buffalo (it's a zippy 90 minutes up the QEW) I look forward to seeing you there. You can find more information here.
While we're doing Canadian social notes, the other night I had the great pleasure of accompanying ma très chère amie Patsy Gallant to a special gala at the beautiful Chalet du Mont Royal honoring Patsy and the distingushed actress Andrée Lachapelle with the Prix Hommage Québecor. We had more fun than at the G7, that's for sure. As always in Quebec, it was a mix of popsters and politicians, but our resident boomer-pop expert from Los Angeles, Dan Hollombe, will be envious to hear that Chantal Renaud (of "Plattsburgh Drive-In Blues" fame) was among those in attendance, along with her hubby, the former premier Bernard Landry. The band were great, and Patsy was prevailed upon to do as she has done since she was three years old, and climb on the table and sing - a little disco, and a little Piaf. In the picture below, that's me at far right. I'm not sure if it's before or after Patsy's Prince Harry joke about me (which the crowd seemed to enjoy):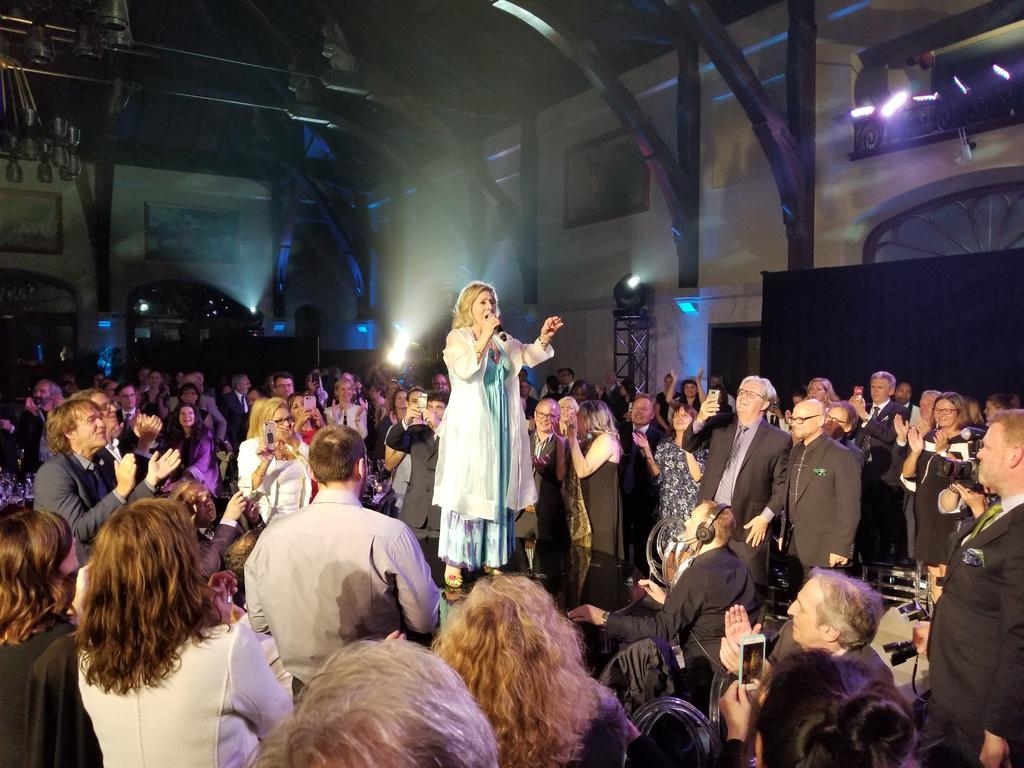 As Québecor's head honcho, Pierre-Karl Peladeau, put it, Mme Gallant "a volé le show". (For our anglo Canucks, Québecor were the guys who started Sun News in Toronto, which enlivened the northern telly scene for an, alas, all too brief moment.) If you'd like to hear Patsy sing Piaf, here she is with the Steyn Show band on a video edition of our Song of the Week from last year.
~Speaking of Dan Hollombe, à propos our recent double-bill of Charles Strouse pick-me-ups - "Put On a Happy Face" and "(The sun'll come out) Tomorrow" - he writes:
Greetings Mark,

It's strange how from 1964 through 1968 there were dozens of covers of 'This Is The Life,' most notably by Matt Monro, Marvin Gaye and Jody Miller. It looked like it was well on its way to becoming a standard, but for some reason, slipped into relative obscurity by the time the Johnson administration was winding down. To the best of my knowledge, it's never been revived by anybody of any note on any (Fill In The Blank) Sings The Great American Songbook album or CD. Perhaps all those fancy chord changes in the bridge simply make it too difficult for the average Joe to hum along to.

I'm not really all that familiar with Charles Strouse's oeuvre other than that this, Bye Bye Birdie and Dino Desi & Billy's goofy novelty recording of 'Superman', but I will be checking out some of his less successful stuff over the next few days. Anyone who's got at least two or three great tunes in him has probably got more than a few hidden gems as well.

Best Wishes,
Dan in Los Angeles

P.S. Has anyone ever thought about composing a musical about Barney Rubble? He also has no eyeballs, which frankly I've always found a bit disturbing, seeing as his wife, his son and his pet hopparoo do have them.
That Matt Monro version of "This Is The Life" is a great record, and it's a splendid piece of music, but I think it's pretty obvious why the song never became "It Had To Be You" or even "Strangers in the Night". Dan's written many times to say he's principally interested in the music of a song, which is as it should be: "The first requirement of good lyrics is good music," as the late Alan Jay Lerner told me a zillion years ago. Good music can overcome less good lyrics ("The Man I Love" and any number of other Gershwin songs), but sometimes the wrong lyric can scuttle a great tune. "This Is The Life" isn't a love song, but about living the life - a rich man's life:
Nothing but class
That's how its gonna be
This Is The Life
For me...
But, even as a song about "nothing but class" and having it all, it's an outmoded vision of "the life":
House at the beach
Dinners at 21
Head waiters smile
When you walk in
Hand-tailored suits
Shirts with your monogram
Feel of real silk
Next to your skin...
I don't think I've been to 21 since they removed the requirement to wear a tie, but, even so, it's hard to imagine Bob Dylan (on his ongoing record-every-standard-ever-written project) ever singing that. Today's rich - Bill Gates, Mark Zuckerberg, Cary Katz - wear jeans and baseball caps, not "shirts with your monogram". So it doesn't even work as an aspirational vision. Charles' music is great, and Lee Adams' lyric works in the show (Golden Boy), but it's not something any middle-aged rocker looking for a piece of the standards action is interested in singing.
~On the other hand, if you're interested in silk shirts with a Mark Steyn Club monogram we may introduce them as a specialty item over at the Steyn T-shirt emporium. The Mark Steyn Club celebrated its first anniversary last month, and, if you're finally getting round to maybe perhaps possibly considering becoming a member, please see here - and don't forget our limited-time Gift Membership. At the dawn of our second year, we are grateful for the support of all our friends around the world - from London, Ontario to London, England, via Longueuil, Londonderry, and Long Beach - and look forward to welcoming many more in the years ahead.