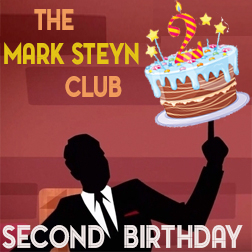 On the eve of The Mark Steyn Club's second birthday, thank you for all the re-subscriptions and kind words about our convivial club. Jeffrey, a First Day Founding Member from Illinois, writes:
Congratulations on two successful years... I proudly support you and your wonderful work.
From the southern hemisphere, Chris and Heather, First Weekend Founding Members from Queensland:
Thank you Mark, we very much appreciate your hard work.
Arizona Club member P Gao likes the atmosphere:
It's a pleasure to come to this site like a favorite bookstore -- one of the charming used bookstores with leather-bound editions shelved in the corners, and books that aren't found anymore in libraries even, with evening public readings and interesting discussions. Very happy to pay for an oasis of cool and calm, free of the visual and audio ad irritants that plague other sites.
And one more:
Mark, thanks for the 2nd year. I'm looking forward to Year 3! Please put the Feline Groovy cover on a T-shirt and/or coffee mug. SFR
Now there's an idea.
Meanwhile, welcome to Part Ten of our current Tale for Our Time - H G Wells' thrilling adventure on The Island of Dr Moreau. In tonight's episode, Prendick addresses the blemishes and flaws in Moreau's hybrid creations:
Most striking, perhaps, in their general appearance was the disproportion between the legs of these creatures and the length of their bodies; and yet—so relative is our idea of grace—my eye became habituated to their forms, and at last I even fell in with their persuasion that my own long thighs were ungainly. Another point was the forward carriage of the head and the clumsy and inhuman curvature of the spine. Even the Ape-man lacked that inward sinuous curve of the back which makes the human figure so graceful. Most had their shoulders hunched clumsily, and their short forearms hung weakly at their sides. Few of them were conspicuously hairy, at least until the end of my time upon the island.

The next most obvious deformity was in their faces, almost all of which were prognathous, malformed about the ears, with large and protuberant noses, very furry or very bristly hair, and often strangely-coloured or strangely-placed eyes. None could laugh, though the Ape-man had a chattering titter. Beyond these general characters their heads had little in common; each preserved the quality of its particular species: the human mark distorted but did not hide the leopard, the ox, or the sow, or other animal or animals, from which the creature had been moulded. The voices, too, varied exceedingly. The hands were always malformed; and though some surprised me by their unexpected human appearance, almost all were deficient in the number of the digits, clumsy about the fingernails, and lacking any tactile sensibility.

The two most formidable Animal Men were my Leopard-man and a creature made of hyena and swine. Larger than these were the three bull-creatures who pulled in the boat. Then came the silvery-hairy-man, who was also the Sayer of the Law, M'ling, and a satyr-like creature of ape and goat. There were three Swine-men and a Swine-woman, a mare-rhinoceros-creature, and several other females whose sources I did not ascertain. There were several wolf-creatures, a bear-bull, and a Saint-Bernard-man. I have already described the Ape-man, and there was a particularly hateful (and evil-smelling) old woman made of vixen and bear, whom I hated from the beginning. She was said to be a passionate votary of the Law.
I dunno. There's worse things than a woman who's half-vixen half-bear. Members of The Mark Steyn Club can hear this latest installment simply by clicking here.
You can enjoy The Island of Dr Moreau episode by episode, night by night, twenty minutes before you lower your lamp. But, alternatively, do feel free to binge-listen: you can find all the earlier installments here.
If you've yet to hear any of our first twenty-five Tales for Our Time, you can do so by joining The Mark Steyn Club. Or, if you need a special gift for someone, why not give your loved one a Gift Membership and start him or her off with a couple of dozen cracking yarns? And don't forget to join us tomorrow for our official birthday, and another episode of H G Wells' classic.