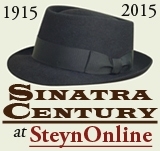 Frank Sinatra was born 100 years ago - December 12th 1915 in Hoboken, New Jersey - and we're celebrating all weekend long. Click on the links below for a cornucopia of print and audio delights:
The recording artist
SINATRA CENTURY
Mark celebrates the songs of one man's life and of the 20th century. Our century of very good years begins here - and continues all the way up to Song #99 and Song #100.
The live performer
ON STAGE WITH SINATRA
A two-part audio special in which Mark talks to Frank's longtime pianist and conductor Vincent Falcone about the creation of such memorable Sinatra moments as "New York, New York" and "The Gal That Got Away". You can hear Part One here and Part Two here.
The songwriter's best friend
THE SONG IS YOU
From the Steyn archives, the great composers and lyricists talk to Mark about creating the songs that Sinatra sang. In Episode One Mitchell Parish, Phil Springer and Betty Comden and Adolph Green recall "Stardust", "Sweet Lorraine", "Stars Fell On Alabama", "How Little We Know", "Lonely Town" and "New York, New York". In Episode Two Irving Caesar, Ann Ronell and Alan Jay Lerner share some insight into "Tea For Two", "Willow, Weep For Me", "Almost Like Being In Love", "I Could Have Danced All Night" and "On A Clear Day You Can See Forever". In Episode Three Alan Bergman recalls how he and his wife Marilyn wrote "Nice 'n' Easy", the wildest nursery rhyme "Ol' MacDonald", and a bevy of other Sinatra favorites.
The actor
HEEL, HIPSTER, LONER, LOSER
Mark considers Sinatra's film career - and then, in a special audio feature, he and the late Celeste Holm look back on a memorable musical with Frank, Bing, Satch, and not-quite-Princess Grace: HIGH SOCIETY.
plus
ON THE TOWN
From the SteynOnline vault, some memorable audio specials celebrating the legacy of some of the great songwriters:
SAMMY CAHN ALL THE WAY
Sammy wrote more Sinatra songs than anybody else - "All The Way", "The Tender Trap", "Come Fly With Me", and on and on. In this centenary salute, Sammy and Jule Styne talk to Mark, and we hear plenty of Frank all the way to the last dance.
JOHNNY MERCER
Frank Sinatra sang Mercer songs right to the end - "Blues In The Night", "Come Rain Or Come Shine", "One For My Baby". In this two-part celebration, we'll hear those and many more. Part One is The Quality of Mercer. Part Two is One For The Road.
CARL SIGMAN
Carl Sigman isn't a famous songwriter like Cahn or Mercer, but Sinatra liked him, and recorded a lot of his songs, including "What Now, My Love?", "A Day In The Life Of A Fool" and "The World We Knew". In this show we hear Frank singing all kinds of Sigman, from the goofy "Bongo bongo bongo" to the sublime "I Could Have Told You".
Have fun prowling around the site, and enjoy the music this birthday weekend. There won't be a popular music recording legacy like this again.
~For Mark's original 1998 obituary of Frank, "The Voice", can be found in the anthology Mark Steyn From Head To Toe, while you can read the stories behind many other Sinatra songs in Mark Steyn's American Songbook. Personally autographed copies of both books are exclusively available from the SteynOnline bookstore.