Here's my take on some of those who left us these last twelve months. It's not a comprehensive list: "People die non-stop," as the late Diana Mosley used to say to me with a sigh, and that's very true. My first farewell of 2017 was actually for a lady who took her leave at the end of 2016, collapsing while planning her daughter's funeral:
Like the MGM memorabilia all around her, she stayed old Hollywood. 'Don't I look great?' she'd say. And she did, until the end. She worked hard at it, harder than her daughter did. She worked harder at looking great than at motherhood - at least according to Carrie's account in Postcards From The Edge. But it wasn't quite Mommie Dearest, and Debbie seemed to have a professional respect for it as a good career move, like her own front-yard appearance after her husband's betrayal. She was a brilliant raconteuse - Shirley MacLaine captures that rather well, if more than a little maliciously, in the film of Postcards - and she passed on to her daughter an appreciation of the embellishments and refinements effective storytelling needs. And, while Debbie Reynolds was always going to put herself at the center, as the years went by, she helped bring Carrie back from the edge. Five years ago, she decided to sell her movie memorabilia, because she wanted her and her kids - Todd and Carrie - to enjoy life before they got too old. By then she and her daughter had found a modus vivendi. Last Tuesday and Wednesday they found a modus moriendi, eerie and fantastical and with a final line - 'I want to be with Carrie' - as memorable as any she ever uttered on screen. The word 'trouper' is grossly abused, but Debbie Reynolds was one, trouping, trouping, trouping until one bleak Christmas morning-after, when she decided to hang up the tap shoes and exit.
My last farewell of 2017 came yesterday, on The Rush Limbaugh Show, when I recounted my all-time favorite Don Rickles anecdote - and indeed what may be my all-time favorite showbiz anecdote. So my obituaries policy is a bit haphazard. But in between Reynolds and Rickles came the following - just a good dinner-party mix of princes, mass murderers, and a few odd figures I ran into over the years, variously recalled in print, audio or video, according to circumstance. Click on the links for more:
PRINCE ABDUL-RAHMAN BIN ABDULAZIZ AL SAUD, a not so favored son of Ibn Saud's favorite wife
Abdul-Rahman was a longtime Deputy Defense Minister, whose catering company, by happy coincidence, held the catering contract for the Defense Ministry. The first Saudi prince to be educated in the west, he was a bit of a cranky curmudgeon in later years, mainly because of changes to the Saudi succession that eliminated any possibility of him taking the throne. But he nevertheless held a privileged place as the son of Ibn Saud, the man who founded the "nation" and stapled his name to it. When I say "the son", I mean a son: Ibn Saud had approximately 100 kids, the first born in 1900, the last over half-a-century later, in 1952, a few months before ol' Poppa Saud traded in siring for expiring.
ROGER AILES, television genius
The example he gave that day was from the Nixon campaign: The candidate was risk-averse and preferred the stump speech to go as planned. But Ailes knew his client better than he did himself. At the last minute, he'd go outside to the knot of protesters and tell them there were a few places still left for the event, and would anyone like a seat? Then he'd pick the three smelliest hippiest-looking hippies and usher them in to the seats that (unknown to not-half-so-Tricky Dick) he'd held for them. When they started barracking Nixon, the presidential candidate would round on them and slap them down brilliantly and devastatingly, the very embodiment of a no longer silent "silent majority". It made for great TV, and it also perked Nixon up no end. As a buoyant re-charged candidate walked off-stage, he'd put his arm around Ailes and growl: "Thought that went well tonight. Really stuck it to the hippies."
CHUCK BERRY, guitarist and rock'n'roll lyricist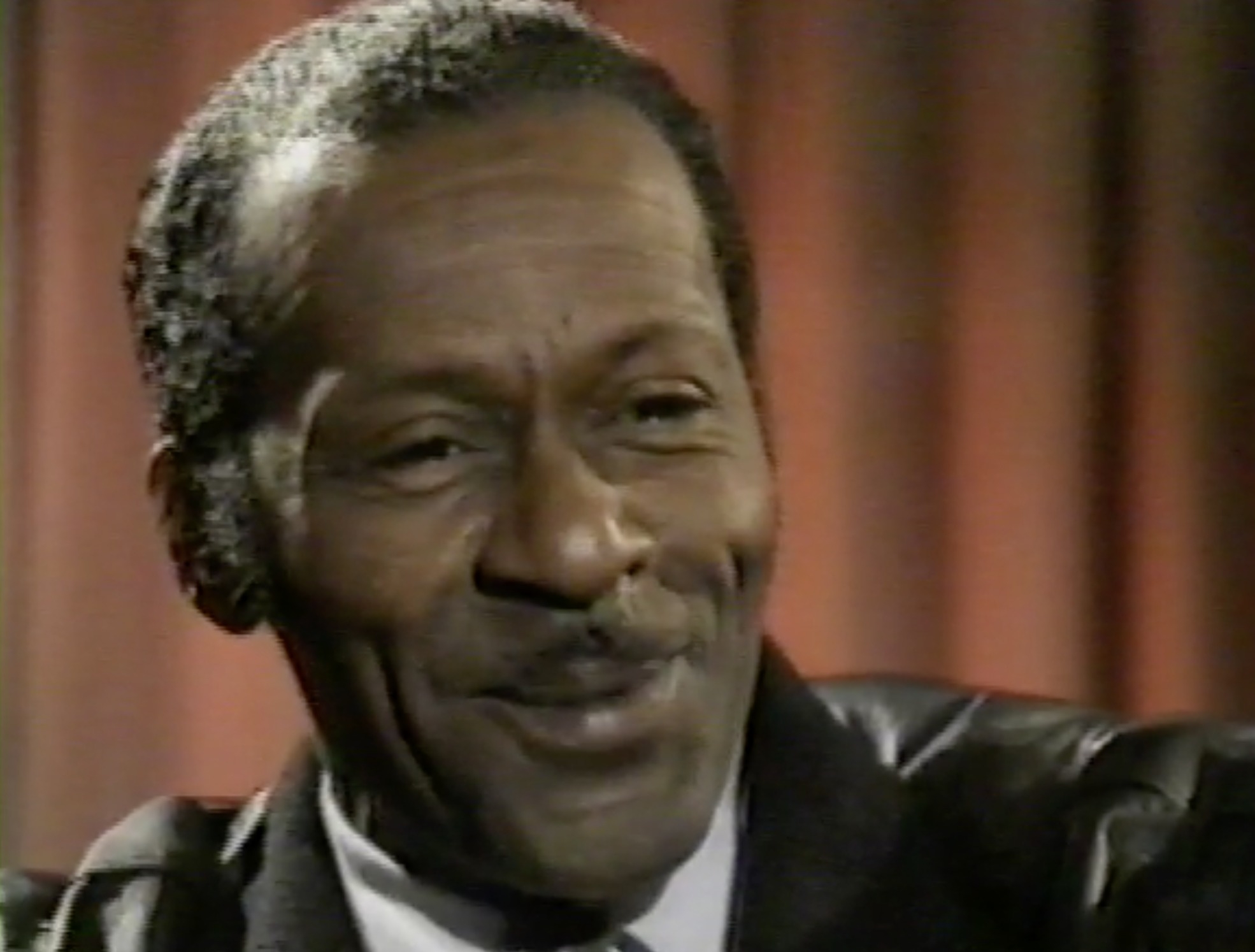 Chuck Berry, looking sharp on the day Mark met him
GLEN CAMPBELL, singer and guitarist
"Strangers In The Night" had a huge impact on the guy playing that "chinking rhythm guitar", too. He was a fellow called Glen Campbell. At the time, he was a session guitarist with no particular interest in singing. "I'd never really paid that much attention to it, because I'm really a musician at heart. Singin' was, like, secondary," he said. "But when I heard the way he phrases, I said, 'Wow, that's really cool.'" Playing the melody along with Sinatra, he started to notice the way the singer pushed certain words and held back on others. He was so fascinated by the vocal technique he couldn't take his eyes off Frank. At the end of the session, Sinatra said to Jimmy Bowen, "Who's the faggot on guitar?"
ALAN COLMES, Steyn's sometime co-host
FATS DOMINO, singer and pianist
The session's going pretty well. So well, in fact, that they run out of material. What to do with the remaining time? Fats has an idea. He's heard the Louis Armstrong record, and he'd like to take a crack at "Blueberry Hill". But he doesn't know the lyric. Harrison Verrett, the brother-in-law who'd taught him to play the piano almost two decades earlier, runs down the number with Fats. He works out an intro, starting with a bit of one-fingered piano in the right hand and ending with his distinctive forceful left-hand in the bass. But he's still having trouble with the words. Dave Bartholomew, for one, is adamantly opposed to Fats doing the song.
But off they go. They try it once, twice, again. And not once does Fats manage to get through a complete take. Bartholomew leaves the studio very despondent, and goes off to keep a dinner date with his boss, Imperial Records founder Lew Chudd. "Lew, I don't have nothing," he says,
VINCENT FALCONE JR, Sinatra's conductor
Two years ago I spoke to Vinnie (as Frank called him) about the genesis of "New York, New York" and many other aspects of his work with Sinatra. He was a big part of a very exciting time in the Sinatra stage act and of some of Frank's best records in that period, including the very biggest of all.
CHRIS de FREITAS, a principled climatologist on the receiving end of the hockey stick
He was a distinguished man in his field - until, in his capacity as editor of the journal Climate Research, he made the mistake of crossing Michael E Mann. "The Mann 'hockey stick' is nothing more than a mathematical construct," concluded Professor de Freitas. "Sufficient evidence exists to disprove it." That was enough to attract the ire of Mann and his cabal, and set in motion a campaign to ruin him.
HUGH HEFNER, eponymous playboy
CHRISTINE KEELER, the girl who brought down a government
By the time I met Christine, the vicissitudes of life had etched a lot more character into the face – ie, wrinkles – but she looked if anything more beautiful than in the iconic photograph of her naked and straddling an Arne Jacobson chair (or copy thereof), an image much parodied by everyone from David Frost to Homer Simpson. She had a kind of fragile sensuality, except when she opened her mouth and revealed a full set of Austin Powers choppers. She was living in poverty in a "council flat" (British for housing project) and had nothing to retail but those few months in the early Sixties, which she did incessantly to diminishing returns, updating her story according to whatever new "evidence" emerged, the most recent being a treasure trove of conspiracy-rich CIA reports positing Ward as a Soviet agent. For all she'd got from the attempts to cling to her celebrity, Miss Keeler might as well have joined Profumo at Toynbee Hall and done charity work for four decades.
Still, you could see why a red-blooded male would want to chase her naked round the pool at Cliveden.
MARTIN LANDAU, actor
In North by Northwest, James Mason's Vandamm does not want for minions, and almost all of them survive to the climax on Mount Rushmore. But Leonard is the one you remember - ever present, usually just behind Vandamm, invariably staring at him, often wearing a matching suit. That last was Hitchcock's idea - that Leonard should have smarter suits than Cary Grant's character. Don't ask me why: It's just one of those small details the director liked to throw in to prevent your assumptions about characters getting too predictable. So he sent the actor to see Grant's tailor, Quintino of Beverly Hills. A couple of weeks later, Landau arrives to shoot his payphone moment at LaSalle Street Station in Chicago, and gets there in the middle of Cary Grant's scene. So he stands in the middle of a crowd of Chicagoans who are watching all the comings and goings. He's hardly been there a few minutes when there's a tap on the shoulder, and he turns to find Grant's English valet behind him. "Only two people in the world make a suit like that," the guy says, unaware that Landau's in the film. "One's in Beverly Hills, the other's in Hong Kong. Mr Grant wants to know where you got yours."
In the midst of his scene with Eva Marie Saint, Cary Grant had somehow contrived to spot the only fellow in the crowd in a better suit than his.
BILL LEAK, fearless cartoonist
On my visit to Oz a year ago, Bill told me, in confidence (though he later went public with it), that as a result of death threats he and his family had been forced to leave their home, and live in a strange house in a new town under police protection. This is the life of an Australian artist in the 21st century: You exist in a kind of precarious semi-liberty. Having friends over for dinner is a gamble - because if a careless friend mentions it to a friend of a friend, you'll have to move again, to another house in another town, further and further away from what used to be your life. There is a price for not taking refuge in bland, self-flattering hooey about weeping pens mightier than swords.
JERRY LEWIS, comedian and survivor
His first films were made as one-half of "Martin and Lewis": the straight man got top billing, the comic was a child-man a decade younger. But young Jerry Lewis was the act's strategist, the guy who worried about scripts and directors, while Dean was content to string along. Jerry always called him "Paul", which was his middle name - Dino Paul Crocetti - as if to remind him that both the Anglified Dean and the Italiano Dino were stage versions of a guy who'd otherwise be a Steubenville schlub. At MGM, Louis B Mayer passed on the act: 'The guinea's not bad, but what do I do with the monkey?'
GEOFF MACK, songwriter of a worldwide hit
It has to be said that the list of Australian compositions taken up by non-Australian singers is not that long, and even shorter now that the entire Rolf Harris oeuvre has been eighty-sixed. So, by my arithmetic, "I've Been Everywhere" is the most recorded Australian song other than "Waltzing Matilda".
CHARLES MANSON, mass murderer
Failed singer/songwriter Charles Manson died yesterday, in prison at the age of 83. Showbiz-wise, he couldn't get arrested ...until he got arrested. But slaughtering Sharon Tate et al gave him enormous pop culture influence: Marilyn Manson and Spahn Ranch are among the performers who took their stage names from him and his cult. The BBC calculated a few years back that there are over 70 European bands who play his "songs". Back in the Nineties, I was with Martin Charnin, lyricist of Annie, who'd heard a rumor that Manson was about to release, from his gaol cell, a Christmas album. "Slay Ride?" I suggested.
MARY TYLER MOORE, sitcom star
ROGER MOORE, the definitive Saint and a boffo Bond
Moore belonged to the last generation of British thespians for whom it was assumed that acting meant presenting as posher than one's origins. Unlike Lord Brett, young Roger didn't go to Harrow but to Battersea Grammar School. He dad was a policeman who went to investigate a robbery at the home of Brian Desmond Hurst, a prolific director whose films include the all-time great, Alastair Sim version of A Christmas Carol. Constable Moore mentioned that his boy Roger quite fancied being an actor, and Hurst hired him as an extra for Caesar and Cleopatra (1945) and then paid for him to go to RADA. That's where he met a young actress called Lois Hooker from Kitchener, Ontario, who changed her name to Lois Maxwell and became the defining Miss Moneypenny. Young Lois and young Roger both poshed up at RADA - although, as snootier critics with more finely calibrated class consciousness were wont to observe, from his Saint days to Lord Brett to Bond he was Lew Grade's and Cubby Broccoli's idea of an English gentleman rather than the real thing.
WILLIAM SALICE, the man who brought Kinder Eggs to the planet (except America)
William Salice was the right-hand man to Michelle Ferrero, purveyor of Ferrero Rocher, Nutella and other fine Italian products and was tasked by the boss with finding a year-round use for the company's chocolate-egg molds then only used in the run-up to Easter. Mr Salice succeeded brilliantly, not just for the Italian market but all around the world - except Chile and the United States.
SAM SHEPARD, Broadway playwright and Hollywood actor
Shepard gives away the family secret in the title of Buried Child because it's not really a secret at all: everybody knows it, but they've all agreed not to talk about it. I often think of Shepard's scenario in a political context - for example, in the repulsive effusions that followed Ted Kennedy's death, in which Mary Jo Kopechne's corpse played the role of the dead baby everyone's agreed not to mention. One sees how easily respectable people - indeed, entire nations - can be made complicit in a lie.
THE EARL OF SNOWDON, society photographer of Swinging London
Anthony Armstrong-Jones was the first commoner to marry a British king's daughter in 400 years, and in 1960 his profession - "society photographer" - lent a dash of trendiness and modernity to the Royal Family. By the time of his death 57 years later, the first Earl of Snowdon, a prodigious swinger of Swinging London, seemed far more quaintly passé than any of the more conventional royal consorts. Serially unfaithful both to Princess Margaret and her successor as his countess, Tony Snowdon (as he liked to be known) fathered at least two illegitimate children and drove one lover to suicide. His tastes were varied but close to home: he is alleged to have had a fling with the Queen Mother's longtime page, Backstairs Billy Tallon. The "society decorator" Nicky Haslam claims affairs with both Lord Snowdon and the man who replaced him in Princess Margaret's affections, the "society gardener" Roddy Llewellyn.
~We will have more year-end observances as the weekend proceeds. There were others who took their leave in these last days, including Keely Smith, Rose-Marie and General Franco's daughter, and some of whom we may get to in the first days of 2018. But Mark Steyn Club members should feel free to add their comments on the departed of these last twelve months...