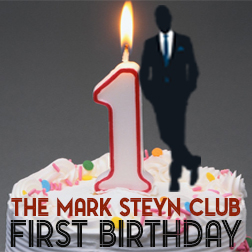 We have a cornucopia of entertainment for you this weekend at SteynOnline. Later tonight we'll be presenting our Mother's Day audio special. Also among our audio extravaganzas to mark the first anniversary of The Mark Steyn Club is a selection of Non-Stop Number Ones in which Mark talks to Paul Simon, Bananarama, Andy Williams, Lulu, Julio Iglesias and more about half-a-century of Number One hits.
Also for our first birthday we launched the first Mark Steyn Club Cruise - which prompted some gloomy predictions over on our Twitter feed. That in turn set Mark thinking about the heyday of the disaster movie. This essay is adapted from Steyn's book Mark Steyn from Head to Toe, personally autographed copies of which are exclusively available from the SteynOnline bookstore - and, if you're a Steyn Club member, don't forget to enter the promo code at checkout to receive special member pricing:
If any scene sums up the disaster-movie genre it's Shelley Winters (a great actress fallen among high-concept sharks) swimming underwater through a flooded corridor in The Poseidon Adventure, her cheeks puffed out like a blowfish, dress billowing up over flailing thighs. Newsweek ungallantly observed that she's "plump enough these days to sink an ocean liner all by herself", but Miss Winters declared that "I put on all this weight for the movie!" and her deal required the studio to pay for post-shooting sessions at a fat farm. If they did, they deserved a refund. Shelley stayed Poseidon-sized and (just when you thought it was safe to go back in the water) resurfaced in Tentacles, in which she got the better of a giant squid.
Unlike Shelley, the disaster movie itself shriveled away to nothing. It was the only new film genre to emerge from the 1970s, at least until Spielberg and Lucas inaugurated the age of the stand-alone summer blockbuster at the end of the decade. The Poseidon Adventure (made in 1972 by the veteran British director Ronald Neame) is usually reckoned to be the original disaster movie, although you could make a case that the prototype was San Francisco (1936), in which Jeanette MacDonald's singing sets off the 1906 'Frisco quake - and a quarter-century later Jan De Bont's attempted revival of the genre, Twister, preserved most of the essentials of the form for a new Nineties audience. But somehow, just as a Cole Porter song conjures the 1930s, so the very word disaster seems to evoke the Seventies. In these films, man's ambition is derailed by an appalling natural disaster - a ferocious tornado, a tidal wave, an erupting volcano, OJ Simpson's acting. À propos the last, unlikely as it seems, terrified people once placed 911 emergency calls and hoped OJ would turn up in time - as opposed to more recent times, when terrified people call 911 because OJ has turned up. But back in 1974, in The Towering Inferno, OJ was the fellow you cast if you wanted someone to play a security guard who rescues two children and a cat from a blazing bedroom.
It's always two kids. One is never enough. Shelley Winters established the tradition in The Poseidon Adventure, and, by the time Burgess Meredith carried a brace of moppets across a burning bridge in When Time Ran Out, it was de rigueur. By this stage, in defiance of the old showbiz saw about children and animals, most big-time movie stars were insisting on contractual guarantees that they be allowed to rescue two infants and a family pet. Invariably, going back for the dog proves the hero's undoing. In Twister's opening sequence, it's the pooch that does for dad.
That's the funny thing about the multi-million-dollar blockbusters of the Nineties vs the cheaper romps of the Seventies. The new school spent a fortune re-creating all the clichés we took for granted forty years ago. For example, Twister has the bit where the telegraph lines come down and electric wires dance in lethal convulsions across the highway - just like Earthquake (1974). There's also the moment when some humdrum everyday item becomes technologically vital. In Twister, it's Coke cans - which, frankly, is a bit tame. In Earthquake, in the midst of the rubble that has buried the green of every lawn, the sole surviving Lorne Greene barks at his secretary: "Take off your pantyhose, dammit!" And, with her nylons providing the final crucial link in an elaborate pulley system, he ferries everyone to safety. I'll bet today they'd CGI the nylons in in post-production,
By the way, when I say Lorne Greene "ferries everyone to safety", well, obviously it's not everyone. Traditional examples of the genre are like a sort of all-star balloon debate, in which the best a supporting actor can hope for is to hang in there a little longer than his billing merits. Irwin Allen, father of the disaster movie, made his first all-star grab-bag in 1957. In The Story Of Mankind, Hollywood's biggest names played history's most fascinating figures: Hedy Lamarr as Joan of Arc, Harpo Marx as Sir Isaac Newton, Dennis Hopper as Napoleon. By the Seventies, he'd figured out that there was far more money to be made getting Hollywood's biggest names to play cardboard characters of no interest whatsoever. As far as casting is concerned, the trick is to match the star with the most unsuitable occupation: Dean Martin as a pilot, Charlotte Rampling as a marine biologist, Jacqueline Bisset as anything. And if you're wondering what all these people do in a volcanic eruption or a dam burst, that's easy: they work out their personal problems. Nothing like dodging molten lava to fix up your marriage or cure you of substance abuse.
The Nineties revival didn't mess with this convention: at the start of Twister, Helen Hunt and Bill Paxton are on the brink of divorce; luckily, a huge tornado blows in and reconciles them. Nothing like a hurricane or burning skyscraper or sinking ocean liner to make you realize that, all things considered, your loveless marriage could be a lot worse. That said, I regret the Nineties disasters didn't preserve the MadLibs approach to all-star casting: Helen Hunt is a pleasant enough actress from a nondescript sitcom; Bill Paxton is one of those actors you never remember, or, if you do, it's because you're mixing him up with Bill Pullman (the one in Independence Day).
As the presence of Shelley Winters in Tentacles confirmed, the Seventies disaster movie spawned an even more lucrative sub-genre in underwater disasters – deep-sea epics of fish with chips on their shoulders. In the wake of Jaws came Barracuda, Tintorera, Orca and The Deep. Eighties environmentalism left the fish pic beached by the tides of political correctness - so we wound up with Free Willy, in which the killer whale is the good guy. Fish aside, the problem with the genre was that there was only room for one movie per disaster. Irwin Allen recognised this in 1974. While he was adapting a book called The Glass Inferno, he learned that Warners had bought the rights to a similar book called The Tower. Cannily, he suggested a merger: The Towering Inferno. Variety suggested they go a stage further, combining The Towering Inferno with Earthquake and calling it Shake'n'Bake. Disaster movies spluttered on until When Time Ran Out (1980), by which time it had.
Typically, the British didn't notice, and it fell to Lew Grade to make the most spectacular disaster movie ever: Raise the Titanic! "It would have been cheaper if we had," remarked Lord Grade afterwards. It lost $29.2 million, which would have made it the all-time box-office disaster. But Grade's film was so disastrous that even that distinction eluded it: the same year, 1980, Heaven's Gate came along and blew $34.2 million. Raise the Titanic! wasn't just a disaster of a disaster movie, but, even as a disaster of a disaster movie, it was a disaster.
After Lew Grade went down with all hands, Hollywood didn't recover its sea legs until James Cameron's boffo Titanic. Sure, everyone loves Kate Winslet and Leonardo DiCaprio, but be honest: wouldn't you rather see the Titanic come a cropper running into Shelley Winters and that giant squid?
~The above is adapted from Steyn's book Mark Steyn from Head to Toe, personally autographed copies of which are exclusively available from the SteynOnline bookstore - and, if you're a Mark Steyn Club member, don't forget to enter the promo code at checkout to receive special member pricing on this and over forty other books, CDs and other products.
For more information on the inaugural Mark Steyn Club Cruise, see here. In this anniversary season of The Mark Steyn Club, we would like to thank all those first-week Founding Members who've decided to sign up for another year, and hope that our first-fortnight Founding Members will want to do the same this coming week. Club membership isn't for everybody, but it helps keep all our content out there for everybody, in print, audio, video, on everything from civilizational collapse to our Saturday movie dates. And we're proud to say that this site now offers more free content than ever before.
What is The Mark Steyn Club? Well, it's a discussion group of lively people on the great questions of our time; it's also an audio Book of the Month Club, and a live music club, and a video poetry circle. We don't (yet) have a clubhouse, but we do have many other benefits. And, if you've got some kith or kin who might like the sound of all that and more, we do have a special Gift Membership that makes a great birthday present. More details here.
~We'll have a bonus Sunday edition of Mark at the Movies tomorrow - and for more Steyn Club first anniversary celebrations, please see:
Clubland Q&A
Birthday Bash
Steyn's Song of the Week
Happy Birthday to You
A Clubman's Notes
Year Two Begins
On the Town
Non-Stop Number Ones