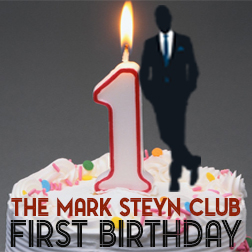 If you missed our livestream Clubland Q&A earlier today, here's the action replay. Simply click above and settle back for an hour of my answers to questions from Mark Steyn Club members around the planet. On today's show we chewed over, among many other topics, which Russian dirt attracts prosecution and which doesn't; blackmail and black robes; the hollowing out of pop-culture icons; the loss of civilizational confidence; varieties of theocrat; and a word on the late Tom Wolfe, author of Bonfire of the Vanities.
Along the way, we also celebrated the first anniversary of The Mark Steyn Club and deplored CRTV's scofflaw deadbeat sleazebag self-suing bum of a CEO, Cary Katz. As listeners know, a few weeks ago the CRTV vs Steyn case finally ended, with CRTV's total defeat and my victory. Katz, is now openly defying two judges and has vowed never to pay what he owes. Which is why tomorrow I'll be in Las Vegas, in Clark County District Court. I understand that there is an overlap between aficionados of SteynOnline and fans of certain of the CRTV hosts, but you would be better off suggesting to the latter that they man up to their seedy boss and advise Katz to do the right thing and comply with the New York Supreme Court's decision. You cannot draw sweet water from a foul well, and right now Katz's fetid sewage is dripping all over CRTV.
But enough of such unpleasantness. On this Steyn Club first birthday, I prefer to focus on our growing band of members around the planet who've kept me in the game through what was the worst year of my professional life. It's over now, but I wouldn't be here if it weren't for you. I shall never forget that, and I look forward to meeting you on our inaugural Club Cruise this autumn. If you're not yet a member but you're minded to consider signing up, you can find out more info here - and don't forget, for any Steyn fans among your loved ones, there's always our limited-time-only Gift Membership.
Thanks for all your questions today. If you like me in audio, we'll be launching a brand new Tale for Our Time this Friday. If you're one of that small, brave band who prefers me in vision, I'll be keeping my Thursday date with "Tucker Carlson Tonight" live from Vegas tomorrow night at 8pm Eastern/5pm Pacific.
~For more Steyn Club first anniversary celebrations, please see:
Clubland Q&A
Birthday Bash
Steyn's Song of the Week
Happy Birthday to You
A Clubman's Notes
Year Two Begins
On the Town
Non-Stop Number Ones
A Clubman's Notes
Announcing... The Inaugural Mark Steyn Club Cruise