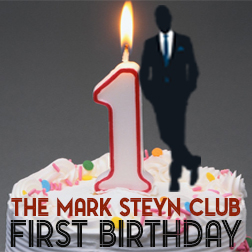 Welcome to the concluding episode of our latest Tale for Our Time - and the launch of our second year of audio adventures. We've gone back to the writer we started with when we began this series twelve months ago - Sir Arthur Conan Doyle, author of our protean jihadist caper The Tragedy of the Korosko. But this time we're going with his most famous creation, and a tale with the self-explanatory title "His Last Bow: The War Service of Sherlock Holmes", first published in 1917 in The Strand Magazine. Thank you so much for all your kind comments about this latest radio serialization. Mark Steyn Club Founding Member Steven Payne enthuses:
I love listening to Mark with his weird accent.
Er, thanks, Steven. As the concluding episode of His Last Bow begins, the German spy Von Bork is demonstrating to his accomplice the latest in Teuton technology:
'It's a double combination lock. You know what that is?'

'Search me,' said the American.

'Well, you need a word as well as a set of figures before you can get the lock to work." He rose and showed a double-radiating disc round the keyhole. "This outer one is for the letters, the inner one for the figures.'

'Well, well, that's fine.'

'So it's not quite as simple as you thought. It was four years ago that I had it made, and what do you think I chose for the word and figures?'

'It's beyond me.'

'Well, I chose August for the word, and 1914 for the figures, and here we are.'

The American's face showed his surprise and admiration.

'My, but that was smart! You had it down to a fine thing.'

'Yes, a few of us even then could have guessed the date. Here it is...'
If you're wondering when Holmes and Dr Watson are going to show up, well, hang in there. Members of The Mark Steyn Club can hear me read the conclusion of His Last Bow simply by clicking here and logging-in. Part One can be found here, and Elizabeth, a Steyn Club Founding Member from up the Hudson River Valley in New York, was one of those who enjoyed it:
Outstanding, Mark. As you say, we knew then who we were, and who were our enemies. Your reading of Conan Doyle's setting distinguishes for any listener the white hats from the black.

And the musical setting, too, is fine! What is it, and by whom composed?
That's Vaughan Williams' London Symphony, Elizabeth. It was composed in the year the story's set - 1914 - and I used the Scherzo, not only because its main theme seems to me to be great spy-mystery music but also because it's a bit of a sly joke. Vaughan Williams used to blow hot and cold on the programmatic aspects of this work, but he did once describe that third movement as intended to evoke what a chap might hear if he were "standing on Westminster Embankment at night, surrounded by the distant sounds of the Strand" - the Strand being a block north and full of grand hotels like the Savoy and lively dens of intrigue like Alexander Downer's Australia House. And, as I said, it's a crafty insider joke for me, because The Strand Magazine is also where this story was first published in 1917.
Tales for Our Time will return in a few days with something rather special as part of our first anniversary observances - and a few days after that with a birthday bonus.
I thank all those among our first-month Founding Members from May of 2017 who've decided to re-up for Year Two - and hope our second-month members from last June will feel similarly in the coming days. It means an awful lot to me - and we look forward to seeing at least a few of you on our inaugural Mark Steyn Club Cruise from Montreal to Boston this fall.
Meanwhile, if you're not a Club member or you've yet to hear any of our monthly capers, I've hosted a Tales for Our Time first-birthday sampler, in which I tie together some of the themes of this last year and present excerpts from our serializations of The Time Machine, Jekyll and Hyde, The Prisoner of Zenda, The Secret Agent and other highlights from our premiere season. We hope you'll give it a spin. Those and other audio adventures - by Jack London, John Buchan, Dickens, Gogol, Scott Fitzgerald and more - are all available to you upon joining The Mark Steyn Club. For details on membership, see here - and, if you're seeking the perfect present for a fellow fan of classic fiction, don't forget our limited-time Steyn Club Gift Membership. Alternatively, if you'd like a book in old-fashioned book form, over at the SteynOnline bookstore there are bargains galore among our Steynamite Special offers.
And with that we conclude our first birthday celebrations. On to Year Two.
~For more Steyn Club first anniversary celebrations, please see:
Clubland Q&A
Birthday Bash
Steyn's Song of the Week
Happy Birthday to You
A Clubman's Notes
Year Two Begins
On the Town
Non-Stop Number Ones
A Clubman's Notes
Announcing... The Inaugural Mark Steyn Club Cruise
Clubland Q&A
Franchise Man vs Burqa Girl
Tales for Our Time
A King in Kafiristan
A Tales for Our Time sampler
The Mahdi and the Eloi
The Mark Steyn Club Birthday Competition
"Happy Day" Is Here Again