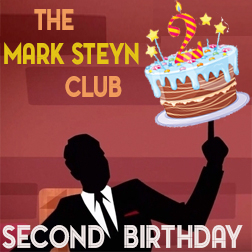 Just ahead of Episode Twelve of The Island of Dr Moreau, I want to thank all of you who've sent such kind second-birthday messages to The Mark Steyn Club. Liz, a New Jersey Founding Member, rightly gives credit to the vast unseen bloated workforce of slave labor that writes all my insights and aperçus:
You guys are amazing. The amount of brilliant content that comes out of your site is ... words fail me. I don't know if there's a legion of elf-like mini-Marks or if he just has the greatest staff ever, but you are truly appreciated. I never miss a moment. Thank you!!
Thank you, Liz. Great to have you with us for a third year. Beth, a First Week Founding Member from California, says:
So proud to be a member of this wonderful club! Thank you for everything, Mark! Looking forward to the cruise and another great year!
See you in Vancouver in September, Beth - and we'll be announcing our first Mediterranean cruise in a couple of days.
We do politics, pop songs, poems and a lot more at this shingle, and not everyone likes every thing. But once in a while you win someone over. Adrian, a First Week Founding Member, says his missus has momentarily warmed up to our musical offerings:
Thank you for all you do, it brings great joy to us. My wife, a classically trained musician, has been somewhat of a Steyn song skeptic, but you finally won her over yesterday by teaching her something new about her favorite composer (our pooch is named Shosty in his honor).
Glad to hear that, Adrian. See if you can train Shosty to trot to "Tahiti Trot".
Two years ago, when we launched this series of audio adventures, I have to confess the whole thing was somewhat hastily thrown together and gotten off the ground. So I'm very touched by your appreciation of this series in particular. From Jan, a First Week Founding Member from Texas:
Tales for Our Time is a genius concept. In today's world, how else is the current population of the planet going to be exposed to such timeless classics? For this and many other things, I thank you.
As you may have seen, Jan, to mark our second birthday we reconfigured our Tales for Our Time home page in a friendlier Netflix-type format that we hope will make it easier for you to pick out a favorite yarn of an evening. Another New Jersey member, Michael Cavino, likes the new look:
The new home page is fantastic.

With two young children at home, I don't have much time to read these classics as I did when I was younger. Thank you for keeping me on top of these classic with such entertaining readings!
My pleasure, Michael. And, speaking of which, let's get back to The Island of Dr Moreau, H G Wells' horrifying tale of what happens when you dissolve the thin line between man and beast. In tonight's episode, there is a breakout from Moreau's House of Pain:
I had risen and breakfasted early, having been aroused by the noise of three Beast Men carrying wood into the enclosure.

After breakfast I went to the open gateway of the enclosure, and stood there smoking a cigarette and enjoying the freshness of the early morning. Moreau presently came round the corner of the enclosure and greeted me. He passed by me, and I heard him behind me unlock and enter his laboratory. So indurated was I at that time to the abomination of the place, that I heard without a touch of emotion the puma victim begin another day of torture. It met its persecutor with a shriek, almost exactly like that of an angry virago.

Then suddenly something happened,—I do not know what, to this day. I heard a short, sharp cry behind me, a fall, and turning saw an awful face rushing upon me,—not human, not animal, but hellish, brown, seamed with red branching scars, red drops starting out upon it, and the lidless eyes ablaze. I threw up my arm to defend myself from the blow that flung me headlong with a broken forearm; and the great monster, swathed in lint and with red-stained bandages fluttering about it, leapt over me and passed. I rolled over and over down the beach, tried to sit up, and collapsed upon my broken arm.
If you're a member of The Mark Steyn Club you can hear Part Twelve of our serialization of The Island of Dr Moreau simply by clicking here and logging-in. All previous episodes can be found here.
~Membership in The Mark Steyn Club is not for everyone, but it helps support all our content - whether in print, audio or video - and keep it available for everyone, around the world. Indeed, we now provide more free content each week than ever before in our sixteen-year history. And, aside from Tales for Our Time, being a Steyn Club member does come with a few other benefits:
~Exclusive Steyn Store member pricing on over 40 books, CDs and other items in the Steyn store;
~The opportunity to engage in live Q&A sessions with yours truly;
~Transcript and audio versions of our video content, such as SteynPosts and The Mark Steyn Show;
~Comment Club privileges;
~Our Sunday series of video poetry and other specials;
~Advance booking for my live appearances around the world - including the forthcoming third Mark Steyn Club Cruise, and the Steyn/Dennis Miller double-act tour dates;
~Customized email alerts for new content in your areas of interest;
~and the opportunity to support our print, audio and video ventures as they wing their way around the world.
To become a member of The Mark Steyn Club, please click here - and don't forget our special Gift Membership.
Please join me tomorrow for Part Thirteen of The Island of Dr Moreau.