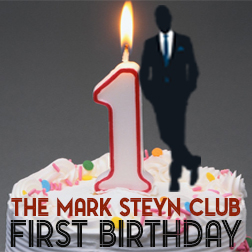 If you missed our livestream Clubland Q&A earlier today, here's the action replay. Simply click above and settle back for an hour of my answers to questions from Mark Steyn Club members around the planet. On today's show we chewed over, among other topics, the Irish referendum on abortion, the arrest of Tommy Robinson outside Leeds Crown Court, aspects of the "Russia investigation", and the British state's willingness to sacrifice its young women on the altar of diversity.
This is also the first birthday of The Mark Steyn Club and, as our anniversary observances conclude, I thank again those Club members around the planet who've kept me in the game through what was the worst year of my professional life. I shall never forget that, and I look forward to meeting some of you at least on our inaugural Club Cruise this autumn, and others at the first annual George Jonas Freedom Award dinner in Toronto in June and at other events in the next few months. If you're not yet a Steyn Club member but you're minded to consider signing up, you can find out more info here - and don't forget, for any Steyn fans among your loved ones, there's always our limited-time-only Gift Membership.
Thanks for all your questions today. If you like me in audio, I'll be back with the great John Oakley on AM640 Toronto live at 5pm Eastern tomorrow afternoon, Wednesday, and I'll also be launching a brand new Tale for Our Time this Friday.
~For more Steyn Club first anniversary celebrations, please see:
Clubland Q&A
Birthday Bash
Steyn's Song of the Week
Happy Birthday to You
A Clubman's Notes
Year Two Begins
On the Town
Non-Stop Number Ones
A Clubman's Notes
Announcing... The Inaugural Mark Steyn Club Cruise
Clubland Q&A
Franchise Man vs Burqa Girl
Tales for Our Time
A King in Kafiristan
A Tales for Our Time sampler
The Mahdi and the Eloi
The Mark Steyn Club Birthday Competition
"Happy Day" Is Here Again