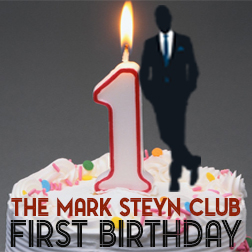 Thanks for all your questions. If you missed the live broadcast, you can listen to the action replay here.
UPPERDATE! We're live now, so let's have at it!
UPDATE! We'll be going live in about ten minutes, so do get ready to fire off your questions via the comment form below. See you at the top of the hour. And, to listen, simply click the livestream feed.
Today, Tuesday, I'll be taking questions from Mark Steyn Club members live around the planet on another Clubland Q&A, back at our usual hour - 4pm Eastern in North America. We'll try to pin down the rest of the time zones below, but do, as they say, check local listings.
Up for discussion today are any questions you might have re my widely read piece on the phony "Russia investigation and its voluminous Anglo-Aussie connections, plus my column on the incarceration of Tommy Robinson and a few other recent news stories, including the Irish referendum on abortion.
Oh, as our Steyn Club first anniversary observances draw to a close, I'm happy to take a few more questions from Club members on what you like about us, and what you don't; what we've got right this first year, and what we're missing, and need to introduce in our second year. If you have any thoughts on our classic fiction serializations or music specials or our upcoming inaugural cruise with me and my guests down the Eastern Seaboard, I'm happy to talk about those as well - whatever Club-related topics tickle your fancy. Thank you to all our first-month Founding Members who've decide to re-up and renew. But we also like to hear from brand new Club members, so if you've joined in recent days feel free to shoot me a question on any topic that tickles your fancy.
Whether or not you're a member of The Mark Steyn Club, you can listen to the Clubland Q&A live as it happens wherever you happen to be on this turbulent earth: Club membership is required only to ask a question. So, if you've been toying with signing up, either for a full year or a see-how-it-goes experimental quarter, there's still time to do so and shoot me a thumb-sucker for today's show.
As soon as we go live, members are welcome to log-in and submit their queries via our comment form below - and I'll answer them as-it-happens on the audio livestream that should magically appear above (or possibly below - I forget which). And, if you disagree with my response, feel free to object to it in the comments, and I'll try to address a couple of the objections as we go along.
So see you back here this afternoon at 4pm Eastern in North America. That's 5pm in the Maritimes, 5.30pm in Newfoundland, 6pm in Bermuda - and, beyond the Americas, 9pm in the British Isles, 10pm in Western Europe, 11pm in the Middle East, midnight in Moscow, 1.30am in Delhi for all you Newfoundlanders who move to India for the half-hour time-zones, 4am in Singapore (if you're frantically trying to get the Trump-Kim summit back on track) as well as in Honkers and Western Australia, a 6am daybreak breakfast in Sydney and Melbourne, alas, and a rather more civilized hour for the kedgeree and eggs Benedict in New Zealand, the Solomon Islands, Vanuatu et al.
But, whatever time it is where you are, we do hope you'll be able to join us. To listen to the livestream, simply click the "play" icon on the audio player (in certain browsers, the audio will start auto-playing). And to pose a question simply use the comment form below.
~For more Steyn Club first anniversary celebrations, please see:
Clubland Q&A
Birthday Bash
Steyn's Song of the Week
Happy Birthday to You
A Clubman's Notes
Year Two Begins
On the Town
Non-Stop Number Ones
A Clubman's Notes
Announcing... The Inaugural Mark Steyn Club Cruise
Clubland Q&A
Franchise Man vs Burqa Girl
Tales for Our Time
A King in Kafiristan
A Tales for Our Time sampler
The Mahdi and the Eloi
The Mark Steyn Club Birthday Competition
"Happy Day" Is Here Again