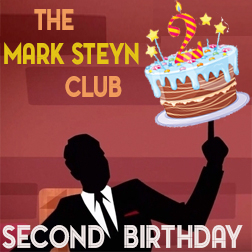 We're awash in music this weekend as our Mark Steyn Club second-birthday celebrations continue. Today we're honored to present another live-performance edition of Steyn's Song of the Week, and with the irrepressible Peter Noone of Herman's Hermits.
A couple of weeks back I noted the death of a marvelous pop composer, Les Reed, and chose to memorialize him with an early hit for Tom Jones, "It's Not Unusual". But I mentioned en passant:
Les and Geoff [Stephens] went on to write many other songs, including their masterpiece, 'There's a Kind of Hush (All Over the World Tonight)', which Herman's Hermits made a monster hit all over the world now and forever. I love the melody Reed came up with, and maybe we'll do that for a Song of the Week in the weeks ahead.
So I sat down with Peter Noone to talk about the song and to hear him perform it acoustically and then live on stage with a full complement of Herman's Hermits. To enjoy, simply click below:
Peter Noone with Herman's Hermits...