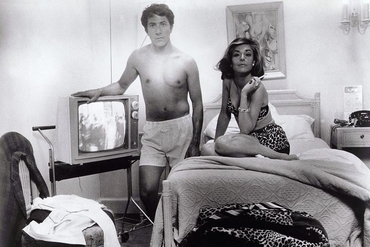 The Graduate is back on the big screen tomorrow, Sunday, in movie theaters across America in a special 50th anniversary presentation by Turner Classic Movies. If it's anywhere near your neck of the woods, don't miss it, if only for a sense of what a hit movie was in 1967. It was a film that, following Bonnie And Clyde, seemed to confirm that there was, indeed, a new cinematic aesthetic, a "New Hollywood". But, on the other hand, it was such a box-office smash it showed the studios that, if you ...
The Mark Steyn Weekend Show
On this edition of The Mark Steyn Weekend Show, Mark talks to bestselling novelist and screenwriter Andrew Klavan about the intersection of politics, culture and religion in the Age of Trump.
After that, a musical palate klezmer - er, palate cleanser: the Klezmer Conservatory Band crowd onto the Steyn cabaret stage for a live tribute to Leonard Cohen via Mark's favorite Cohen song - plus a bonus tribute to the lesser known Irving Fields for an especially wild finale. Click below to watch:
There'll be more from Steyn...
On the Air
On Thursday night, Mark joined Tucker Carlson at Fox News to discuss the ever more open hostility to right-leaning speakers at American campuses:
Berkeley recently reversed its cancellation of conservative author Ann Coulter's speech, but moved it to another date and time.

Its chancellor, Nicholas Dirks, said he was "gravely concerned" by Coulter's announcement she would show up on campus even after the cancellation, threatening "safety" precautions.

Steyn called Dirks' response a "creepy, weasely and evasive speech"... He said colleges like Berkeley now simply claim there are security concerns when a conservative speaker appears, but will not take action against violent rioters that cause those concerns...

He also called out campus police chiefs whose officers are told to stand down during such rioting...
SteynPosts
Ahead of the first round of the French election, Mark muses on constitutions and culture, pizza and kebab:
On the Air
There will be a June general election in the UK. Mark joined Trish Regan and Ashley Webster to discuss it on Fox Business:
On the Air

On Good Friday, Mark joined Evan Solomon on CFRA's "Ottawa Now" to chew over "America First" and Trump's foreign policy
Mann vs Steyn
The Corner post that launched a lawsuit...
Steyn on Britain and Europe

Aux Champs-Elysées Aux Champs-Elysées Au soleil, sous la pluie À midi ou à minuit Il y a tout ce que vous voulez aux Champs-Elysées... My dad liked to bellow along with Joe Dassin's monster francopop hit whenever it came on the radio as we were motoring from Paris south, and all these years later I still know every word of it. It's actually an obscure English song called "Waterloo Road" (a very different kind of thoroughfare) that Pierre Delanoë wrote an exuberantly buoyant French lyric for: ...
Steyn on Britain and Europe
As they used to say in the long Ottoman twilight, the Turk is the sick man of Europe. Following the referendum, the Turk is sicker than ever...
Steyn's Song of the Week

A Bacharach & David classic celebrates its 50th anniversary
Steyn's Song of the Week
Tal Bachman is a hitmaker in his own right, and the son of Seventies rocker Randy Bachman. But Mark had him in mind for an even earlier contribution to the Maple Songbook. Live on stage, a great Canadian performer sings a great Canadian song - for the very first time:
Steyn's Song of the Week
From The Mark Steyn Show, a valentine to one of the great iconic love songs performed live by Mark's special guest, Carol Welsman:
Steyn's Song of the Week
A special edition of our Song of the Week with a brace of 007 guests: Bond lyricist Don Black (Diamonds Are Forever) and Bond villain Robert Davi (License To Kill) are on hand to celebrate the first British song to win an Oscar:
Defend Free Speech!

In a couple of months, Michael E Mann's defamation suit against me will enter its sixth year in the constipated bowels of DC justice...