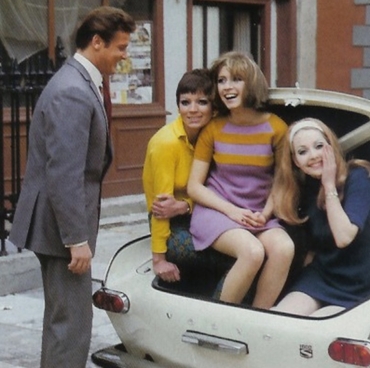 Roger Moore played 007 in seven Bond films - although it seemed like more at the time. He was a rare Englishman in a role more often played by Celts and colonials - Connery (Scots), Lazenby (Aussie), Dalton (Welsh), Brosnan (Irish)... Any Canadians? Yes. Moneypenny (Lois Maxwell). For some Ian Fleming fans, Moore was a little too English for a role that benefits from a certain chippiness toward his metropolitan masters. Yet he bestrode the era like a colossus whose legs wee almost as unfeasibly long as they are on the Octopussy poster and whose trouser flares were almost as terrifyingly wide as on the Man With The Golden Gun poster.
Before he was the big-screen 007, he essayed the role on telly - for a comedy sketch in 1964 on the great Millie Martin's BBC show Mainly Millicent. So he came to Bond by playing him for laughs, and never stopped doing so...
Steyn on the Commonwealth

The world's longest leadership campaign - for the Canadian Conservative Party - arranged as its climax a day-long transferable-vote process in 13 rounds, in the course of which 12 candidates were eliminated until only one remained standing: Andrew Scheer beat out Maxime Bernier by a whisker to become the new Leader of Her Majesty's Opposition. It was a surprising result to those who thought Mr Scheer, former Speaker of the House of Commons, was too socially conservative for contemporary ...
On the Air
Mark closed out the week with Cheryl Casone on Fox Business, looking at the pre-Ramadan killing spree from England to Egypt to Indonesia. He and Cheryl also found time to consider Nancy Pelosi's A-Z of foreign policy. Click below to watch:
Don't forget, if you're a Founding Member of The Mark Steyn Club...
The Mark Steyn Show
This edition of The Mark Steyn Show was recorded before the bloodbath in Manchester, when a Soldier of Allah consciously targeted mothers and young girls for violent, savage murder. But we think you'll find this conversation on women and Islam interesting and timely. Mark talks to poet and Muslim activist Raheel Raza, about the proliferation of covered females in the west, the possibilities of Islamic reform and other topics - though, at the end of another grim week, what may resonate most is his question about whether, for westerners, Islam, reformed or not, is worth the effort. Click below to watch:
The Mark Steyn Show is made possible through the support of Founding Members of The Mark Steyn Club...
On the Air
On Wednesday night Mark joined Tucker Carlson and Nigel Farage on Fox News to discuss the aftermath of the Manchester attack, what to do about Britain's thousands of Soldiers of Allah, and the ever more ludicrous lies of officialdom:
SteynPosts
A special SteynPost this week - Mark answers questions from Mark Steyn Club Founding Members around the planet in a special video edition of Mark's Mailbox:
On the Air

Mark joins Evan Solomon on CFRA Ottawa to talk over the terrorist bloodbath in Manchester
Steyn on Europe

Mark on another jihadist bloodbath, and the need to not "carry on"
Steyn on America

When Trump goes off script...
The Mark Steyn Weekend Show
Mark talks to the screenwriter Lionel Chetwynd about politics and popular culture, movies and the military:
Defend Free Speech!

In a couple of months, Michael E Mann's defamation suit against me will enter its sixth year in the constipated bowels of DC justice...
Mann vs Steyn
The Corner post that launched a lawsuit...
Steyn on Culture
Longtime readers (and radio listeners, and telly viewers) will know that one of my surest-fire bits of shtick in recent years has been my family's showdown with the Department of Homeland Security over Kinder Surprise eggs. Alas, all good things must come to an end. Many correspondents wrote to alert me to this breaking news: Kinder Surprise Eggs are considered one of the greatest chocolate treasures in Europe. However, we Americans have been missing out on the chocolate egg and mini toy ...
The Mark Steyn Club

Mark reads the final episode of our nightly Tale for Our Time
The Mark Steyn Club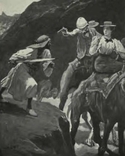 Welcome to the penultimate episode of our nightly adventure serial, The Tragedy of the Korosko, written by Sir Arthur Conan Doyle in 1897...
Steyn's Song of the Week

Mark celebrates one of the great iconic movie songs
The Mark Steyn Club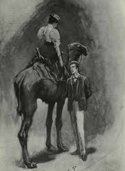 Part Thirteen of Mark's serialization of a Conan Doyle classic, The Tragedy of the Korosko, written in 1897 but timelier than ever
The Mark Steyn Club

Steyn reads Part Twelve of Conan Doyle's The Tragedy of the Korosko
The Mark Steyn Club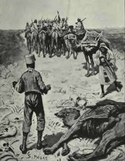 Part Eleven of Mark's serialization of Conan Doyle's The Tragedy of the Korosko
The Mark Steyn Club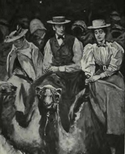 Part Ten of our nightly Victorian adventure yarn, The Tragedy of the Korosko
Steyn's Song of the Week
We're honored to present another brand new live-performance edition of Mark's Song of the Week - with a very brooding ballad from 12-time Grammy winner Cheryl Bentyne:
Steyn's Song of the Week
Tal Bachman is a hitmaker in his own right, and the son of Seventies rocker Randy Bachman. But Mark had him in mind for an even earlier contribution to the Maple Songbook. Live on stage, a great Canadian performer sings a great Canadian song - for the very first time:
Steyn's Song of the Week
From The Mark Steyn Show, a valentine to one of the great iconic love songs performed live by Mark's special guest, Carol Welsman: