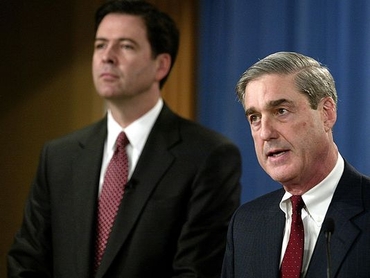 Further to my observations on Deep State dinner theatre, the "Russia investigation" show goes on, undeterred by the lack of any evidence of actual crime: The more obvious the absence of any crime to investigate, the bigger the investigation gets. As I've said before, in Hitchcockian terms, this is a thriller without a MacGuffin: instead, it's one big MacNuffin - unless you count the "collusion" between government bureaucracies and the Hillary campaign in surveilling their political opposition ...
On the Air

On Wednesday morning, Mark started the day with Steve, Ainsley and Brian on "Fox & Friends" discussing the Tuesday night before in the Georgia special election. His little bit of phrase-making appears to be catching on. The Washington Times: Conservative commentator Mark Steyn says Democrats came away empty-handed in Georgia's special election because the party as a whole is obsessed with "deep state dinner theater." Georgia Republican Karen Handel stunned challenger Jon Ossoff with a 52 ...
On the Air
On Tuesday night, Mark joined Tucker Carlson live on Fox News to discuss the latest terror attack in Brussels, with a postscript on gender identity. Click below to watch:
Mark will be back on TV on Wednesday morning...
Steyn on Canada

"Never complain, never explain" was Disraeli's advice, and that holds as good in our touchy age of instant Twitterstorms and politically correct eggshells as it did when he first commended it to Queen Victoria. It's good advice for the Queen's viceroys, too. Consider by way of a cautionary tale the Rt Hon David Johnston, Governor General of Canada. Full disclosure: I am not a great fan of His Excellency, as I thought he behaved disgracefully in evicting my old boss Conrad Black from the Privy ...
Steyn on Culture

It is foolish and complacent to assume that the most effective techniques will remain forever the monopoly of one side. So it is that the Public Theatre's production of Julius Caesar - that's the one in which Caesar is a Trump lookalike who gets group-stabbed in a protracted death scene - was disrupted by right-wing protesters doing exactly what the left does: shutting down anything they don't like. Meanwhile, we have the latest daily horror from London, a city the late Alan Jay Lerner, author ...
Steyn on Europe

No black detail is too absurd for today's world. And so it happens that the first named victim of the towering inferno in North Kensington is Mohammed Alhajali, a Syrian refugee who arrived as a teenager with his brothers in London four years ago and somehow wound up being housed in a flat in Grenfell Tower. Launching a fund to raise money for his funeral, Kareen el Beyrouty, director of the Syria Solidarity Campaign, declared that "Mohammed Alhajali undertook a dangerous journey to flee war in ...
On the Air
On Wednesday night Mark joined Tucker Carlson to discuss, in the wake of the attempted mass political assassination at the GOP ball game, the left's romance with political violence:
Three hours later, he and Tucker returned to the...
Defend Free Speech!

In a couple of months, Michael E Mann's defamation suit against me will enter its sixth year in the constipated bowels of DC justice...
Mann vs Steyn
The Corner post that launched a lawsuit...
The Mark Steyn Club
Mark reads the final episode of The Time Machine
Steyn's Song of the Week

Steyn on songs for caped crusaders - and swingin' sexists
The Mark Steyn Club

The penultimate episode of Mark's latest audio adventure
On the Town

Mark talks to Jack Lemmon about doughnuts and drama
The Mark Steyn Club

Part Nine of our current Tale for Our Time - The Time Machine
Seasons of Steyn

Steyn celebrates the great anthem of fatherhood, from Rodgers & Hammerstein's Carousel
Steyn's Song of the Week
Another live-performance edition, with Robert Davi singing Cole Porter:
The Mark Steyn Weekend Show
TMichael Keaton's biopic of the man behind McDonald's; a tribute to Mary Tyler Moore; and Canada's disco diva Patsy Gallant recalls Édith Piaf:
Steyn's Song of the Week
We're honored to present a brand new live-performance edition, with a very brooding ballad from 12-time Grammy winner Cheryl Bentyne: