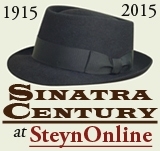 In 1967, Frank Sinatra took part in a panel discussion to mark the dedication of the Cole Porter Library at the University of Southern California. The other participants were Ethel Meman, Fred Astaire, Gene Kelly, Alan Jay Lerner and Jimmy Stewart, which is quite the panel. The playwright Garson Kanin (he wrote Born Yesterday and some of the Hepburn/Tracy movies) moderated the conversation, and at one point asked Frank about whether Porter was one of those composers - like, famously, Richard Rodgers - who just wanted you to do the song the way he'd written it.
No, said Sinatra. "Mr Porter was a very liberal man in that sense. He really didn't care how you arranged it so long as you did the song in its entirety. Even if you changed the tempo from a slow four to a 12/8, it didn't make any difference to him." Sinatra loved Porter, and Porter loved Sinatra, and, three years after the master's death, Frank was in a respectful mood. That night he sang a simple, tender ballad version of "I've Got You Under My Skin" - with not a hint of that wild Nelson Riddle arrangement. And accompanied only by "Rog" - Roger Edens, a mainstay of the MGM music department and Judy Garland's pianist - he offered the same treatment to "I Concentrate On You":
Whenever skies look grey to me
And trouble begins to brew
Whenever the winter winds become too strong
I Concentrate On You...
It was heartfelt and beautiful - and a world away from either of the two records he'd made of the number in the previous six years.
Sinatra came this close to getting in on the song right at the beginning. On December 29th 1939 - a month before young Frank joined the band - Anita Boyer was making her final recording session with the Tommy Dorsey orchestra. Up on the stand that day was a brand new Cole Porter tune called "I Concentrate On You". If Dorsey had decided to hold the song for a few more weeks, it might have fallen either to Frankie or to Miss Boyer's replacement Connie Haines to introduce the number to American radio listeners. Instead, the Anita Boyer version charted for one week on April 6th1940, and young Sinatra had to bide his time.
As often happened, Dorsey had been given a head's up on the song. It was from a brand new movie that was released on February 9th that year, Broadway Melody of 1940. I won't bore you with the plot, mainly because I can barely stay awake to type it up. But Mr Porter gave the piffle a better score than it deserved: this is the film whence came "Begin The Beguine" and "I've Got My Eyes On You" and one of my favorite New York numbers:
Glorify Sixth Avenue
And put bathrooms in the zoo
But Please Don't Monkey With Broadway...

Move Grant's tomb to Union Square
And put Brooklyn anywhere
But please, please
I beg on my knees
Don't monkey with old Broadway!
Fred Astaire and George Murphy sang that one together, in the course of competing for Eleanor Powell.
There was also "I Concentrate On You". Twelve years later, when Norman Granz brought Astaire together with Oscar Peterson, Barney Kessel, Ray Brown and other Jazz at the Philharmonic players for some jazzier reinterpretations of the Astaire songbook, they included "Concentrate On You". But, although Fred and the guys do a grand job, it wasn't really an Astaire song, not originally. Porter intended it for Astaire, but some genius at MGM figured he knew better. So in the movie it's given a big exotic production treatment that's mostly a workout for Eleanor Powell's legs. There's a song in there but you don't really notice it because it's sung by a masked harlequin played by Douglas McPhail. How insane do you have to be to make a Fred Astaire movie and then give the best song in the picture to Douglas McPhail? I mean no disrespect to Mr McPhail, who made just two more pictures and then, as his career dried up, committed suicide at the age of 30. But, whatever McPhail's acting skills, Porter's great gift to Broadway Melody of 1940 deserved better.
It was a semi-forgotten song by the time Sinatra decided to record it at the beginning of 1947. The big standard on that session was Irving Berlin's "Always", and the stilted dud of a pop trifle was something called "My Love For You". But in between came a seven-year old Porter ballad that no record company exec of 1947 would ever nudge a singer to do. But Frank and Axel Stordahl had done it on the radio six weeks earlier, and it had gone well. "Always" is for always, "My Love For You" is potentially next month's passing pop fancy, but Sinatra and Stordahl picked this one because they knew it, loved it, and wanted to rescue it.
It's a very sinuous 72-bar melody, long-limbed, with minimal, confident notes in classic Cole chromatic steps. Stordahl's arrangement is very flowing and lyrical. There's brass and saxes in there, but it's the strings that are providing the forward motion, sometimes a little obtrusively for my tastes. But, unlike in Broadway Melody of 1940, you can at least hear the song. Porter wrote more ardently than most of his contemporaries, and his best love songs are really about obsession: "This torment won't be through/Till you let me spend my life making love to you..." "I'd sacrifice anything come what might for the sake of having you near..." "So taunt me and hurt me/Deceive me, desert me..." Well, if you insist.
"I Concentrate On You" operates on the slightly less psychologically unhealthy fringes of that territory. It begins with meteorological rumblings:
Whenever skies look grey to me
And trouble begins to brew
Whenever the winter winds become too strong
I Concentrate On You...
Stordahl puts a nice little orchestral shudder on those "winter winds". And then we move from the caprices of weather to the vicissitudes of fate:
When fortune cries "Nay, nay" to me
And people declare "You're through"
Whenever the blues become my only song
I Concentrate On You...
I always liked that line about the blues becoming your own song, and the note Porter puts it on makes it a fine opportunity for a singer. If you see it on the back of an LP, the title looks a bit clunky. But he vindicates it, and isn't it the truth? When I was 19, I failed to get a job for which I had traveled some distance. And on the 12-hour train-ride back to Montreal, fortune having cried "Nay, nay" to me, I concentrated on the girl I loved - as Porter does, in a classic contrasting middle section:
On your smile, so sweet, so tender
When at first my kiss you decline
On the light in your eyes when you surrender
And once again our arms intertwine...
That's classic Cole. You can only write at that heightened level of passion when the melody and harmony are good enough to support the sentiment. His always are. And the young Sinatra is so sincere. In 1947, smooth often equated to bland. But Sinatra's smoothness - pure tone, bel canto phrasing, and both intimacy and intensity - is nothing like, say, Dick Haymes. He brings a vulnerability to sure, certain romantic lyrics that's very unusual for male singers of the Forties - especially in the final section, when Sinatra and Porter return us to "Fools Rush In" territory:
And so when wise men say to me
That love's young dream never comes true
To prove that even wise men can be wrong
I Concentrate On You...
Porter was a flamboyant and exhibitionist rhymester, but here he rhymes in a complex but very subtle way. They're rhymes across the quatrains: "grey to me" rhymes with "'Nay, nay' to me" 16 bars later, and then with "say to me" after the release. Likewise, "brew" rhymes with "through" rhymes with "true". And "strong" with "song" and "wrong". "Sunny Side Of The Street" does something similar - "Just direct your feet... Life can be so sweet... Gold dust at my feet..." - but on a far less ambitious scale and on a conventional tune of eight-bar rather than 16-bar sections. Porter's using rhyme here mainly to support the musical architecture and help with the forward momentum, but unlike, say, "You're The Top" you're not meant to notice them, or be aware of them. But it's awfully skillful writing.
Even at this stage, Sinatra had become the master of understatement. This first shot of "Concentrate" is a classic example of what would become his preferred template: Instead of bellowing a big stand-and-deliver high note at the end, do your big note in the middle section - in this case "intertwine" - and then come in for a soft landing, as if you'd just whirled your girl around the dance floor and were returning her to her table. The tag on this record is, like the man says, "so sweet, so tender":
I concentrate...
And concentrate...
On you...
That's all Sinatra sings: one chorus and that little tag. Yet, at three minutes plus change, this first of three studio recordings of the song would be the longest.
Over the next few years he sang it occasionally, with Stordahl conducting, on radio and TV. And then, more than 13 years after that first record, he was back in the studio with "Concentrate" on the stand, and Nelson Riddle on the podium. By August of 1960, Sinatra's relationship had deteriorated with Capitol Records to the point of no return - as his final album for the label would be called. He'd asked them if they'd set him up with his own label, and they'd refused, on the grounds that next thing you know Nat Cole and Peggy Lee and all the rest would be wanting their own labels, too. So, when he walked into Studio A at Capitol that month to record Sinatra's Swingin' Session!!!, he was not in a good mood.
Notwithstanding all that, the album has one of the best of all Sinatra LP covers: just Frank with his hat and the sheet music, in front of the orchestra - ie, at home. And, just as at home, there are times when you come through the front door in a stinkin' mood. As for those three exclamations in the title, in this case Swingin' Session!!! is code for I'm Outta Here!!!!! Literally. At the end of the session, he went on strike and refused to record a thing for Capitol for the next seven months.
He arrived in a hurry to leave. Without even hearing a run-through of the arrangements, he told Nelson Riddle to crank up the tempo on every song - regardless. Did he have a taxi running? As a result, the original LP is 12 tracks but comes in at 24 minutes. "You Do Something To Me" and "Should I?" are over and out in 90 seconds apiece. "S'posin'" is a comparatively lethargic 1.45.
Actually, now I think about it, that terrific cover is a shot from the actual session. Is that because Sinatra refused to do a photo shoot? Or Capitol wouldn't spring for any artwork?
But boy, this set earns those three exclamation points. This is Nelson Riddle less in his famous "tempo of the heartbeat" and closer to Billy May's hard swing. "Concentrate" is one concentrated blast, starting with Riddle's tip of the hat to André Previn, the main theme of whose goofy beatnik anthem of a couple of years earlier, "Like Young", provides the arrangement with a driving vamp, Sinatra takes his cue and gives a three-exclamation album a four-nay fire:
When fortune cries "Nay, nay, nay, nay" to me
And people declare that you're through...
The nays have it! Bad mood or not, Frank certainly responded to the band. Riddle, unusually, had written in some bongos - unusually for Sinatra, that is: he used bongos a lot when he wrote for Judy Garland. But the singer sure taps into them. It's a wild two-and-a-quarter minutes and Sinatra is seriously juiced by the time he returns for the outro :
And so when wise men say to me
That love's young dream never comes true
To prove...
The wise men can be wrong
I Concentrate On You...

I infiltrate...

Concentrate...

On you...
And back to that Previn vamp to close. His harmonic sense and his phrasing - the pause on that "wise men" line - are so surefooted it doesn't matter that you're never quite certain what he means by "I infiltrate".
As we've had cause to ponder in this series, the point about a standard - the defining characteristic, in fact - is that there is no "right" way to do it. As noted all the way back on our second song, sometimes there's a definitive ballad version and a definitive swingin' take, and they're both by Sinatra. But why leave it at that? Six years after his four-nay killer-vamp "Concentrate", Frank was preparing to do an entire album of bossa nova songs with Antonio Carlos Jobim. This would have made sense in purely cynical music-biz terms: in the mid-Sixties, Jobim was hot, bossa was super-cool; why not get a piece of it? That it would also be an artistic triumph was by no means certain. In singing English lyrics to Jobim's lightly shimmering Brazilian rhythms, Sinatra had to take all the skills that had made that Riddle arrangement so exhilarating, and toss 'em out the window. This was like nothing he'd ever done before.
There was just one problem. "At that time," said Claus Ogerman, Sinatra's arranger on the set, "there were not enough Jobim songs with good English lyrics. Antonio has about 400 songs that are great, but most of them had no English words." And so it was decided to fill out "Ipanema" and "Corcovado" and "Insensatez" with a few standards arranged by Ogerman in bossa nova style. They're among the dreamiest cuts on the album: bossa Berlin ("Change Partners"), bossa Kismet ("Baubles, Bangles And Beads") ...and last but not least a bossa "Concentrate". Today, thanks to Diana Krall and Eliane Elias and others, the bossafied standard has become something of a cliché - to the point that a few years back I read in The Atlantic, I think it was, that there ought to be a new, iron-clad rule: Never perform as a bossa nova a song that wasn't written as a bossa nova.
But in 1967 it was a new idea for anglo pop singers, and it seemed to expand both the turf for standard songs and the potential of those Brazilian rhythms. It also made the album a genuine cross-cultural encounter: Sinatra met Jobim's songs, and Jobim met Sinatra's. Like the Riddle chart, Ogerman's "I Concentrate On You" has a vamp - but bossa not beatnik, and with Jobim chiming in on backing vocals. And the combination of the rhythmic track and Frank's understated vocal is magical. The pristine beauty of his '47 voice is gone, but the mature worldly Sinatra makes this take even more romantic. "I haven't sung so soft since I had the laryngitis," Frank told Stan Cornyn for his peerless liner notes. And Cornyn added: "If he sang any softer he'd have to be lying on his back."
To the best of my knowledge, Sinatra never sang "I Concentrate On You" lying on his back, but he did sing it sitting down, cigarette in hand, with Jobim and guitar on the opposite chair for a four-song medley that must rank as among the best six minutes of TV music ever broadcast.
And then there's the version most of us never got to hear. In 1962 Sinatra and his sextet embarked on a world tour in aid of children's charities. At some stops along the way he did "I Concentrate On You", low-key and pared down, accompanied only by his longtime guitarist Al Viola. Those who heard it loved it, but apparently not a single recording of it exists.
Ballad to bossa and back: Sinatra did "I Concentrate On You" every which way, and never seemed to have to concentrate at all.
~For an alternative Sinatra Hot 100, The Pundette has also launched a Frank countdown. At Number 62, she has more from that Swingin' Session!!!: Sinatra, Porter and Riddle doing that voodoo that they do so well. Bob Belvedere over at The Camp Of The Saints is counting down his own Sinatrapalooza and the Frank-Cole-Nels troika offers "I Love Paris" at Hit Sound 49. The Evil Blogger Lady brings us one of the loveliest of all Jule Styne's Sinatra melodies.
~You can find the stories behind many more Sinatra songs - including Cole Porter - in Mark Steyn's American Songbook, while Steyn's original 1998 obituary of Frank, "The Voice", can be found in the anthology Mark Steyn From Head To Toe. Personally autographed copies of both books are exclusively available from the SteynOnline bookstore. And there's lots of Cole Porter in Mark's acknowledged classic, Broadway Babies Say Goodnight.
SINATRA CENTURY
at SteynOnline
6) THE ONE I LOVE (BELONGS TO SOMEBODY ELSE)
8) STARDUST
10) WHAT IS THIS THING CALLED LOVE?
11) CHICAGO
12) THE CONTINENTAL
13) ALL OF ME
15) NIGHT AND DAY
16) I WON'T DANCE
17) I'VE GOT YOU UNDER MY SKIN
19) EAST OF THE SUN (AND WEST OF THE MOON)
21) A FOGGY DAY (IN LONDON TOWN)
24) OUR LOVE
27) FOOLS RUSH IN
32) I'LL BE AROUND
36) GUESS I'LL HANG MY TEARS OUT TO DRY
37) NANCY (WITH THE LAUGHING FACE)
38) SOMETHIN' STUPID
40) I GET ALONG WITHOUT YOU VERY WELL (EXCEPT SOMETIMES)
41) SOLILOQUY
42) THE COFFEE SONG