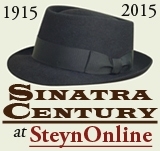 Frank Sinatra sang "Ol' Man River" for half-a-century and (with the exception of his screen cameo in Jerome Kern's biopic) always began with the verse:
Here we all work on the Mississippi...
That's actually a bowdlerization of the first line, as we discuss in Broadway Babies Say Goodnight, but which need not detain us here. Instead, on this Labor Day edition of our Sinatra centennial observances, I thought we'd ask the question: Did Frank work? Did he ever labor?
He was variously a singer, actor, conductor, sometime dancer, occasional songwriter, album producer, film producer, record-company owner... But these were all activities he enjoyed. Did he ever work in the sense that most of us have to do at some point in our lives? The shift you have to get up for, the grinding drudgery, punching the clock, in and out...
Pace the song, he didn't work on the Mississippi. But he did work on the Hudson... He was 16 years old, had dropped out of high school in Hoboken, and an uncle got him a job at the Teijent & Lang shipyard. He hung over a four-story-high shaft and caught white-hot rivets until, on the third day, he miscalculated his swing (not something he did with Nelson Riddle) and one of them crashed down on him. "I couldn't handle it," he said. "I was hanging on to that rope and that burning hot rivet went by me like a bullet, singeing my shoulder." He quit in terror.
"Tote dat barge, lif' dat bale"? Frankie abandoned the barge life and turned to lifting bales - or actually crates, of books, for Lyons & Carnahan on 16th Street across the river in Manhattan.
But that bored him, too. So he went back to the docks, and took a job with United Fruit Lines, for whom he had to crawl inside the condenser units and unscrew tubes so that they could be pulled out and cleaned. When he quit that job, his dad, to his surprise, threw him out, albeit rather politely and matter-of-factly: "Why don't you just get out of the house and go out on your own?"
Frankie, a bit surprised, packed a small case and moved to New York.
There was one more job the teenage Sinatra held before gigs such as "singing waiter" gave him his first semi-rung on the music ladder. His mother prevailed upon his godfather, Frank Garrick, who was circulation manager at The Jersey Observer. "He worked at flinging bundles of newspapers onto the delivery trucks," the widow of the city editor recalled, "but he was so frail that my husband gave him a job inside."
So Frank became the office boy, the gofer. One day a sports reporter was killed in a car crash. Frank Garrick told Sinatra biographer Anthony Summers that his godson "sat down at the dead boy's desk and acted as if he had the job". Maybe he could have done it, but instead Garrick fired him - and, as he told it, Sinatra never spoke to his godfather again until his mother's death almost fifty years later.
So we have a guy who worked a bit on the docks... and in the newspaper business... and then started singing love ballads. Hmm. On this Labor Day, is there any kind of song for that kind of work?
Oddly enough, round about the time Frankie was laboring at Teijent & Lang and United Fruit Lines, Johnny Green and Edward Heyman wrote:
I Cover The Waterfront...
That's the newsman's beat: not a sportswriter, but a reporter who covers the waterfront.
I'm watching the sea...
Making sure all those Teijent & Lang and United Fruit Lines vessels have their rivets in place and their condenser units shipshape.
Will the one I love
Be coming back to me?
And there's the love song.
"I Cover The Waterfront" is the song of the film of the book of the newspaper beat. Before they became a wasteland for the antiseptic prose of insipid J-school eunuchs, American newspapers were - hard as it is to credit - actually readable, even the bad ones. The San Diego Sun was generally regarded as a third-rate paper in what was then a competitive market, but it had a reporter called Max Miller, whose beat was the waterfront. He never came in to the paper, but instead worked out of a room down at the docks, above the tugboat office, shared with a publicity agent. His brief was waterfront life in all its manifestations - fishermen and stevedores, smugglers and spies, visiting celebrities and passing con-men, sailors on leave and the ladies who cater to them. Miller wrote about them all, from Lucky Lindbergh to the hermit on an outlying island who made periodic visits to town solely to visit Mrs Morgan's Boarding House for Girls, "boarding" being a careless misspelling for "bawdy".
After a few years in the job, Miller figured he had enough material for a book - a string of vignettes of waterfront life. It's a lively read, right from the first sentence of the opening chapter, "The Damned and the Lost":
I have been here so long that even the sea gulls must recognize me. They must pass the word along about me from generation to generation, from egg to egg.

Former friends of mine, members of my old university class, acquaintances my own age, have gone out to earn their 6,000 a year. They have become managers, they have become editors, they have become artists. Yet here am I, what I was six years ago, a waterfront reporter.
The final paragraph's pretty good, too:
I have written as much of a book as I can write.
Which turned out to be prophetic. He turned out a book a year for the next three decades and never matched the success of this first one. Miller called it I Cover The Waterfront, and in 1932 it got rave reviews and became a big bestseller. And suddenly its odd, declarative title was in the air, and United Artists decided to turn it into a picture staring Ben Lyon. Instead of hard-boiled, hard-living, hard-drinking reporter Max Miller of The San Diego Sun, the movie's hero was hard-boiled, etc, reporter Joe Miller of The San Diego Standard. After five years in the job, Joe, like Max, is tired of the waterfront beat and wants to go back east and marry his Vermont sweetheart. But he's asked to investigate a guy who's running a human trafficking racket smuggling Chinese immigrants into the country illegally (an oddly topical subject in this presidential election season), and he winds up falling in love with the smuggler's daughter - Claudette Colbert. This was a pre-Hays Code movie, so the boarding house that's really a bordello stayed in the picture.
When you've got a hit book and a hit movie, a hit song can't be far behind. The fellows who got the assignment were Johnny Green and Edward Heyman. John Waldo Green wrote a small number of truly excellent songs and then spent much of his time conducting and arranging and scoring pictures. He was the longtime music man at MGM, which is where Frank got to know him, when he served as music supervisor on Sinatra pictures such as It Happened In Brooklyn and High Society. But in the course of six decades Frank recorded only two Johnny Green compositions per se, both with lyrics by Edward Heyman. Heyman is a far less illustrious figure than Green, yet Sinatra sang Heyman songs from the very beginning right to the end. Any Frank Sinatra Sings Edward Heyman CD would open a month after Frank began his career as a professional singer - July 24th 1939, a live radio broadcast from the Marine Ballroom in Atlantic City, when the Harry James Band played Heyman's "My Love For You", vocal refrain by boy singer Frank Sinatra. He liked the song so much he made a studio recording with Axel Stordahl eight years later. With Tommy Dorsey, Frank sang Heyman's "The Sky Fell Down". Seven years later, in 1947, Heyman wrote the lyrics for what Sinatra came to regard as his worst ever movie, The Kissing Bandit. By contrast, in 1956, with Nelson Riddle and the Hollywood String Quartet, Frank made a lovely, tender record of Heyman's "Blame It On My Youth".
I said above that Sinatra recorded only two Johnny Green tunes, both with Heyman lyrics and perhaps the finest songs in the Green catalogue - although back in the Eighties Green denied to me that either song was anything special, and suggested that neither of them compared to his "Ballad of Raintree County". Oh, well. The first Green/Heyman masterpiece is one of the most recorded and performed songs of the last hundred years - the all-time great torch ballad:
My heart is sad and lonely
For you I sigh
For you, dear, only
Why haven't you seen it?
I'm all for you
Body And Soul...
Three years after "Body And Soul","I Cover The Waterfront" posed a different kind of challenge for Green and Heyman. The phrase was the opposite of a vernacular expression; it's not clear anyone on the planet other than Max Miller had ever uttered those words. But it was deemed to be a hit title, and so Green and Heyman were tasked with fleshing it out for a hit song:
I Cover The Waterfront
I'm watching the sea
Will the one I love
Be coming back to me?
And hey presto! A phrase for a guy who hangs out among the lowlifes on the rotting wharf in search of scoop and scandal is transformed into a phrase for a guy who hangs out among the lowlifes on the rotting wharf in search of his lost love:
I Cover The Waterfront
In search of my love
And I'm covered by
A starless sky above...
Heyman's premise is that his protagonist is covering the waterfront looking for a love whose ship has sailed. Green, without getting too literal, is also anxious to convey a sense of locale. The verse is certainly brooding:
Away from the city that hurts and knocks,
I'm standing alone by the desolate docks
In the still and the chill of the night
I see the horizon, the great unknown
My heart has an ache...
Billie Holiday, who kept the song alive in the two decades between its original appearance and Sinatra's recording, sang the verse and made it work for her - because she sounded like the kind of woman who'd be left standing on the dock by some no-account who passed in the night. Musically speaking the most arresting part of the song is the middle section of the chorus with its alternating high lines and low lines. I've bolded the lower-register lyric:
Here am I
Patiently waiting
Hoping and longing
Oh, how I yearn
Where are you?
Are you forgetting?
Do you remember?
Will you return?
What's going on there will all those octave leaps up and down? It's like a call-and-response with your own insecurities. If the verse conveys the loneliness and desolation, the still and chill, the emptiness of the great unknown, then the middle section captures the restlessness, the waiting, the pacing, up and down the dock, up ("Here am I"), down ("Patiently waiting"), up ("Hoping and longing"), down ("Oh, how I yearn"). Or am I getting a bit too over-interpretative here?
At any rate, Green's use of triplets and Heyman's sensitivity to them (I'm assuming the tune came first) makes this an exemplary match of words and music. I always like the way the release gets back to the key of the main theme very neatly through the simple expedient of stepping down half--a-tone from the "-ber" of "Do you remember?" to the "will" of "Will you return?" (C# to C on the original sheet). It has an oddly calming effect, as if the protagonist has decided "Enough with the pacing!" and turned back to contemplate the vast inky black still of the sea and night:
I Cover The Waterfront...
Whoops, there I go getting all over-interpretative again.
Sinatra was undoubtedly familiar with Billie Holiday's treatment of the song and, as a great admirer of Holiday, would have appreciated its quality. And in 1957 he selected it as one of the tracks for his first Capitol album without Nelson Riddle. So far he'd used Riddle for both swingers (Songs For Swingin' Lovers, A Swingin' Affair) and ballads (In The Wee Small Hours, Close To You), but for the songs of loss on Where Are You? he was looking for something a little bleaker in the storytelling, and turned to Gordon Jenkins. Jenkins is not to every Sinatra fan's taste, nor to every Sinatra orchestral musician's taste, but he delivered some magnificent arrangements for this album. If Riddle's Small Hours are stark, Where Are You? finds its answer in a kind of luxuriant melancholy, with some of Jenkins' most haunting string writing. On April 29th 1957, he and Sinatra went into the studio at Capitol in Los Angeles and recorded four tracks: "I Cover The Waterfront", "Lonely Town", "Laura" and "Baby, Won't You Please Come Home?" I would rank the first three as primo Sinatra masterpieces, and the fourth as a very close runner-up. All in a night's work.
Frank chose not to sing the verse, perhaps sensing that it places the material too close to Billie Holiday and makes it too specific. Which the situation undoubtedly is - I mean, honestly, how many of us have gone down to prowl the docks for a lost love? But he comes as close as he can to universalizing the situation.
I Cover The Waterfront
I'm watching the sea
For the one I love
Must soon come back to me...
Must she? Jenkins' inclination to grandiosity didn't always suit his material, but you can see why Frank chose him for this number. The strings chart the vastness and emptiness all around, and at the heart of it a solitary figure lost in his loneliness. Only a famous instrumental performance - from Lester Young and his sax - comes as close to opening up the darkness of the song:
For the one I love
Must soon come back to me.
Did the lyric evoke memories of a skinny kid from Hoboken a quarter-century earlier? Dodging the rivets at Teijent & Lang? Unscrewing the tubes at United Fruit Lines? Frank Sinatra found something he was better at, and worked hard at it until he was the best. Which is not uninspiring on this Labor Day.
As for the creators of "I Cover The Waterfront", songwriters who worked in Hollywood in the heyday of the theme song used to joke about having to turn any old film title into a love ballad - Gone With The Wind, The Texas Chainsaw Massacre, whatever. But Green and Heyman actually pulled it off! It was written merely to promote the film rather than to feature in it, but it was so good the producers then had the picture re-scored on the eve of release to get it in there - and missed the entire point, by only using it instrumentally. True, the title makes it just a wee bit too special to ever be a blockbuster universal love song up there with "The Way You Look Tonight" and "The Very Thought Of You", but on Air Canada the other day I chanced to see Annie Lennox singing "Waterfront" and, while it's not up there with Billie and Frank, you can see that the vivid if eccentric specificity of the number speaks to her, and she gets the evocative atmospherics of the verse.
It's a very great song - as Johnny Green, when he'd finished talking up "The Ballad of Raintree County", surely knew. Not long before he died, Green spoke to me about his various accomplishments, on Broadway, in Hollywood, on the concert stage, in the recording studio. There were a few lows, but an awful lot of highs, including "I Cover The Waterfront". He chuckled contentedly to me and recalled an old pal. "As my friend Alan Jay Lerner said, 'Modesty is for those who deserve it.' And I don't."
~For an alternative Sinatra Hot 100, the Pundette is counting down her own Frank hit parade, and is up to Number 32, a song Sinatra loved, by his old Dorsey pal Joe Bushkin, "Oh! Look At Me Now". Bob Belvedere over at The Camp Of The Saints is also picking the hits and has rocketed all the way up to Number 11, the magnificent "Come Rain Or Come Shine". The Evil Blogger Lady offers a charming duet from Frank and Doris Day - Irving Berlin's "Let's Take An Old-Fashioned Walk".
~You can read the stories behind more Sinatra songs in Mark Steyn's American Songbook, and Steyn's original 1998 obituary of Frank, "The Voice", can be found in the anthology Mark Steyn From Head To Toe. Personally autographed copies of both books are exclusively available from the SteynOnline bookstore.
SINATRA CENTURY
at SteynOnline
6) THE ONE I LOVE (BELONGS TO SOMEBODY ELSE)
8) STARDUST
10) WHAT IS THIS THING CALLED LOVE?
11) CHICAGO
12) THE CONTINENTAL
13) ALL OF ME
15) NIGHT AND DAY
16) I WON'T DANCE
17) I'VE GOT YOU UNDER MY SKIN
19) EAST OF THE SUN (AND WEST OF THE MOON)
21) A FOGGY DAY (IN LONDON TOWN)
24) OUR LOVE
27) FOOLS RUSH IN
32) I'LL BE AROUND
36) GUESS I'LL HANG MY TEARS OUT TO DRY
37) NANCY (WITH THE LAUGHING FACE)
38) SOMETHIN' STUPID
40) I GET ALONG WITHOUT YOU VERY WELL (EXCEPT SOMETIMES)
41) SOLILOQUY
42) THE COFFEE SONG
44) HOW ABOUT YOU?
46) LUCK BE A LADY
48) (AH, THE APPLE TREES) WHEN THE WORLD WAS YOUNG
49) I HAVE DREAMED
51) I'VE GOT THE WORLD ON A STRING
52) YOUNG AT HEART
54) BAUBLES, BANGLES AND BEADS
55) IN THE WEE SMALL HOURS OF THE MORNING
57) THE TENDER TRAP
59) WITCHCRAFT
60) EBB TIDE
61) COME FLY WITH ME
62) ANGEL EYES
63) JUST IN TIME