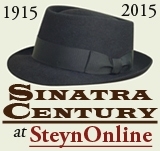 Alan Bergman celebrates his 90th birthday on September 11th. He was born in Brooklyn in 1925 and, with his wife Marilyn, is one half of one of the great lyric-writing teams. Like the Queen, he just sails on through the big jubilee occasions: he'll be singing at Birdland next month, which is always a treat, because he's a rather good vocalist. I blush to say that I myself have recorded an Alan & Marilyn Bergman song, mainly because I felt no one else seemed to be minded to sing it since the early Seventies. Notwithstanding my efforts, they're better known for their work with Barbra Streisand ("The Way We Were", "You Don't Bring Me Flowers", Yentl) and for some of the classier post-Golden Age movie songs such as "What Are You Doing The Rest Of Your Life?", "Where Do You Start?" and "How Do You Keep The Music Playing?" A lot of questions. In The New York Times a few years ago, Stephen Holden called the Bergman style a "fusion of traditional songwriting craft with the more modern sensibility of self-help and therapy". There's a lot of truth in that. Many of their best known lyrics aren't falling-in-love songs so much as working-at-relationships songs:
How do you lose yourself to someone
And never lose your way?
How do you not run out of new things to say?
Between all the questions the Bergmans also contributed quite a few Sinatra songs, including the title track of his very last studio solo album, LA Is My Lady (1984). But I have a special fondness for the breezy freewheeling quality of the numbers they wrote for him way back at the dawn of their careers, and it's a couple of those songs that we'll be spending time with on this Bergman birthday weekend. This one began in 1960 with what Marilyn described to me many years ago as "an open casting call". The word had gone out that Sinatra needed a title song for a new album, and for whatever reason he hadn't asked Cahn & Van Heusen to rattle one off. So every songwriter in town gave it a go, and Alan and Marilyn's composing partner Lew Spence set off for Las Vegas to play it for Frank.
It wasn't a good moment to pitch him a new song. Fifty-five years ago, Frank Sinatra was having a grueling time of it: He was in Vegas with the Rat Pack - Dino, Sammy, Peter Lawford, Joey Bishop - doing two shows a night at the Sands. He'd get to bed around five, and then get up a couple of hours later to spend the daylight hours wandering through some bleary one-take scenes for Ocean's Eleven. Filming a movie and doing two shows every day would be enough for most guys. But he was also working on his network TV show for Timex, learning special material to perform with Lena Horne and Eleanor Roosevelt, and he had an album of ballads scheduled for the first few days in March, so he was running through songs with his pianist Bill Miller and exploring arrangements with Nelson Riddle. And he had John F Kennedy flying in with his dad to talk strategy for the 1960 election campaign, and, when the politicking was over, Jack's, ahem, social demands cut into what little of Frank's day wasn't spent singing, filming or rehearsing. (Judith Campbell claims she was introduced to JFK on February 7th at Sinatra's table in the lounge of the Sands.)
So Frank was distracted. Which was maybe why it wasn't the best time for Lew Spence to come round during a break in shooting and demonstrate a new song he'd written:
Let's take it Nice 'n' Easy
It's gonna be so easy
For us to fall in love...
At the end of the song, Frank went over to the piano, picked up the music with the tips of his thumb and forefinger as if it were a piece of garbage and dropped it on the floor. Then he went back to shooting, singing, schmoozing, boozing, politicking plus a little hey-hey (as the Rat Packers have it). And that would have seemed to be that for Lew Spence's song. Fortunately for him, "Nice 'n' Easy" climbed out of the garbage can and onto the title track of a Sinatra album. And it gave its composer the biggest hit of his life.
I had just one conversation with Lew Spence in his 87 years. I called him up to clarify something about "Sleep Warm", another of his songs, which Frank used as a sometime closing theme (it was a favorite expression of his) and then Dean Martin borrowed as a title track for an album, with Sinatra conducting the orchestra. Like most writers, Spence wanted to talk about what he was doing now, not stuff from a zillion years ago. So we had some chit-chat about a project he was working on. I knew the other fellow involved in it, and it seemed to me it was like a lot of things you hear about in Hollywood and on Broadway and in the West End - it sounded kind of interesting, but it also sounded like one of those projects that was never going to happen. So I was polite, and then we got to the business at hand, and he was very helpful and delightful, just the nicest 'n' easiest guy - which may be why he's not better known. Nice 'n' easy doesn't do it every time in the music biz, which is, after all, a biz. You've got to be a Sammy Cahn or a Jule Styne, out there hustling, making it happen. Career-wise, Lew Spence was nice 'n' easy, and, as a result, his legacy is not a blockbuster catalogue, but a handful of songs of which "Nice 'n' Easy" is surely the highest earner.
Still, Sinatra liked him enough to record eight of his tunes, which is twice as many as he recorded by, say, Duke Ellington. "Nice 'n' Easy" was the product of Spence's writing partnership with Mr and Mrs Bergman, as they then weren't. There aren't a lot of three-man writing teams and the Spence-Bergman-Bergman combination was born in what sounds like a too cute romantic-comedy plot. If you're starting out as a lyricist or a composer and you don't have a writing partner, you shop around. You run into someone, you hit it off, you say, "Let's try writing something", and maybe it works out, and maybe it doesn't matter if it doesn't, because you're also trying to write with some other fellow. So in the mid-Fifties in Los Angeles Lew Spence was a composer looking for a lyricist, and there were two he was trying to get something going with - one was a guy called Alan Bergman, the other was a gal called Marilyn Keith. Marilyn was a late-riser, so she used to go round to Lew's place to write with him every afternoon. So Alan would go round to write with him every morning. "I was two-rhyming Marilyn," as Spence put it. And things chugged along fine - Lew and Alan wrote some songs of a morning, and Lew and Marilyn wrote some songs of an afternoon. And then one day, presumably around lunchtime, Lew Spence introduced his morning lyricist to his afternoon lyricist. And that very day they all wrote a song together - "I Never Knew What Hit Me" - which they assure people was perfectly terrible. But, in the course of its creation, Miss Keith and Mr Bergman decided it would be much more fun to write lyrics à deux. Also, whatever the defects of the song, it has a certain autobiographical accuracy: They did never know what hit them; Alan and Marilyn fell in love. As I said, it's perhaps a little too neat for a romantic comedy, but it would have made a great backstage biotuner back in the Thirties or Forties.
So the song credits switched from "Spence/Keith" and "Spence/Bergman" to "Spence/Keith/Bergman" and eventually "Spence/Bergman/Bergman". But before that happy state there was one last song by Lew Spence and Alan Bergman sans Marilyn. Some years ago, I had lunch in London with Mr and Mrs Bergman. I'd booked the restaurant, and it turned out to be not such a good choice, which discombobulated me a little, and at one point I referred somewhat carelessly to "That Face" as one of "their" songs. And Alan corrected me, explaining that the lyric wasn't written by Marilyn and that it was "their" song principally because he'd written it about her:
I love
That Face
That Face
It just isn't fair
You must
Forgive
The way that I stare...
Lew Spence, on the other hand, had been similarly inspired upon entering a restaurant and espying the lovely visage of the actress Phyllis Kirk. I believe, if memory serves, that it was Spence who came up with the first lines of the song, words and music, more or less on the spot:
That Face
That Face
That wonderful face
It shines
It glows
All over the place...
But that, of course, is the great gift of popular song. You write it for Phyllis Kirk or Marilyn Keith and you find you've said it for everybody. As they told me over lunch that day in London, Alan decided it was going to be his engagement present to Marilyn. Her favorite singer was Fred Astaire, so Spence and Bergman made an appointment to see him to demonstrate the song. And Astaire said he only recorded songs he sang in movies or on stage - which is true. After all, if Irving Berlin is writing "Cheek To Cheek" for your Hollywood roles and Cole Porter is writing "Night And Day" for your Broadway roles, you don't need to look elsewhere for material. Still, he agreed to listen to the song. And at the end he told Spence and Bergman, "I like that. I'll record it next week." And he did. So, as an engagement gift, Alan was able to present Marilyn with the song he'd written for her as recorded by Fred Astaire. How cool is that?
"Nice 'n' Easy" came along a couple of years later. They were working out of a garage in the San Fernando Valley, its walls painted black, and with nothing to relieve them but a poster of Picasso's Guernica. If you think Sinatra was rude dropping the music on the floor like trash, well, the composer himself hadn't thought too much of it initially. Lew Spence had written the main theme and then discarded it. And it was only because he and the Bergmans had finished up early on another song of theirs that he went back to the battered upright and played them the first part of the tune. And Alan immediately came up with a title: "Nice 'n' Easy". They knew they were writing for a man who's squired the most desirable women in the world, but they wanted to do something different for him - a song about being so sure of how things are going to work out that "on the road to romance" it's more fun to ease off the gas and "make all the stops along the way". Marilyn Bergman described it as "Let's go through the progression of a love affair. Let's not risk breaking something that can be very fragile, a potentially serious relationship. But I think the song also has a whole sexual subtext. I think it also has to do with the act of making love."
With "What Are You Doing The Rest Of Your Life?", I'm never quite sure what to make of the rhyme scheme, with its three-ways on the ante-ante-penult: "rest of your life"/"north and south and east and west of your life"/"only one request of your life". By contrast, "Nice 'n' Easy" just glides along, singing so nice 'n' easy you don't even notice how few rhymes there are:
Let's take it Nice 'n' Easy
It's gonna be so easy
For us to fall in love
Hey, baby, what's your hurry?
Relax and don't you worry
We're gonna fall in love...
That's half the song with just one rhyme plus two identities (easy/easy and love/love). The middle section gives us one more:
We're on the road to romance
That's safe to say
But let's make all the stops
Along the way...
That's superb pop writing. It's not clever or flashy but it has a great title that's a perfect fit for the melody and the rest of the words and music vindicate it. The tune's nice'n'easy, too, its main theme just noodling up and down in half-steps that seem to invite jazzy note-bending. Only at the end of the second A-section does it get away from its intimate meandering and open up for some real intervals. And then, right in the final section of a very sparely rhymed song, it gives us one highly memorable pairing that makes the song unique and yet sits on those notes as if it's the most natural thought in the world:
The problem now of course is
To simply hold your horses
To rush would be a crime...
It would. By comparison with what followed - "Windmills Of Your Mind", "The Way We Were", "You Don't Bring Me Flowers" - this is the nicest, easiest swinger in the Bergman catalogue, and a side of the writers we haven't heard much of since.
That day in Vegas, Frank must have been hungover or Lew Spence played it badly. But Hank Sanicola, Sinatra's personal manager (he and Frank wrote a couple of songs together over the years), liked "Nice 'n' Easy", and once they were back in Los Angeles Sanicola made a point of tinkling Spence's tune on the ivories whenever the singer wandered into earshot. Eventually, Sinatra asked: "What's that cute little thing you're playing?"
The arrangement fell to Nelson Riddle, whom the Bergmans had met a few years earlier. "There was a time when Nelson wanted to write songs," said Marilyn. For one thing, no matter how great an arranger is, he gets a flat fee. So Riddle's brilliant chart for, say, "I've Got You Under My Skin" was a one-off payment for Riddle but a mountain of royalty checks for Cole Porter. There are exceptions to this, of course: In the early Eighties, when Linda Ronstadt wanted to do an album of standards with Nelson, Elektra Records were so convinced she was heading for an almighty career-killing flopperoo, they refused to pay Riddle's usual arranging fee and forced him instead to take a percentage. All three albums went platinum and Riddle wound up making more money from his Ronstadt charts than he ever did from Sinatra, Ella or Nat Cole. That said, the big money is in songs. Gordon Jenkins wrote "This Is All I Ask", "Goodbye", "PS I Love You" and a handful of others. Axel Stordahl composed "Day By Day" and "I Should Care". Billy May had "I Taut I Taw A Puddy Tat". But the nearest to a hit tune in Riddle's oeuvre was his theme for the TV show "Route 66" (which isn't the "Route 66", in case you're wondering). Still, for a while he gave it a go, and so Alan and Marilyn Bergman wrote a song with Riddle called "That's What It's All About." And no one ever recorded it. Not even Frank, just as a favor, which he occasionally did. Riddle was a genius musician, and his vamps and fills are full of ingenious counter-melodies. But a regular old non-counter singable melody eluded him.
For "Nice'n'Easy", "Nelson wrote the arrangement a little faster than we thought it should be," said Marilyn, "but he made it sexy at that tempo." It's gently finger-snappy, very seductive, with that arresting stop after "all the stops". On the studio out-takes, you can hear Frank learning the song, relaxing into it, improvising different endings, some of the raunchier ones not quite so nice, and indeed a little uneasy, at least for the lyricists, who were sitting in the control room. Finally he nailed it, by playing off "every time" with an evocation of Count Basie's famous outro on "April In Paris":
Nice 'n' Easy does it
Nice 'n' Easy" does it
Nice 'n' Easy does it ev'ry time...

Like the man says, one more time!

Nice 'n' Easy does it
Nice 'n' Easy does it
Nice 'n' Easy does it ev'ry time.
And then a seven-note tag from the bass, and a final snap from Sinatra.
Nice 'n' easy did it for Frank that time, and for the authors watching on the other side of the glass. "We were surprised and delighted by the ending," Alan Bergman told me. And nobody minded that "Nice 'N' Easy" doesn't really fit the album it wound up as the title of. The rest of the songs are remakes of ballads he'd first sung in the Forties - "Try A Little Tenderness", "I've Got A Crush On You". The singing's beautiful but a little too consistent in its romantic ardor. The breezy playful sexiness of "Nice 'n' Easy" as the album opener is at odds with everything that follows. But it's awful hard to resist. It's one of the definitive Frank tracks, one of the ones you'd play if you wanted to demonstrate the Sinatra persona to a visitor from Planet Zongo. "Writing for Frank Sinatra was like writing for a character in a play," says Marilyn Bergman. "You know exactly the language, the look, the attitude, everything."
He sang it on and off over the ensuing decades, deploying it memorably in a TV reunion with Gene Kelly, the dancer itching to erupt into frenetic tapping, the singer advising him that "nice 'n' easy does it". The other singers who picked up on it are mostly the ones you'd expect, from Shirley Horn and Jack Jones to Rosemary Clooney and Michael Bublé (although Nancy Sinatra also cut a version). But, asked to name his favorite, Lew Spence used to plump for Charlie Rich, the country singer best known for "The Most Beautiful Girl". Rich had a rich voice that didn't always get the material it deserved. "Nice 'n' Easy" was a rare exception.
For Lew Spence, lightning never again struck to quite the same brilliant effect. The composer decided to write his own lyrics and Stephen Sondheim liked them so much he recommended Lew as a lyricist to Burton Lane, the composer of Finian's Rainbow and On A Clear Day You Can See Forever. So Spence is a weird example of a successful composer who wound up as an unsuccessful lyricist. But he kept working. He put together a revue of his work with a marvelous title, Lew And The Night And The Music, and he had something on the go more or less to the end. In contrast to the lifelong love of his lyricists, Spence fell over and over and over, and never "held his horses". His niece Toni Schulman told The New York Times:
He was very romantic. He loved women his whole life. He threw himself in over and over. When he met a woman he was attracted to, he was a goner. Once he met a woman wearing a green dress. There was no looking back. In the end, all he was left with was his song, 'That Green Dress.' My uncle had a very soft side to him, but he was not a cautious person. He was not nice 'n' easy.
As for the Bergmans, they had to wait seven years until "Windmills Of Your Mind" started their run of big-time movie songs, since when they've never looked back. Sinatra called them "the kids" way back when they started. "Hey, kids... Hi, kids... Grab a seat, kids..." Late in the day, he asked them to write him a big autobiographical piece about a man and the loves of a lifetime. And they did, and then went to Palm Springs to demonstrate it to him. "C'mon in, kids," he said, and by the end of the song he was weeping. But he never got around to recording it. The last time they saw him was for dinner six months before he died: they were still "the kids", even though Alan was in his early seventies.
What the future of the popular song is none of us can say. But, if it turns out that Lew Spence and the Bergmans' contribution is to be one of the last leaves in the standard songbook, it's a fine piece: a number that sounds so nice 'n' easy you never appreciate how tough 'n' unusual it is to come up with such a thing. Someone somewhere will always be singing it:
Like the man says, one more time!
~For an alternative Sinatra Hot 100, Bob Belvedere over at The Camp Of The Saints places "Nice'n'Easy" at hit sound Number 22. The Pundette is also counting down her own Frank hit parade, and is up to Number 31, a great Styne & Cahn ballad transformed into a masterpiece by Sinatra and Riddle, "Guess I'll Hang My Tears Out To Dry". The Evil Blogger Lady is spending "September In The Rain" with bonus Julie London dress-strap.
~Mark's version of the Bergmans' "Sweet Gingerbread Man", with Jessica Martin, is also available on their Christmas CD. You can read the stories behind more Sinatra songs in Mark Steyn's American Songbook, and Steyn's original 1998 obituary of Frank, "The Voice", can be found in the anthology Mark Steyn From Head To Toe. Personally autographed copies of both books are exclusively available from the SteynOnline bookstore.
SINATRA CENTURY
at SteynOnline
6) THE ONE I LOVE (BELONGS TO SOMEBODY ELSE)
8) STARDUST
10) WHAT IS THIS THING CALLED LOVE?
11) CHICAGO
12) THE CONTINENTAL
13) ALL OF ME
15) NIGHT AND DAY
16) I WON'T DANCE
17) I'VE GOT YOU UNDER MY SKIN
19) EAST OF THE SUN (AND WEST OF THE MOON)
21) A FOGGY DAY (IN LONDON TOWN)
24) OUR LOVE
27) FOOLS RUSH IN
32) I'LL BE AROUND
36) GUESS I'LL HANG MY TEARS OUT TO DRY
37) NANCY (WITH THE LAUGHING FACE)
38) SOMETHIN' STUPID
40) I GET ALONG WITHOUT YOU VERY WELL (EXCEPT SOMETIMES)
41) SOLILOQUY
42) THE COFFEE SONG
44) HOW ABOUT YOU?
46) LUCK BE A LADY
48) (AH, THE APPLE TREES) WHEN THE WORLD WAS YOUNG
49) I HAVE DREAMED
51) I'VE GOT THE WORLD ON A STRING
52) YOUNG AT HEART
54) BAUBLES, BANGLES AND BEADS
55) IN THE WEE SMALL HOURS OF THE MORNING
57) THE TENDER TRAP
59) WITCHCRAFT
60) EBB TIDE
61) COME FLY WITH ME
62) ANGEL EYES
63) JUST IN TIME