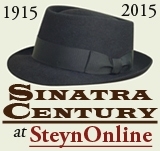 In 1960, Frank Sinatra left Capitol and founded Reprise Records because he wanted to have total artistic control. But oddly, once he'd got total artistic control, he seemed disinclined to exercise it. At Capitol in the Fifties, as a supposed mere contract player for his corporate masters, he nevertheless pioneered the "concept" album and raised it to the level of art: He selected the songs, and programmed them, writing the titles on index cards and then laying them flat on the table and shuffling them around until he had them in an order that told the story he wanted to tell. Which is why, from Wee Small Hours to No One Cares, his albums have such a strong dramatic arc.
Half-a-decade into his "total artistic control" as Chairman of the Board, the LP concepts had evolved. Three of his last four sets with Nelson Riddle were: an album of songs that happened to have won Academy Awards; an album of songs with "moon" in the title; and an album of songs that featured girls' names, eventually aborted presumably because somebody realized that, aside from the name, the girls mostly come out sounding the same (I love your eyes, your smile, I want my arms around you, Insert Name Here). These aren't "concepts", these are Trivial Pursuit categories.
For Nelson Riddle, it must have been particularly frustrating. His partnership with Sinatra had been the most crucial professional relationship in the singer's career. Yet it had languished since Reprise's founding. Riddle was particularly irked at the way the Sinatra and Strings project had been given to Don Costa, whom he began referring to as "Don Co-Star", in sneering tribute to the new man's sudden indispensability to Frank. What was the last complete album Riddle did for Sinatra? The Strangers In The Night LP? No. The title track was the Number One single, arranged by Ernie Freeman. Riddle scored the nine other songs, with a groovy jazz organ that's very striking but has absolutely nothing to do with the MOR pop hit that gets pride of place. A couple of years later, the Beatles asked Riddle to score "The Long And Winding Road", but he turned them down because "I don't do tracks, I do albums". Yet, for his star singer on Strangers In The Night, he'd been reduced to nine-tenths of an album.
So, for pedants, the last full Sinatra/Riddle collaboration is the one released two months before Strangers, in March 1966. It has a droll title, Moonlight Sinatra, that you wish they'd followed through on a little more rigorously, conjuring love on a moonlit night in three movements. Instead, someone just picked a bunch of songs with "moon" or "moonlight" in the title, Frank threw out the ones he didn't like, and then sang the ones that were left over two nights in November 1965. It might have been a more interesting project dramatically if they hadn't interpreted the eligibility requirements quite so narrowly. Lots of Sinatra scenarios, after all, take place in the presence of the moon:
There was a moon out in space
But a cloud drifted over its face
You kissed me and went on your way
The Night We Called It A Day...
Instead, this set confined itself to titular moon songs, a potentially perilous categorization given that "moon"/"June" is the most clichéd imagery in the songbook. Most of the ones that survived were either old Bing hits or Glenn Miller tunes, and the better known ones in each category - "Moonlight Becomes You", "Moonlight Serenade" - do have the faint whiff of cover versions about them. On the latter, the way he bends the line on "My love, do you know?" is as lovely as anything he sang over 60 years, but at a more profound level he doesn't really get inside the song and rebuild it as a Sinatra number.
Thus, Moonlight Sinatra doesn't have the satisfying emotional narrative of other Frank/Nelson sets. It's oddly static - an album to soak in, rather than to follow on its journey. It's the smile of a summer night, for lovers lingering in the moment in a starlit garden. Yet, if the whole is not greater than the sum of its parts, some of the parts are awfully good. For example:
Will this be Moon Love?
Nothing but Moon Love?
Will you be gone when the dawn
Comes stealing through?
"Moon Love" belongs to that select group of songs on the forthcoming album Francis Albert Sings Pyotr Ilyich - as in Tchaikovsky. There's "The Things I Love" (based on Tchaikovsky's Souvenir d'un lieu cher for violin and piano from 1878), and "None But The Lonely Heart" (the last of Tchaikovsky's Six Romances from 1869), and of course the very first studio recording young Frankie ever made, "Our Love" (based on Tchaikovsky's big theme from Romeo and Juliet). "Moon Love" started life as the theme for French horn in the second movement of the composer's Fifth Symphony, written in the summer of 1888. On this section of the manuscript, Tchaikovsky wrote:
o, que je t'aime! o mon amie!
Oh, how I love you! Oh, my friend! "Friend" uses the feminine form of "ami", so this isn't one of Tchaikovsky's male chums, but a lady - perhaps his great patron, Nadejda von Meck. At any rate, what follows is a sustained, lyrical outpouring of passion and longing - one of the greatest slow movements in all his work. It was premiered in St Petersburg in November 1888 with the composer himself conducting. A month later he was in a deep funk about it. As he wrote to Madame von Meck, in December:
After two performances of my new Symphony in Petersburg, and one in Prague, I have come to the conclusion that it is a failure. There is something repellent, something superfluous, patchy, and insincere, which the public instinctively recognizes. It was obvious to me that the ovations I received were prompted more by my earlier work, and that the Symphony itself did not really please the audience. The consciousness of this brings me a sharp twinge of self-dissatisfaction. Am I really played out, as they say? Can I merely repeat and ring the changes on my earlier idiom? Last night I looked through our Symphony [No. 4]. What a difference! How immeasurably superior it is! It is very, very sad!
Tchaikovsky at the time he wrote the Fifth Symphony in 1888 was about the same age Sinatra was when he sang it in 1965, but evidently the latter was less worried about being "played out, as they say". So Tchaikovsky moved on - to his new ballet, Sleeping Beauty, which he rattled off in a few weeks. Reviewing the Fifth's first performance by the Boston Symphony in 1892, William Foster Apthorp in The Evening Transcript found it a wilder ride than the composer evidently did:
In the Finale we have all the untamed fury of the Cossack, whetting itself for deeds of atrocity, against all the sterility of the Russian Steppes. The furious peroration sounds like nothing so much as a horde of demons struggling in a torrent of brandy, the music growing drunker and drunker. Pandemonium, delirium tremens, raving, and above all, noise worse confounded!
Yeah, bring it on, baby!
Tchaikovsky was wrong about his Fifth Symphony, and not because of brandy-sodden Cossacks riding the Steppes in search of atrocities to commit. Fifty years after its premiere, it was a beloved work by concert audiences around the world. As we noted, there was a vogue in the 1930s for pop versions of the classics, and toward the end of the decade it fell to Pyotr Ilyich's fellow Russian, Andre Kostelanetz, to turn the big theme from that second movement into a Hit Parade smash. Kostelanetz had escaped from Russia five years after the Communist revolution and made his way west. He helped invent what subsequently became known as "easy listening" and, if you were on a British military base anywhere from Cyprus to Singapore in the latter half of the 20th century, you'll instantly recognize his arrangement of "With A Song In My Heart" as the theme to the BBC's "Two-Way Family Favourites". For what it's worth, I used a peppy Kostelanetz version of Bernstein's "New York, New York" as a radio theme myself for a while.
On this occasion, it fell to the Russian to "organize" Tchaikovsky into Tin Pan Alley-friendly form. He was assisted by two other songwriters, Mack David and Mack Davis. What are the odds of that? It's like Mark Steyn writing a book with Mark Steyd. How does that happen? Was it a typing error? Did Kostelanetz bark at his secretary "Get Mack David to do a lyric!" and she misheard it as "Mack Davis"? Was it like Joan Rivers' debut appearance with Ed Sullivan? Ed supposedly mangled the tease for singer Johnny Rivers and promised "Next week we'll have Joanie Rivers!", so they felt they had to.
At any rate, Mack David wound up writing a song with Mack Davis. Of the two, Mack David is the more eminent. Mack Davis wrote other songs, including other moon songs, such as "There's Honey On The Moon Tonight", which oddly enough never made it on to Moonlight Sinatra. Mack David, on the other hand, was the older brother of Hal David (of Bacharach &...), and, aside from warming up the name for his more successful sibling, enjoyed the distinction of Sinatra singing his songs longer than almost any other writer, from the late Thirties all the way to the mid-Nineties. Frank sang both "Sunflower", Mack David's 1948 hymn to a Kansas lovely, and "Hello, Dolly!", Jerry Herman's 1964 Broadway blockbuster, which bore a certain melodic similarity to "Sunflower" and whose resulting legal settlement ensured Mack David made more money from "Dolly!" than he ever did from "Sunflower". Speaking of that aborted album of songs with girls' names, Sinatra commissioned Mack David, a neighbor of his in the California desert, to write one called "Barbara", in honor of the new Mrs Sinatra.
For "Moon Love", Mack David, Mack Davis and Mack Davelanetz came up with a big central idea that matches the size of the melody:
Will this be Moon Love?
Nothing but Moon Love?
I don't know whether anyone had ever used the phrase in that sense before, but its meaning is instantly recognizable: Is this just the intoxication of a moonlit night? Or, as it was later more bluntly formulated, will you still love me tomorrow?
Are these just moon dreams
Grand while the moon beams?
But when the moon fades away
Will my dreams come true?
There aren't a lot of rhymes in the song. It's such a strong, clear melody that the adaptors keep it simple, with monosyllabic words, repeated as necessary:
Much as I love you
Don't let me love you
If I must pay for your kiss
With lonely tears...
That looks a wee bit over-ripe on paper, but it sings beautifully as the tune soars.
"Moon Love" was recorded by Mildred Bailey, Paul Whiteman and other big names, but it was Glenn Miller's orchestra, with Ray Eberle on vocals, who took the song to Number One in July 1939. A month later, on August 10th 1939, the new boy singer with the Harry James band took to the stage at the Roseland Ballroom in New York and, to an Andy Gibson arrangement, sang:
Will this be Moon Love?
Nothing but Moon Love?
Will you be gone when the dawn
Comes stealing through?
And thus began Frank Sinatra's half-century relationship with the songs of Mack David. The Gibson arrangement is nothing fancy but, in the first instrumental chorus, it lets the tune flow for the brass and saxes. Yet young Frankie's vocal, even at the dawn of his professional singing career, is a far subtler affair: For whatever reason, he knows enough in that middle section - "Much as I love you..." - to dial back the lung power and let you in to the poor guy's emotional plight: his soft reading of "Don't let me love you" is a very mature interpretative decision. You wonder where it came from. But it reminds you that, even at the very beginning, Sinatra was never just a singer but a storyteller.
Frank went on to Tommy Dorsey and a thousand other songs. But somehow over the next quarter-century "Moon Love" stayed with him. At home he preferred to listen to classical music, and one assumes, as with "None But The Lonely Heart", that he was well acquainted with this melody in its original symphonic context. To a Tchaikovsky fan, the pop reductio of the Fifth Symphony's most famous theme simplifies the harmony and development. But Nelson Riddle isn't any old pop arranger, and in 1965 he brought to Moonlight Sinatra some of his deeper classical inclinations. In particular he helps reconnect "Moon Love" with the Fifth Symphony, and Sinatra responds, imbuing a not terribly great lyric with utter sincerity:
Say it's not Moon Love
Tell me it's true love
Say you'll be mine
When the moon disappears...
Over the years critics have suggested that Tchaikovsky's themes can, in a vaguely Slavic fashion, droop. Whether that's true of the music of "Moon Love", it's certainly the case with the lyric. You can't bellow out "dis-ap-pearsssssss!!!!!!" at the conclusion. Is this just moon love? Nothing but moon love? We can never know - until the dawn. And so, as he would famously do with the same word on the end of "Angel Eyes" at his "retirement" concert, Sinatra himself disappears, his voice dissolving into Nelson Riddle's bright cloud of music, and leaving the eternal question unanswered.
Attending that recording session on November 29th 1965 was the usual diverse crowd of Sinatra pals, including Dodgers pitcher Don Drysdale, golfer Bo Wininger and the writer Gay Talese, working on what would become his famous essay "Frank Sinatra Has A Cold":
When his voice is on, as it was tonight, Sinatra is in ecstasy, the room becomes electric, there is an excitement that spreads through the orchestra and is felt in the control booth... There are also numbers of pretty women standing in the booth behind the engineers, women who smile at Sinatra and softly move their bodies to the mellow mood of his music:

'Will this be moon love
Nothing but moon love
Will you be gone when the dawn
Comes stealing through....'

After he is finished, the record is played back on tape, and Nancy Sinatra, who has just walked in, joins her father near the front of the orchestra to hear the playback. They listen silently, all eyes on them, the king, the princess; and when the music ends there is applause from the control booth, Nancy smiles, and her father snaps his fingers and says, kicking a foot, 'Ooba-deeba-boobe-do!'

Then Sinatra calls to one of his men. 'Hey, Sarge, think I can have a half-a-cup of coffee?'

Sarge Weiss, who had been listening to the music, slowly gets up.

'Didn't mean to wake ya, Sarge,' Sinatra says, smiling.
Nancy Sinatra considers it one of her dad's best ever recordings.
Incidentally, if you think Frank recorded a lot of songs by Mack David (half-a-dozen), well, he recorded almost as many by John Denver (five), of whom he was unaccountably fond for most of the Seventies. The one he never got around to was the singer-songwriter's big hit "Annie's Song". When Denver first played it to his producer, Milt Okun listened politely and then said: "That's Tchaikovsky's Fifth Symphony, second movement."
"Really?" said Denver.
So he went back to the piano and in one hour rewrote it, except for the opening phrase "You fill up my senses", which is indeed Tchaikovsky:
You fill up my senses like a night in a forest...
I get the feeling Frank Sinatra never had any desire to spend a night in a forest. But Tchaikovsky? I can see that. And, for filling up your senses, I'll take Nelson Riddle's orchestration of "Moon Love" over "Annie's Song".
~For an alternative Hot 100, the Pundette is also counting down her Frank hit parade, and has more Sinatra & Riddle at Number 19 with "The Nearness Of You". Meanwhile, Bob Belvedere over at The Camp Of The Saints is counting down the Voice's Top Ten Albums and at Number Six has Sinatra and Johnny Mandel with Ring-A-Ding Ding! The Evil Blogger Lady is laughing it up with Frank and the Gershwins.
~Steyn's original 1998 obituary of Frank, "The Voice", can be found in the anthology Mark Steyn From Head To Toe, while you can read the stories behind many other Sinatra songs in Mark Steyn's American Songbook. Personally autographed copies of both books are exclusively available from the SteynOnline bookstore.
SINATRA CENTURY
at SteynOnline
6) THE ONE I LOVE (BELONGS TO SOMEBODY ELSE)
8) STARDUST
10) WHAT IS THIS THING CALLED LOVE?
11) CHICAGO
12) THE CONTINENTAL
13) ALL OF ME
15) NIGHT AND DAY
16) I WON'T DANCE
17) I'VE GOT YOU UNDER MY SKIN
19) EAST OF THE SUN (AND WEST OF THE MOON)
21) A FOGGY DAY (IN LONDON TOWN)
24) OUR LOVE
27) FOOLS RUSH IN
32) I'LL BE AROUND
36) GUESS I'LL HANG MY TEARS OUT TO DRY
37) NANCY (WITH THE LAUGHING FACE)
38) SOMETHIN' STUPID
40) I GET ALONG WITHOUT YOU VERY WELL (EXCEPT SOMETIMES)
41) SOLILOQUY
42) THE COFFEE SONG
44) HOW ABOUT YOU?
46) LUCK BE A LADY
48) (AH, THE APPLE TREES) WHEN THE WORLD WAS YOUNG
49) I HAVE DREAMED
51) I'VE GOT THE WORLD ON A STRING
52) YOUNG AT HEART
54) BAUBLES, BANGLES AND BEADS
55) IN THE WEE SMALL HOURS OF THE MORNING
57) THE TENDER TRAP
59) WITCHCRAFT
60) EBB TIDE
61) COME FLY WITH ME
62) ANGEL EYES
63) JUST IN TIME
65) NICE 'N' EASY
66) OL' MACDONALD
68) AUTUMN LEAVES