On the Town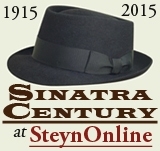 This weekend marked the one hundredth anniversary of the birth of Frank Sinatra. So to round out our celebrations here's another edition of the ancillary series to our Sinatra Songs of the Week, The Song Is You, in which composers and lyricists tell the stories behind some of the great standards Sinatra sang.
This episode is devoted, for the first time, to just one writer - Alan Bergman. With his wife Marilyn, Alan has written such songs as "Windmills of Your Mind", "The Way We Were" and "You Don't Bring Me Flowers". But, long before their big movie numbers, Alan and Marilyn were young, unknown writers in Los Angeles who nevertheless managed to get Sinatra to record a handful of their songs. In this show, Alan Bergman talks to Mark about the classic "Nice 'n' Easy" and the swingin' nursery rhyme "Ol' MacDonald", plus Sinatra performances of later songs by the writers he always called "the kids" such as "How Do You Keep The Music Playing?", "What Are You Doing The Rest Of Your Life?" and many more - with an occasional assist from Dean Martin, Gene Kelly and others. And Alan himself sings "Nice 'n' Easy"'s lesser known second chorus - and tells the story of the great magnum opus they wrote at Sinatra's request.
Click above to listen.
Alan Bergman will be back with us later this month for a seasonal edition of The Song Is You. In Episode One, Mitchell Parish, Phil Springer, and Betty Comden and Adolph Green talked about songs such as "Stardust", "Sweet Lorraine", "How Little We Know", "New York, New York" and "Lonely Town".
In Episode Two, we heard from Irving Caesar, Ann Ronell and Alan Jay Lerner about "Almost Like Being In Love", "I Could Have Danced All Night", "On A Clear Day", "Tea For Two" and "Willow, Weep For Me".
~For a century's worth of Sinatra songs see here. For Mark's podcast with longtime Sinatra conductor Vincent Falcone, you can find Part One here and Part Two here. For Steyn's take on Sinatra at the movies see here. And Mark's original 1998 obituary of Frank, "The Voice", can be found in the anthology Mark Steyn From Head To Toe, while you can read the stories behind many other Sinatra songs in Mark Steyn's American Songbook. Personally autographed copies of both books are exclusively available from the SteynOnline bookstore.
from A SteynOnline Sinatra Century Audio Special, December 13, 2015
Composers and lyricists tell the stories behind some of the great standards Sinatra sang...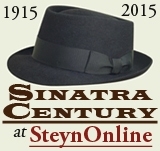 Composers and lyricists tell the stories behind the songs Sinatra sang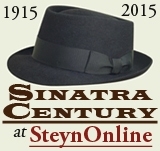 50 years of Sinatra Christmas classics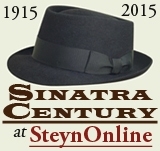 Mark talks to the songwriters of "Tea For Two", "Almost Like Being In Love", "On A Clear Day" and "Willow, Weep For Me"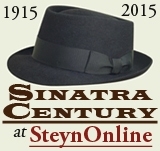 Part Two of Mark's audio special with Frank Sinatra's longtime pianist and conductor Vincent Falcone Jr.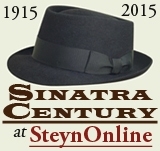 Part one of Mark's conversation with the man who played piano and conducted for Sinatra during the Seventies and Eighties: Vincent Falcone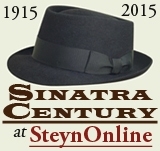 The first of a new audio series with Mark in conversation with great songwriters
Yes, it's Steyn's night of horror. No, not his flight on United. That was just the warm-up.
Following his spooky interpretation of a 1970s rock classic for last Halloween, Mark thought he'd try something even scarier for this All-Hallows Eve. He's always wanted to do one of those 1980s rock videos - moody, menacing, monochrome, full of smoke and guitars. So click below and stand well back:
With a tip of the hat to Tweety, Sylvester ...and Sting.
For the backstory, see here.
For more, see here.
An encore presentation of Mark's audio salute to James Bond's music man, John Barry
For this Father's Day weekend, I thought we'd enjoy a word from Jack Lemmon. Not because he's my dad, but because a quarter-century of Father's Days ago, I spent a little bit of time with him...
The Avengers: Age of Ultron has opened, heralding the start of yet another superhero summer at the multiplex. Rick McGinnis writes about the age of the comic-book movie here, and I've expressed my disquiet about the damage to heroism that comes when you prefix it with "super-". But they're all that's keeping the big studios in business these days, and the new Avengers movie is likely to be one of the biggest-grossing of all time. Captain America, the Mighty Thor, Iron-Man... They're bringing in ...
Steyn marks the centenary of a great singer, born one hundred years ago today in Philadelphia
Happy Easter and Happy Passover to our readers around the world. We moved our Saturday movie night to Good Friday for Mel Gibson's blockbuster The Passion Of The Christ. So, for the weekend proper, here's a special podcast, audiophonically adapted from an essay that appears in Mark's book A Song For The Season. Mark traces the story of Irving Berlin's "Easter Parade", from its obscure origins as a First World War morale booster to its re-emergence a generation later as the American Songbook's ...
| | |
| --- | --- |
| | |
2015 is Frank Sinatra's centenary year, which necessitates a few modifications to SteynOnline's music, film and entertainment coverage. Our official observances commence tomorrow when our Song of the Week department becomes a Song of the Semi-Week in order to squeeze in 100 Sinatra songs of the century between now and December. Several other folk seem to have opted for this approach, too - our old friend the Pundette has launched a dedicated Sinatra Centenary site for that very purpose - so we ...
Steyn marks the centenary of screen siren and spread-spectrum siren Hedy Lamarr
Mark is in Chicago this weekend promoting his new book, The [Un]documented Mark Steyn. As we mentioned a week ago, Hugh Hewitt read it and said:
"Moon River and Me" @MarkSteynOnline '09 essay on Johnny Mercer alone worth the price of book...
Cole Porter died fifty years ago this week - October 15th 1964, in Santa Monica...
This summer marks the 100th anniversary of the start of the Great War, the conflict that gave us the modern world - Communist Russia, the post-Ottoman Middle East, Europe's loss of civilizational confidence. The catalyst for war was the assassination of the Archduke Franz-Ferdinand, which Mark noted here a month ago. In the weeks ahead, we'll be looking at some of World War One's cultural legacy, for good or ill. As a curtain-raiser, here's an encore presentation of a SteynOnline audio special, celebrating the British Tommies' favourite ballad of the war years, "If You Were The Only Girl In The World", and its composer Nat D Ayer.
Ayer was a two-hit wonder, with an ocean between them: "If You Were The Only Girl" was his British hit; his American hit from five years earlier was known to generations of Looney Tunes viewers for most of the next century - "Oh, You Beautiful Doll". This special podcast was first broadcast to mark the 100th birthday of "Beautiful Doll" in 2011...
Mark talks to Kander & Ebb, writers of Cabaret and Chicago - and recalls his own small place in their oeuvre
...but whatever happened to non-super heroes?
The last of the Mamas and Papas when all the leaves are brown...
A SteynOnline audio special to mark the 60th birthday of The Pajama Game
No sooner do we release the new eBook of Mark Steyn's Passing Parade than readers start bombarding me with demands to know where the audio book is. Well, here's the nearest to an audio excerpt from the book - a salute to Artie Shaw...
Mark's centenary salute to Budd Schulberg, the Hollywood survivor who wrote What Makes Sammy Run?, On The Waterfront and Face In The Crowd...
In lieu of our usual Song of the Week, we present a SteynOnline audio special: Mark talks to singer-songwriter Paul Simon - including a tour of Simon's boyhood neighborhood and a live performance of his very first song
In Part Two of our audio special, Paul Simon talks to Mark about songwriting, demonstrates the original ska version of "Mother And Child Reunion", and muses on the alleged homosexual subtext of "Me And Julio Down By The Schoolyard"