Tomorrow, Wednesday, I'll be enjoying at rather short notice a little light radio work, details at right. It starts at 12 noon Eastern. Hope you can dial us up.
~Here's another of what The Globe & Mail's Doug Saunders calls those "urban myths" about migrant rape:
AN Afghan migrant has admitted the rape and murder of a medical student, who also worked voluntarily at a refugee centre.
Maria Ladenburger, the daughter of a high-ranking EU official, was returning from a party in the university city of Freiburg in Germany when she was assaulted on a cycle path.

She was raped and then drowned before her body was found in the River Dreisam.
Under the insane rules of German crime reporting, the murderer is only mentioned in the press by his first name - Hussein. In fact, he's Hussein Kavari. You can see a picture of him here. Quite the charmer. Very assimilated in terms of his fashion style, if not in anything that matters.
Poor Miss Ladenburger was 19 years old, the daughter of Dr Clemens Ladenburger, who's a senior advisor at the European Commission's legal directorate. Whether or not she is as Saunders sneers an "urban myth", she was certainly the victim of other kinds of myths, and yet another sacrifice on the altar of utopian illusions.
Meanwhile, in non-refugee news:
Toronto neurosurgeon Mohammed Shamji, 40, charged with murder in death of physician wife
SteynOnline reader Tess Jensen notes the curious priorities of that CBC headline:
Mohammed gets top billing including profession and age; the generic wife, just a lowly, nameless doctor behind.

Below, in a font 1/4 the size: "Elana Shamji's body found in Vaughan, Ont..." - found in a suitcase. The doctor's twitter account was Elana Fric Shamji - i.e. the CBC took the liberty of excising the European name. Nowhere does the CBC article inform that Fric "had filed divorce papers", "was in good spirits" and was "looking toward her new life." (Toronto Sun). Of course, a phrase like "suspected honour killing" will never appear except perhaps in the Islamophobic realm of the "far right".
Upon her marriage, the late Dr Fric converted to Islam. Miss Ladenburger wound up in the River Dreisam, Dr Fric "in a suitcase" under a bridge over the West Humber River. Western feminists stand silent before the rivers of blood.
In London, a 72-year-old Mohammed has been jailed for raping a nine-year-old girl repeatedly over a three-year period.
But don't worry, the Germans have the solution:
Migrants are being taught how to attract women and sexually arouse them in German seminars run by a pickup expert known as 'Mr Flirt'.
You may scoff at Mr Flirt's technique, but in a pilot program Angela, a 62-year-old German woman, found herself attracted to 1.3 million Muslim migrants in just one year!
Oh, wait. Breaking news:
Angela Merkel has called for a burqa ban in Germany and said the refugee crisis "must never be repeated".
Now she tells us. Too late for Maria Ladenburger, alas.
PS You have to admire this Finnish gal's spunk.
~My cat album Feline Groovy: Songs for Swingin' Cats, dedicated to my own groovy feline Marvin, continues to stack up five-star reviews at Amazon. This one is from John L Hoh Jr:
Five Stars

I love Mark Steyn and anything he writes or sings
Thanks for that, John. If you need a stocking-stuffer for the cat-fancier in your family, Feline Groovy is available on CD - and, if you can't wait for the mailman, it can be yours in seconds via digital download from Amazon or iTunes. See you on the radio.
December 6, 2016 at 6:50 pm | Permalink
In case you missed it, here's how the last seven days looked to Mark:
The week began with an orgy of droologies for Cuba's murderous dictator. Steyn considered the phenomenon in our most-read piece of the se'nnight "A Monster And His Suck-Ups".
~On Monday Mark joined Stuart Varney on Fox Business to discuss the Democrats' doubling down on identity politics. Click below to watch:
As Mark alluded to at the end, the interview got off to a wobbly start.
~On Tuesday Steyn addressed the latest outbreak of Allahu Akbaritis in America: an Ohio State University student who objected to Muslims being stereotyped as violent terrorists. So he went bananas and stabbed everybody.
~Is Trump like British Labour leader Jeremy Corbyn, or former French National Front leader Jean-Marie Le Pen, or is he the Liberace de nos jours? At midweek Mark examined a new journalistic genre in "The Donaldgänger".
~On Friday Steyn pondered Kellogg's decision to extend American politics' cold Civil War into their breakfast cereals, and, for our Saturday movie feature, noted that it was all a long way from the more, er, focused obsessions of the company's founders.
~For our weekend musical offering, Mark picked three songs from one flop show that have been recorded by everyone from Tony Bennett to Nina Simone to Van Morrison.
Speaking of bestselling recording artists, Steyn was very touched to discover early in the week that over at Amazon he and his cat album were keeping some stellar company: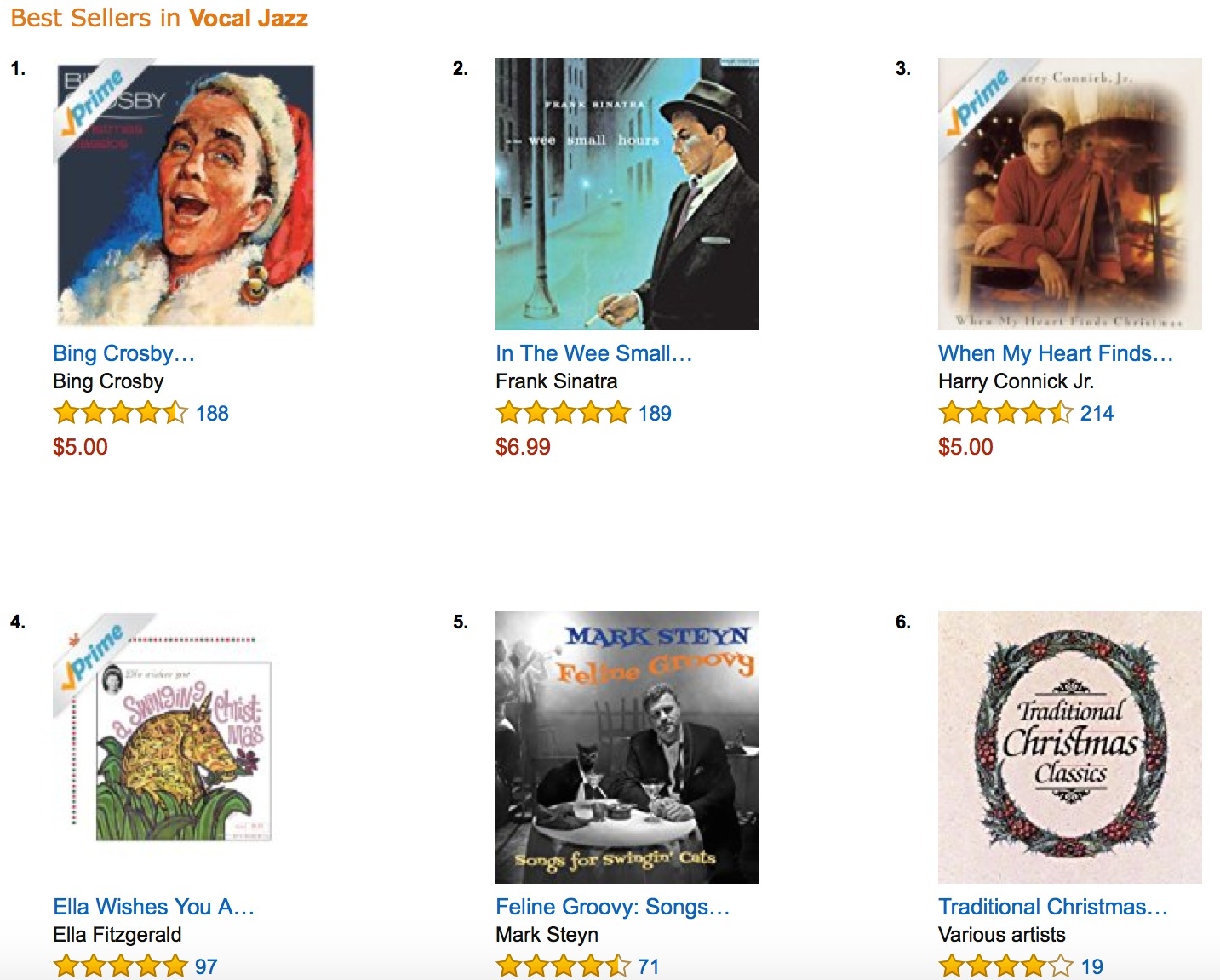 As Mark put it:
I think you'll find most critics agree that if you had to name the five greatest vocalists of all time it would be Bing, Frank, Harry Connick, Ella, and, er, me. Although probably with Connick in fifth place.
Aside from Feline Groovy, there are plenty of other great Christmas gift ideas over at the Steyn store.
A new week at SteynOnline begins tonight with our Song of the Week.
December 4, 2016 at 6:03 am | Permalink
I mentioned yesterday that the media were still having difficulties explaining what happened on November 8th to their aghast and distraught readers. But it's getting ever more difficult to make a living arguing that Trump is Hitler: after all, every melting snowflake in every collegiate safe space can tell you that. So how about Trump is British Labour Party leader Jeremy Corbyn?
Trump And Corbyn Have More In Common Than You Think
On the other hand:
Liberace And Donald Trump Have A Lot In Common
Does that mean Liberace and Jeremy Corbyn have a lot in common? Hard to see. Corbyn is notorious for the candelabra-topped bejeweled piano on which he tinkles "We'll keep the Red Flag flying here", whereas Liberace was regularly slumped on the floor in train corridors while traveling to assignations with fetching young men.
But wait. Maybe Trump isn't Labourace or Jeremy Candelabryn. Maybe he's a millennial pick-up artist as delineated by Neil Strauss in his investigation into the "seduction community":
On the other other other hand, Trump is Jean-Marie Le Pen:
Donald Trump has no champions in France — even those encouraged by his success routinely describe his performance in the US Republican primary as uncouth, and 75 per cent of the French electorate (according to, yes, another opinion poll) 'dislike' him. Trump is sometimes described as 'the modern Jean-Marie Le Pen' by voters who loathed Marine Le Pen's sulphurous father but might well vote for her.
Does that mean Jeremy Corbyn is Jean-Marie Le Pen? Aside from the anti-Semitism, obviously.
At any rate, Trump is Jean-Marie Le Pick-Up, LePenerace, Jeremy Campyn, and a fascist socialist pianist pick-up artist. And all that's just from the current issue of The Spectator. As Walt Whitman famously wrote of Trump:
I am yuuuuuuuge, I contain multitudes.
It turns out Trump contains everybody.
~If the media have no idea who actually won the election, they're reluctant to give up on who should have won. Newsweek has just launched a bold move to increase its circulation in Opposite Land and Bizarro Universe by publishing some of the post-election commentary the greatest J-school minds of their generation had pre-written and ready to go up until election night went south for them circa 9.30pm Eastern. But why let reality intrude? Trump won? Sez who?
Lots of outlets prepared for the opposite outcome. And so, thanks to Trump's unexpected electoral victory, there is now a massive, unprecedented content graveyard of articles celebrating or analyzing Hillary Clinton's would-be historic victory... Most of that content won't be read by anyone. But here is a small sampling. This collection is a tiny glimpse of what the internet would have looked like on November 9 if Clinton beat Trump, as so many pundits forecast.
I suppose this is like those "And here's one I made earlier" moments in cooking shows. Except that in this case the soufflé failed to rise - and, indeed, went down quicker than Monica. Still, given how obviously traumatized are the legions of saps who believed America's laughingstock media, I'm in favor of Newsweek keeping up this alternate-universe Hillary Presidency as a form of liberal therapy for the next four years - or whenever they cease publication, which seems likely to come sooner. Much sooner.
When you think about it, "content graveyard" is an ingenious phrase, simultaneously encompassing both American journalism's future and its indestructible complacency.
~While we're on the subject, are you worried about all this "fake news" that's out there? President Obama is:
Well, the most important thing that I'm focused on is how we create a common set of facts. That sounds kind of abstract. Another way of saying it is, how do we create a common story about where we are. The biggest challenge that I think we have right now in terms of this divide is that the country receives information from completely different sources. And it's getting worse. The whole movement away from curated journalism to Facebook pages, in which an article on climate change by a Nobel Prize-winning scientist looks pretty much as credible as an article written by a guy in his underwear in a basement.
Hmm. "A guy in his underwear in a basement"? I wonder who he has in mind there. As it happens, real Nobel Laureates are mostly relaxed about climate change (more on that in my book "A Disgrace To The Profession"). It's the self-conferred Nobel Fauxreates who are queenily hysterical about it.
But that's not the most obvious irony about the President's observation. It's more basic than that. Obama's bemoaning the rise of "fake news" to, of all people, Rolling Stone's Jann Wenner - the proprietor of a "curated journalism" publication that less than a month ago was hit with three million bucks in damages for inventing a fake rape perpetrated by a fake rapist for whom there is no proof of actual corporeal existence. So Jann Wenner's minions set to work to - oh, what's the phrase? - "create a common set of facts" about him.
In that sense, Trump and Haven Monahan have, as The Spectator would say, a lot in common. The media "created a common story" about him so appealing to their delusions that it became entirely irrelevant whether or not a real, actual Donald Trump exists - which, to judge from Newsweek's Fantasy Island presidency, he doesn't.
~Re my paean to Jerry Maguire, not every reader was similarly charmed:
"You had me at hello."

You lost me at Tom Cruise.

Angelica M Sharp
Manor, Texas
Oh, dear. Better steer clear of my new Spectator column arguing that "Trump and Tom Cruise have a lot in common". He had me at "Only Rosie O'Donnell".
~No sooner do I cite my cat album's mountain of five-star reviews at Amazon than another one shows up. This one is from Annette, who is easily pleased:
Five Stars

I love Mark Steyn and anything he writes or sings
Thanks, Annette. Alone on this planet, Trump and my cat album have absolutely nothing in common, because in the latter case the pussy grabs you. If you're looking for a stocking-stuffer sure to please the cat-fancier in your family, Feline Groovy: Songs for Swingin' Cats is available on CD - and, if you can't wait for the mailman, it can be yours in seconds via digital download from Amazon or iTunes.
November 30, 2016 at 11:42 pm | Permalink
Yesterday, I wrote about the thwarted mass murder at Ohio State University. To the Best Vice-President We Never Had, Tim Kaine, it was "a senseless act of gun violence". To those under attack, it was in fact an act of automobile violence and machete violence. And to the perpetrator, it was not "senseless" but made perfect sense.
Three months ago, Abdul Razak Ali Artan gave an interview to the university newspaper (you can find it here on page five) complaining about inadequate signage for Muslim prayer rooms:
I wanted to pray in the open, but I was scared with everything going on in the media. I'm a Muslim, it's not what the media portrays me to be. If people look at me, a Muslim praying, I don't know what they're going to think, what's going to happen. But, I don't blame them. It's the media that put that picture in their heads so they're just going to have it and it, it's going to make them feel uncomfortable.
Yes, it's very unfortunate that people feel uncomfortable when they see a Muslim praying ...because of all these unfair media stereotypes about violent, dangerous Muslims. So, three months after being lovingly profiled in the college newspaper as the antidote to all those misleading stereotypes, young Abdul went full Allahu Akbar on his fellow students.
And now a zillion federal, state, county, municipal and university law-enforcement agencies are rolling in the overtime to determine what Mr Artan's mysterious "motive" might have been. I note this from The New York Times:
Investigators were looking into whether the attack was an act of terrorism and were seeking information on the student, Abdul Artan, a permanent United States resident from Somalia who was studying logistics management at Ohio State.
"Logistics management": Is that what they're calling it now? Well, it makes more sense than the Obama Administration's "workplace violence".
~Of course, we don't really need to worry about terrorism because we're spending more than ever on our ever more sophisticated intelligence services. Whoops, what's this?
German intelligence officer 'arrested over Islamist plot' raising fears the spy agency has been infiltrated
That's some serious logistics management right there.
~The US media are still trying to explain to their shell-shocked readers what happened on November 8th. Nobody likes to be told they're out of touch and living in a bi-coastal bubble. So The Washington Post's Jeff Guo has decided that "rural Americans live in a bubble, too":
A few weeks ago, I interviewed Kathy Cramer, a political scientist who has spent many years listening to the people of rural Wisconsin. Rural folks, she told me, often believe they are in a losing battle with cities and elites. In their understanding of politics, she said, it's the hardworking country sons versus the lazy urbanites; the struggling small towns versus the self-indulgent metropolises; the honest farmers versus the government pencil-pushers. It was these perspectives, Cramer told me, that helped explain Donald Trump's success.
Speaking for my own patch of North Country decrepitude, I think Ms Cramer and Mr Guo are all wet. It's not "hardworking country sons versus the lazy urbanites": Trump voters are worried about precisely the opposite - that, even if you want to work hard, there's nothing to do. The grandsons of farmers and sons of mill workers have kids whose only local career choices are a minimum wage shift at the KwikkiKrap - or a little light heroin-dealing. The latter is more lucrative, and rather more interesting.
Well, so what? James Livingston says "F**k work". He's a Rutgers professor so he's fully credentialed to talk like that. Prof Livingston rejoices in the impending end of employment:
That is why it's also an intellectual opportunity: it forces us to imagine a world in which the job no longer builds our character, determines our incomes or dominates our daily lives.

In short, it lets us say: enough already. F**k work.

Certainly this crisis makes us ask: what comes after work..? The impending end of work raises the most fundamental questions about what it means to be human. To begin with, what purposes could we choose if the job – economic necessity – didn't consume most of our waking hours and creative energies? What evident yet unknown possibilities would then appear? How would human nature itself change as the ancient, aristocratic privilege of leisure becomes the birthright of human beings as such?
These are fascinating questions, if you're a tenured professor. If you're living in a deadsville burg where you can't sell up and move on because your home's value is going down and neighborhood drug crime's going up, the answers to the fascinating questions are rather less fascinating, and already here. Denyse O'Leary identifies the post-work world's thriving industries:
– Producers of hillbilly heroin
– Cops who arrest, process, and incarcerate those who produce hillbilly heroin
– Social workers, therapists, and death doulas who dispose of the users of hillbilly heroin...

Today's global government does not need many human beings, and certainly not free ones. That limits the options of those who support globalism but would prefer not to be the human equivalent of shelter animals: useless and only just slightly protected by law.
That's a big point: A world after work will be no friend of liberty.
~Just in time for Christmas, my old Speccie colleague Matthew Parris has a new anthology out called Scorn: The Wittiest And Wickedest Insults In Human History. He previews a few of the attractions in The Australian:
Eschewing not only political correctness but even common courtesy, as I've been determined to do, there has to be a place for PJ O'Rourke's appalling remark about Hillary Clinton: "She's every American's ex-wife." And a place too for the writer Mark Steyn, who said, about rumours of an intimate nature concerning Clinton's husband: "If the president's penis is straight, it is the only thing about his administration that is."
I have a vague memory of saying that back in the days when Paula Jones was testifying to the "distinguishing characteristics" of Bill Clinton's executive branch. But I seem to recall phrasing it rather better than that. Matthew has another one in there that, to my ear, ranks as one of the dampest squibs I've ever unleashed. But there's no accounting for taste, and the other chaps between his covers are all expert knife-twisters.
~You may recall that a year ago, before my appearance at the United States Senate, Ted Cruz introduced me thus:
He actually said "an international bestselling author, a Top Five jazz recording artist, and a leading Canadian human rights activist", the last of which enrages Canadians as much as the middle one befuddles music lovers. But perhaps the camera had self-incinerated in shock by that point.
At any rate, last Friday I was stumbling around the new releases section of Amazon in search of a CD by one of The Mark Steyn Show's forthcoming musical guests, and one click led to another and I found my cat album was enjoying a momentary sales fillip: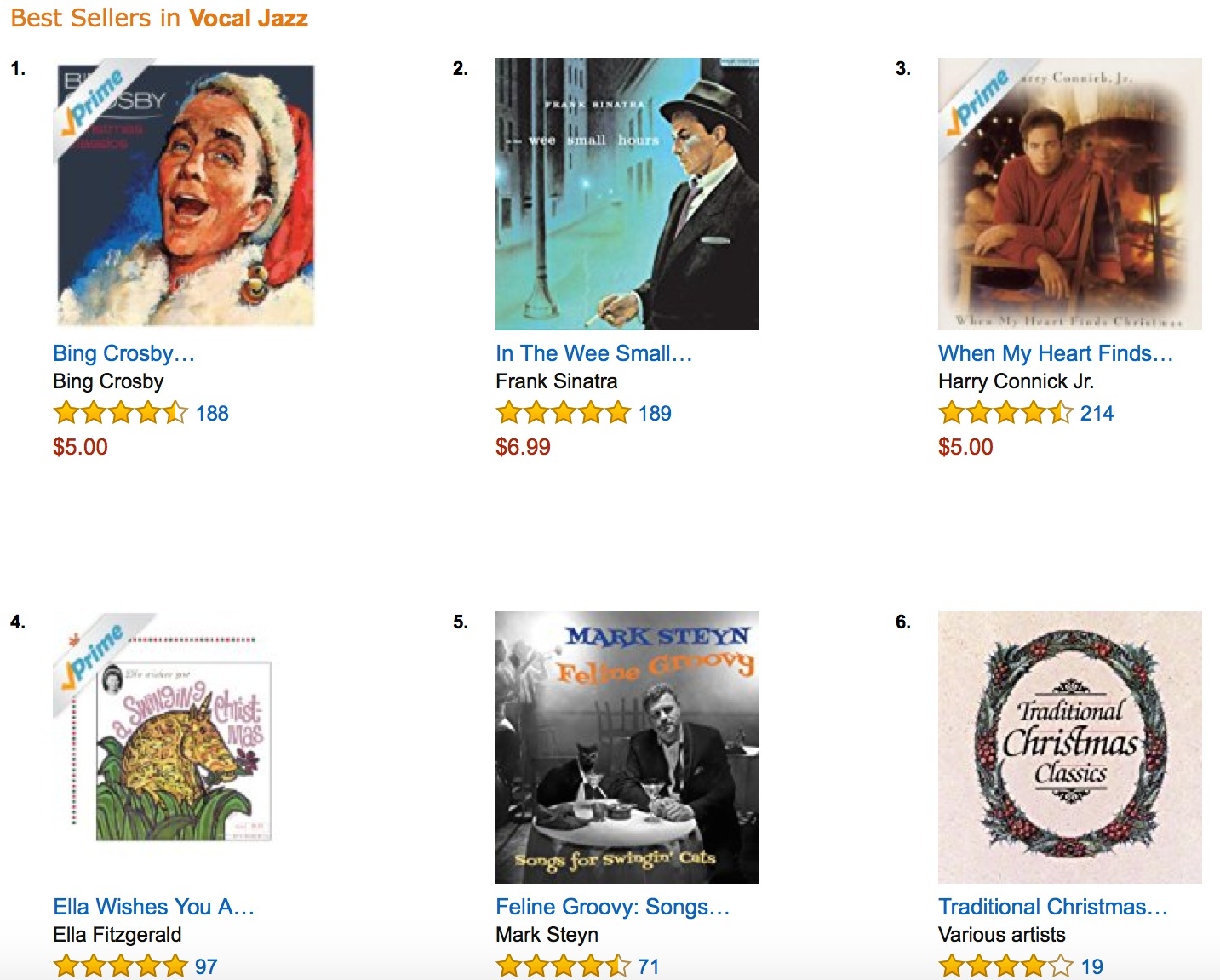 As they do on Amazon's real-time chart updates, the moment passed. But it gave me a kick. And I think you'll find most critics agree that if you had to name the five greatest vocalists of all time it would be Bing, Frank, Harry Connick, Ella, and, er, me. Although probably with Connick in fifth place.
Feline Groovy has a four-and-a-half star rating over at iTunes - and continues to stack up five-star reviews at Amazon. This one from Anthony J is short and sweet:
The cat's meow

So much fun!
Glad you think so, Anthony. Whether or not it deserves to be up there with Bing, Frank and Ella, I certainly hope it's fun. Feline Groovy: Songs for Swingin' Cats is available on CD, but, if you can't wait for the mailman, it can be yours in seconds via digital download from Amazon or iTunes.
November 29, 2016 at 7:19 pm | Permalink
In just eight days' time Mark launches his nightly television extravaganza called, after extensive focus-grouping and poll-testing, The Mark Steyn Show. Read more about it below.
Meanwhile, in case you missed it, here's how the last seven days looked to Mark:
~On Monday Steyn considered the new American tribalism and Hamilton's curtain call-out for Mike Pence.
~On Tuesday, in contrast to Mark's recording of "Christmas Glow Worm", came news of lights out at Woolworth's.
~On Wednesday Steyn started the day with Ainsley, Brian and Steve at Fox & Friends. Click below to watch:
~For Thanksgiving Day Mark offered a Thanksgiving sampler, and the biggest Thanksgiving hit song of all time: "Jingle Bells"? Why, yes.
~Black Friday brought some great seasonal specials at the Steyn store. As for Mark, he spent the day guest-hosting America's Number One radio show, and celebrating the second anniversary of the deadbeat jurists in climate mullah Michael Mann's lawsuit against him falling into an apparently permanent comatose state.
~For our weekend movie date Steyn conceded that, for the first time ever, Tom Cruise had him at hello.
As mentioned above, on December 5th, Mark is launching The Mark Steyn Show. You can watch it from almost anywhere on the planet at whatever hour of the day you want, and on whatever delivery system - whether big-screen television, compact telephone, or anything in between - and all entirely commercial-free, five days a week. Mark and his guests will be addressing all the big-picture geopolitics he deals with in his books, but he'll also be doing TV versions of his most popular website features, including Mark at the Movies, Steyn's Song of the Week, Ave atque vale and Mark's Mailbox. If you like civilizational collapse and live music on the same bill, this is the show for you.
Make a date to join Mark each night, starting in just eight days' time. You can find out more about The Mark Steyn Show here - and get other great CRTV shows from the likes of Michelle Malkin, Mark Levin and Steven Crowder as part of the same low-rate introductory package. And for a special seasonal offer you can get a free hardback edition of The [Un]documented Mark Steyn by selecting "STEYN BOOK CLUB" at checkout.
A new week at SteynOnline begins tonight with our Song of the Week. And look for Mark live with the great Stuart Varney on Fox Business Monday morning at 11.30am Eastern/8.30am Pacific.
November 27, 2016 at 7:17 am | Permalink
On this year's Mark Steyn Christmas Show (for previous, see here), we'll be reprising "The Christmas Glow Worm", which I know is a favorite of the Pundette, who says:
Christmas Glow Worm is like crack.
Be that as it may, the couplet I'm particularly fond of is:
Rev up your amps and show your full worth
Brighter than Christmas lights at Woolworth
- which is such an ingenious rhyme by Johnny Mercer I wouldn't dream of substituting a latterday alternative with Wal-Mart or Bed, Bath And Beyond or whatever. Woolworth's gave up the ghost in America and Britain a decade or so back, but the brand lingers on in Australia, Germany and a few other territories. Don't, however, go looking for those bright Christmas lights in the Dortmund store:
A row has broken out after staff at a branch in Dortmund decided not to bother with Christmas decorations, gifts or music this year because it is now essentially a Muslim store.

Shocked locals found out after the Christmas section, which featured decorations, gifts and and festive treats such as chocolate Father Christmases, was removed after just a few days on display.

And a staff member reportedly told baffled shoppers: "We are a Muslim business now. We do not want to sell Christmas articles."

Branch manager Seda Capakcur, 25, confirmed Christmas products had been withdrawn from sale.
Way up the corporate ladder, Woolworth's issued a clarification of company policy:
Spokeswoman Diana Preisert said: "Woolworth is, of course, not a Muslim company. Christmas merchandise is available from September onwards and should be sold out by the end of December.

"In this branch, however, demand was too low. Therefore the goods were distributed to other branches."

Ms Preisert said there were hardly any customers who celebrated Christmas as the shop was in a now mainly Islamic area which had created specific "local conditions".
I was in Dortmund over the summer. It's Germany's eighth biggest city and part of the Ruhr, which, with over five million people, is the country's largest urban area. And yes, Frau Preisert has a point: The town has Islamified pretty swiftly and there are now three dozen or so mosques.
But even in heavily Muslim North Dortmund, where the store is located, the population remains at least nominally about a third Christian. So lights out at Woolworth would seem a wee bit premature: The complete erasure of a hitherto widely observed communal holiday from major retail outlets is, to say the least, striking. How many more North Dortmunds are there? And how many will there be in ten years' time?
~America's President-Elect has caused some consternation among his supporters after a sit-down with The New York Times at which he apparently reversed course on waterboarding, climate change, illegal immigration, etc, etc. Well, we'll see. May just be the press doing their usual left-footed lockstep tango, a mere fortnight after Trump took the supposed Hillary landslide and detonated the very concept of "media narrative".
[UPDATE: Looks like more of the same old same old:
The 'fake news' that Trump had somehow moderated or changed his "global warming" views was not supported by the full transcript of the meeting.
So the media have decided there was nothing wrong with their brilliant coverage of the last 18 months that can't be extended for another four years.]
As a famed negotiator, Donald Trump is a rum cove: Sometimes he wants to be the tough guy - as when he called all those hacks over to Trump Tower and then shoved their crappy election coverage down their throats. At other times he seems to want to be liked, as at this Times chitchat.
Does schmoozing your enemies work? No, it doesn't. Powerline's John Hinderaker:
The Associated Press headlines: "Trump again disavows alt-right, white supremacists." No doubt much else was discussed, but this is what millions of newspaper readers will see: an association between Trump and white supremacists. The AP writes:

'President-elect Donald Trump is again distancing himself from the alt-right movement as its white supremacist members claim his election as a boon for their agenda.'

See how this works? Trump again is trying to "distance himself" from the "alt-right movement" and "its white supremacist members," who are big Trump fans and think his agenda is theirs. The more often Trump does this, the stronger the entirely fictitious connection will appear.
Will you distance yourself from beating your wife? "I totally disavow beating my wife. Whoever is beating her, I condemn it." Trump shouldn't waste his time sitting down with legacy media who have made it plain that they want his presidency to fail. But, if he's foolish enough to agree to meet with these chumps at all, he should at least slam these condescending irrelevant preoccupations back in their face, as John Hinderaker recommends:
Has Hillary Clinton–or any other Democrat, for that matter–disavowed the rioters who have brought destruction to cities across America in the days since their candidate lost? I have not seen a single such disavowal from any prominent Democrat, let alone Mrs. Clinton. Has Hillary disavowed the support of the goons who beat a Trump supporter nearly to death in Chicago? Nope. Has she disavowed the support of the Democrats who are threatening to murder electors who cast ballots for Donald Trump, the winner of the presidential election? Nope.
Lionel Shriver's fine new novel The Mandibles is set in the America of 2029, by which point The New York Times has gone the way of Woolworth's and closed up shop. If I were President Trump, I'd be aiming to accelerate that process - say, by November 2024, or maybe even November 2020.
~As Steve Doocy was kind enough to mention on "Fox & Friends" this morning, on December 5th I'll be launching my new nightly TV venture, The Mark Steyn Show. If you'd like to give your loved one a gift subscription, we've got a few seasonal special offers to sweeten the pot - a year's worth of telly plus a shot of eggnog, or a baker's dozen of kitty ditties, or a cryptful of classics, or an old-time Woolworth's-scale re-lighting of the lamps of liberty.
~Have a great Thanksgiving. I'll see you on the radio in Toronto and Ottawa on Wednesday afternoon (full details at right), and guest-hosting for Rush across the fruited plain for a full three hours on Black Friday.
November 23, 2016 at 12:19 pm | Permalink
A quick programming note as America approaches the Thanksgiving holiday:
~On Wednesday Mark will be on the air north and south of the border. He'll be starting the day with Ainsley, Brian and Steve on Fox & Friends, just after 7.30am Eastern on the Fox News Channel. He'll be ending it with Brian Lilley at CFRA in Ottawa just after 6pm Eastern. Full details in our On The Air box at right.
~The day after Thanksgiving, in what's becoming something of an annual tradition, Mark will be behind the Golden EIB Microphone, guest-hosting for Rush on Open Line Black Friday at America's Number One radio show. We hope you'll join him for three hours of substitute-host-level Excellence in Broadcasting, starting at 12 noon Eastern/9am Pacific.
~What with all this guest-hosting, you're probably wondering why Steyn doesn't have his own show. Well, he does, starting in just under two weeks' time, on December 5th. It's called The Mark Steyn Show, oddly enough, and you can read more about it here.
November 22, 2016 at 10:35 pm | Permalink
Sabha is a city in the south of what remains of Libya after Hillary ("We came, we saw, he died") Clinton was done with it. Last week, a pet monkey belonging to a shopkeeper from the Gaddadfa tribe pulled the head scarf off one of a group of passing schoolgirls from the Awlad Suleiman tribe. The outraged menfolk of the girls did not take it well. So far, sixteen people are dead plus the monkey.
~Tribalism is a subtler affair in the United States. Last week the fetching young gentlemen of the chorus from the Snowflake tribe discovered that a pet monkey belonging to the cruel and ruthless chieftain of the Deplorable tribe had penetrated the security perimeter of their sacred temple of native dancing and drumming every night at seven at the Richard Rodgers Theatre. Upon discovering a non-believer in their midst, the elders of the al-Exander Hamilton tribe angrily denounced him from the tabernacle while their simple impoverished people - some of whom were only able to afford 1,500 bucks for a pair of restricted-view seats - bayed their approval of his public humiliation.
Matt Clarke thinks I need to update my book for the new Great White Way: "Broadway Bullies Say Goodnight."
The headline at the London Speccie reads: "Insulting People Who Think Differently From You Isn't The Way To Engage People." Which rather misses the point: Inter-tribal engagement is for old-school plays, like Romeo And Juliet and Abie's Irish Rose. The new tribalists don't want to engage - they want to label, and ostracize, and de-normalize. Melanie McDonagh writes:
This spectacle of liberals drawing their garments closely about their persons to avoid contamination from the deplorables is, of course, evident in spades across the Atlantic. I was rather revolted, myself, at the behaviour by the cast and audience at Hamilton – history as Broadway musical – dissing the Vice-President-elect Pence when he appeared to see the play. It's going to be that bit less likely, isn't it, that he, or any other prominent member of the administration will go to plays or concerts that may challenge their world view, that may expose them to people and ideas other than their own. I think the Hamilton lot should have been delighted to have had him in the audience, to get the benefit for the message of the play. Instead, they've indicated that their kind of theatre is for their kind of people. And then they'll complain when the administration isn't receptive to their ideas.
Even worse, the Administration might not be receptive to their tax-breaks. Last year, Chuck Schumer managed to slip through some boondoggle making a losing theatrical investment tax-deductible for Broadway's angels. Given that Hamilton is the exception and that eighty per cent of theatrical endeavors close without recouping a dime of their costs, in effect Congress moved a branch of showbusiness into the same category as a charitable donation. But it was a temporary tax-break, and it requires renewal in the new session.
Incidentally, if you're tempted to separate the hardheaded avarice of the money men from the bighearted idealism of the artists, bear in mind that the Pence stunt was not an impromptu reaction to the presence of an interloper but a planned and calculated response organized by the producers - the same crowd who are demanding Congress extend their tax-breaks.
That presumes surely that there is some kind of public interest in keeping the theatre going. Is it then a "public accommodation"? And, if so, if it's okay for theatricals to single out individual customers for public excoriation, why can't, say, one of the apparent legions of homophobic bakers up and down the land do the same thing? We're told they have no right to refuse to bake a cake for a gay wedding, but, in the same spirit as the cast of Hamilton, don't they have the right to upbraid their clients and ice one of the sterner verses from Leviticus onto the top of it?
As I said, the new American tribalism is way more confusing than the relatively straightforward Libyan version.
~Meanwhile, Tim Sommer thinks the Deplorable tribe could have been defeated if only Bruce Springsteen had stalked Trump's rallies with his guitar and held impromptu concerts outside the gates to draw away all the Boss fans among the angry white haters. Like the Pied Piper of Jersey. Seriously.
Kathy Shaidle comments:
The fact is, Bruce Springsteen and Lady Gaga and Green Day et al GOT TRUMP ELECTED.
They confirm Trump's thesis - that the present racket works for the elites, but not for you.
~Speaking of which, I was reading this story about Marine Le Pen's widening poll lead over Sarkozy in the upcoming French election. And next thing you know Sarko's out. The French center-right is trying to avoid the mistake of the Republican establishment in the crowded early primary season: every other consideration is subordinate to the need to find a viable non-Le Pen, who will surely make it into the final run-off of the presidential contest. Given that remarkable fact, it is sad to see Bernard-Henri LĂ©vy get things so back to front:
"If Trump is possible, then everything is possible," Mr Levy told the Telegraph. "Nothing, from now on, is unimaginable.

"As for Le Pen it is unlikely that she wins but it is possible, and that is partly because the people have lost interest in policy, instead focusing on personality."
Like Trump, Marine Le Pen has a powerful personality. But, like Trump, she's leading precisely because the people have not lost interest in policy. Au contraire. It is the elites that have lost interest. Thus the Gallic shrug of Prime Minister Manuel Valls: if it's a choice between re-thinking immigration policy or getting used to Nice-scale terrorism, you schlubs better get used to it - because your betters can't rouse themselves to reconsider the world they've made. As with Trump, Marine Le Pen's supporters are rejecting the bipartisan policy consensus on this matter and demanding the right to discuss it.
~In these turbulent times, why not try a new source of information and entertainment? Two weeks from today, on December 5th, I'll be starting a new nightly telly extravaganza called, with stunning lack of imagination, The Mark Steyn Show. We'll be surveying the scene for an hour every night five days a week: you can watch it commercial-free from around the world whenever your heart desires, via TV or telephone, Amazon or Apple, or any other known delivery system. And it's not just the doom'n'gloom stuff: I can't promise we'll have the cast of Hamilton doing their toe-tapping Sic temper tyrannis Pence showstopper, but we will have movies and music and all the gaiety of life. For more details, and to subscribe at a low introductory rate that includes three other great shows, see here.
November 21, 2016 at 9:04 am | Permalink
In just two weeks' time Mark launches his nightly television extravaganza called, due to complete lack of imagination, The Mark Steyn Show. Read more about it below.
Meanwhile, in case you missed it, here's how the last seven days looked to Mark:
The week began with Steyn frantically unloading two decades' worth of suddenly obsolescent Clinton columns in a grand final-weekend everything-must-go sale concluding with one of his most popular Hillary pieces.
~On Monday Mark paid tribute to the late Leonard Cohen with a favorite Cohen song that's a masterclass in rhyme.
~This week marked the first anniversary of the Paris bloodbath. Steyn reflected on a dark twelve months in the City of Light.
~In the US, the left's post-election behavior confirms exactly why Donald Trump won. For his midweek column, Mark offered some "Advice for the Loyal Opposition".
~On Thursday Steyn had more Trumpian analysis, some thoughts on Irish referenda and Aussie inquisitors, and Bob Dylan's Nobel Prize for Coolest RSVP.
~For our weekend movie date Steyn marked the twentieth anniversary of Billy Bob Thornton's film Sling Blade.
As mentioned above, on December 5th Mark is launching The Mark Steyn Show. You can watch it from almost anywhere on the planet at whatever hour of the day you want, and on whatever delivery system - whether big-screen television, compact telephone, or anything in between - and all entirely commercial-free, five days a week. Mark and his guests will be addressing all the big-picture geopolitics he deals with in his books, but he'll also be doing TV versions of his most popular website features, including Mark at the Movies, Steyn's Song of the Week, Ave atque vale and Mark's Mailbox. If you like civilizational collapse and live music on the same bill, this is the show for you.
Make a date to join Mark each night, starting in just two weeks' time. You can find out more about The Mark Steyn Show here - and get other great CRTV shows from the likes of Michelle Malkin, Mark Levin and Steven Crowder as part of the same low-rate introductory package.
A new week at SteynOnline begins tonight with our Song of the Week.
November 20, 2016 at 6:18 am | Permalink
Great news for our pal Tim Blair Down Under. Following the Australian "Human Rights" Commission's finding that Tim is officially not a racist, the Australian Press Council has now determined that he is officially not a misogynist. All he needs now is for the Australian Climate-Change Council to rule that he is officially not a greenhouse gas and Tim will have won the coveted Triple Crown.
Nevertheless, the ingrate Blair grumbles that the useless tossers at the Press Council took 217 days to investigate just 65 words of his. Yeah, cry me a river, you dilettante. My 270-word blog post has been in the hands of the lethargic jurists of the District of Columbia Superior Court for 1,487 days, and is no nearer resolution than it was on Day One.
~In the wake of Donald Trump's election triumph, what Kathy Shaidle calls the Great Re-Sorting continues. Among my old friends at The Spectator, there is no consensus on what the Trump victory means. Consider these contrasting pieces by two old Labour supporters, Nick Cohen and Rod Liddle. First, Mr Cohen, with a blunt warning to those conservatives willing to string along with the soi-disant Trumpy McHitler:
George Orwell provided the clearest warning against refusing to see the darkness in your midst. He said to the left intellectuals who went along with Stalin: 'Do remember that dishonesty and cowardice always have to be paid for. Don't imagine that for years on end you can make yourself the bootlicking propagandist of the Soviet regime and then suddenly return to mental decency. Once a whore, always a whore.'

The same applies to the bootlicking apologists for Trump. You have to choose. Are you radical right or respectable right? For you surely can't be both.
Is that true? You can't be radical but respectable? In both the Brexit vote and the presidential election, millions of ordinary citizens of two of the oldest free nations on earth decided they'd like to give it a go: Large numbers of respectable people figured it was time for a radical solution - because another five years of business as usual would push their countries past the point of no return.
Trump is certainly a flawed vessel. Indeed, Peggy Noonan wrote an entire column bemoaning what Trump might have been had he only been sane. But the obvious answer is that a "sane Trump" would never have decided to mount a hostile takeover of the Republican Party by demolishing the weaselly evasive bipartisan consensus on illegal immigration and much else - and then playing smash-mouth with the media in a way no "sane" "respectable" linguini-spined GOP nominee would ever contemplate. In that sense, a "sane Trump" would not be Trump.
But his supporters don't care - because the hour is late. And cometh the late hour, cometh the imperfect man. While Nick Cohen obsesses on the man, the Speccie's Rod Liddle focuses on the hour:
They still don't quite get it, the liberals — don't get the full import of what Trump's victory, and this tumultuous year 2016 in general, means for us all. It presages an enormous paradigm shift to a post-liberal future. They are weighty, cumbersome things, paradigms, and take a lot of shifting. This one has been at least 20 years in the making. But once they turn, the course is set, and you can set fire to as many shoes as you like — it will do no good. In a sense, 2016 is 1968 in reverse.

Theresa May clearly gets this. Gets the change, the momentum behind the change. Even before Trump's astonishing and deserved victory she had grasped, post–Brexit, that patriotism, long considered a bit long in the tooth, had made a rather remarkable comeback: 'If you are a citizen of the world, then you are a citizen of nowhere,' she said, to derision from the Guardian.
The Davoisie of the transnational jet set are happy to be citoyens du monde and have the frequent-flyer miles to prove it, but most of their nominal compatriots are obliged to live within more circumscribed horizons. Compare Mrs May's view of citizenship and identity with Michael Ignatieff's. From my bestselling book After America:
Previously a professor at Harvard and a BBC late-night intellectual telly host, Mr Ignatieff returned to his native land of Canada in order to become Prime Minister, and to that end got himself elected as leader of the Liberal Party. And, as is the fashion nowadays, he cranked out a quickie tome laying out his political 'vision.' Having spent his entire adult life abroad, he was aware that some of the natives were uncertain about his commitment to the land of his birth. So he was careful to issue a sort of pledge of a kind of allegiance, explaining that writing a book about Canada had 'deepened my attachment to the place on Earth that, if I needed one, I would call home.'

My, that's awfully big of you. As John Robson commented in The Ottawa Citizen, 'I'm worried that a man so postmodern he doesn't need a home wants to lead my country. Why is it quaint? An interesting sociological experiment?'
For Dorothy in The Wizard of Oz, there's no place like home. For Ignatieff, there's no home-like place. Which as an organizing principle for a functioning society is far more fantastical than the Land of Oz. Most people need a home. And the alternative - the "borderless world" - sounds too much like the Clinton Foundation writ large: a racket whereby unsavory thugs sluice millions to a few corrupt westerners to kiss up to them and sell out their own countries and citizens.
~Brexit. Trump. So what's next? In The Irish Times (of all unlikely places), Phelim McAleer, the man behind the forthcoming Kermit Gosnell movie and book, wonders if Ireland's referendum to amend the constitution and permit abortion might go down to defeat - and for the same reason, the indestructible condescension of the elites:
If you only read the quality newspapers, listen to RTÉ and follow the cultural "elites" and their hangers-on in Ireland, then it is clear what side all "right-thinking people" are supposed to come down on.

Just as it was in the recent US election.

The message is very clear that if you don't support the Repeal the Eighth campaign, you are, as Hillary Clinton would say, an "irredeemable deplorable..."

And just like the Clinton campaign, Hollywood has piled in.

Actor Liam Neeson has recorded a video lecturing Irish people that their reluctance to allow abortion is part of a "a different time we'd hoped we'd left behind." The abortion ban has us "chained to the past," he states.
Many years ago, on the late-night ferry from Dun Laoghaire to Holyhead in Wales, I fell into conversation with a young colleen who, after breaking down in tears, revealed that she was en route to a Welsh hospital to get an abortion. She was evidently conflicted about it, and the more so because a friend of hers had recently made the same grim journey and returned to Dublin extremely distraught. I suggested that in that case she should not go through with it, although I have no idea whether she took my advice. On the other hand, the Irish Repealers would surely argue that I'm missing the point: there'd be a lot less shame over abortion if you didn't have to slink off to Wales or Northern Ireland in the dead of night to get it done.
Well, we shall see. But to return to Liam Neeson's remarks about "a different time we'd hoped we'd left behind". For a long period, Ireland's opposition to abortion was not something that "chained it to the past" but to its own sense of identity - ie, as not England. It was part of what made it, as Michael Ignatieff would say, "home".
~As SteynOnline readers may recall, I did not approve of the Nobel Academy's decision to make Bob Dylan the first songwriter to receive the Nobel Prize for Literature - on definitional grounds, I might add, rather than mere objection to a pathetic attempt to generate a bit more "buzz". I'm heartened to discover that Dylan himself appears to be entirely apathetic to the honor. After failing to get in touch with him in the weeks since the award, the Nobel guys have now been notified that, sadly, Bob will be unable to make the gala beano with the King of Sweden because he's washing his hair that night:
He explained that due to pre-existing commitments, he is unable to travel to Stockholm in December and therefore will not attend the Nobel Prize Ceremony.
The Nobel Academy adds, with a faint hint of menace:
We look forward to Bob Dylan's Nobel Lecture, which he must give – it is the only requirement – within six months counting from December 10, 2016.
Do they mean it? Or are they just blowin' in the wind? As for those "pre-existing commitments":
It is unclear what commitments Mr. Dylan might be referring to. His official website lists no tour dates after Nov. 23.
There's a "Golden Girls" rerun on Channel 173 he doesn't want to miss.
[UPDATE: Scaramouche wonders how does it feeeeeeeeel?]
~If they ever give my own humble musical contribution, Feline Groovy: Songs for Swingin' Cats, a Nobel Prize, I hope I'm as cool as Dylan and send regrets, I've had a few. Notwithstanding its lack of Nobel, my cat album, featuring on the cover me and my own beloved cat Marvin in our favorite nightclub, has a four-and-a-half star rating over at iTunes - and I'm very touched by the way it continues to pile up five-star reviews at Amazon. This one from Robert C Garnsey is short and sweet:
Five Stars

Fun....Great
Thank you for that, Mr Garnsey. It's for others to say whether it's great, but I certainly hope it's fun. Feline Groovy: Songs for Swingin' Cats is available on CD, but, if you can't wait for the mailman, it can be yours in seconds via digital download from Amazon or iTunes.
~I'm not sure if we'll have anything from Feline Groovy on my new nightly television extravaganza, The Mark Steyn Show, but we will have live music - along with all the other fun stuff, like demography, war, terrorism, civilizational collapse. You can watch it from almost anywhere in the planet at any time of the day you like on whatever delivery system you so desire: TV or tablet, Apple or Amazon - and entirely commercial-free, for a full hour, five nights a week. We hope you'll join us - Monday to Friday, starting on December 5th. You can find out more about The Mark Steyn Show - and other great shows from Michelle Malkin, Steven Crowder and Mark Levin as part of the same package - by clicking here.
November 17, 2016 at 10:24 am | Permalink