Me and my cat Marvin's new album - Feline Groovy - is officially released this Monday morning. Or, as Marvin puts it, we're finally out of the cat flap and into the wide world. It's the only cat album you'll ever need, and the purrfect gift for the cat lover in your family this Christmas.
If you find all this CD stuff a bit squaresville, well, with the release date, all the tracks are now live and ready for immediate download and instant gratification at iTunes, CD Baby, Amazon US, Amazon UK, and even Amazon France, where there seems to be a modest demand for it. Now that all the individual songs are digitally available, I think the breakout track is likely to be "She Only Talks That Way To The Cat". Lot of truth in that. (Although "The Cat Came Back" seems to be selling best at iTunes.)
I was tickled to see over the weekend that at one point on Amazon's jazz chart I had three of the Top Five albums - which, aside from ruining Harry Connick Jr's day must have had any real jazz musicians wondering why they bother: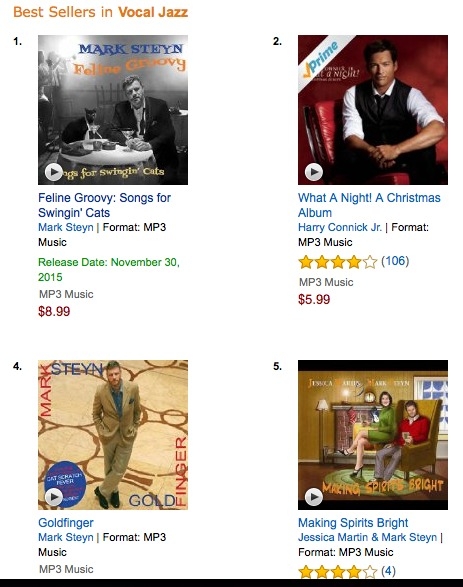 Has anyone done that since the Beatles? Back then John Lennon declared that he was now bigger than Jesus Christ, so does that make Marvin bigger than John Lennon? And me bigger than Ringo?
Oh, well. The moment passed, and Harry Connick's collapsed career bounced back.
~Douglas Murray's fine column this morning includes a revealing observation from what I'd wager is a fairly typical Parisienne:
Referring to the latest attacks, one 46-year old resident also referred back to the attacks in January on the offices of Charlie Hebdo and a Jewish supermarket. "Every Parisian has been touched by these attacks," she said, referring to the latest attacks. "Before it was just the Jews, the writers or cartoonists."
Which is, as Douglas notes, merely a brusquer re-formulation of botoxicated buffoon John Kerry's line that there was a "legitimacy" to the previous targets. I would imagine it's a widely held view: Jews, artists ...these are the troublemakers, the provocateurs. If only they'd pipe down, stop provoking everyone. What are they to me? I have no quarrel with Islam...
And then they blow you up anyway - in a restaurant, in a soccer stadium. Because, in the end, everyone other than them is "just a Jew".
Bono was closer to the mark when he said that the slaughter at the Bataclan was an attack on music. Does he mean it? Does he understand what he's saying? A vignette from the new Europe:
The murderous 17-year-old came to Austria as a refugee in 2013. He has now been sentenced to 12 years in prison for repeatedly stabbing his fellow countryman over a religious matter.

The killer met his older victim, a 31-year-old musician, when they were both attending a German language course in March.

The teen took issue with the musician's penchant for singing and playing music. He told him he did not want to listen to music because he considered it "haram" and against the teachings of Islam, instructing the older man to desist...

He went for the musician as he sung to his wife down the phone, the spouse told the court. He was stabbed seven times, fatally in both the lung and stomach.
Bono and most other artists are all about the diversity. Do they ever look out across the footlights and count the covered women in the audience? As Paris, Brussels and other western cities Islamize, the theatres and the publishing houses and the symphony halls and the cool indie-pop clubs will close - because even those who don't want to stab you as you croon down your cellphone to the missus regard almost all artistic expression as "haram".
To return to John Lennon's We're-way-bigger-than-Jesus boast, it was controversial half-a-century back. But, if you look at post-Christian France's reaction to the worst mass murder since World War Two, it's true, isn't it? The reflexive retreat to "Imagine" and "Give Peace A Chance", both raised to neo-sacramental status, has a desperate quality about it - like primitive tribes invoking an unreliable volcano god.
Even Lennon didn't believe his own bullsh*t. "Imagine there's no countries"? He gave money to the IRA in order to move one tiny bit of real estate out of one country into an adjoining one all but indistinguishable - at least when compared to the differences between, say, Sweden and Syria. Imagine there's no John Lennon - because there won't be in Haramistan. Imagine there's no ...nothing.
~While we're on a musical note, following my Thanksgiving musings on the title song of Oklahoma!, reader Stuart Williamson of Seattle revives the show's famous funeral dirge as an elegy for the sputtering campaign of the Republican establishment's designated "frontrunner":
Poor Jeb is daid
Poor Jeb Bush is daid
His donors must be feeling purty low
The Bushes are so nice
But we don't want them more than twice
Tell Karl Rove - he really oughta know.
It brings a tear to your checkbook.
~I'll be on the radio north of the border with everybody's favorite piano-playing imam, Andrew Lawton, live on AM980 at 2pm Eastern this afternoon. Hope you'll dial us up.
November 30, 2015 at 12:18 pm | Permalink
Tomorrow, Monday, Mark's new album is officially released. Feline Groovy: Songs for Swingin' Cats is dedicated to Mark's own beloved cat, Marvin, who appears with him on the cover and inside the album. It's the perfect gift for the cat lover in your family, and available now from Amazon via CD or digital download, and also from iTunes.
Meanwhile, in case you missed it, here's how the last seven days looked to Steyn:
The week began with some predictable revelations in the wake of the Paris attack: Europe's supposedly mythical "no-go zones" are all too real, and the so called "migrants" are a Trojan horse.
~On Monday, Mark celebrated the only Beatles song Frank Sinatra really liked: George Harrison's "Something".
~On Tuesday, just in time for Steyn's forthcoming Australian tour, the State Department announced a Worldwide Travel Alert, cautioning Americans from visiting the rest of the planet. Fortunately, much of the rest of the planet is already living in New Jersey.
~Wednesday marked the first anniversary of the last time the lethargic "jurists" of the District of Columbia courts heard arguments re climate mullah Michael E Mann's case against Steyn and others. A year on, we're still waiting for these "judges" to issue their ruling. Could be another 12 months or more. Mark had time to write an entire book while this dysfunctional dump of a court was sitting on its hands. So, as the latest pointless global-warming jamboree begins in Paris, we remain very grateful to those who've continued to support Steyn's end of the case via SteynOnline gift certificates and other denialist swag.
~For Thanksgiving Day, Mark presented a Thanksgiving sampler.
~On Black Friday, Steyn guest-hosted America's Number One radio show, The Rush Limbaugh Show, and unveiled his own contribution to Black Friday madness.
~For the weekend Mark offered an incendiary round-up of explosive news stories. Our Sinatra centenary observances included a blockbuster anthem to the city that doesn't sleep, and Mark and Celeste Holm with memories of High Society.
A new week at SteynOnline begins tonight with our Song of the Week. And don't forget Mark's new cat album, Feline Groovy, is officially released tomorrow. It's available from Amazon via CD and download, and also from iTunes. If you pre-order it digitally today, the tracks will magically appear on your device at the stroke of midnight.
November 29, 2015 at 8:27 am | Permalink
An incendiary round-up for our Saturday SteynPosts:
The jihad boys have it all over the rest of us when it comes to social media, but once in a while it all goes awry. A fighter with Ajnad al-Sham - which, as I'm sure you all know, is one faction of the so-called "Army of Conquest" alliance in Syria - was making a promotional video to upload to AllahuTube when Assad dropped a bomb on him:
It would be a more heartening story if the French or a US drone were able to do this to ISIS, but we don't seem to get that lucky.
Incidentally, if you heard me on the radio yesterday, I was talking about Bernie Sanders' lazy theory that climate change causes terrorism: Global warming turns farms into desert, which drives people into cities, where they can't find work, except in the jihad.
But not so - in this case as in all the others. The now deceased cameraman, Ahmed Abu Hamza, had a nice middle-class job at the University of Damascus - and it wasn't enough.
~Speaking of not-so-happy endings, there was a did-the-earth-move-for-you? moment in Novosibirsk, the largest city in Siberia. Oksana Bobrovskaya is - was - a glamorous member of the duma. I'm not sure if the picture at top right is a standard pose for Russian parliamentarians, but, if so, she looks better in it than Mitch McConnell. At any rate, Ms Bobrovskaya was having sex with her husband in the back seat of their Toyota RAV4 when the car exploded, killing both of them:
Police sources alleged the couple has rowed before the fatal incident and he had accused her of 'cheating' on him with a wealthy lover.

Eyewitnesses who rushed to the scene said that when the bodies were removed from the car, both the MP and her husband were 'naked below the belt'.

'There is a version that he held in his hands a kind of grenade, or a piece of TNT,' said a police source, according to The Siberian Times.

The couple 'had a conflict' during which 'the explosives detonated.
I recall an old Sammy Cahn parody of a Perry Como hit from the early Seventies that evidently still applies:
It's Impossible
To make love in a Toyota
It's Impossible...
~A couple of months back, I quoted this exchange from Looney Tunes: Back In Action. Jenna Elfman (TV's Dharma) and Daffy Duck are roaring through Vegas pursued by Yosemite Sam:
As Sam and co pull up alongside and try to toss dynamite into the car, Miss Elfman is bewildered: "Dynamite? Who has dynamite?"

"Hey, welcome to my world," says Daffy.
Hey, welcome to our world. A Chicago-bound flight, November 2015:
BALTIMORE (AP) — Four passengers were removed from a Chicago-bound flight at Baltimore's international airport last week after a fellow passenger said she saw one of them receive a text with the word "dynamite" and the code for an airport in India, according to a police report...

A female passenger said she became alarmed when a male passenger made several phone calls in a language other than English and when she saw him receive a text message that read "BLR Dynamite," according to the report. BLR is the airport code for Bengaluru International Airport in Bangalore, India...

The flight crew decided to return to the gate... Green says the passenger who had been talking on the phone allowed officers to check the device, and no text message with the word "dynamite" was found.

The four passengers were released without charges.
If he'd had actual dynamite, he'd no doubt have made it on to the plane. But in the meantime everyone had a few more wasted hours sitting at the terminal, and that's what matters. Like Daffy says, welcome to our world.
~From Dynamite to Steynamite: My cat Marvin is delighted to see that our new album, Feline Groovy: Songs for Swingin' Cats, is doing well just two days ahead of its official release on Monday. It's available at Amazon via digital download or old-fashioned CD. And it's also at iTunes, with a special advance purchase available for "The Cat Came Back". As I understand it, if you pre-order the digital version at either outlet, it will be automatically delivered and waiting for you when you wake up on Monday morning. A grand start to the week. I think "She Only Talks That Way To The Cat" is going to be the breakout track.
But is it any good? Erik writes:
Mark,

Why don't they have some short clips of your new album on Amazon? At least 15 or so seconds worth so we can get an idea. I have a friend who has two cats. She might like something like this.

Erik
They do have short clips. On the Amazon page, at the very top of the track listing, there's a line called "Sample this album". Just click the Play button. You can also preview the album at iTunes.
For our French readers, there are lots of lovely comments over at Bonjour Le Chat. Lise Bellemare:
Marvin looks very happy to be sharing your life and your music!
Sylviane Rest:
High class, Marvin!
Katie Hei:
A nice and beautiful cat!
Hey, wait a minute, what about the songs? There's another fellow apart from Marvin on that album cover...
November 28, 2015 at 11:37 am | Permalink
Today, Tuesday, I'll be checking in with the great Milt Rosenberg at 1590 WCGO Chicago at 5pm Central, and then with Sean Hannity on Fox News, coast to coast at 10pm Eastern/7pm Pacific. Not sure what we'll be talking about, but the big news this morning is that Turkey, a Nato member, has shot down a Russian jet, which is a complication when President Hollande is inviting Obama to join him in teaming up with Putin to fight Isis.
The official line from Obama and Kerry is that the world is safer than it's ever been - except for a few pockets here and there. You'll recall that, when I spoke at the Danish Parliament seven weeks ago, the US State Department issued a travel advisory warning US citizens to steer clear of me and that particular neighborhood of Copenhagen. All very specific, and leaving plenty of other places for Americans to visit. However, the State Department has now expanded its area of concern and issued a "Worldwide Travel Alert", advising Americans basically to steer clear of the entire planet until February 26th. Claudia Rosett says reassuringly that travel abroad is still safe for Americans if you can "teleport into rural New Zealand". Absent that, shelter in place for the next three months.
As Obama, Biden et al crowed only three years ago, the terrorists are on the run, and they've apparently run everywhere. Is this all the President's fault? Well, he is "the leader of the free world". Which sounds like a demanding job. But happily, in terms of places it's safe to visit, the free world seems to be getting a lot smaller.
~It takes more than a State Department advisory to stop me, though. So, if you're one of our many Australian readers, you may find this announcement of interest. My last Oz tour was a sellout, so we hope this one goes equally boffo. It will be my first visit to the country under Malcolm Turnbull's premiership or whoever it is by then. During that last tour, I wound up singing "Kung Fu Fighting" at every stop, for reasons I explain here. Foreign Minister Julie Bishop, Attorney-General George Brandis, QC, and about half the present Oz cabinet were among those who gamely endured my Seventies disco sensation.
But I'm not like the Stones, sloughing off the same old stuff every time. So I was thinking about what number I should sing on my forthcoming Aussie tour this February. And, much to my horror, this season's samizdat anthem of defiance appears to be "My Boomerang Won't Come Back", now banned Down Under and erased from the ABC computers.
The healthiest response to Charlie Drake's impressively inept novelty song was the cunning revenge number "Someone's Pinched Me Winkles" by Australia's own Rolf Harris, but he's now the BBC's second most famous celebrity paedo, so that's probably not going to help. So instead "My Boomerang" won't come back from being banned.
I serenaded Australians with "Kung Fu Fighting", a Number One hit in the Seventies, because a performance of it in an Isle of Wight bar led to a criminal investigation.
In 2011, Dire Straits' "Money For Nothing", a Number One hit in the Eighties, was banned from the airwaves by the Canadian Broadcast Standards Council because of the use of the word "faggot", which Mark Knopfler offered to replace with "fudger", which oddly enough only made things worse.
Last year, after 32 years of loyal service to the BBC, David Lowe was sacked for accidentally playing "The Sun Has Got His Hat On", a Number One hit in the Thirties. Which he only played as a last-minute substitution for the listener-requested "Abdul Abulbul Amir", a Number One hit in the 1870s, which he felt might get him into trouble with the Islamophobia crowd. And "The Sun Has Got His Hat On" was revived in the Seventies by the BBC's fourth most famous celebrity paedo, Jonathan King. (I think the third is Stuart Hall.)
First they came for "Money For Nothing" and I did not speak out, because I was not a Dire Straits fan. Then they came for "Kung Fu Fighting", and I did not speak out because I'm not a Seventies disco aficionado. Then they came for "My Boomerang Won't Come Back", and I did not speak out because it's complete garbage...
Once upon a time, there was a very reliable variety-show gag:
JUNIOR DETECTIVE AT CRIME SCENE, SIFTING THROUGH THE EVIDENCE: Looks like he had a criminal record, sir.
SENIOR DETECTIVE: A criminal record?

JUNIOR DETECTIVE: Yes, sir. [PRODUCES LITTLE JIMMY OSMOND LP FROM BEHIND SOFA]
Update as needed, with Rick Astley, Milli Vanilli, Justin Bieber, etc.
Except that now the joke is literal. In Australia, Britain, Canada and elsewhere, records are being criminalized. So on my Oz tour I may be driven to sing "My Kung Fu Faggot Has Got His Boomerang On His Hat".
PS Tim Blair adds:
This may be the first George Martin-produced track to be banned by the ABC following one complaint from a solitary Tasmanian.
Will no discerning Tasmanian file a complaint about "I Am The Walrus" or "Octopus' Garden"?
~Speaking of criminal records, we're less than a week away from the official release of my new album, Feline Groovy: Songs for Swingin' Cats. Sean Hannity is not entirely on board with it:
HANNITY: Joining us now with reaction to this, as well as my interview with Texas senator Ted Cruz, columnist Mark Steyn, by the way, who released a new musical album titled "Feline Groovy: Songs for Swinging Cats"? (INAUDIBLE) What is this?

MARK STEYN: It's my cat album. Last time...

HANNITY: A cat album?

STEYN: Last time that you -- and I had my Christmas album, and you attacked my eggnog song...

HANNITY: No because eggnog is disgusting! I don't understand drinking eggnog..!

STEYN: And you call yourself a great American?

(LAUGHTER)

STEYN: And ten minutes later, Mitt Romney loses the election.

HANNITY: Oh, there's a connection.

STEYN: Yes, yes.

HANNITY: I criticized eggnog.

STEYN: Yes. You attack the cat album, Hillary's going to win 48 states.

HANNITY: Oh, forget it. I love the cat album.
Feline Groovy is available for pre-order from iTunes, and also from Amazon, in CD and digital format. Much to my surprise, on the jazz chart I'm currently sandwiched between Billie Holiday and Ella Fitzgerald.
~Also on the plug front, in that excellent Aussie publication Quadrant, Dr Steven Kates puts in a good word for "a wonderful and hilarious book by Mark Steyn called 'A Disgrace to the Profession'". This passage by Dr Kates did, however, give me pause:
Bearing in mind that Steyn is being sued for defamation, there is something very unusual in that he describes Mann in print as "Mr Fraudpants" and runs articles with titles such as this on his website: "Michael E. Mann: Liar, Cheat, Falsifier and Fraud".
It is outrageous to suggest that I have ever referred to a distinguished figure such as Michael Mann as "Mr Fraudpants". I'm always very careful to refer to him as "Dr Fraudpants". His Nobel Prize is false, but his PhD appears to be genuine, at least at the time of writing.
November 24, 2015 at 11:06 am | Permalink
My new cat album, Feline Groovy: Songs for Swingin' Cats, is now available for pre-order at iTunes. I don't really know how all that stuff works, but I think you get one track instantly if you buy now. The official release date is next Monday. It's also at Amazon, in CD and digital format.
~I'm half-Belgian, which makes my beloved cat Marvin, to whom Feline Groovy is dedicated and who appears with me on the album cover, Belgian by adoption. So both of us are somewhat aghast at the sight of Brussels on yet another day in "lockdown": schools closed, public transportation suspended, soldiers and armored vehicles patrolling the streets - all because of apparently highly specific terrorist threats. Thus life in the new Europe its deranged rulers have made. Belgians have responded to the suspension of normal life in their capital city by flooding Twitter with cat pics.
I don't know. Maybe unclean dogs would have rattled the jihadists more. On the other hand, according to Texas reader Matt Lohr, inside every fluffy Persian is an apocalyptic Iranian waiting to bust out:
Mark,

It's swell that you've dedicated the new album to your cat, but understand that if Marvin were suddenly 10 times bigger, he would bite your neck, shake it to break it, and then drag your corpse under a tree for some languid snacking. It is the nature of cats. They'll eat your food, tiptoe atop your bookshelves, curl up in your lap, and purr contentedly—as long as the size-differential exists.

Just ask the mouse.

I like to use this as a metaphor for Islam.

Matt Lohr
Spring, Texas
~Speaking of which, the size differential continues to evolve. War photographer Teun Voeten writes about life as an infidel in Molenbeek, the Brussels suburb a couple of miles from the EU's governing institutions and Nato headquarters and now one of those "no-go zones" that all the smart people told us didn't exist. Minheer Voeten:
Slowly, we woke up to reality. Hassan turned out to be a crook and disappeared with €95,000, the entire budget the tenants had pooled together for our building's renovation. The neighborhood was hardly multicultural. Rather, with roughly 80 percent of the population of Moroccan origin, it was tragically conformist and homogenous. There may be a vibrant alternative culture in Casablanca and Marrakech, but certainly not in Molenbeek.

Over nine years, I witnessed the neighborhood become increasingly intolerant. Alcohol became unavailable in most shops and supermarkets; I heard stories of fanatics at the Comte des Flandres metro station who pressured women to wear the veil; Islamic bookshops proliferated, and it became impossible to buy a decent newspaper. With an unemployment rate of 30 percent, the streets were eerily empty until late in the morning. Nowhere was there a bar or café where white, black and brown people would mingle. Instead, I witnessed petty crime, aggression, and frustrated youths who spat at our girlfriends and called them "filthy whores." If you made a remark, you were inevitably scolded and called a racist. There used to be Jewish shops on Chaussée de Gand, but these were terrorized by gangs of young kids and most closed their doors around 2008. Openly gay people were routinely intimidated, and also packed up their bags.

I finally left Molenbeek in 2014... I could no longer stand to live in this despondent, destitute, fatalistic neighborhood.
As Molenbeek goes, so will other neighborhoods, and then whole cities and regions: The Jews get out, and the gays, and the uncovered women, and then you, wondering why you stayed so long. And all that remains is Islam - king on a field of corpses.
~Meanwhile, The Sun reveals that one of the Paris killers was a Trojan clothes horse:
A PARIS suicide bomber was helped on to a Greek island and clothed by French volunteers before making his way through Europe to his target, it emerged yesterday...

Officials said they were helped ashore with nearly 200 refugees after deliberately driving a knife through their boat as they neared land on October 3. Two were then discovered with fake Syrian passports and arrested.

But Almohammad, 25, was ushered through and moved to a camp staffed by French charity Médecins Sans Frontières.

Less than 24 hours later, in a black tracksuit given to him by the volunteers, he was in a group of six buying tickets to Athens.
Who will save Europe from the madness of its elites? Deutsche Welle notes a curious detail in Dresden:
"Merkel must go," the demonstrators - primarily male - grumbled before the Baroque backdrop of Saxony's capital. As protesters shouted their cries of hate into the evening sky, flags waved over the square. Many of them were German, but about half a dozen were Russian.

One gray-haired man in his 60s carried a particularly large flag.... He likes Russian President Vladimir Putin, because he's a "doer" and "takes action, while our politicians just talk."
Hmm. I wouldn't entirely rule out Eastern Europe re-stitching the Iron Curtain - this time to keep Western Europe's jihadists out.
~As Molenbeek goes, so goes Aleppo. All things considered, the Jews had a good run on the Syrian coast, but they're done:
It took a knock on the door in the dead of night and a hair-raising journey through territory held by al-Qaeda militants to end 3,000 years of Jewish history in northern Syria.

The last Jewish family in the city of Aleppo was taken across the border to safety in Turkey last month with the help of an Israeli-American businessman and moderate rebels with the Free Syrian Army.
As I've been saying for years, the Islamization of Belgium, France, Germany, etc is posterity's jest on the Continentals: in the new Europe, they're the Jews.
~Speaking of diversity, how about the most famous Parsi ever to come out of Zanzibar? Dan Hollombe often responds to our musical features here with some quirky boomer-pop annotations, but this one on "Send In The Clowns" had me agog:
Hello Mark,

You may or may not already know this, but the bridge of 'Send In The Clowns' was (obviously) the inspiration for 'We Are The Champions'. Freddie Mercury was completely obsessed with the song, and would frequently play it on the piano for his own amusement.

Dan Hollombe,
Los Angeles
I'm ashamed to say I'd never known that, although, as you say, once it's pointed out, it's obvious. I had a very slight acquaintance with Mr Mercury through a mutual friend, and on one occasion he demonstrated more familiarity with the score of Mame than any self-respecting rocker should have. When he died, they assembled all the then hot rock acts for a big all-star tribute at Wembley Stadium - which was absolutely terrible, until Liza Minnelli came out and did "We Are The Champions". She was the only performer who, like Mercury, had the size of the song. Indeed, in her black tights, she looked not dissimilar, although Freddie had better legs.
Just to cause a palpitation or two in Mr Hollombe, for my above-mentioned cat album, I did consider singing the song Freddie Mercury wrote about his own feline, mainly because of a couple of very funny lines therein. But I put it aside, because the title bore the name of his cat - and, out of respect for Les Reed, Barry Mason and Tom Jones, I couldn't accept the idea of a second song called "Delilah". So no Freddie Mercury on Feline Groovy.
~Tomorrow, Tuesday, I'll be joining Chicago radio legend Milt Rosenberg on his drivetime show. Hope you'll dial us up.
November 23, 2015 at 10:58 am | Permalink
This week Mark will be joining Chicago radio legend Milt Rosenberg on Tuesday and making other media appearances as the release date of his brand new cat album Feline Groovy looms.
Meanwhile, in case you missed it, here's how the last seven days looked to Steyn:
The week began with the world reacting to the slaughter in France. Mark suggested that playing John Lennon's "Imagine" reveals only a total lack of imagination, and that for "edgy" HBO comedians swearing a lot is the safest way to avoid saying anything that might cause offense. Speaking of musical responses, in the wake of the Paris attacks, Steyn's Song of the Week was, in fact, a Franco-Arab number: "My Way."
~On Monday morning, Mark started the day with Fox & Friends discussing the Eurabian jihad, and with Stuart Varney talking about Bernie Sanders and climate change. Steyn's observation re the latter greatly upset the Democrats' court eunuchs.
~On Tuesday Mark joined Hannity on Fox News to ponder President Obama's curious indifference to the rise of Isis.
~Wednesday morning found Steyn on the air Down Under with the great Alan Jones for an Australian perspective on Paris. Click below to listen:
The most contemptible reaction to the bloodbath in France came from the US Secretary of State John Kerry. Mark dissected Kerry's views on the "legitimacy" of the Charlie Hebdo attacks with John Oakley on the radio in Toronto.
~The climate change jamboree will be going ahead as scheduled - because, as Steyn wrote on Thursday, if we stop obsessing about sea levels in the 22nd century, then the terrorists will have won! Don't forget Mark's must-read book on cartoon climatology and Michael E Mann's fraudulent "hockey stick", "A Disgrace to the Profession", is available in print, in Kindle and in Nook.
~By the end of the week the Democrats were fully on message: Terrorism is nothing to do with Islam ...but everything to do with the Republican Party. As 30 governors objected to Obama's plans to admit 10,000 "Syrian" "refugees", the Administration revealed its latest Magic Hashtag - and Steyn wondered on TV what the French made of such a listless "leader of the free world".
~Having suggested that Isis were more Spectre-like than Spectre, Mark decided to pick the new James Bond film for our Saturday movie date. Our Sinatra centenary observances included "Send In The Clowns" and a brand new audio special with Mark in conversation with longtime Sinatra pianist and conductor Vincent Falcone.
A new week at SteynOnline begins tonight with our Song of the Week. And don't forget Mark's new cat album, Feline Groovy: Songs for Swingin' Cats, is available from Amazon via CD and download.
November 22, 2015 at 8:49 am | Permalink
On Wednesday I spoke to New England radio colossus Howie Carr about Paris, Isis, John Kerry and the pitiful reaction of the United States government. You can hear the full interview here.
~Paris, meanwhile, is pressing ahead with its Big Climate jet-set jamboree in order to defy the terrorists and show that, no matter what they do, they'll never stop us from obsessing about rising sea levels in the Maldives in the 22nd century. Because if we do stop obsessing about sea levels in the 22nd century, then the terrorists will have won! Along the way Howie was kind enough to mention my new book on the warm-mongers' cartoon climatology and Michael E Mann's fraudulent "hockey stick", "A Disgrace to the Profession". It's available in print, in Kindle and in Nook.
Howie was even kinder to mention my forthcoming cat album Feline Groovy, dedicated to my own beloved cat Marvin, which is available for pre-order at Amazon, and which I see is already (somewhat improbably) cleaning Harry Connick Jr and Billie Holiday's clocks on the jazz chart. (As an aggrieved Mr Connick would be entitled to point out, there's a lot of stuff on there that isn't the least bit jazzy.)
~Tonight, Thursday, I'll be back with Sean Hannity on Fox News, coast to coast at 10pm Eastern/7pm Pacific.
~A couple of items from Mark's Mailbox. Reader Bob Lackey writes:
Mark,

Humans want to be a part of something. We encouraged our three children to participate in marching band in high school, not to further some musical talent, but we realized that the band kids were a little geeky, somewhat studious, and fairly harmless. They could have found their friends in the goths, the rednecks, or the jocks, but with the band, they multiplied their friendships in a positive way. When we moved from Atlanta to Knoxville, our raising junior attended band camp then entered the first day in a new school with 100 friends.

The ISIS thing is something similar. Most of these jihadists have not been to an ISIS meeting, haven't paid dues, nor do they have the decoder ring. But they see a group like themselves that is winning. They can cause some mayhem and share the credit with the victors in Syria and Iraq. It is a huge force multiplier and one that will be difficult to counter – people want to be a part of something.

Bob Lackey
Something always beats nothing. Twenty years ago, I wrote that a "counter-culture" needs something to be counter to. Once you've killed off the culture it's countering - to the point where "Imagine" and peace symbols are now as ritualistic and formal observances of terror events as poppies and the Last Post are of "Remembrance Day" - a counter-culture has nothing to feed off. Imagine there's no ...nothing. For a proportion of young men around the western world ISIS is a genuine counter-culture, offering far more transgressive thrills than the pabulum of multiculturalism.
On the other hand, Louise McKelvie writes:
You are a silly noisy person. And all the clamour and noise you make do not matter a damn. You are just against everything remotely humane and everything sane is left wing. The worst thing that can happen to you and, it will, is that no one gives a hoot about what you say. You are a red-haired piece of very old lace on the lunatic fringe. Mostly you are boring.

Louise McKelvie
On the subject of red hair, Bookworm Room reminds us that gingerphobia is leading Brit redheads to convert to Islam.
November 19, 2015 at 11:02 am | Permalink
Our thoughts are with the people of Paris after the bloodbath with which this grim weekend began. Mark gave his initial reaction on Friday night in a much-read column: "The Barbarians Are Inside, And There Are No Gates." On Saturday morning he shared his thoughts in a TV appearance on "Fox & Friends", and later, after President Hollande declared that he would wage a war that would be "pitiless", Steyn looked at some of the all too pitiful reactions.
There was other news in the days before the ISIS assault. In case you missed it, here's how the last seven days looked to Mark:
~Our Monday Mohammed this week was Sudan's Ahmed Mohamed, purveyor of jihad on a tray. On the other hand, to Hillary Clinton's crack security detail, the real threat that day was New Hampshire's Secretary of State.
~Tuesday saw the latest Republican presidential debate. Mark previewed it with Sean Hannity on Fox News. Click below to watch:
After the debate Mark reviewed the performances of Trump, Carson, Rubio, Cruz, Bush, Paul, Kasich, Fiorina ...and Eisenhower.
~Wednesday was Veterans Day in the US and Remembrance Day across the Commonwealth. Steyn marked the occasion with some observations on war and remembrance ...and delusion and usurpation.
~On Thursday, on the eve of a multi-target Islamic assault on one of the world's great cities, the young safe-space fascists of America's universities were agitated about racist sombreros, while the planet's political leaders were worrying about climate change. And then the barbarians struck...
~One reason why Europe is now full of jihadists is because Europeans believed the reliably wrong Paul Ehrlich's predictions of overpopulation and stopped having babies. On Friday, Anthony Watts had some sport with Ehrlich's review of Mark's book "A Disgrace to the Profession".
~Because of Paris, we postponed our Saturday movie feature. However, we did find time for two contrasting additions to our Sinatra songbook - "For Once In My Life" and "Some Enchanted Evening".
A new week at SteynOnline begins tonight with our Song of the Week. On Monday morning Mark will be starting the week discussing the latest developments in France on "Fox & Friends", and later on Fox Business with Stuart Varney.
November 15, 2015 at 6:42 am | Permalink
The corrupt and insulting sense of entitlement of the Clinton campaign is quite remarkable. On Monday, the former Secretary of State, who currently holds no public office, filed her entry as a presidential candidate in the New Hampshire primary. This is a formal requirement which these days candidates turn into a promotional event. However, in the four decades he has served as New Hampshire's Secretary of State, Bill Gardner has never been treated as contemptuously as he was yesterday by Mrs Clinton. Her Secret Service detail required that Secretary Gardner submit to a humiliating pat down for the privilege of entering his own office to participate in Hillary's crappy photo op.
Just to be clear here, on this occasion Mr Gardner is the public official and Mrs Clinton a mere citizen (citizens being these days extremely mere). But, as in her email scandal, the rules that apply to others do not apply to her. So for Hillary, who cared so little for security as America's chief foreign policy official that she let the Russians, Chinese and any other half-competent intelligence service read her emails in real time, the real security threat is dear old Bill Gardner.
As for the Secret Service agents willing to do this, they too are beneath contempt. This is a stupid and wasteful agency that can't secure the White House grounds or keep its hands off Cartagena hookers, and used its money-no-object to budget to fly a bazillion agents into South Africa for Nelson Mandela's funeral to stand the President threee feet away from a violent schizophrenic with a necklacing conviction. Even so, what sort of depraved husk of a human being do you have to be not to understand that what they did to Mr Gardner is not only inappropriate - they're guests of his - but ultimately profoundly corrupting of the integrity of the republic.
My friend Hugh Hewitt has a new bio of Hillary called The Queen, which title I feel is rather unfair to actual monarchs. Can you imagine Queen Elizabeth or Prince William arriving on a formal visit to, say, the Manitoba legislature or the South Australia parliament and having the premiers frisked? This isn't "security", it's intimidation: it's a message to everyone else that she matters - and you don't.
~Speaking of "security", a week or so back I joined Charles Krauthammer et al at the annual New Orleans Investment Conference. One of our fellow speakers, alas, didn't make it - a prominent and respected gentleman from Toronto. A feature attraction at the conference for four decades, this year he was detained en route by an agent of the laughably misnamed "US Customs & Border Protection", who informed him that, as he was receiving a small honorarium for the speech, he required a "work permit".
Which takes what - two years? five years? So, if this were true, it would mean that as a practical matter no foreigner could ever give a speech in America ever again.
But, of course, it isn't true: the twerp from "Border Protection" was just winging it, making up his own freelance immigration policy on the fly. Which is why - as I always advise - at the first sign a routine border crossing is starting to go awry, demand to see a supervisor and make the agent's behavior the issue.
The broader issue remains something I've written about before - the decay of a land of laws into competing zones of the lawless and the tyrannous:
Can you think of anything more risible than working for something called "US Customs & Border Protection"? There is no "border" to "protect". On the Rio Grande, President Obama, the Coyote-in-Chief, has simply erased said border.

So one sympathizes with the psychological burdens of being an employee of "Customs & Border Protection". Perhaps that explains why, as they abandon "border protection" on the southern frontier, they seem to be compensating by obstructing and terrorizing law-abiding persons on the northern frontier...

American life is bifurcating into the undocumented and the overdocumented. On the southern border, the bazillions of US laws are meaningless - proof of identity, medical tests, none of it matters. And the less it matters on the Rio Grande the more the zealots on the 49th Parallel will take apart your car if they think you've got a Kinder egg in there. Anyone who thinks that attitude can be confined to the border and not work its way deep into the rest of American life is deluded.
I had a good time at the New Orleans conference. But I hope the chaps in charge, who are not without influence, put the screws to the thug bureaucracy over this and ensure that this year's absentee will be back at the podium next year.
~A couple of municipal footnotes to yesterday's all Islam, all the time column:
Hamtramck, Michigan has just elected America's first Muslim-majority city council.
Yesterday the Swedish city of Umea held a Kristallnacht commemoration without any Jews - who were excluded on the grounds that it would be "unsafe" for them to attend.
Wouldn't it be easier just to hold another Kristallnacht?
Oh, give it a year or two...
~Readers have asked for an update on my troubles with United Airlines, who have blacklisted the website you're reading now. I wish I had something to report. United's "Customer Service" twits asked me to DM them - which we did, nine days ago, since when we haven't heard a word.
Meanwhile, United passenger Rob Hegblom reports that, as of his flight yesterday afternoon, SteynOnline remains blacklisted for "inappropriate" and "unsuitable" content. Jack Marshall comments here:
I'm assuming/hoping that this was a stupid mistake and just incompetence, since incompetence is what United is best at. Yet so far, if the airline has an explanation, it hasn't been publicized.
However, reader Jon Miller was, unlike us, able to elicit a response from United's Department of Customer Bollocks. He wrote:
As a frequent customer I would like to know why Steynonline is "blacklisted" on your WIFI? Exactly what is it that is so offensive as to ban me from reading a wonderful website with no foul or otherwise offensive words or pictures? I have the ability to choose my airline for business travel.

Thank you.

Jon Miller
And this is what Carre Bates of United Airlines replied:
Dear Mr. Miller:

I am sorry that you were disappointed when your preferred website was not available during your recent flight. I see that you are a valued member of our MileagePlus program. We thank you for your loyalty.

United Airlines is a family-friendly airline that takes pride in welcoming passengers of all ages on board.

We are concerned that you felt the inflight entertainment selection should not have been edited or restricted. The selections are previewed and edited to industry standards to ensure that the material is suitable for a general audience. The editing standard used is provided by the studios to a number of airlines.

We offer satellite Wi-Fi on more long-haul overseas flights than any other U.S.-based carrier, enabling customers to stay connected while traveling. United Airlines currently offers satellite Wi-Fi on international routes to and from San Francisco – the country's premier trans-Pacific hub – as well as routes to and from Los Angeles. It's outfitted with Panasonic Avionics Corporation's Ku-band satellite technology, offering customers faster inflight Internet service than air-to-ground technology (ATG).

United also offers satellite Wi-Fi on more than half of its combined fleet, which operate in North America markets, and air-to-ground internet connectivity on its entire fleet of Boeing 757 transcontinental Premium Service aircraft, which operate between New York Kennedy and Los Angeles and San Francisco.

We appreciate when customers take the time to share comments and suggestions. Feedback like yours presents opportunities to improve or enhance our products and services.

Rest assured that we want to do everything we can to ensure that your travel needs are met. We understand air travel isn't always easy, which is why we continually focus on improving our products and services.

We appreciate your business and look forward to welcoming you on board a future United Airlines flight.

Regards,

Carre Bates
Customer Care
9675527
What does any of Carre Bates' answer mean in relation to Jon Miller's question? He responded:
This is a political opinion site, you obviously do not agree with so you've censored opinion on you WIFI. I'd bet PBS and NPR are accessible, aren't they? That's an opinion I find offensive but would never deny a person access to opinion. Try looking into the complaint instead of forwarding your pat answer. Which in this case has no relation.
But Carre Bates' pat answer sounds so soothing and reassuring... Come fly the friendly lies!
I may have to bring this up on Rush or Hannity. By the way, I am unilaterally banning my forthcoming cat album* from for their in-flight music system.
(*now available for pre-order from Amazon)
November 10, 2015 at 10:21 am | Permalink
On Monday Mark will be starting the week with Sean Hannity on Fox News, coast to coast across America at 10pm Eastern/7pm Pacific.
Meanwhile, in case you missed it, here's how the last seven days looked to Steyn:
The week began with sad news: the death of Fred Thompson, senator and actor, with whom Mark shared the stage for a memorable election discussion a few years ago.
~On Monday our Sinatra Century song celebrated a much admired Brazilian pedestrian, "The Girl From Ipanema". And one great bossa nova deserves another, so we paired it with "Quiet Nights Of Quiet Stars".
~On Tuesday, Mark swung by Fox News to contemplate the relaunch of Jeb Bush as "the joyful tortoise". Click below to watch:

~On Wednesday Mark started the day with Toronto's Number One morning man John Oakley. They revisited Steyn's blacklisting by United Airlines, contemplated Mr Trudeau's new ministry, and previewed the upcoming climate-change jamboree in Paris. With the warm-monger jet set getting ready for another round of apocalyptic alarmism, there's never been a better time for Mark's new book "A Disgrace to the Profession": The World's Scientists - in their Own Words - on Michael E Mann, his Hockey Stick, and their Damage to Science: Volume One. It's available in print, but it can also be yours instantly via Kindle and Nook. Even Yale Scientific, though unenthusiastic about Mark's book, was disinclined to defend Mann's "false science".
~It was a great week for stabbing, both in the Gaza fashion world and at the University of California. On Thursday Steyn discussed the latter story, and the appalling response by officialdom, on the radio with Hugh Hewitt.
~On Friday, Mark suggested the ISIS bomb aboard the Russian passenger jet was a portent of tomorrow's world. He also dusted off his America Alone demographic arithmetic and concluded that, thanks to Angela Merkel, in two generations Germany will have twice as many Muslims as ethnic Germans
~With Veterans Day and Remembrance Day this coming week, our weekend movie date looked back at We Were Soldiers.
If you've seen the new Bond film, you'll know that Blofeld's cat is back. And so is Mark's! To pre-order Steyn's forthcoming album Feline Groovy: Songs for Swingin' Cats, see here. And don't forget Mark's contribution to the new book on the 800th anniversary of Magna Carta.
A new week at SteynOnline begins tonight with our Song of the Week.
~There are other ways to support Mark's side in the upcoming Mann vs Steyn trial of the century, if you're so inclined:
1) STEYNONLINE GIFT CERTIFICATES
You can buy a gift certificate starting at $25 (and soaring way up from there), for yourself or your friends and family. The gift certificates have no expiration date, so if, in ten years' time, your favorite nephew has a sudden burning desire for $100 worth of Mark's disco CD, it'll still be valid. On the other hand, if you want to buy a certificate and sit on it until Mark wins the case, that works, too.
The gift certificates are available online here. Alternatively, US and Canadian customers can make a telephone purchase by calling (866) 799-4500 toll free from 8am to 3pm Eastern time on weekdays.
Aside from "A Disgrace To The Profession", he's written lots of other books, on free speech and much more. They're available individually or as part of various special offers.
3) EXCLUSIVE STEYN vs THE STICK TRIAL MERCHANDISE
Our "Steyn vs the Stick" and "Clash of Sticks" designs are available both on mousepads and coffee mugs and as T-shirts and sweat shirts.
November 8, 2015 at 6:22 am | Permalink