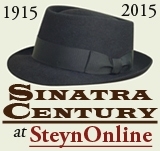 Our 99th Sinatra Century song is, after "My Way", the second most performed Sinatra song written by a Canadian. In the Forties Frank sang it every week as his closing theme on the radio, and twenty years later was still using it as his closing theme on TV. As he liked to say, he and that song had traveled a long way together - "all the way from nowhere to somewhere", which is the journey we've been on since our first Sinatra song back in January.
For Frank's children it has a special place. His youngest child Tina:
Of all his songs, my favorite was his signature closing number, 'Put Your Dreams Away', which sounded like a lullaby to me.
Her big sister Nancy, introducing the new box set of her dad's radio appearances, A Voice On Air, adds:
Some of my favorite memories as a little girl were the evenings when my mom and I would have our supper and then settle in to listen to my daddy on the radio. He wasn't around much during those first several years when he was on the road with the Dorsey band so I lived for those moments when I could have him at home. For most of my childhood, Frank Sinatra was for me - as for millions of others - a voice on the radio.
Except that, unlike those millions of others, right at the end of the show there'd usually be a special greeting just for her:
Goodnight, moonbeam.
And then:
Put Your Dreams Away
For another day...
Today "Put Your Dreams Away" is still a Sinatra closing theme, for Nancy's own weekly radio show.
In 1940 Toronto songwriter Ruth Lowe had given the new kid vocalist with the Tommy Dorsey band his first Number One record, "I'll Never Smile Again". Even as his fame exploded in the three years that followed, he held both that song and its author as special talismans. At the dawn of bobbysoxer mania, when every gal in New York was screaming for Frankie at the Paramount, he'd swing by Ruth Lowe's room at the Astor to talk over a few musical ideas with her. In 1943, he called her up with a problem. He'd just been given his own radio show by CBS - "Songs By Sinatra", every Sunday night. He was going to use "This Love Of Mine", a ballad he'd co-written, as the opening song each week, but he needed a closing theme, and he asked Ruth if she could write one.
"I'll get started on it right away," she said.
"I hope so," said Frank. "I need it tomorrow morning."
As Miss Lowe recalled it, even before Sinatra hung up, she had a melody forming in her head. But she was worried about knocking it into finished shape, so she asked round two pals, Paul Mann and Stephan Weiss, and they put on the coffee and worked on it all night. If you're curious about Messrs Mann and Weiss, they were a couple of Viennese émigrés who wound up in New York and contributed to the Broadway smash Hellzapoppin'.
As dawn broke, with Sinatra's deadline looming, the trio had a wistful waltz:
Put Your Dreams Away
For another day
And I will take their place in your heart...
The main theme sounds a little like "I'll Never Smile Again" sideways but the AA rhyme scheme gives it a kind of simple honesty:
Wishing on a star
Never got you far
And so it's time to make a new start...
And, unlike "Smile Again", it soars in the middle section:
When
Your dreams at night
Fade before you
Then
I'll have the right
To adore you...
And then it comes in for a soft, sweet landing:
Let your kiss confess
This is happiness
Darling
And put all your dreams away.
Frank loved it. He sang it every Sunday night on CBS through the end of 1943. In January 1944, they doubled the length of the show, moved it to Wednesdays, and introduced star guests like W C Fields and Ida Lupino. But they kept "Put Your Dreams Away". It was his closing theme until he gave up network radio in the mid-Fifties, and then he used it on TV in those terrific Sixties "A Man And His Music" specials. His first recording of the song was for an Army V-disc in 1944. A year later, he sang it, with the same Axel Stordahl arrangement, for Columbia. In 1957, he commissioned a new chart from Nelson Riddle and made a single for Capitol. And then six years later he re-recorded the Riddle arrangement for a Reprise album called Sinatra's Sinatra, "a collection of Frank's favorites", which this one certainly was. There were subtle variations over the decades: After the V-disc of the Stordahl arrangement, for Columbia he opted to do his Tommy Dorsey thing and hold the "start" of "make a new start" over into the big "when" of "when your dreams" without taking a breath. But he always knew to come down off the big notes and get back to small and soft and intimate by the time he got to "adore you".
Ruth Lowe eventually re-married and chose to stay in Toronto and be a stockbroker's wife doing good works and raising her kids rather than be a big-time songwriter in Tin Pan Alley. She nixed a Hollywood biopic in which she would have been played by Judy Garland, and seemed content to be a quirky footnote in pop history. But "Put Your Dreams Away" and "I'll Never Smile Again" are quite the footnotes for an Ontario housewife: Frank Sinatra's theme song, plus the very first Number One record on the brand new Billboard chart. Which means the first American Number One hit was written by a Canadian - just as "Put Your Dreams Away" is the only number Sinatra ever commissioned from a Canadian. A few months ago, in this Sinatra centenary year, it was inducted in the Canadian Songwriters' Hall of Fame - which is perhaps not as illustrious a distinction as the honorary Grammy Award for which Sinatra himself nominated Ruth Lowe after her death in 1981. But, were he alive today, I think he would have been up north to induct what he called his "dear old theme song". He sang it on radio and TV for decades, and it belongs to a very select group of tunes he recorded at all three of his record labels - Columbia in the Forties, Capitol in the Fifties, Reprise in the Sixties. As he said of the song on his Grammy-winning album A Man And His Music: "I love you, old buddy."
When Sinatra died in 1998, the lazier headline writers went with "He Did It His Way" or some such. But on the cover of Time magazine they used just four simple words:
Put Your Dreams Away...
Not for just a day but forever. On May 20th, at the Church of the Good Shepherd in Beverly Hills, the Sinatra family chose just one recording to be played at Frank's funeral - the Nelson Riddle arrangement of Ruth Lowe's song. It had been, until that point, a conventional Catholic funeral mass, and that was the first moment in the obsequies that the voice of "The Voice" had been heard. "It was the only choice," said Nancy, recalling the question of how they should end the service. "Of course it had to be 'Put Your Dreams Away' and there wasn't a dry eye in the church." It echoed down the pews, and underneath the familiar Riddle orchestration there were muffled sobs. Tears glistened and the strange mix of mourners, the Don Rickles and Bob Dylans and the lesser known friends and colleagues, reached for handkerchiefs. As Time's editors understood, the title distilled perfectly the sense of loss: for elderly grandmothers recalling their bobbysoxer youth; for wannabe hipster Gen Xers bleakly aware they'll never get to smoke and booze it up and chase chicks the way Frank and Dino did; and for those of us who felt that, with Sinatra's passing, the golden age of popular song slipped a little further into the past, the age of Rodgers & Hart, of Berlin and Porter - and yes, of a Toronto stockbroker's wife called Ruth Lowe.
And so the song with which Frank Sinatra had said goodbye on radio and TV over the decades was the song with which he took his leave on that May day in 1998:
When
Your dreams at night
Fade before you...

Darling,
Put All Your Dreams Away.
~Mark's final Sinatra Century song will appear late today. The second episode of Steyn's new audio series The Song Is You, with composers and lyricists telling the stories behind Sinatra recordings such as "Willow, Weep For Me", "Tea For Two" and "Almost Like Being In Love", can be heard here. And don't forget Part Two of Mark's conversation with longtime Sinatra conductor Vincent Falcone, discussing "The Gal That Got Away", "Guess I'll Hang My Tears Out To Dry" and many other songs. Mark's original 1998 obituary of Frank, "The Voice", can be found in the anthology Mark Steyn From Head To Toe, while you can read more on Sinatra in Mark Steyn's American Songbook. Personally autographed copies of both books are exclusively available from the SteynOnline bookstore.
~On this big day, the Evil Blogger Lady offers a most appropriate song: Frank with Quincy Jones and "A Hundred Years From Today". The Pundette has almost completed her own Sinatra Hot 100 and at Number Two, deservedly, is "I've Got You Under My Skin". Bob Belvedere, meanwhile, puts Ruth Lowe's other great Frank hit, "I'll Never Smile Again", at Hit Sound #77.
SINATRA CENTURY
at SteynOnline
6) THE ONE I LOVE (BELONGS TO SOMEBODY ELSE)
8) STARDUST
10) WHAT IS THIS THING CALLED LOVE?
11) CHICAGO
12) THE CONTINENTAL
13) ALL OF ME
15) NIGHT AND DAY
16) I WON'T DANCE
17) I'VE GOT YOU UNDER MY SKIN
19) EAST OF THE SUN (AND WEST OF THE MOON)
21) A FOGGY DAY (IN LONDON TOWN)
24) OUR LOVE
27) FOOLS RUSH IN
32) I'LL BE AROUND
36) GUESS I'LL HANG MY TEARS OUT TO DRY
37) NANCY (WITH THE LAUGHING FACE)
38) SOMETHIN' STUPID
40) I GET ALONG WITHOUT YOU VERY WELL (EXCEPT SOMETIMES)
41) SOLILOQUY
42) THE COFFEE SONG
44) HOW ABOUT YOU?
46) LUCK BE A LADY
48) (AH, THE APPLE TREES) WHEN THE WORLD WAS YOUNG
49) I HAVE DREAMED
51) I'VE GOT THE WORLD ON A STRING
52) YOUNG AT HEART
54) BAUBLES, BANGLES AND BEADS
55) IN THE WEE SMALL HOURS OF THE MORNING
57) THE TENDER TRAP
59) WITCHCRAFT
60) EBB TIDE
61) COME FLY WITH ME
62) ANGEL EYES
63) JUST IN TIME
65) NICE 'N' EASY
66) OL' MACDONALD
68) AUTUMN LEAVES
78) MOON LOVE
79) ME AND MY SHADOW
81) QUIET NIGHTS OF QUIET STARS
84) MY WAY
86) SOMETHING
87) THEME FROM NEW YORK, NEW YORK
88) BANG BANG (MY BABY SHOT ME DOWN)
89) GOODY GOODY
92) PICK YOURSELF UP
93) TIME AFTER TIME
95) MACK THE KNIFE
96) BODY AND SOUL
97) HAVE YOURSELF A MERRY LITTLE CHRISTMAS
98) THAT'S LIFE