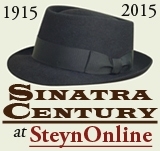 Our 100th Sinatra Century song is one for the road. Frank Sinatra called himself a "saloon singer," because that's where he used to sing, way back when, in Jersey juke joints and roadhouses. Not for long. He was too good, even then. But for a while, if you headed up to the Rustic Cabin on Route 9W in the Garden State, they had this pianist pushing a little half-piano from table to table and the waiter would sing with him and they had a tip jar on the lid and you couldn't help noticing that the kid sang awful good for a waiter, and pretty soon the singing was earning him, as he figured it, "about fifteen clams a week."
Forty, fifty, fifty-five years later, week in, week out, the same singing waiter, with full supporting orchestra, was barreling through a set at some grim rock stadium on the edge of a strip mall in some nondescript suburb. Midway through, the lights would dim, and Frank Sinatra would announce that he would now sing a "saloon song," and proceed to shrink whichever sterile aircraft hangar he'd been booked into down to the size of those pokey smoky New Jersey saloons of his youth. There were the old props—the tumbler, the cigarette—and the scene setting grew ever more ornate over the years, expanding into an almighty pileup of retro hipsterisms as Sinatra prepared us for the tale of some emblematic long-lost loser whose "chick split, flew the coop, cleaned out his stash, and left him cryin' into a gallon of Muscatel." Under the words a tinkly tipsy barroom-piano intro would begin, and Sinatra would invite us to "assume the position of the bartender" and listen to the old, old story:
It's quarter to three
There's no one in the place
Except you and me
So set 'em up, Joe
I got a little story
You oughtta know...
We all knew the story. But the strange thing was, through the Sixties, Seventies, Eighties, and into the Nineties, no matter how flip the spoken intro got, when Sinatra started to sing that first line, the semi-parodic grooviness was all gone, and you were in for the most intense four minutes in the show, intimate and universal, bleak but weirdly exhilarating.
For Frank, it was the all-time great saloon song. And for Bill Miller, his longtime accompanist, it was the number that defined the Sinatra style more than any other. Miller played it at Frank's funeral in 1998, and then a few months later, for a concert by Frank's son, he made an unannounced return to the song. The lights were dimmed, the pianist took his seat in the dark, and began the bleary quarter-to-three opening of "One For My Baby". "The audience let out a gasp," said Frank Jr. "They were all Sinatra fans and they recognized Bill immediately."
As well they should. Miller's barroom piano intro has become part of the song. "One For My Baby" had been around a decade and a half before Bill and Frank claimed it definitively, but, until their version, it had never really broken out to top-rank standard. It was introduced to the world in a Fred Astaire film from 1943, The Sky's The Limit. It's not the liveliest Astaire pic, and for a wartime romance the star never quite convinces either that he's a Flying Tigers air ace or that he's in love with Joan Leslie. At any rate, things aren't going well by the time he sings "One For My Baby", in the inevitable barroom setting but with various maudlin flashbacks to happier times. And then, when the bartender refuses to top up the glass and walks out of the room with the bottle, Astaire goes into one of the most frenzied tap dances of his career: no grace, no wit, no playfulness, just driven energy, like a rage you're trying to purge, a terpsichorean spasm. And the bartender re-enters, ready to head home, and Astaire shrugs off the frenzied dance with a casual, "Well, that's how it goes...
And, Joe, I know you're getting anxious to close...
And Astaire wants him to know he's fine for the road:
Don't let it be said
Little Fred
-die can't carry his load...
It's not the greatest Astaire routine, but, if you'd been following the guy since Flying Down To Rio, it's an unprecedented and brutal break with the dancer's style and urbanity. It's also the best thing in the picture. So naturally a theater owner in San Francisco wanted the scene cut because such "wanton description" of alcoholic imbibing during wartime was "extremely distasteful if not unpatriotic".
Oh, well. Harold Arlen's tune is what he called one of his tapeworms – not 32 bars, but 58: it has a kind of tipsily meandering unhurried quality just right for the situation. "One For My Baby" is one of those songs everybody thinks is all about the words - and it is a great lyric with a marvelous conversational opening – "It's quarter to three..." But it sounds great because Arlen's deceptively simple piano, the intense chromatic writing and the key change show off the words to their very best.
The text is Johnny Mercer, of course. But did you know he wrote it about Judy Garland? They'd been having one of those affairs that are born doomed. And, just as Mercer had finally decided to ask his wife Ginger for a divorce, Walter Winchell came on the radio and announced that Judy had eloped to Vegas with the composer and bandleader David Rose.
You don't need to know that to appreciate the song – the point of popular music is, as Goethe said, to take the specific and make it universal. But Mercer's affair colors his approach to the lyric. Garland's rising star would have been badly dented by revelations of an affair with an older married man, so Mercer was unable to talk about his great lost love - even in a song about getting a load off your chest. Instead, he wrote a song about talking about a lost love that never does actually talk about it:
So set 'em up, Joe
I got a little story
You oughtta know...
Yet the song never does tell us the "little story". That's its genius. It's all images – a suggestion of emotional cataclysm rather than an attempt to explain the details:
I got the routine
Drop another nickel
In the machine
I'm feeling so bad
Won't you make the music
Dreamy and sad...
There's a really good basic rule for pop lyrics that songwriters today ignore way too often: eschew self-pity. A singer comes out and says, God, I'm feelin' miserable, my gal left me, I wanna shoot myself. Who cares? Yet Mercer took the classic self-pitier – the maudlin drunk, last barfly in the joint, head down in the beer nuts, hectoring the poor weary sap behind the counter to hear one last story before closing up - and he managed to inject some authentic feeling into it. All it needed now was the right singer.
Sinatra got to it in 1947, and it's okay. You can tell he likes the song, but it's like a lot of other stuff he was trying out in that period: he knows something's in there, but he hasn't found the key to the door. He knows it's a guy, it's a vignette, it's a little noir drama. Axel Stordahl gives him some rinky-dink saloon piano, and Frank whistles into the distance as the number ends. But he hasn't cracked the code.
A decade later, he did. By then, he'd hooked up with Bill Miller, and they were, musically, inseparable. Miller was born across the water from Sinatra, in Brooklyn, just months earlier. At sixteen, he was billing himself as "Bill Miller, the Ace of Jazz." At eighteen, he was the pianist for Larry Funk and His Band of a Thousand Melodies, and then came Red Norvo and Charlie Barnet. Heading home from a gig at the 1940 World's Fair, Miller and the gal he was dating had the car radio on. "Hey, listen," she said, "doesn't that sound good? That's Dick Haymes."
Miller said, "No, it's not Dick Haymes. Dick Haymes doesn't sing that good."
He had to wait till the end, and the disc jockey's announcement: "All or Nothing at All", by Harry James and His Orchestra, vocal refrain by Frank Sinatra. A decade later, Sinatra had had it all and was on his way back down to nothing. Miller was the man at the keyboard as Frank rebuilt his career. For Only The Lonely, there were two "One For My Baby"s. On the first night, the band repaired to some little joint and asked Joe to set 'em up, and Bill and Frank stayed behind in the studio and blocked out a terrific intense take of the song. It's not just Miller's sensitivity to Sinatra's phrasing, but the strong harmonic support he provides. The next night they redid it with the Nelson Riddle arrangement – a gossamer hint of strings plus Gus Bivona's alto. That's the take they put on the album. But the solo with Miller was the version insiders talked about, and over three decades later Capitol finally released it.
That intro to "One for My Baby" was Bill Miller's invention. It is a marvelous thing that works at so many levels: it evokes the tinny sound of a saloon piano, and it meanders a little woozily, like a fellow who's drunk a skinful heading back to the bar for one more, and it also has a kind of bleak, weary acceptance about it, as if both storyteller and barman know that in the end the one buttonholing the other will change nothing. It's self-aware about its self-pity; it understands that, in everything that matters, it's already past closing time. And it's also an acting performance, in that Miller is playing not just the piano accompaniment to the song but also the role of the barroom pianist in the story the singer's telling. Miller matches the paradox of the vocal performance with one of his own: just as Sinatra gives what Robert Cushman called "a perfectly controlled performance of a man who's falling apart," the pianist, under the cover of a rinky-dink saloon piano, provides an amazing harmonic intensity.
That's a hell of a lot to cram into a few bars. I once tried to say all the above to Bill Miller, and he said: "Yeah."
Oh, well. That's what he said back in 1951 when he was playing at the Desert Inn in Vegas and Sinatra came by to ask if he'd like to work with him: "Yeah." He stayed for the best part of half a century, and played Sinatra songs to the very end, dying in Montreal, after a broken hip and a heart attack, while in town for a month of shows with Frank Sinatra Jr. Miller was ninety-one and had to be helped from his wheelchair to the piano stool. But the fingers still worked.
Bill Miller wasn't exactly unsung. Au contraire, seven-eighths into "Mack the Knife," Frank liked to take a chorus to introduce the musicians:
We got Bill Miller playin' that piano
And this great big band bringin' up the rear
All these bad cats in this band now
They make the greatest sounds you ever gonna hear ...
But that was pretty much it in the way of public acclaim, aside from onstage references to Miller's ghostly pallor ("Our pianist is a man we call Suntan Charlie"). Yet Miller and the handful of other guys who made up the Sinatra rhythm section night after night in Vegas and Atlantic City and London and Rome and Rio and Tokyo belong to a very exclusive club. Bill outlasted Ava and Marilyn and Mia and the other dames, and Dino and Sammy and most of the pallies, too. And the musicians got the best snaps for the scrapbook—not the tuxedoed bonhomie and Friars Club kibitzing you see in the pics of Frank and Bob Hope and John Wayne, not the pasta-joint mug shots of Frank and lesser buddies, but Frank at work, with you!
In 1964, the pianist's home in Burbank was washed away in a mudslide. The Millers were swept away with it: their teenage daughter, Meredith, made it to the top of a hill, and Bill was rescued hanging from a car, but his wife, Aimee, was only found the following night. Sinatra identified the body and then went to see Miller in the hospital. "If it's any consolation," he said, "there wasn't a mark on her." As the laconic Miller liked to tell friends, "It wasn't any consolation." But Sinatra paid the medical expenses and got Miller a new place. And, when they inevitably busted up, in the late Seventies, Sinatra had a new and very skillful replacement in Vincent Falcone, but he closed the book on "One For My Baby, and put it away. Anyone can conduct "My Way" (as Miller did on the hit recording), but Frank understood that the truly definitive Sinatra saloon ballad of utter small-hours desolation and loneliness depended on the presence of another man. In the mid-Eighties Bill Miller returned - for "One For My Baby" and one more decade on the road.
There was one last classic recording, too. The final track on Sinatra's 1993 Duets isn't really a duet at all – or at least not a celebrity duet. To warble with the Chairman on "One For My Baby", Phil Ramone, the producer, had asked Carly Simon. But Carly nixed the idea on the grounds that the song gave the impression of encouraging alcoholic beverages as a prelude to motor vehicle operation and, being at the time a spokesperson for Mothers Against Drunk Driving, she felt she couldn't be seen to endorse such a thing. For once, hallelujah for political correctness! Thanks to Miss Simon, Frank got the vocal to himself, albeit introduced by an atrocious bit of Lite FM instrumental slurping. But never mind that. Take a chisel to the CD and remove Kenny G's syrupy drooling of "All The Way" on the front of the track and then sit back as the strings recede, and Bill Miller begins his bar-room piano noodling. It's the best duet on the album – just Frank and Bill – and the latter doesn't even get a credit on the outer sleeve, just a tiny namecheck deep in the interior of the small print as "Mr Sinatra's pianist". The voice is rough, its vulnerability deliberately exposed, especially on the last line's long goodbye. But, harrowing as it is, it's a final Sinatra masterpiece. The piano dies away and the last saloon singer lays down his burden: one for us and one for that long, long road.
Well, that's how it goes
And, Joe, I know you're getting anxious to close
So thanks for the cheer
I hope you didn't mind my bending your ear...
No, we didn't. Johnny Mercer, who rarely stopped at one and got awfully abusive of his baby and anyone else as the night wore on, could be a famously mean drunk. As he used to sing it, ruefully: "Make it One For My Baby/And one mo...," and he'd catch himself and amend the lyric:"no more for the road." But he was self-aware enough to get some of the best drunk songs ever written out of his lifetime of quarter-to-threes - "Drinking Again", "Empty Tables", and the greatest of the lot: One for my baby, and for the ages.
On May 20th 1998, Miller played it at Sinatra's funeral. The familiar barroom introduction began, but this time no voice came in, no "It's quarter to three ..." In all the decades Bill Miller had accompanied the familiar words, for the first time ever there was no one in the place except him.
~For more on Bill Miller and "One For My Baby", see Mark's book Mark Steyn's Passing Parade. Order your personally autographed copy exclusively from the SteynOnline bookstore. There's more on Sinatra and saloon songs in Part Two of Mark's Johnny Mercer podcast. The second episode of Steyn's new audio series The Song Is You, with composers and lyricists telling the stories behind Sinatra recordings such as "Willow, Weep For Me", "Tea For Two" and "Almost Like Being In Love", can be heard here. And don't forget Part Two of Mark's conversation with longtime Sinatra conductor Vincent Falcone, discussing "The Gal That Got Away", "Guess I'll Hang My Tears Out To Dry" and many other songs. Mark's original 1998 obituary of Frank, "The Voice", can be found in the anthology Mark Steyn From Head To Toe, while you can read more on Sinatra in Mark Steyn's American Songbook. Personally autographed copies of both books are exclusively available from the SteynOnline bookstore.
~The Pundette has almost completed her own Sinatra Hot 100 and Number One brings together Frank, Nelson, George and Ira and a song for "couples who've gone 'a long, long way' together". Bob Belvedere, meanwhile, presents his own birthday tribute. And, on this big day, the Evil Blogger Lady offers a most appropriate song: Frank with Quincy Jones and "A Hundred Years From Today".
SINATRA CENTURY
at SteynOnline
6) THE ONE I LOVE (BELONGS TO SOMEBODY ELSE)
8) STARDUST
10) WHAT IS THIS THING CALLED LOVE?
11) CHICAGO
12) THE CONTINENTAL
13) ALL OF ME
15) NIGHT AND DAY
16) I WON'T DANCE
17) I'VE GOT YOU UNDER MY SKIN
19) EAST OF THE SUN (AND WEST OF THE MOON)
21) A FOGGY DAY (IN LONDON TOWN)
24) OUR LOVE
27) FOOLS RUSH IN
32) I'LL BE AROUND
36) GUESS I'LL HANG MY TEARS OUT TO DRY
37) NANCY (WITH THE LAUGHING FACE)
38) SOMETHIN' STUPID
40) I GET ALONG WITHOUT YOU VERY WELL (EXCEPT SOMETIMES)
41) SOLILOQUY
42) THE COFFEE SONG
44) HOW ABOUT YOU?
46) LUCK BE A LADY
48) (AH, THE APPLE TREES) WHEN THE WORLD WAS YOUNG
49) I HAVE DREAMED
51) I'VE GOT THE WORLD ON A STRING
52) YOUNG AT HEART
54) BAUBLES, BANGLES AND BEADS
55) IN THE WEE SMALL HOURS OF THE MORNING
57) THE TENDER TRAP
59) WITCHCRAFT
60) EBB TIDE
61) COME FLY WITH ME
62) ANGEL EYES
63) JUST IN TIME
65) NICE 'N' EASY
66) OL' MACDONALD
68) AUTUMN LEAVES
78) MOON LOVE
79) ME AND MY SHADOW
81) QUIET NIGHTS OF QUIET STARS
84) MY WAY
86) SOMETHING
87) THEME FROM NEW YORK, NEW YORK
88) BANG BANG (MY BABY SHOT ME DOWN)
89) GOODY GOODY
92) PICK YOURSELF UP
93) TIME AFTER TIME
95) MACK THE KNIFE
96) BODY AND SOUL
97) HAVE YOURSELF A MERRY LITTLE CHRISTMAS
98) THAT'S LIFE