Steyn on the World
A Tweet from Yasmina Haifi:
ISIS heeft niets met Islam te maken ...is vooropgezet plan van zionisten die bewust Islam willen zwart maken
Which translated into English means roughly:
ISIS has nothing to do with Islam. It's a preconceived plan by Zionists who want to deliberately blacken Islam's name.
Who is Yasmina Haifi? She's an official at the Dutch Ministry of Justice who serves as project leader at the Netherlands' National Cyber Security Center. And she thinks Isis is a Zionist plot to make Islam look bad.
She could be right. On the other hand, maybe Yasmina Haifi is a Zionist plot to make Islam look bad - or at any rate deranged. Presumably the many Dutch Muslims out on the streets holding pro-Isis demonstrations would disagree with her - because they surely wouldn't be demonstrating in favor of a Zionist front group, would they? Unless, of course, they're also in on the Zionist plot...
Look at Yasmina Haifi in the photograph at right - she's not a burqa-wreathed crone, but a modern western career woman in a foxy red jacket with just a hint of cleavage. And yet she cannot bear the truth about her religion and what is done in its name. So she takes refuge in the laziest conspiracy of all. In the Netherlands, an "extremist" Muslim supports Isis because it's chopping the heads off infidels, but a "moderate" Muslim opposes Isis because it's a Zionist front group.
This is the human capital with which the Netherlands has chosen to build its future.
~Let us turn to Sunday's Turkish presidential election. Recep Tayyip Erdo─čan, the Prime Minister and the most consequential leader since Atat├╝rk, won big time. The heir to Atat├╝rk - or at any rate the candidate of his old party - was a fellow called Ekmeleddin ─░hsano─člu, who came a distant second. Bringing up the rear was the Kurdish guy. This is the electoral map: Erdo─čan carried the yellow constituencies, the Kemalist opposition the blue, and the purple is the Kurdish south-east.
This map rang a vague bell with me. Seven years ago, I wrote about Turkish demography in National Review. The supposedly "moderate Islamist" Erdo─čan had just canceled trade deals with Israel, and frosted out the US ambassador because he was Jewish; a new edition of Mein Kampf was prominently displayed at the airport bookstore. In 2003, I'd passed a rather boozy evening with an extremely convivial former Turkish foreign minister, who, midst brandy and cigars, professed his admiration for the "tough hombres" he'd known in Jerusalem and Tel Aviv. A mere four years later, the new Turkey was starting to look like any old cookie-cutter death-to-the-Great-Satan stan of the month rather than the nation that gave women the vote before France did and had been Israel's best friend in an otherwise hostile region for half-a-century. A trickle of "Who lost Turkey?" stories had begun appearing in the American conservative press, and I would have joined them - except that I knew the answer. This is from my National Review column of April 16th 2007:
Since the collapse of the Ottoman Empire, there have been two Turkeys ÔÇö the Turks of Rumelia, or European Turkey, and the Turks of Anatolia, or Asia Minor. Kemal Atat├╝rk was from Rumelia and so were most of his supporters, and they imposed the modern Turkish Republic on a somewhat reluctant Anatolia, where Atat├╝rk's distinction between the state and Islam was never accepted. In its 80-year history, the population has increased from 14 million to 70 million, but the vast bulk of that population growth has come from Anatolia, whose population has migrated from the rural hinterland to overwhelm the once solidly Kemalist cities.
That map of the 2014 Turkish election is my 2007 column in one handy graphic: Eastern, Asian, Islamic Turkey has "overwhelmed" Western, European, secular Turkey. Here's another snapshot of what happened - a 2013 graphic of Turkish birth rates, showing fertility declining as you move from east to west: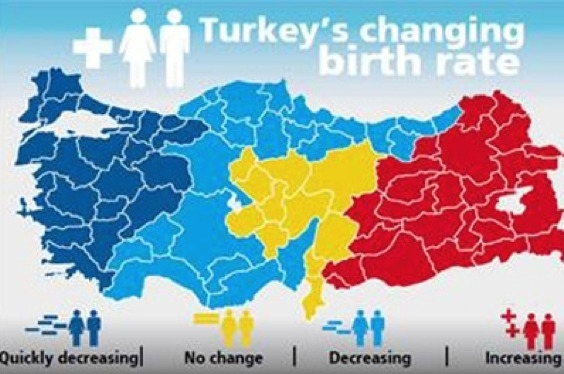 The birth rates of the Kurdish south-east will eventually cause Erdo─čan a few headaches, but there won't be many Kemalists around by then. The term "Young Turks" comes from the Ottoman Empire's would-be reformers at the beginning of the 20th century. The trouble is the Young Turks are now Old Turks, and youth, energy and numbers are on Erdo─čan's side. As I concluded in that column seven years ago:
Atat├╝rk's modern secular Turkey has simply been outbred by fiercely Islamic Turkey. That's a lesson in demography from an all-Muslim sample: No pasty white blokes were involved.
Even in a society dominated by one of the most forceful personalities of the 20th century, demography proved destiny. "Atat├╝rk", the name bestowed on Kemal by the Turkish parliament, means "Father of the Turks". Alas, he wasn't father of enough of them. And the men who were had other ideas. The chances of Turkey ever electing another Kemalist government decrease with each election cycle.
~As for the "pasty white blokes", what lessons does Turkey hold for Europe or even Australia and Canada? They too are undergoing remorseless demographic evolution: Look at, say, French natives as Rumelian Turks and French Muslims as Anatolians. In the last presidential election, the Muslim vote for M Hollande was larger than his margin of victory over Sarkozy. How large will it be in 2017?
What about Down Under? Australia is one of the least insane western polities, not to damn with faint praise. But the appalling and disgraceful reactions to the junior jihadist with the severed head suggest that for Australia's Opposition Leader and his Members of Parliament electoral viability requires tiptoeing around even the most brutal provocations. Miranda Devine runs the numbers:
The most populous Muslim electorates in the country are Labor. Blaxland, held by Jason Clare, has a Muslim population approaching 25 per cent, Watson, held by Tony Burke, has 20 per cent. Next comes the Labor seat of Calwell, in northwest Melbourne, with 16 per cent. The fourth most populous Muslim electorate is the Sydney seat of Reid, with 10 per cent, the only significant Muslim electorate held (barely) by a Liberal, Craig Laundy.

It's no surprise Laundy has been a vocal opponent of the government's now defunct free speech reforms of the Racial Discrimination Act, which were so strenuously opposed by Muslim organisations.
Will that be enough to save his seat? I would doubt it. Relatively few people want to jet off to the Sunni Triangle and decapitate someone. But a far more significant number are remarkably relaxed about decapitation as long as the head being sawn off is a Jew's, or a Christian's, or a Yazidi's. And, when it comes to entertaining even a very narrow criticism of what is done in Islam's name, a far larger number of people, invited to choose between criticizing Islam or embracing lunacy, find it easier, like Yasmina Haifi at the Dutch Ministry of Justice, to embrace lunacy. How many like-minded souls will have joined Yasmina in Dutch government service by 2020?
And there are no Kemal Atat├╝rks in sight, only culturally craven prostration limbo-dancers like Bill Shorten. Absent any countervailing forces, continued mass Muslim immigration will lead to the death of France and the Netherlands, as those terms have any meaning. Look at it this way: There are three reactions to Isis among western Muslims - active support on the streets from the excitable young lads, deranged conspiracy theories from Yasmina Haifi, and utter deafening silence from everybody else. Suppose one of those youthful jihadists returns from Mosul and decides to decapitate a French Jew. Do you think that trio of reactions would be any different?
This is beyond "integration" or "assimilation", and closer to what William Wilberforce, in another context, called "the reformation of manners", and on a scale even he might have balked at. Without that, the numbers will, as in Turkey, prove decisive.
from Steyn on the World, August 13, 2014
One hundred years ago today - at dusk on August 3rd 1914 - Sir Edward Grey, the British Foreign Secretary, made a famous observation that endured across the decades...
One hundred years ago today - June 28th 1914 - Gavrilo Princip shot the Archduke Franz Ferdinand...
Back in the real world, Republicans don't lose wars and Democrats don't lose wars; America loses wars...
In May 2011, in the wake of Osama bin Laden's death, CNN's Fareed Zakaria wrote a column headlined "Al Qaeda Is Over"...
Mark's bestselling book is more timely than ever, from Japan to Britain...
In the London business paper City AM, John Hulsman writes: The greatest global political risk can't be found in Kiev, eastern Ukraine or any of the other hotspots that get the media so excited. It lies in the perception of Western weakness...
The British withdrawal ...and America's
Steyn returns to the Speccie
"I don't want to be emotional but this is one of the greatest moments of my life," declared Nelson Mandela upon meeting the Spice Girls in 1997. So I like to think he would have appreciated the livelier aspects of his funeral observances. The Prince of Wales, who was also present on that occasion in Johannesburg, agreed with Mandela on the significance of their summit with the girls: "It is the second-greatest moment in my life," he said. "The greatest was when I met them the first time." His Royal Highness and at least two Spice Girls attended this week's service in Soweto, and I'm sure it was at least the third-greatest moment...
Worse than Munich
For generations, eminent New York Times wordsmiths have swooned over foreign strongmen, from Walter Duranty's Pulitzer-winning paeans to the Stalinist utopia to Thomas L. Friedman's more recent effusions to the "enlightened" Chinese Politburo. So it was inevitable that the cash-strapped Times would eventually figure it might as well eliminate the middle man and hire the enlightened strongman direct...
After midday prayers on Wednesday, just about the time the army were heading over to the presidential palace to evict Mohammed Morsi, the last king of Egypt was laying to rest his aunt...
In Enniskillen, Berlin and beyond, gassy platitudes only get you so far...
Ten years ago, along with three-quarters of the American people, I supported the invasion of Iraq. A decade on, I'll stand by that original judgment. ...
I greatly enjoy the new Hollywood genre in which dysfunctional American families fly to a foreign city and slaughter large numbers of the inhabitants as a kind of bonding experience...
From the New York Daily News:
"Snooki Gives Kate Middleton Advice On Being A New Parent."
Great! Maybe Kate could return the favor and give Snooki and her fellow Americans some advice,,,
The Eurovision Song Contest doesn't get a lot of attention in the United States, but on the Continent it's long been seen as the perfect Euro-metaphor. Years before the euro came along, it was the prototype pan-European institution and predicated on the same assumptions. Eurovision took the national cultures that produced Mozart, Vivaldi and Debussy, and in return gave us "Boom-Bang-A-Bang" (winner, 1969), "Ding-Ding-A-Dong" (winner, 1975) and "Diggi-Loo-Diggi-Ley" (winner, 1984). The euro took the mark, the lira and the franc, and merged them to create the "Boom-Bang-A-Bang" of currencies...
So how's that old Arab Spring going? You remember – the "Facebook Revolution"...
From Arab Spring to American Autumn, Weiner twitpics to federal diapers, the Pundette has compiled an excellent round-up of Mark's view of 2011
Our lesson for today comes from the Gospel according to Luke. No, no, not the manger, the shepherds, the wise men, any of that stuff, but the other birth: But the angel said unto him, Fear not, Zacharias: for thy prayer is heard; and thy wife Elisabeth shall bear thee a son, and thou shalt call his name John. That bit of the Christmas story doesn't get a lot of attention, but it's in there ÔÇô Luke 1:13, part of what he'd have called the back story, if he'd been a Hollywood screenwriter rather ...
"Useful stories" we forgot the usefulness of
The President's wretched speech in Kansas
What does America have to show for its investment in Egypt and Afghanistan?
As the Jews learned long ago, and the Copts are realizing now, Egypt has spent 60 years getting worse, and is now getting worser.
"It's the end of the world as we know it," sang the popular musical artistes REM many years ago. And it is. REM has announced that they're splitting up after almost a third of a century. But these days who isn't? The Eurozone, the world's first geriatric boy band, is on the verge of busting apart. Chimerica, Professor Niall Ferguson's amusing name for the Chinese-American economic partnership that started around the same time REM did, is going the way of Wham!, with Beijing figuring it's the George Michael of the relationship and that it's tired of wossname, the other fellow, getting equal billing but not pulling its weight.
| | |
| --- | --- |
| | |
In this anniversary week, it's sobering to reflect that one of the more perverse consequences of 9/11 has been a remorseless assault on free speech throughout the west. I regret to say that, in my new book, I predect this trend will only accelerate in the years ahead. The essay below was written as last week's National Review cover story: To be honest, I didn't really think much about "freedom of speech" until I found myself the subject of three "hate speech" complaints in Canada in 2007. I ...
| | |
| --- | --- |
| | |
HAPPY WARRIOR from National Review The other day, Abdul Qadir Fitrat, the governor of Afghanistan's central bank, fled the country. The only wonder is that there aren't more fleeing. Not Afghans; central bankers. I mean, you gotta figure that throughout the G-20 there are more than a few with the vague but growing feeling that the jig's up big time. Round about the time the Afghan central banker was heading for the hills, the Greek central banker ventured some rare criticisms of his government ...