Steyn's Song of the Week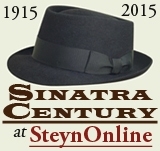 We're spending this weekend with the Isham Jones/Gus Kahn end of the Sinatra songbook. Following "It Had To Be You" on Friday, here's a song Frank sang for almost half-a-century from June of 1940, as the new boy vocalist with a hit orchestra, to deep into the 1980s, as a lion in winter jumpin' all over a hard-swingin' band. According to whose and-then-I-wrote anecdote you believe, "The One I Love (Belongs To Somebody Else)" was written either 20 minutes before "It Had To Be You" or 20 minutes after. But, either way, we know both songs date from that uniquely golden year for Jones & Kahn of 1924.
I mentioned on Friday that Gus Kahn's son Donald had told me that, while the band was playing "The One I Love (Belongs To Somebody Else)" and Gus was dancing to it with his wife Grace, the lyric to "Swinging Down The Lane" popped into his head and he started crooning it in her ear. I never met Kahn's widow, Grace LeBoy, but she told Michael Whorf a somewhat different version of the same incident:
Gus and I were dancing to Isham's band. The song the orchestra was playing was 'It Had To Be You'. We were dancing and Gus blurts out, 'I've got it!' and he starts to sing: 'The One I Love Belongs To Somebody Else' while the orchestra was still playing 'It Had To Be You'.
That's often how it goes with songwriting anecdotes, but Grace's version is better, I think. For a start, you can imagine a guy coming up with the scenario for "The One I Love" while he's dancing:
The One I Love Belongs To Somebody Else
She sings her tender songs to somebody else
And even when I have my arms around her
I know her thoughts are strong for somebody else

The hands I hold belong to somebody else
I'll bet they're not so cold to somebody else...
It would have made a great scene for the Gus Kahn biopic I'll See You In My Dreams, with Danny Thomas (as Gus) saying mid-dance to Doris Day (as Grace), "The one I love belongs to somebody else." But, even by the standards of Hollywood biography, I'll See You In My Dreams had a pathological aversion to any actual element of Gus Kahn's real life.
Grace LeBoy was a composer with whom Kahn had written his first successful song, "Gee, I Wish I Had A Girl". "And their careers were launched," their son Donald said to me. "Well, that isn't quite true, their careers weren't really launched, because what happened was they never seemed to be able to find another hit. And I think my mother felt that my father was a better lyric writer than she was a tune writer." So she gave up composing in order that his words might find better musiv. He "wasn't what one would think of as musical," as Grace put it. The only tune he could pick out on the piano, badly, was "To A Wild Rose" from Edward MacDowell's Woodland Sketches of 1896. But he had great ideas for songs: Isham Jones' original title for "Swinging Down The Lane", for example, was "My Oriental Rose" - which sounds like an exotic sequel to that fragrant MacDowell melody from the Gay Nineties.
"The One I Love" is a deceptively simple tune - a two-note seesaw of quavers and dotted crotchets that could easily sound either boring or somewhat aggressive. But instead, even at dance tempo, it had a powerful yearning. You can hear it in the first record of the song, by Al Jolson, accompanied by Isham Jones' orchestra and thus presumably played the way the composer wanted to hear it. Unlike most folks in the ensuing nine decades, Jolson sang the dull, explanatory verse:
I'm unhappy, so unhappy, for I can see
The one I love don't care for me
And I'd be happy, oh so happy, but it was fate
That it was too late...
And then he sells the chorus, Jolson-style, including this:
It's tough enough to be on the shelf
It's worse to fall in love by yourself
The One I Love Belongs To Somebody Else...
That "tough enough" is a characteristic bit of Gus Kahn internal rhyming, taking that Isham Jones quaver/dotted crotchet seesaws and running with 'em. But somewhere along the way Jones & Kahn abandoned "tough enough" and thereafter vocalists sang "It's tough to be alone on the shelf". By the way, at the end of that first recording, Jolson adds a bit of comic personalization that sounds to me as if it were written by Gus Kahn:
When I make love she's more like a pal
She calls me John and my name is Al
The One I Love Belongs To Somebody Else.
Jolson could get laughs from "The One I Love", but for most of the next third of a century it was a torch song: for the short version of how most singers thought of the song, look at Ann Blyth lip-synching to Gogi Grant's voice in the 1957 film The Helen Morgan Story - Julie London is sultry, Etta Jones bluesy, Dinah Shore coolly wistful, but, however you slice it, it was the ladies who made all the action. Let us note an exception to that rule in the person of Earl Hines. The then unknown pianist, who may well have heard the Isham Jones band play it at the College Inn, was in the pool room of the Chicago musicians' union playing the then new song when somebody else wandered in with a trumpet and started playing along. The fellow with the trumpet was a guy called Louis Armstrong, and he and Hines hit it off, and the rest is history and a bunch of terrific records. Who's to say they'd have struck up the same instant chemistry if Hawkins had been playing "To A Wild Rose" or "How Ya Gonna Keep 'Em Down On The Farm?" or "Oh How She Could Yacki-Hacki Wicki-Wacki Woo"?
In 1940, a decade and a half after that landmark encounter, young Frank Sinatra joined the Tommy Dorsey Orchestra. From the perspective of 2014, it seems hard to imagine a world in which the bandleaders are the stars and the singers are just hired hands who do what they're told. But that's how it was. So one day Sinatra wound up singing "The One I Love (Belongs To Somebody Else)" because that's what was on the music stand that day. The vocal doesn't come in until the a minute before the end, with Frank and the Pied Pipers:
FRANK: You know The One I Love Belongs To Somebody Else

PIPERS: Like the bear you ain't nowhere...
Come again? Well, there was an eccentric vogue in the Dorsey band at that time for smooth ballad treatments of love songs in between the lines of which the Pied Pipers would croon hipster interjections. It started with Dorsey's hit version of Irving Berlin's "Marie", and if I had to quote the defining example of the genre it would probably be a line from the band's arrangement of "East Of The Sun (And West Of The Moon)", which Frank had first sung with Dorsey's vocal group the Sentimentalists just a few weeks earlier:
FRANK: Just you and I

SENTIMENTALISTS: We'll nix the squares...
Indeed. The arranger on both "East Of The Sun" and "The One I Love" was Sy Oliver, born Melvin Oliver in Battle Creek, Michigan in 1910. He was the first black arranger to be hired by a white bandleader, and he played a big part in reinvigorating the Dorsey sound in the late Thirties. Oliver's the guy who arranged Dorsey's monster hit of "Sunny Side Of The Street", for example, and it was he who came up with all that nowhere-bear jive for "The One I Love".
As I said, Frank only had a minute on the song, but it stayed with him. In the early Fifties, he hosted a late-night radio show called Perfectly Frank - just Sinatra and a small combo, and intimate readings of favorite songs. And one night "The One I Love" turned up, lightly swung by Frank.
Jump forward a few more years: It's 1961, Tommy Dorsey is dead, and Frank Sinatra is Chairman of the Board at his own record company - Reprise. And he decides it's time to make an album honoring his old boss: I Remember Tommy, with a set of Dorsey hits re-tooled for a new generation. For the arrangements, he turned not to Nelson Riddle or Billy May but to his old pal Sy Oliver. They'd intersected on occasion over the years, most memorably in 1946. Metronome Magazine used to poll its readers for their favorite jazz musicians, after which it would bring the winners in each category into the studio to cut a track as the "Metronome All-Stars Band". The 1946 All-Stars included poll-topping jazz trumpeters Coleman Hawkins and Charlie Shavers, poll-topping alto saxophonist Johnny Hodges, poll-topping pianist Nat "King" Cole, poll-topping drummer Buddy Rich ...and poll-topping vocalist Frank Sinatra. The arranger was Sy Oliver, and they decided to do "Sweet Lorraine". All seven takes are worth a listen, even the ones where things go awry and Hawkins doesn't get out of his solo quick enough for Cole to bring Sinatra back on the vocal. Frank had a deep respect for Sy Oliver, and he was the obvious choice for the Dorsey tribute album. Not all the tracks work, but my very favorite on the album is "The One I Love (Belongs To Somebody Else)". Somehow, in working through the arrangement, Sinatra and Oliver decided for the second chorus to retain all those hipster interjections from the Dorsey era. But, unlike Dorsey, they didn't have the Pied Pipers to hand, so what the hell, why not let the conductor/arranger warble them?
And so Sy Oliver got to do something Nelson Riddle, Billy May, Gordon Jenkins or Don Costa never did. He got to sing with Sinatra:
FRANK: Yes, The One I Love Belongs To Somebody Else

SY: Man, like the bear you ain't nowhere. That's why...

FRANK: She sings her songs for somebody else

SY: Boo-hoo-hoo-hoo-hoo

FRANK: And even when I have my arms around her

SY: Well, dad, you know...

FRANK: Her thoughts are for somebody else

And when I hold her hands...

SY: You know...

FRANK: They belong to someone...

SY: Someone...

FRANK: Somebody else

SY: And you can bet...

FRANK: They're not so cold to somebody else

SY: Well, it's tough to be alone on the shelf

FRANK: And it's worse to be in love by yourself

SY AND FRANK: Like when the one you love belongs to somebody else!
It's such a goofy track, and, if ever it comes on the radio when I'm tootling around, I crank it up and it never fails to give me a lift. I'm not the only one. When Steve Tyrell decided to make a Sinatra tribute album a couple of years back, he went his own way on most of the arrangements but for "One I Love" he stuck with that Sy Oliver chart - and got Frank Sinatra Jr to come in and sing Sy's part.
A few months after that 1961 recording, my fellow Torontonian Norman Jewison (not yet an acclaimed movie director) found himself in charge of Judy Garland's "comeback" TV special, to which Sinatra and Dean Martin had agreed to lend a hand. And so a modified version of the Sy Oliver chart became a Frank & Dino duet. Under an extended intro that takes that Isham Jones seesaw to the next level, Jewison's camera glides down a long, long saloon bar lined with empty stools until it alights on two compadres, derbies tilted, cigarettes and tumblers in hand:
FRANK AND DEAN: The one we love belongs to somebody else...
I think the idea is they're both pining for Judy, but each in his own way:
FRANK: The One I Love Belongs To Somebody Else

DEAN: We've got a tearful story

FRANK: She means her tender songs for somebody else

DEAN: Very sad but that's amore...
And thereafter Frank kept the song to himself. After singing way too much schlocky soft-rock stuff on stage in the late Seventies, Sinatra reconfigured his live show, dropped the string section and went with what he called "the hot band" - something closer to the sound he had with Count Basie. And back in the act went "The One I Love (Belongs To Somebody Else)", with the Pied Pipers, Sy Oliver and Dean Martin replaced in the fills with trumpets and trombones. But on more than a few nights in the Eighties, when Frank was really cookin', you'd hear:
The One I Love Belongs To Somebody Else
Like the bear I ain't nowhere...
For a bear who was nowhere, that ursine was everywhere: That nutty Sy Oliver line was on record, radio, stage and TV for half-a-century.
There was one more "The One I Love", but nobody knew about it for a quarter-century. In the 1980s my old BBC colleague Alan Dell (we had the same producer for a while) digitally remastered the British CD issues of Sinatra's Capitol albums, and when he got to No One Cares, a bleak Gordon Jenkins ballad set from 1959, he restored a track that had been dropped for no other reason than that they ran out of room on the LP. It was "The One I Love (Belongs To Somebody Else)" - not swingin', but at crawl tempo.
It had never been heard, and the UK issue proved so startling that they released it in the US on a compilation set a few years later. Except the American take is different from the British one: On the US version, a minute-and-a-quarter in, Sinatra muffs the lyric - singing "The hands I held belong to somebody else", and thereby blowing the rhyme with "I'll bet they're not to so cold" in the next line. It wouldn't matter on a throwaway swinger, but you notice it at ballad speed. So I have a preference for the UK issue of that track. It's dark and harrowing, and you believe that Sinatra, after all that clowning about the bear who ain't nowhere, is utterly sincere about every word of Gus Kahn's lyric. It's a reminder of what I wrote about "The Song Is You": sometimes there's a definitive ballad treatment of a song and sometimes there's a definitive uptempo treatment of a song, and sometimes they're both by Sinatra.
So in a little over a year in that 1923-24 season two Chicago writers wrote three Sinatra songs that are still highlights of his catalogue 90 years later - "Swingin' Down The Lane", "It Had To Be You" and "The One I Love (Belongs To Somebody Else)".
But sometimes the one you love belongs to you, and is beginning to get on your nerves. One night Isham Jones came over to Gus Kahn's house to play him a new tune. He sat at the living room piano and Kahn listened and liked it, and was thinking of possible lyrics. But something was on Jones' mind. And suddenly he stopped playing, turned to his lyricist, and snapped: "You know, Gus, I don't understand it. I write the tunes, I orchestrate and arrange them, I get my band to rehearse and play it, my singers perform it, and when it comes time for compensation, I only get 50 per cent."
Kahn was a shy man who disliked conflict. That's why Jones was the celebrity and Kahn the unseen offstage partner. But he was shocked by what Jones had said. The color drained from his cheeks, and he replied: "Well, Isham, I know how you can get 100 per cent."
Isham Jones left Gus Kahn's house, and the two men never wrote a song together again. In fact, Isham Jones never wrote another hit song with anybody ever again - while Gus Kahn went on to write "Ain't We Got Fun", "Yes, Sir! That's My Baby", "Makin' Whoopee", "My Baby Just Cares For Me", "Dream A Little Dream Of Me", and, to cite my own slender connection with the Gus Kahn catalogue, the four bars of "Ukulele Lady" Jessica sings in the middle of our recording of "Sweet Gingerbread Man".
And, as Kahn promised, Isham Jones wound up with 100 per cent - of nothing.
~Mark's original 1998 obituary of Sinatra, "The Voice", appears in the anthology Mark Steyn From Head To Toe. You can read about the creation of some classic Sinatra songs in Mark Steyn's American Songbook. Personally autographed copies of both books are exclusively available from the Steyn store.
SINATRA CENTURY
at SteynOnline
~For an alternative Sinatra Hot 100, the Pundette has launched a dedicated Sinatra Centenary site, counting down from Number 100 to Number One. She's now at Number 94 - Frank, Count Basie and a killer Neal Hefti arrangement of "Pennies From Heaven".
Bob Belvedere, proprietor of The Camp Of The Saints, has also begun a Sinatra hit parade. This week, after "Young At Heart" (Number 97) and "I Can't Get Started" (Number 96), he's also got a great Neal Hefti arrangement, "They Can't Take That Away From Me".
from Steyn's Song of the Week, January 26, 2015
An über-standard everyone sang before Frank
A song as old as Sinatra that he only got to in the Eighties
I received a letter, as I do from time to time and particularly since we launched this series, making the familiar complaint that I "only write about the kind of songs Frank Sinatra sings" and thereby ignore the older, vernacular American musical tradition. Well, I happen to think Frank chose pretty good songs, so why kick the habit? For example, here's a ring-a-ding-ding Sinatra classic he recorded in 1946:
Oh, give me a home where the buffalo roam
And the deer and the antelope play...
It's often said that the pop songs you like when you're 17 years old are the pop songs that stay with you your entire life. And in that respect Frank Sinatra was very fortunate: When he was 17, to pick up where we left off last week, it was a very good year. The songs in the air as a Hoboken schoolboy prepared to start his adult life were the songs he would record a quarter-century later and still be singing on stage, at Caesars' Palace and the Royal Albert Hall, another quarter-century beyond that...
Our Sinatra Song of the Century Number One
This essay is adapted from Mark's book A Song For The Season
One of the loveliest ballads in the American songbook
Esther Williams and Ricardo Montalban launch the clash of civilizations
Mark hits a new high as he takes a crack at Mariah Carey's Christmas classic
A happy 75th birthday to the most famous reindeer of all
I love the Great American Train Song. It's a genre that has the sweep and size of the nation...
Sixty years ago - in November 1954 - Rosemary Clooney had the Number One record in both America and Britain. Three decades later, it was a UK Number One all over again - providing a late-career windfall for a cowboy actor turned radio evangelist...
As we approach the eleventh hour of the eleventh day of the eleventh month, here's one of Mark's favorite songs from the Great War...
After "Cat Scratch Fever", Mister Squaresville goes in search of other rockers to cover
In this week before Halloween, how about a Song of the Week for the witching hour? I've always loved songs that use magic as an image of romantic seduction and intoxication. Cole Porter got in on it early in "You Do Something To Me" (1928):
Let me live 'neath your spell
Do do That voodoo
That you do So well…
Harold Arlen and Johnny Mercer extended the thought in 1944:
That Old Black Magic has me in its spell...
But it was Cy Coleman and Carolyn Leigh who wrapped up the subject once and for all...
A musical moment from The [Un]documented Mark Steyn
It's twenty years since Jule Styne died - back in September 1994. By then he was the last of the Broadway giants, the composer of Funny Girl, Peter Pan and Gentlemen Prefer Blondes, and perhaps the greatest of all American musicals Gypsy; the prodigious hitmaker of "Time After Time" and "People" and "Diamonds Are A Girl's Best Friend"; the guy who'd supplied all those sidewalk Santas and shopping malls with "Let It Snow! Let It Snow! Let It Snow!" I write about him in Mark Steyn's American ...
Mark celebrates the late Bob Crewe and two Sixties classics
Last week we marked the 75th anniversary of The Wizard Of Oz, but without getting to the film's big song. It's about five minutes in, when we're still in drab, dusty, cheerless, broken-down black-&-white Kansas. Dorothy has tried to tell her folks about an unpleasant incident involving Miss Gulch, but Aunt Em advises her to "stop imagining things" and "find yourself a place where you won't get into any trouble". Dorothy wanders off, taking the injunction seriously. "Do you think there is such a ...
| | |
| --- | --- |
| | |
This month marks the 75th anniversary of one of the greatest and most enduring film musicals ever made, and one of the few to match the dramatic ambition of the best Broadway shows. The Wizard Of Oz gave us a standard song that won the Oscar that year and was potent enough to provide Eva Cassidy with a posthumous hit in the 21st century. We'll get to that next week, but for this week's Song of the Week here's one of my personal favorites from a truly marvelous score: Ding-Dong! The Witch Is ...
| | |
| --- | --- |
| | |
When this weekly feature began eight and a half years ago, our Song of the Week Number One was "San Francisco", to mark the centenary of the 1906 earthquake. But, if I'd been thinking about a Number One song in more profound terms, our Number One song would have been the song we're finally getting round to almost a decade later - because this week's song was really the Number One song for an entire school of songs. As Mel Tormé put it, when Jerome Kern composed this melody, he "invented the popular song". If your idea of a popular song is "Call Me Maybe" or "Ain't Nobody Here But Us Chickens" or "The Tennesee Waltz", Tormé's claim is a bit of a stretch. But it's not unreasonable to claim that with this tune Kern invented what we now call the American Songbook - standards that endure across the decades and can be sung and played in almost any style. It is, thus, the Number One Song, the first and most influential entry in that American Songbook...
| | |
| --- | --- |
| | |
Three hit songs from one flop Sixties musical
To mark the centenary of composer Hugh Martin, here's the second part of Mark's two-part audio tribute to the man who gave the world "Have Yourself A Merry Little Christmas"...
As I mentioned yesterday, we're having a mini-Canadian festival on this long weekend for Simcoe Day and whatnot. This month marks the centenary of one of my favorite Canadian songwriters, albeit one who retired far too early, and we're celebrating with her two biggest hits. The section on "I'll Never Smile Again" is adapted from my book A Song For The Season: "I'll Never Smile Again/Until I smile at you..."
A few weeks back, apropos "June Is Bustin' Out All Over", I mentioned that we hadn't done a lot of "month" songs in the years we've been running this feature. Some months - mostly spring ("April Showers", "April In Paris") and fall ("September Song", "September In The Rain") - seem to lend themselves to musicalization. If "June Is Bustin' Out All Over" is about as big a hit title as the sixth month of the year has ever produced, the eighth (which looms this very week) can't even manage a title ...
What with all the Jew-hate around on the streets of Europe in recent days, I thought it would be nice to have a big Europop hit from that fleeting cultural moment when the Continentals regarded Israel not merely as a normal sovereign state but in fact a rather cool and enviable one...
I wouldn't want June to recede too far into the rear mirror without noting that it marked the 50th anniversary of a great and historic recording that, before the Sixties were out, burst the bounds of the planet. In June 1964, Frank Sinatra and Count Basie were in the studio making their second album together, It Might As Well Be Swing. The arranger was Quincy Jones, and his work for the set included a chart Frank kept in the act all the way to his very last concert...
Dominion Day looms - on Tuesday. We always like to have a Canadian song for the national holiday, and what could be more Canadian than...
I like New York in June
How About You?
Some musical advice from Mark's graduation season
The all-time great World Cup song
Steyn celebrates the song Ray Charles used to hum in the back of his car on the way to the gig - until one day his driver told him to record it.
Well, it's the beginning of June and that means June is bustin' out all over! Except that June doesn't really bust, does it..?
This essay is adapted from Mark's book A Song For The Season:
Memorial Day in America – or, if you're a real old-timer, Decoration Day, a day for decorating the graves of the Civil War dead. The songs many of those soldiers marched to are still known today – "The Yellow Rose Of Texas", "When Johnny Comes Marching Home", "Dixie". But this one belongs in a category all its own...
Ninety years ago this Thursday a baby boy was born in Paris ...well, that was the first unexpected plot twist. He was supposed to be born in America...
Four decades ago, "Waterloo" hit Number One in the British charts, and the four Swedes never looked back, except to check whether their hot pants had split...
Mark explores the art of the cigarette song
One of the biggest pop standards of the 20th century celebrates its 90th birthday this month. Exactly nine decades ago - April 21st 1924 - a new musical comedy opened in Chicago on its pre-Broadway tour. The plot was the usual fluff - three couples in Atlantic City, complications ensue, etc. It should have been a breeze, but it wasn't going well...
Six decades ago - April 12th 1954 - a chubby-faced kiss-curled man pushing 30 with a backing group named after a theory published in Synopsis Astronomia Cometicae in 1705 went into the recording studio at the Pythian Temple on West 70th Street in New York and sang a song written by a man born in the 19th century...
A musical postscript to our Marlon Brando movie night
A Rodgers & Hart classic - after three false starts...
The 50th anniversary of the Beatles' only showtune
Shirley Temple - singer, dancer, actress, and rock'n'roller
Mark celebrates a classic saloon song
A song for Groundhog Day?
Pete Seeger and the "folk song" he stole
Number One in January 1934 ...and January 1959
Mark tells the story behind "his" Christmas song, and presents an audio special celebrating the man who wrote it...
Hugh Martin, composer, lyricist, vocal arranger, pianist, singer, actor and the man who gave the world the great seasonal gift of "Have Yourself A Merry Little Christmas", was born one hundred years ago this week...
As the years go by I grow less and less interested in grassy knolls and all the rest, but I am struck by one genuine, non-conspiracy-theorist feature of November 22nd 1963...
2015 is Frank Sinatra's centenary year, which necessitates a few modifications to SteynOnline's music, film and entertainment coverage. Our official observances commence tomorrow when our Song of the Week department becomes a Song of the Semi-Week in order to squeeze in 100 Sinatra songs of the century between now and December. Several other folk seem to have opted for this approach, too - our old friend the Pundette has launched a dedicated Sinatra Centenary site for that very purpose - so we ...
For Bastille Day it seemed appropriate to have a French number for our Song of the Week. Unfortunately, this one's British, but it does have an accordion...
How a psychedelic anthem from the summer of love became an easy-listening blockbuster
A day late for Cinco de Mayo, here's Steyn's Song of the Week: the most successful composition by Mexico's first successful female composer.
~and don't forget, if you like Mark's Song of the Week essays, some of his most requested are collected in his book A Song For The Season - including many songs for national days, from "America The Beautiful" to "Waltzing Matilda". You can order your personally autographed copy exclusively from the SteynOnline bookstore.
April 29th apparently marks the anniversary of the launch of the Islamic conquest of the Iberian peninsula in the year 711. So I thought it would be fun to have a suitably Islamo-dominant number for our Song of the Week.
~and don't forget, some of Mark's most popular Song of the Week essays are collected in his book A Song For The Season. You can order your personally autographed copy exclusively from the SteynOnline bookstore.
An audio special in which Mark traces the story of the only Easter standard in the American songbook