Steyn's Song of the Week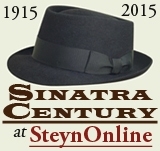 Like the song says:
Fairy tales can come true
It can happen to you...
It happened to Frank Sinatra three months after recording our Friday song, "I've Got The World On A String": He had, finally, a movie role worthy of his talents - Maggio in From Here To Eternity. It opened in August 1953, and was a sensation. Six months later he had an Academy Award - for acting, which, as Sammy Cahn liked to say, "isn't even what he does". On Oscar night, March 2nd 1954, Frank literally ran down the aisle to pick up his statuette from Rosalind Russell. All he needed was a Number One record, which he hadn't had since "Mam'selle" in 1947. But he came pretty close with this one, Number Two in early 1954 and a solid seller for months on end:
For it's hard you will find
To be narrow of mind
If you're Young At Heart...
"Young At Heart" started out under an entirely different name, its music composed by Johnny Richards, who himself started out under an entirely different name: Juan Manuel Cascales. Juan Manuel was born in 1911 in Toluca - not Toluca Lake, the tony Los Angeles neighborhood where the Sinatras, the Reagans and the (Bob) Hopes lived, but the rather less tony Toluca, Mexico. Juan Manuel, his three brothers, his sister and his mother entered America at Laredo, Texas on August 4th 1919 - which we know because back then the Government of the United States had this thing called "legal immigration" and, incredible as it seems, kept reliable records on the matter. Juan Manuel went to high school in San Fernando, and while there, at the age of 14, he wrote his first orchestrations. At 21, he got offered some work scoring movies in England, and took off for London for a while. He eventually returned and became one of the best jazz arrangers in America, under the name "Johnny Richards". (Juan Manuel's brother, Carlos Guillermo Cascales, adopted the rather more distinctive moniker of "Chuck Cabot" and became a successful saxophonist, bandleader and eventually a tour promoter for the Coasters and the Rolling Stones.)
In the early Fifties Richards was in demand and working with Dizzy Gillespie, Sonny Stitt and Stan Kenton. But in his back pocket he had a little instrumental he'd been noodling around on for a decade or so, a circular tune of repetitive phrases that he called "Moonbeam". Somehow or other it wound up on somebody's desk at Sunbeam Music. It wasn't the most obviously vocal melody but the publisher thought it could use a lyric and passed it to a young lady called Carolyn Leigh. Miss Leigh, with Cy Coleman, would go on to write some of Sinatra's biggest and most enduring songs, but at this point she was just a nobody who'd never written nuthin'. A copywriter in advertising and radio, she'd dialed a wrong number and happened to reach a fellow at Sunbeam Music. They got talking and he offered her a contract to write lyrics. Two hundred flop lyrics later, she was surely perilously close to her very last chance with the guy. Nevertheless, she gave Johnny Richards' tune the once-over, and, whether or not she was ever told that it had the name "Moonbeam", she chose to go in a different direction:
Fairy tales can come true
It can happen to you
If you're Young At Heart...
It's not the easiest tune to get a grip on, but, for a cool jazz instrumental, that repetitive pattern does have a certain childlike quality and that's what Carolyn decided to run with. She finished the whole thing in three hours, which is impressive considering how tightly rhymed it is:
You can go to extremes
With impossible schemes
You can laugh when your dreams
Fall apart at the seams
And life gets more exciting with each passing day
And love is either in your heart or on its way
- which thought is lovely, and worth any number of quadruple rhymes. But Carolyn Leigh loved to rhyme, the more the merrier. To cite a later song for Sinatra:
When you arouse the NEED in me
My heart says yes inDEED in me
ProCEED with what you're LEADin' me to...
The sly one there is "proceed". But for this early effort she kept it structurally simpler:
And if you should survive
To a hundred and five
Look at all you'll derive
Out of being alive...
Many years later, Carolyn wrote a musical of love among the stock prices called How Now, Dow Jones, a hit title but the show flopped anyway. It was directed by the legendary George Abbott and, many more years later, I asked Mister Abbott about working with Carolyn Leigh. As I did so, it occurred to me that he had outlived her lyric - for by that point he had survived to a hundred and six (and eventually to a hundred and seven).
At the time she wrote it, Miss Leigh was in her mid-twenties, and it is in that sense quite a sophisticated concept - someone who is actually young urging the importance of being young at heart even when you're not in body. But it was written for a reason, as Carolyn's sister June Silver recalled to me some years back. "It had something specifically to do with my father," said June, "who had had a heart attack and was in the hospital. And she wrote it for my father in a sense." So there is a kind of double meaning to that central message - being "young at heart" even when your heart is not so young. And it surely is worth every treasure on earth to be healthy in heart.
So the tune was written years earlier and the lyric was finished in three hours - and the complete song then sat around unrecorded for months. How did it get to Sinatra? Via his newest arranger, Nelson Riddle. "Nelson told me he had a song that had been floating around Vine Street [Capitol Records] and other companies for weeks or months," Frank recalled. "'I think it's a good song,' Nelson said, 'but nobody wants to do it.' I didn't even ask him if I could hear it. I just said let's do it."
Riddle was a great admirer of Stan Kenton, and assuredly knew of Johnny Richards. Both Riddle and Richards liked Ravel and Stravinsky, and Richards' use of French horns and other instruments in unusual ways for the jazz field prefigured a lot of what Riddle would do with Sinatra. Yet, for all that, Nelson wouldn't have jeopardized a new and still tenuous relationship if he hadn't thought the song was right for Frank - and it was.
From Here To Eternity had premiered on August 5th 1953 and the papers were immediately full of stories marveling at Sinatra's comeback. Recorded four months later, "Young At Heart" finally gave him not only a hit record to match but, according to Frankologist Will Friedwald, finally "consummated" his musical marriage to Riddle. A few weeks after Eternity opened, Sinatra had played the Riviera club in Fort Lee, New Jersey, a sensational engagement for which everyone poured out of Manhattan to see the reborn superstar - fellow celebrities, high society, composers, lyricists and musicians. At one point in the show, Frank thanked his arrangers - George Siravo, Nelson Riddle and "the head man Axel Stordahl". Was he just being generous to Stordahl, an old friend he'd outgrown? Or was even Sinatra unaware, as late as the fall of 1953, that Riddle was his future?
At the Riviera, Frank sang mostly Siravo charts - "My Funny Valentine", "A Foggy Day", "Violets For Your Furs" - and they went down so well he decided he needed to get them on record. So he asked Riddle to conduct them for what would be his first Capitol album, Songs For Young Lovers. Riddle agreed, but it must have chafed. On their first session together, he'd had to pretend to be Billy May. At their second, he was allowed to do a couple of singles and the tie-in song for From Here To Eternity. One step forward - and then back: Having done such a great job pretending to be Billy May, he was now supposed to spend the remainder of the year pretending to be George Siravo?
Milt Bernhart, Sinatra's trombonist, told Will Friedwald that on one of those first sessions Frank cut the song short after a few bars and barked at Nelson: "Call a break!" Instead of going and grabbing a coffee and doughnut with the rest of the gang, Bernhart was curious to know what was up. He saw Sinatra and Riddle behind the sound-proof glass of an adjoining studio and, even though he couldn't hear a word, he could see Frank doing all the talking and, given the way he was waving his arms around, all the yelling, too. Bernhart deduced that Sinatra was objecting to the busyness of the arrangement - all the instruments doing all this distracting stuff behind his vocal: "Write a fill for me when I'm through singing, but don't write a concerto behind me." It's remarkable how many brilliantly gifted orchestrators have to be told this.
For "Young At Heart" Riddle didn't write any concerti and didn't put any clutter in the way of Sinatra's vocal. He uses the strings and flutes brilliantly but unobtrusively - except for when they provide an instrumental echo after the title phrase, where it's showing off the song rather than the instruments. The rest of the time, Riddle is concerned not to bury the light, almost evanescent quality of the tune: the strings float, and the beats he puts under this line support Sinatra the storyteller: "Life gets more exciting with each passing day" - and Riddle's orchestration is a young girl's fluttering heart illustrating the point. In the instrumental, he's a model of restraint: the strings play the melody clean and there's a little bit of discreet solo-ing from the flute ...but nothing to distract from the overall pure, pristine sound.
There were two other numbers on the session - "Rain (Falling From The Skies)" and "I Could Have Told You" (by Carl "Marshmallow World" Sigman). Neither was ever a big enduring entry of the Sinatra songbook, but, in very different ways, both are absolutely first-class records in which, by the end, you feel the song has been given the very best treatment possible. On that December 9th session, Sinatra learned that he could trust Riddle - for ballads or swingers, up tempo or slow. It marks the moment, I think, when even Frank accepted that he had a new "head man". Today Riddle's is the sound most people think of when you say the word "Sinatra". Then again, it was writing for Sinatra that, in turn, gave Riddle his sound. For years he had had big hits with Nat Cole and others, but again, when you say "Nelson Riddle", most people think of Sinatra rather than, say, "Mona Lisa". With Sinatra-Riddle, the whole was greater than either of its constituent parts.
When "Young At Heart" took off, Sinatra was filming a picture with Doris Day. Frank's latest song was such a hit that the studio decided to staple the number to the opening titles and closing credits and rename the movie Young At Heart. I don't think anyone would argue that the film is up there with Citizen Kane or La Règle du jeu, but for a nothing little story it's always watchable, and Day and Sinatra are very real together: Their very first scene, with Frank at the piano, is remarkable not so much for the chemistry itself as for the fact that it's between two such different individuals - she's perky and chipper; he's surly and withdrawn; but they communicate to each other and to us that there's a connection.
It's 1954 and we're in picture-perfect small-town America, where widower Gregory Tuttle (Robert Keith) lives with his three daughters (Miss Day, Elisabeth Fraser, and lovely Dorothy Malone, a long way from "Peyton Place"). The flaw in the premise is that you don't quite understand why all these young ladies haven't been snapped up and are still living at home being ordered up to their room every night by Ethel Barrymore as their tough-but-you-know-it's-good-for-you spinster aunt. Pa Tuttle is a music professor, and one day a Broadway composer played by Gig Young with a faintly insincere charm moves in on the family. And it turns out that he's the man all three girls have been waiting for. Unfortunately, although he's a big success on the Great White Way, he needs an uncredited assist on the score from down-at-heel eternal-loser pianist Frank Sinatra - which complicates Gig Young's plans, girl-wise.
This is where the film's title doesn't entirely make sense: Frank's character is hard-bitten and cynical, or at least pretends to be, with the result that this single movie contains more scenes than any before or since establishing Sinatra's saloon-singer persona - at the keyboard, with tie loosened, collar unbuttoned, hat pushed back, cigarette on lower lip, three-quarter-empty glass atop the piano. The songs are a good match for the look: an achingly sad "Someone To Watch Over Me", a ballad treatment of "Just One Of Those Things" that's a world away from the swingin' version he'd recorded with Riddle two months earlier, and the first glimpse of "One For My Baby (And One More For The Road" as he'd sing it on stage for the next four decades. All great - although, again, none of them seems quite to fit with the innocence and anticipation of "Young At Heart":
And love is either in your heart or on its way...
In the original story, Frank's character was due to die in a car crash. But Sinatra had died in From Here To Eternity, and died in the lesser known but excellent Suddenly, and, enjoying his spectacular rebirth, he figured it was time to quit dying and live a little. So he made the producers change the ending. And it testifies to his transformed fortunes that, while still second-billed to Doris Day, he was able to do that.
"Young At Heart" worked out pretty well for Carolyn Leigh, too. After a triumphant run in New York and London in South Pacific, Mary Martin and her husband Richard Halliday were planning a musical version of Peter Pan, and had more or less everything in place except the songs. "I was doing a show on Broadway," Mary told me, "and we drove home from the theatre and we heard this song 'Young At Heart' - 'if you are young at heart' - and Sinatra was singing it. We just loved it - and so we tried to find out about her and no one knew who she was. We had always wanted to do Peter Pan and I couldn't get this girl's song out of my head, because that's what I thought: 'If you're young at heart...' because, you know, Peter Pan is forever."
Eventually, Richard Halliday did track her down and dialed her apartment and said he'd like her to write a musical for Mary Martin. Carolyn thought it was a prank call and hung up. And then, just to make sure, she called Halliday's office, whereupon she was put through to him and he told her he meant it: she was going to be writing a musical for the biggest star on Broadway. She put the phone down again and this time, in a combination of awe and terror, she threw up:
Fairy tales do come true
And so what if you threw
When you're Young At Heart...
And so, from that chance bit of car radio listening, Carolyn Leigh was signed to Peter Pan, and the Mary Martin version has become a perennial on stage and TV (the latest Peter was Allison Williams, with Christopher Walken, on NBC last year).
As for Johnny Richards, he was an arranger and musician but not a songwriter, and he had no desire to become one. He did, though, get to write the ceremonial ballet for Prince Rainier's wedding to Grace Kelly. His Serene Highness was apparently a fan of Stan Kenton and someone from the palace called Stan and asked him if he fancied the gig. Kenton said offhandedly that he was going on tour, but why not ask Johnny Richards? So they did.
But "Young At Heart"?
Richards liked his tune, but, as a super-cool jazz hipster, came strongly to detest the easy-listening appeal of its Carolyn Leigh incarnation, as sung by Bing Crosby with (gulp) Guy Lombardo, and thereafter Perry Como, Connie Francis, Bobby Vinton... I wonder what he'd make of more recent versions from Bob Dylan, Willie Nelson, Tom Waits, Gloria Estefan, Vonda Shepard, Landon Pigg, all of which contributions to the Richards estate derive from Frank Sinatra trusting the judgment of Nelson Riddle way back in December 1953. One of the sweetest non-Sinatra versions of the song is by Tony Bennett and Shawn Colvin ...no, no, come back, don't worry, this isn't one of those recent celebrity-duet CDs that Bennett puts out weekly. This was back in the Nineties, before he started drive-thru duets-to-go, and the combination of the worldly old Bennett voice and the young folkie Colvin voice is quite something.
The song was never a permanent fixture in Sinatra's act, but he liked it enough to re-record it at Reprise for the Sinatra's Sinatra album and endorse it as one of "Frank's favorites". It was that 1963 vocal that was used, posthumously, for a duet with the aged Charles Aznavour a few years ago, Aznavour's quavery franco-geezer combining with Sinatra in his prime to bring a little perspective from the autumn of the years to "Young At Heart". Aside from that studio remake, Sinatra liked to dust it off once in a while on stage, as in Vegas in '61:
I forgot the next line
'Cause it's been a long time
When you're Young At Heart...
But, as rare as it was in Sinatra's stage act, it's usually somewhere to be found on the greatest-hits compilations. Carolyn Leigh's lyric is an appealing philosophy and one that Frank especially appreciated in the early days of that magnificent comeback:
Don't you know that it's worth
Ev'ry treasure on earth
To be Young At Heart?
For as rich as you are
It's much better by far
To be Young At Heart
And if you should survive
To a hundred and five...
Neither the composer nor lyricist of "Young At Heart" survived to a hundred and five. Richards died in 1968 of a brain tumor at the age of 56. Carolyn Leigh died in 1983 at the age of 57 from a heart attack and related ailments, and after years of accumulated frustrations both professional and personal. But on this record they and Sinatra and Riddle are full of heart, and young, now and forever:
And here is the best part
You have a head start
If you are among
The very Young
At Heart.
~For an alternative Sinatra Hot 100, the Pundette has also launched a Frank countdown. She's up to Number 43, Sinatra with Johnny Mandel on the Gershwins' "Foggy Day". Bob Belvedere over at The Camp Of The Saints is likewise counting down his own Sinatrapalooza, but taking time out en route to stop for a few honorable mentions, including Frank's terrific take on "I Didn't Know What Time It Was" . The Evil Blogger Lady continues her Sinatra summer theme with a couple of seasonal songs by Michel Legrand and the Bergmans.
~Steyn's original 1998 obituary of Frank, "The Voice", can be found in the anthology Mark Steyn From Head To Toe, while you can read the stories behind many other Sinatra songs in Mark Steyn's American Songbook. Personally autographed copies of both books are exclusively available from the SteynOnline bookstore.
SINATRA CENTURY
at SteynOnline
6) THE ONE I LOVE (BELONGS TO SOMEBODY ELSE)
8) STARDUST
10) WHAT IS THIS THING CALLED LOVE?
11) CHICAGO
12) THE CONTINENTAL
13) ALL OF ME
15) NIGHT AND DAY
16) I WON'T DANCE
17) I'VE GOT YOU UNDER MY SKIN
19) EAST OF THE SUN (AND WEST OF THE MOON)
21) A FOGGY DAY (IN LONDON TOWN)
24) OUR LOVE
27) FOOLS RUSH IN
32) I'LL BE AROUND
36) GUESS I'LL HANG MY TEARS OUT TO DRY
37) NANCY (WITH THE LAUGHING FACE)
38) SOMETHIN' STUPID
40) I GET ALONG WITHOUT YOU VERY WELL (EXCEPT SOMETIMES)
41) SOLILOQUY
42) THE COFFEE SONG
44) HOW ABOUT YOU?
46) LUCK BE A LADY
48) (AH, THE APPLE TREES) WHEN THE WORLD WAS YOUNG
49) I HAVE DREAMED
51) I'VE GOT THE WORLD ON A STRING
from Steyn's Song of the Week, July 27, 2015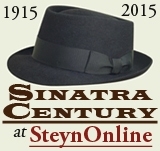 The opening of Frank Sinatra's spectacular Second Act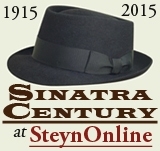 Frank Sinatra poses a musical question to Mitch Miller....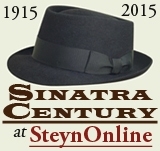 The early Fifties were a rough time for Sinatra - and for his voice...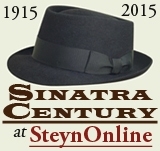 We're a day away from Bastille Day, France's fĂŞte nationale, and so it seems appropriate to spend a little time with franco-Sinatra. He sang a lot of French songs over the years, most famously this:
Je me lève et je te bouscule
Tu n'te réveilles pas
Comme d'habitude...
Oh, no, wait. Frank sang the English lyric:
And now the end is near
And so I face
The final curtain...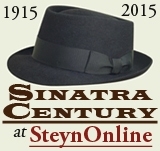 Frankie sings Frankie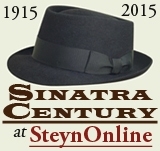 Frank Loesser was a busy Hollywood lyricist who decided he was going to turn himself into a Hollywood lyricist-and-composer. Having pulled that off, he then decided to become one of Broadway's great musical dramatists to boot. His first stage musical, an adaptation of Charley's Aunt, opened in 1948, with a great score and a legendary showstopper of a song in "Once In Love With Amy". On our double-CD Frank Loesser centenary celebration (exclusively available from SteynOnline), you can hear me...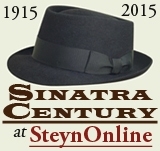 We had a Sinatra song from Canada for Dominion Day, and so we surely have to have an American Sinatra song for Independence Day...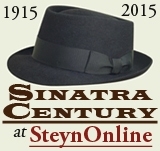 Dominion Day looms - on Wednesday - and we always like to have a Canadian song for the national holiday. Sinatra recorded many maple-infused numbers over six decades, from "I'll Never Smile Again" and "Put Your Dreams Away", both by my fellow Torontonian Ruth Lowe, all the way to Joni Mitchell's "Both Sides Now" and, of course, Paul Anka's "My Way" (he wrote the English lyric). But, for a great national occasion, I figured what could be more Canadian than...
I like New York in June
How About You?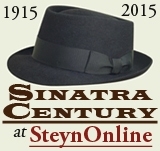 A Sinatra classic - as ballad, bossa or swinger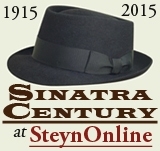 He was the saloon singer - quarter to three, set 'em up, Joe, drinkin' again and thinkin' o' when... spinning round in my brain, like the bubbles in a glass of champagne... But Sinatra liked a non-alcoholic tipple, too. He took "Tea For Two" with Dinah Shore in 1947, and in 1960 recorded "When I Take My Sugar To Tea". But he wasn't averse to something a little more caffeinated:
Way down among Brazilians
Coffee beans grow by the millions
So they've got to find those extra cups to fill...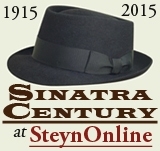 Happy Father's Day to you and yours. I miss my dad more and more as the years go by. Our Sinatra Century would be incomplete without this particular entry:..
A one-hit wonder who never got to hear her one hit sung by anyone - from Sinatra to Molly Ringwald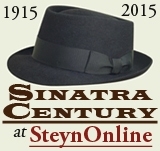 On January 9th 1956, Frank Sinatra went into the not yet famous Studio A of Capitol Records at Hollywood and Vine in Los Angeles for the first of a handful of sessions for a new album...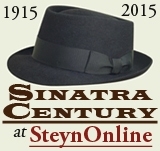 As a companion piece to Friday's "Nancy (with the Laughing Face)", here's a Frank-and-Nancy moment from a couple of decades later...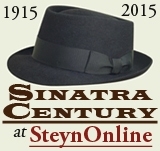 Seventy-one years ago this Monday, June 8th, a cute little four-year-old girl was having a birthday party, and a couple of pals of her dad decided to present her with a very special gift...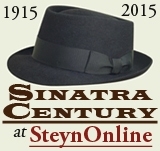 Frank Sinatra rescued a lot of songs over the years, but rarely on the scale he did with this one. It was from an awe-inspiringly hideous train-wreck of a musical. But Sinatra recorded it, and made it a standard - and the only torchy ballad of lost love whose central image is of laundry...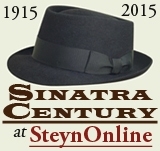 On June 24th 1958 Nelson Riddle raised his baton, and Frank Sinatra made one of the greatest recordings of a great song...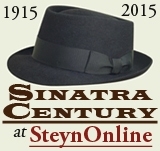 This one stayed in Sinatra's book almost to the end, mainly because he just had so much fun singing it...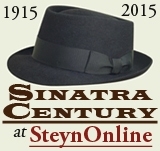 What's the connection between Frank Sinatra and Mickey Rooney?
Oh, that's easy. They were both married to Ava Gardner.
What's the connection between Frank Sinatra and William Shakespeare?
Hmm, well, lemme see...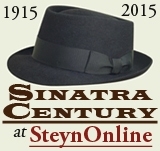 In the pithy summation of Terry Teachout, Alec Wilder "spent his life looking for cracks to fall through". Back in the days when we still had record stores, he didn't quite fit the pop bins or the classical bins or the jazz bins. Which is why, if you're hung up on categorization, it's easier to leave him out of the store altogether...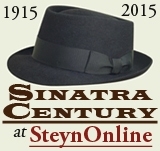 Many years ago - when a lot of the guys who wrote the American Songbook were still around - I started asking composers and lyricists to name their all-time favorite song. This one came right at the top...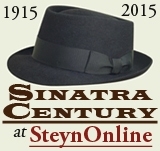 As much as "It Had To Be You" or "The Way You Look Tonight", "I'll Be Seeing You" belongs to a select group of über-standards, the ones we'll still be singing when 90 per cent of the rest have fallen away. It's one of those "our song" songs - especially if you happened to find yourself on a railway platform in the early 1940s waving a loved one off to war...
| | |
| --- | --- |
| | |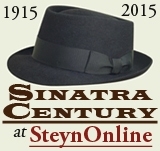 When I first got interested in the great standard songs as a teenager, I sort of assumed that they were all written by the big names - Cole Porter, Gershwin. It took a while to dawn that not everything from, say, the Thirties was concocted by a major writer for a famous Broadway score or a Fred Astaire movie. So after a while, when I heard a song I liked, I'd say, "Hey, I wonder who wrote that." Quite often, the answer would be "Matt Dennis & Tom Adair". Let's just stick to the Sinatra end of their catalogue: Who wrote "The Night We Called It A Day"? Matt Dennis & Tom Adair. Who wrote "Let's Get Away From It All"? Matt Dennis & Tom Adair. Who wrote "Violets For Your Furs"? Matt Dennis & Tom Adair. Who wrote "Angel Eyes"? Matt Dennis. Who wrote "There's No You"? Tom Adair. And who wrote..?
Before St George's Day fades for another year, I thought we'd have a Sinatra English song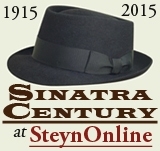 "Fools Rush In" isn't thought of as a Sinatra song. If you were anywhere near a jukebox or a transistor radio in the early Sixties, you'll think of it in Ricky Nelson's bouncy-bouncy teenypop arrangement. But once upon a time the song was new, and Frank Sinatra was the guy singing it...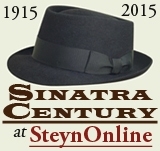 We began the week with Sinatra's one big hit with the Harry James band. We end it with his first big hit with the Tommy Dorsey band. This essay contains material from Mark's book A Song For The Season:
I'll Never Smile Again
Until I smile at you
I'll never laugh again
What good would it do?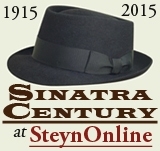 It was June 1939 and the singer Louise Tobin was in her room in the Lincoln Hotel in Manhattan, packing for a gig in Boston with Bobby Hackett's band. Her hubby was napping on the bed. He was a trumpeter, name of Harry James, who'd just left Benny Goodman to put together his own orchestra. The radio was carrying a remote from some joint in New Jersey, and a male vocalist came on...
| | |
| --- | --- |
| | |
Someday someone should release an album called Classical Frank. I mentioned a couple of days ago that "Take My Love" was adapted from Brahms' Third Symphony. Aside from Brahms (whose Lullaby he also recorded), Sinatra sang over the years Anton Rubinstein, Grieg, Rachmaninov, Ravel and Borodin. That's to say, "If You Are But A Dream" (Rubinstein's Romance No 1), "I Love You" and "Strange Music" (Grieg's "Ich Liebe Dich" and "Wedding Day At Troldhaugen", respectively), "Full Moon And Empty Arms" and "I Think Of You" (both from Rachmaninov's Second Piano Concerto), "The Lamp Is Low" (Ravel's Pavane pour une infante défunte)...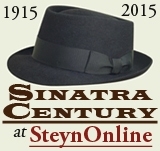 2015 is not only the centenary year of Frank Sinatra but also of Billie Holiday, born April 7th 1915 in Philadelphia. We will mark the occasion formally a little later this week, and acknowledge Sinatra's admiration for Holiday. But the respect was mutual, and on Billie Holiday's last major recording the stand-out track was a Sinatra song...
When Frank Sinatra was 18, it was a very good year. Anything Goes opened at the Alvin Theatre in November 1934 and provided young Frank with a slew of Cole Porter material he would sing in his maturity:.The title song turned up in 1956 on his landmark album Songs For Swingin' Lovers; "Easy To Love" was dropped at the insistence of leading man William Gaxton, but became a highlight of Sinatra's first album at Reprise...
Sinatra sang a lot of Gershwin over the years, but if you had to name the most important "Gershwin song" in his book it would probably be "The Gal That Got Away" - words by Ira Gershwin, but music by Harold Arlen. He made a terrific record of it when the song was new, and then returned to it a quarter-century later to make it - in a medley with "It Never Entered My Mind" - the last great saloon-song sequence to be added to the Sinatra act.
But a lot of George Gershwin tunes stayed with him to the end, too...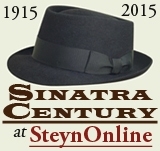 Seventy years ago, the 14th Army under the command of General Bill Slim finally liberated Mandalay and returned it to British rule. Given the popularity of this song among British military concert parties of the time, more than a few of Slim's men must have found themselves singing:
Come you back to Mandalay
Where the old flotilla lay...
Where do you head after you've gone "South Of The Border"? Oh, that's easy...
St Patrick's Day looms, and so a Sinatra Irish confection would seem to be appropriate. Unlike Peggy Lee, he never recorded "When Irish Eyes Are Smiling"; unlike Rosie Clooney, he never recorded "Danny Boy". In the 1949 film Take Me Out To The Ball Game, he sang a song called "O'Brien To Ryan To Goldberg" - Gene Kelly, who was of Irish ancestry, played O'Brien; Jules Munshin, who was of Russian Jewish ancestry, played Goldberg; and Frank Sinatra, who was of Italian ancestry, played, er, Ryan.
But what of the great Irish songwriters..?
The night it took 22 takes...
The 1930s were the golden decade of American popular song. The great Broadway blue chips - Cole Porter, Rodgers & Hart - were hitting their stride, and, as we've explored in recent weeks, a whole generation of far lesser known names were providing great individual numbers that, thanks to Sinatra, have lasted across the decades...
What's the connection between the Muslim call to prayer and Frank Sinatra?
E A Swan?
Who's he?
Well, if you saw Frank Sinatra on stage...
A Sinatra classic, born from a happy accident at a summer resort, and a widow's grief
It's the wee small hours after Oscar Night, and so our Sinatra Centenary song is obliged to take a nod at least in the direction of the Academy Awards. Frank made a whole album of Oscar winners, with the unwieldy title of Sinatra Sings Days of Wine and Roses, Moon River, and Other Academy Award Winners...
An anthem to "the town that Billy Sunday couldn't shut down"
On March 27th 1929 the Charles B Cochran revue Wake Up And Dream opened at the London Pavilion, with a host of West End talent, including Jessie Matthews, Sonnie Hale, Tilly Losch and Douglas Byng. And at one point in the evening Britain's "Radio Sweetheart Number One", Elsie Carlisle, stepped forward and sang...
Valentine's Day looms, and, given his contribution to its popularity, we would be remiss not to include in our Sinatra Century the one great Valentine standard...
It's July 8th 1939 and the Harry James orchestra is on stage at the Roseland Ballroom in New York. They have a new singer - a 23-year old boy vocalist who signed with the band a few days earlier - and he steps to the microphone to sing...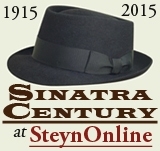 The other day I was reading, strictly for pleasure, The Complete Lyrics Of Johnny Mercer, and in particular the work of his somewhat frustrating final years. And a handful of pages before the end you turn the page, and from one of those projects that never came to fruition are a couple of songs bearing the credit "Words and music by Johnny Mercer and Rod McKuen".
My God, what was he thinking?
We're spending this weekend with the Isham Jones/Gus Kahn end of the Sinatra songbook. Following "It Had To Be You" on Friday, here's a song Frank sang for almost half-a-century from June of 1940, as the new boy vocalist with a hit orchestra, to deep into the 1980s, as a lion in winter jumpin' all over a hard-swingin' band...
An ĂĽber-standard everyone sang before Frank
A song as old as Sinatra that he only got to in the Eighties
I received a letter, as I do from time to time and particularly since we launched this series, making the familiar complaint that I "only write about the kind of songs Frank Sinatra sings" and thereby ignore the older, vernacular American musical tradition. Well, I happen to think Frank chose pretty good songs, so why kick the habit? For example, here's a ring-a-ding-ding Sinatra classic he recorded in 1946:
Oh, give me a home where the buffalo roam
And the deer and the antelope play...
It's often said that the pop songs you like when you're 17 years old are the pop songs that stay with you your entire life. And in that respect Frank Sinatra was very fortunate: When he was 17, to pick up where we left off last week, it was a very good year. The songs in the air as a Hoboken schoolboy prepared to start his adult life were the songs he would record a quarter-century later and still be singing on stage, at Caesars' Palace and the Royal Albert Hall, another quarter-century beyond that...
Our Sinatra Song of the Century Number One
This essay is adapted from Mark's book A Song For The Season
Esther Williams and Ricardo Montalban launch the clash of civilizations
Mark hits a new high as he takes a crack at Mariah Carey's Christmas classic
A happy 75th birthday to the most famous reindeer of all
I love the Great American Train Song. It's a genre that has the sweep and size of the nation...
After "Cat Scratch Fever", Mister Squaresville goes in search of other rockers to cover
In this week before Halloween, how about a Song of the Week for the witching hour? I've always loved songs that use magic as an image of romantic seduction and intoxication. Cole Porter got in on it early in "You Do Something To Me" (1928):
Let me live 'neath your spell
Do do That voodoo
That you do So well…
Harold Arlen and Johnny Mercer extended the thought in 1944:
That Old Black Magic has me in its spell...
But it was Cy Coleman and Carolyn Leigh who wrapped up the subject once and for all...
A musical moment from The [Un]documented Mark Steyn
It's twenty years since Jule Styne died - back in September 1994. By then he was the last of the Broadway giants, the composer of Funny Girl, Peter Pan and Gentlemen Prefer Blondes, and perhaps the greatest of all American musicals Gypsy; the prodigious hitmaker of "Time After Time" and "People" and "Diamonds Are A Girl's Best Friend"; the guy who'd supplied all those sidewalk Santas and shopping malls with "Let It Snow! Let It Snow! Let It Snow!" I write about him in Mark Steyn's American ...
Mark celebrates the late Bob Crewe and two Sixties classics
Last week we marked the 75th anniversary of The Wizard Of Oz, but without getting to the film's big song. It's about five minutes in, when we're still in drab, dusty, cheerless, broken-down black-&-white Kansas. Dorothy has tried to tell her folks about an unpleasant incident involving Miss Gulch, but Aunt Em advises her to "stop imagining things" and "find yourself a place where you won't get into any trouble". Dorothy wanders off, taking the injunction seriously. "Do you think there is such a ...
| | |
| --- | --- |
| | |
This month marks the 75th anniversary of one of the greatest and most enduring film musicals ever made, and one of the few to match the dramatic ambition of the best Broadway shows. The Wizard Of Oz gave us a standard song that won the Oscar that year and was potent enough to provide Eva Cassidy with a posthumous hit in the 21st century. We'll get to that next week, but for this week's Song of the Week here's one of my personal favorites from a truly marvelous score: Ding-Dong! The Witch Is ...
| | |
| --- | --- |
| | |
When this weekly feature began eight and a half years ago, our Song of the Week Number One was "San Francisco", to mark the centenary of the 1906 earthquake. But, if I'd been thinking about a Number One song in more profound terms, our Number One song would have been the song we're finally getting round to almost a decade later - because this week's song was really the Number One song for an entire school of songs. As Mel Tormé put it, when Jerome Kern composed this melody, he "invented the popular song". If your idea of a popular song is "Call Me Maybe" or "Ain't Nobody Here But Us Chickens" or "The Tennesee Waltz", Tormé's claim is a bit of a stretch. But it's not unreasonable to claim that with this tune Kern invented what we now call the American Songbook - standards that endure across the decades and can be sung and played in almost any style. It is, thus, the Number One Song, the first and most influential entry in that American Songbook...
| | |
| --- | --- |
| | |
Three hit songs from one flop Sixties musical
To mark the centenary of composer Hugh Martin, here's the second part of Mark's two-part audio tribute to the man who gave the world "Have Yourself A Merry Little Christmas"...
A few weeks back, apropos "June Is Bustin' Out All Over", I mentioned that we hadn't done a lot of "month" songs in the years we've been running this feature. Some months - mostly spring ("April Showers", "April In Paris") and fall ("September Song", "September In The Rain") - seem to lend themselves to musicalization. If "June Is Bustin' Out All Over" is about as big a hit title as the sixth month of the year has ever produced, the eighth (which looms this very week) can't even manage a title ...
What with all the Jew-hate around on the streets of Europe in recent days, I thought it would be nice to have a big Europop hit from that fleeting cultural moment when the Continentals regarded Israel not merely as a normal sovereign state but in fact a rather cool and enviable one...
I wouldn't want June to recede too far into the rear mirror without noting that it marked the 50th anniversary of a great and historic recording that, before the Sixties were out, burst the bounds of the planet. In June 1964, Frank Sinatra and Count Basie were in the studio making their second album together, It Might As Well Be Swing. The arranger was Quincy Jones, and his work for the set included a chart Frank kept in the act all the way to his very last concert...
Some musical advice from Mark's graduation season
The all-time great World Cup song
Steyn celebrates the song Ray Charles used to hum in the back of his car on the way to the gig - until one day his driver told him to record it.
Well, it's the beginning of June and that means June is bustin' out all over! Except that June doesn't really bust, does it..?
Happy Memorial Day to all our American readers. My youngest will be playing with the town band in the parade, and I do believe this number is on the song list. This essay is adapted from my book A Song For The Season...
Ninety years ago this Thursday a baby boy was born in Paris ...well, that was the first unexpected plot twist. He was supposed to be born in America...
Four decades ago, "Waterloo" hit Number One in the British charts, and the four Swedes never looked back, except to check whether their hot pants had split...
Mark explores the art of the cigarette song
One of the biggest pop standards of the 20th century celebrates its 90th birthday this month. Exactly nine decades ago - April 21st 1924 - a new musical comedy opened in Chicago on its pre-Broadway tour. The plot was the usual fluff - three couples in Atlantic City, complications ensue, etc. It should have been a breeze, but it wasn't going well...
Six decades ago - April 12th 1954 - a chubby-faced kiss-curled man pushing 30 with a backing group named after a theory published in Synopsis Astronomia Cometicae in 1705 went into the recording studio at the Pythian Temple on West 70th Street in New York and sang a song written by a man born in the 19th century...
A Rodgers & Hart classic - after three false starts...
The 50th anniversary of the Beatles' only showtune
Shirley Temple - singer, dancer, actress, and rock'n'roller
Mark celebrates a classic saloon song
A song for Groundhog Day?
Pete Seeger and the "folk song" he stole
Number One in January 1934 ...and January 1959
Mark tells the story behind "his" Christmas song, and presents an audio special celebrating the man who wrote it...
Hugh Martin, composer, lyricist, vocal arranger, pianist, singer, actor and the man who gave the world the great seasonal gift of "Have Yourself A Merry Little Christmas", was born one hundred years ago this week...
As the years go by I grow less and less interested in grassy knolls and all the rest, but I am struck by one genuine, non-conspiracy-theorist feature of November 22nd 1963...
2015 is Frank Sinatra's centenary year, which necessitates a few modifications to SteynOnline's music, film and entertainment coverage. Our official observances commence tomorrow when our Song of the Week department becomes a Song of the Semi-Week in order to squeeze in 100 Sinatra songs of the century between now and December. Several other folk seem to have opted for this approach, too - our old friend the Pundette has launched a dedicated Sinatra Centenary site for that very purpose - so we ...
For Bastille Day it seemed appropriate to have a French number for our Song of the Week. Unfortunately, this one's British, but it does have an accordion...
How a psychedelic anthem from the summer of love became an easy-listening blockbuster
A day late for Cinco de Mayo, here's Steyn's Song of the Week: the most successful composition by Mexico's first successful female composer.
~and don't forget, if you like Mark's Song of the Week essays, some of his most requested are collected in his book A Song For The Season - including many songs for national days, from "America The Beautiful" to "Waltzing Matilda". You can order your personally autographed copy exclusively from the SteynOnline bookstore.
April 29th apparently marks the anniversary of the launch of the Islamic conquest of the Iberian peninsula in the year 711. So I thought it would be fun to have a suitably Islamo-dominant number for our Song of the Week.
~and don't forget, some of Mark's most popular Song of the Week essays are collected in his book A Song For The Season. You can order your personally autographed copy exclusively from the SteynOnline bookstore.
Happy Easter and Happy Passover to our readers around the world. We moved our Saturday movie night to Good Friday for Mel Gibson's blockbuster The Passion Of The Christ. So, for the weekend proper, here's a special podcast, audiophonically adapted from an essay that appears in Mark's book A Song For The Season. Mark traces the story of Irving Berlin's "Easter Parade", from its obscure origins as a First World War morale booster to its re-emergence a generation later as the American Songbook's ...