Steyn's Song of the Week
This essay is adapted from Mark's book, A Song For The Season:
I'm not, generally, a big fan of "black history" or "gay history" or most other forms of identity-group history. There is plain old history, which encompasses all of us however peripherally in its whims and cruelties, and, when one tries to narrow the focus to correct longstanding "marginalizations", one too often winds up not with scholarship but with smiley-face boosterism. All that said, let me make an exception to my general antipathy and mark February's "African-American History Month" festivities by noting a songwriter who, in his own way, is a part of both African and American history.
Andy Razaf was born Andreamenentania Razafinkeriefo in Washington DC on December 16th 1895. His maternal grandfather was a freed slave, John Waller - no relation to Fats but a man who had achieved his own success as one of the most prominent Negro diplomats in the US foreign service. Four years before his grandson's birth, Mr Waller had been appointed by the State Department as US consul to the court of Queen Ranavalona III in Madagascar. The island nation did not observe quite the same degree of separation between the heads of state and government as, say, Britain does: in Madagascar, by convention, the Queen's Prime Minister also functioned as her husband. In a relatively short stint as emissary, the ambitious American appears to have endeared himself to the ruling family and, when Grover Cleveland's administration succeeded Benjamin Harrison's in 1893 and the Republican consul was replaced by a Democrat, Mr Waller decided to stay on in Madagascar. The following year, Her Majesty announced that she was granting 225 acres of royal land to the former diplomat to enable him to establish a "colony for American Negroes". Wallerland, as he called his new estate, nevertheless retained close ties to its former owners: Shortly after the land transfer, Waller's 15-year old daughter Jennie was married to Prince Henri, a nephew of Queen Ranavalona.
Alas, the best-laid plans ran afoul of the Quai d'Orsay in Paris, which regarded Madagascar as theirs in all but name and didn't like the growing influence at court of the Negro in-law with connections in Washington. Mr Waller was seized by French troops, convicted by a military tribunal in the port city of Tamatave, manacled hand and foot, and shipped to Marseilles to serve a 20-year sentence. For whatever reasons, President Cleveland's administration did not act on behalf of their national as urgently as they might have, and, in any case, Queen Ranavalona herself surrendered to French troops and left the island. So Waller's family fled, and eventually arrived back in Washington in October of 1895. Nine days before Christmas, 11 days before her 16th birthday, Waller's daughter and Prince Henri's wife gave birth to their son and gave him a Malagasy name: Andreamentania. By then, Prince Henri himself was dead. A graduate of the École Militaire in Paris, His Royal Highness was killed by French troops in their invasion of the island.
Were it not for the Gallic intervention, Andy Razaf would have enjoyed a royal childhood off the coast of Africa. Instead, he was raised in New York City by a single mom, and at 16 was working as an elevator boy. At 17, he landed his first song on Broadway: "Baltimo'", a late addition to the score of The Passing Show Of 1913. By the Teens and Twenties, there was a lively cadre of black songwriters working on the fringes of Tin Pan Alley, but Razaf's exotic autobiography stood out. He was, to coin a phrase, the artist formerly known as Prince. As The Brooklyn Daily Times reported, with a somewhat cavalier attitude to factual accuracy and elementary internal consistency, "Crooning Grand-Nephew Of Madagascar Queen Possesses Exciting Historical Background":
Because Duke Andre Paul Razafkerie, grand-nephew of Ranavalona III, late Queen of Madagascar, has chosen song plugging as his career, his mother, the Duchess Christian, has refused to have anything to do with him. It is not generally known that 'Crooning Andy,' singing over WCGU every evening, is none other than the Duke himself...
The fall of a kingdom, the fleeing of a royal family, or the capturing thereof, which is ofttimes described in dramatic fashion upon our silver screens, all make up the real life of Andy. During the war of 1890 between the former Malagasy Kingdom and France, the Duchess Christian... returned to her native America, where Duke Paul Andre Razafkerio, who now prefers to be called just 'Andy,' was born...
Andy recently wrote a song, 'Dusky Stevedore,' and highly elated over his new number, he purchased a radio set for the Duchess, and asked her to tune in on the Amberol Hour at WCGU...
"Dusky Stevedore" is a perfect example of what Tin Pan Alley expected from black songwriters – either colorful glimpses of Negro life for white audiences or hyper-sexual lyrics for raunchy black chantoozies. Among the latter, Andy Razaf wound up writing the song that defines the entire genre:
He shakes my ashes
Greases my griddle
Churns my butter
Strokes my fiddle
My man is such a Handy Man
He threads my needle
Creams my wheat
Heats my heater
Chops my meat
My man is such a Handy Man...
And, once you get the general idea, there's no end to the variations:
I got myself a military man
And now I'm almost in hysterics
He's got me in a military plan
You'd think my parlor was a barracks
It's so peaceful when he's gone
When he's home the war is on...
My flat looks more like an armory
He takes his bugle when he calls me
At night he's drillin' constantly
He's My Man O' War
When he advances, can't keep him back
So systematic is his attack
All my resistance is bound to crack
For My Man O' War
He never misses when he brings up his big artillery...
Etc. But eventually even the biggest guns stop firing:
Time after time, if I'm not right there at his heels
He lets that poor horse in my stable miss his meals
There's got to be some changes 'cause each day reveals
My Handy Man Ain't Handy No More
He used to turn in early and get up at dawn
All full of new ambition he would trim my lawn
Now when he isn't sleeping all he does is yawn
My Handy Man Ain't Handy No More...
These songs are adroit and sly, even if they do posit a world of relentlessly single-minded double-entendres. As in English seaside postcards, apparently almost anything in the dictionary can serve as a synonym for the sexual act or the organs required to perform it. One thinks of Britain's Carry On movies and the not entirely plausible scene in which Sid James as King Henry VIII gets his Hampton caught (ie, for non-Brits, a reference to the royal palace of Hampton Court). Razaf was the most inventive author of the "My Butcher's Meat Keeps Going Up" school, but he understood, even then, that it wasn't going to make him Ira Gershwin or Oscar Hammerstein. Ninety-five per cent of the most popular performers on stage, screen, radio and records were never going to go anywhere near such material.
In 1929, the Immerman Brothers, a couple of butchers turned impresarios, hired Razaf and his composing partner Fats Waller to write songs for Connie's Hot Chocolates, an all-Negro revue that would play on Broadway every evening with a repeat performance after midnight in Harlem. Among the numbers the team provided was one which the lyricist's biographer, Barry Singer, calls "Andy Razaf's lyric retort to all the endless bawdy blues variations he'd been forced to compose since the onset of the Twenties." Unlike the lady on the receiving end of "My Man O' War", this young miss is positively demure:
No one to talk with
All by myself
No one to walk with
But I'm happy on the shelf
Ain't Misbehavin'
I'm savin' my love for you...
"The song was ingenuous to a fault," writes Barry Singer in Black And Blue, "modestly affirming home, hearth and devotion to one love, while set against the undercutting drollery of Waller's melody."
How Waller created his most enduring melody depends on whose version of events you believe. Fats was famously feckless and impecunious, even at his peak. Asked in school what his dad did, his son replied, "He drinks gin." In between, he composed and sang and played, brilliantly. But then the gin and multiple other addictions would catch his eye yet again. "Ain't Misbehavin'" he liked to call "The Alimony Jail Song". As Waller told it, at the time he wrote the tune he was incarcerated in said facility, owing 250 bucks to his ex-. He had his lawyer bring him "a miniature piano" and spent two days in his cell writing "Ain't Misbehavin'". His attorney then sold the song to a publisher for $250, enabling Fats to pay off the back alimony and get out of the jailhouse.
Andy Razaf's account of the song's origin is more prosaic. It was created not in jail but in Waller's apartment on 133rd Street in Harlem. During rehearsals for Hot Chocolates, Razaf swung by his partner's place just before midday and found Fats pounding the piano. It was, recalled Andy, "a marvelous strain, which was complicated in the middle. I straightened it out with the 'no one to talk with, all by myself' phrase, which led to the phrase 'ain't misbehavin'", which I knew was the title." Forty-five minutes later, they'd finished the song, Waller got dressed, and the boys headed to the Hudson Theatre for rehearsals. On their way down Broadway to 44th Street, clutching the manuscript, the writers found themselves on the receiving end of a city pigeon who flew overhead and scored a direct hit on the song sheet. "That's good luck!" reckoned Fats. "But I'm sure glad elephants ain't flyin'."
At the Hudson, they scraped the sheet clean and passed it to Harry Brooks, who "arranged" the tune and wound up with a co-composer credit. "You got to hang on to the melody," Fats Waller once said, "and never let it get boresome". In some ways, "Ain't Misbehavin'" was an old-fashioned tune even in 1929, but it never gets "boresome". I especially like the middle section:
Like Jack Horner
In the corner
Don't go nowhere
What do I care?
Your kisses are worth waiting for
Believe me...
The insistent repetition in the tune isn't "boresome" – first, because of Waller's shifting harmony; second, because Razaf varies the lyric scheme: technically, the third and fourth lines should have the same feminine rhymes as the first couplet ("Horner"/"corner"), but instead the author switches to a masculine pairing ("-where"/"care"), which throws the emphases a little off-kilter and keeps things interesting. And after three lines melodically identical, Fats takes the tune up from E flat to E natural on "What do I care?" and gives the words real feeling. The chorus concludes with a lovely cozy image:
I don't stay out late
Don't care to go
I'm home about eight
Just me and my radio...
I used to like it when Bing Crosby would do "Ain't Misbehavin'", and sing:
I'm home about eight
Get Clooney on the radio...
- as in his pal Rosie. In the wake of Hot Chocolates, "Ain't Misbehavin'" was a hit not just for Waller and Louis Armstrong but Gene Austin and Paul Whiteman, too – and in the years that followed it was picked up by Billie Holiday, Guy Lombardo, Django Reinhardt, Stephane Grappelli, Art Tatum, Jimmy Dorsey, Nat "King" Cole, Ella Fitzgerald, Chet Atkins, Johnnie Ray, Frankie Laine, Andre Previn, Gwen Verdon, Louis Prima, Miles Davis, Tommy Bruce & the Bruisers, Ray Charles, Vic Damone, Leon Redbone, Hank Williams Jr, Asleep At The Wheel, the Brigham Young University Young Ambassadors... In others words, by everybody, give or take.
There was another song in Hot Chocolates. One afternoon, Dutch Schultz, the mobster and a big backer of the production, came up to Razaf during rehearsals and said the show was pretty good so far but he'd had a great idea for a song that would make it a surefire smash: A dark-skinned woman is lying in a white negligee on white sheets in a white bed in an all-white room, and she's singing this funny song about how she's too black and the lighter-skinned gals get all the guys. That'd be pretty cute, right? When the lyricist politely demurred, Schultz pinned him to the wall, pulled out his gun and put it to Razaf's head: "You'll write it," he said, "or you'll never write anything again."
Razaf and Waller decided to subvert the assignment. On opening night, there was Edith Wilson on a set more or less as ordered up by the gangster. And the early verses of the song – "Browns and yellers/All have fellers/Gentlemen prefer them light..." – certainly drew the laughs Schultz had predicted. But, as the song went on, it became clear, both in the mournful melody and the lyrics, that Waller and Razaf had enlarged the subject profoundly:
Just 'cause you're black
Folks think you lack
They laugh at you
And scorn you too
What did I do to be so Black And Blue?
It was a remarkable song for 1929, and all the more so for Razaf on the first night, with Dutch Schultz standing next to him and ready to kill him if "Black And Blue" had bombed with the audience. Half a century later, in Ain't Misbehavin', the Broadway revue celebrating Waller's world, it was the song the creators of the show chose to end the evening with. Yet, powerful and impassioned as it is, there would be something wrong and reductive in letting it stand as the final word on its author.
Andy Razaf was certainly black and he had plenty to be blue about. The son of a prince, and grandson of one of the most eminent black Americans of his day, he suffered racism both of the small routine everyday kind and on a geopolitical scale: the annexation by the French of the land his family ruled. He recovered from that setback to become the most successful black lyricist the American music industry had ever seen, and yet even then there were avenues that remained closed off. Unlike almost every other name songwriter working in New York in the late Twenties, he was never offered big money to come out to Hollywood and write pictures. But he kept going, and so did the songs. "Ain't Misbehavin'" - like "Honeysuckle Rose", "Keepin' Out Of Mischief Now", the sublime "Memories Of You" and the other peaks of the Razaf oeuvre – belongs not merely to "African-American history" but to American history, and the soundtrack of the nation:
I don't stay out late
Don't care to go
I'm home about eight
Just me and my radio...
The radio's changed a bit since Andy Razaf's day, but they're still playing his songs:
Ain't Misbehavin'
Savin' all my love for you.
~adapted from Mark's book A Song For The Season, personally autographed copies of which are exclusively available from the Steyn store.
February 8, 2016
Happy Australia Day to all our readers Down Under. It's actually Tuesday, which is tomorrow, but tomorrow here is probably already yesterday there, so I may be too late. I'm looking forward to seeing many of those antipodean readers next month on my Aussie tour, which kicks off on Valentine's Day in Perth. Half the dates are already sold out, so, if you haven't booked your seats yet, don't leave it too late. Details of towns, times and tickets can be found via the IPA here. We always like to ...
I've received a remarkable number of emails in the last week more or less taunting me to eschew my usual Jerome Kern and Cole Porter and pick a David Bowie number for our Song of the Week. Well, I like a challenge, and, given that the British press has been full of people with not a thing to say about Bowie saying it at great length, I figured that I might as well get a piece of the action. That said, it would be hard to beat this last word in Bowie-eulogizing from The Croydon Advertiser:
Old Coulsdon man delivered David Bowie's milk in summer of '69
A backbreaker of a blockbuster, courtesy of the company sto'
Mark remembers Natalie Cole, an unforgettable song, and an unshuttupable songwriter
In case you missed it, here's our rundown of Mark's Sinatra Century - 100 years in 100 songs: 1) IT WAS A VERY GOOD YEAR 2) THE SONG IS YOU 3) HOME ON THE RANGE 4) AFTER YOU'VE GONE 5) IT HAD TO BE YOU 6) THE ONE I LOVE (BELONGS TO SOMEBODY ELSE) 7) LOVE'S BEEN GOOD TO ME 8) STARDUST 9) MY FUNNY VALENTINE 10) WHAT IS THIS THING CALLED LOVE? 11) CHICAGO 12) THE CONTINENTAL 13) ALL OF ME 14) WHEN YOUR LOVER HAS GONE 15) NIGHT AND DAY 16) I WON'T DANCE 17) I'VE GOT YOU UNDER MY SKIN 18) SOUTH OF ...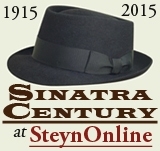 A Christmas song rewritten for Sinatra
Esther Williams and Ricardo Montalban launch the clash of civilizations
A happy 75th birthday to the most famous reindeer of all
Mark hits a new high as he takes a crack at Mariah Carey's Christmas classic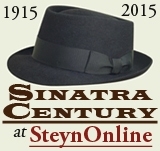 Frank Sinatra called himself a "saloon singer," because that's where he used to sing, way back when, in Jersey juke joints and roadhouses....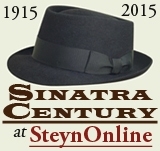 Our 99th Sinatra Century song is, after "My Way", the second most performed Sinatra song written by a Canadian...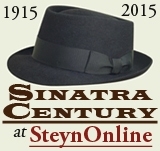 A big hit, but a tense moment in the studio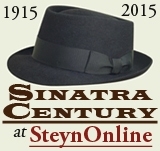 Two takes separated by four decades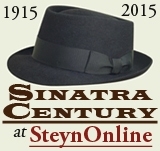 The last crowd-pleaser of a six-decade career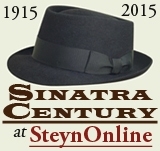 ...but not so easy to sing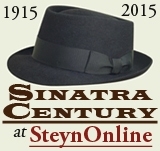 The sexy polka that made a presidential inaugural speech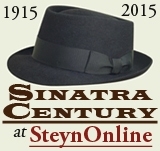 A timeless ballad from a Sinatra stalwart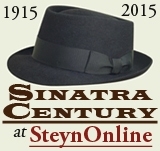 April 14th 1937: a major expansion of the American songbook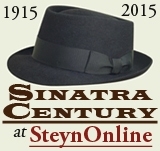 Frank sings a classic Johnny Mercer revenge song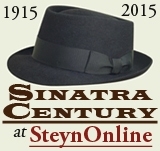 Via Frank and a couple of Londoners, a black American soul classic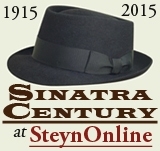 Frank and Nancy sing Sonny and Cher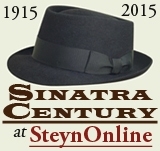 On September 19th 1979 in Los Angeles, it fell to Vinnie Falcone to conduct what would become one of the biggest Sinatra recordings of all time:
Start spreading the news...

On the first of our Sinatra Century audio specials, Frank's longtime pianist and conductor Vincent Falcone talks, among other things, about the singer's relationship with the George Harrison ballad "Something". So I thought we'd spend a little time with the song as we head into the final stretch before the big 100th birthday.

In November 1968 George Harrison and his then missus Pattie Boyd attended the recording sessions in Hollywood for Sinatra's album Cycles...

Until the mid-1960s Broadway was the biggest supplier of the most enduring standards ...and then gradually it all sputtered to a halt, and even hit shows didn't produce really popular songs. With one notable exception...

By sheer coincidence, our scheduled Sinatra song is, in fact, a French song. Indeed, by further coincidence, it belongs to a lost age of Franco-Arab cultural co-mingling...

Sinatra's highly variable results with the acme of the mid-20th century showtune

Ronald Miller's hit-makers share a hot tub...

The meaning of existence, and all that jazz...

The girl who launched a song, and the song that launched an industry

The black cat who crossed Sinatra's path

In 1960, Frank Sinatra left Capitol and founded Reprise Records because he wanted to have total artistic control. But oddly, once he'd got total artistic control, he seemed disinclined to exercise it...

By 1966 it had been over a decade since Frank Sinatra had had a Number One single. It's fine to be acclaimed as a great artist, to have big-selling albums, sell out in Vegas and on world tours, and star in Hollywood movies. But, if popular singing is what you do, there's something special about a Number One hit single...

An encore presentation of Mark's audio salute to James Bond's music man, John Barry

Sinatra Sings The Sacroiliac Songbook

The song Sinatra took with him to the grave

We've been spending a little time this Columbus Day weekend with a man who was born in Columbus, Ohio exactly a century ago - October 10th 1915 - and was at Sinatra's side for some of his most thrilling records of the Fifties and Sixties: Harry "Sweets" Edison, whose trumpet mute was a big part of Frank's Capitol sound.

When you're as good a jazz player as Edison, studio sessions aren't really what you want to do. You'd much rather be in some night spot with a handful of other guys taking a full chorus for every solo...

The master of the muted trumpet, Harry "Sweets" Edison

Sinatra in London with a classic British ballad...

A bluesy ballad Sinatra sang for 30 years

Sinatra, a meadowlark, and a rhymeless romance

A classic Sinatra moment - on record, on film, on TV.

A truly great song for the season isn't about the calendar, or the weather. It's about the seasons of life and love...

According to Johnny Mercer, "Writing music takes more talent, but writing lyrics takes more courage." What he meant was that a tune can be beguiling and melancholy and intoxicating and a lot of other vagaries, but there comes a moment when you have to sit down and get specific, and put the other half of the equation on top of those notes. A songwriter spends his life chasing the umpteenth variation of "I love you"...

In honor of Alan Bergman's 90th birthday, we've been spending a little time this weekend with some of his early hits for Sinatra. Although I myself have recorded an Alan & Marilyn Bergman number, I reluctantly concede that, vocalist-wise, they're better known for their association with Barbra Streisand ("The Way We Were", "You Don't Bring Me Flowers", etc). But long before Barbra they wrote a few songs for Frank that have a different character...

Mark celebrates Alan Bergman's birthday, and one of his biggest hits...

A Sinatra song for Labor Day

A record the songwriter didn't like, of a song the singer didn't like

Steyn on a saloon song classic

Up there where the air is rarefied: Sinatra and the soundtrack of the Jet Age...

First the tide rushes in. Then you rush out and write the song...

I've always loved songs that use magic as an image of romantic seduction...

When Frank Sinatra and Nelson Riddle found their groove in the mid-Fifties, the music just poured out. In 1956 there was so much of it: The year began with the sessions for the defining album of the early LP era - Songs For Swingin' Lovers. It ended with the sessions for Swingin' Lovers' swingin' successor, A Swingin' Affair!...

A Sinatra signature - and the birth of a new songwriting team

The strange story of a one-hit wonder

For over half a century songwriters tried to get their best work to the best singer of the best songs. The sitcom "Frasier" devoted an entire episode to the proposition, after Dad revealed that he'd written a song for Frank, "You're Such A Groovy Lady".

But in the entire history of Getting Songs to Frank there are no luckier guys than Dave Mann and Bob Hilliard...

2015 is the centenary year not only of Frank Sinatra but also of Chet Forrest, born one hundred years ago this weekend on July 31st 1915 in Brooklyn, New York.

Chet who? Well, Robert Wright and his partner George "Chet" Forrest were never exactly household names in the music biz, but they certainly worked with a lot of household names, including Rachmaninov, Tchaikovsky and Rimsky-Korsakov...

A Sinatra song that wore out a jukebox in Toms River, New Jersey...

An ode to youthful optimism

The opening of Frank Sinatra's spectacular Second Act

Frank Sinatra poses a musical question to Mitch Miller....

The early Fifties were a rough time for Sinatra - and for his voice...

We're a day away from Bastille Day, France's fĂŞte nationale, and so it seems appropriate to spend a little time with franco-Sinatra. He sang a lot of French songs over the years, most famously this:

Je me lève et je te bouscule
Tu n'te réveilles pas
Comme d'habitude...

Oh, no, wait. Frank sang the English lyric:

And now the end is near
And so I face
The final curtain...

Frankie sings Frankie

Frank Loesser was a busy Hollywood lyricist who decided he was going to turn himself into a Hollywood lyricist-and-composer. Having pulled that off, he then decided to become one of Broadway's great musical dramatists to boot. His first stage musical, an adaptation of Charley's Aunt, opened in 1948, with a great score and a legendary showstopper of a song in "Once In Love With Amy". On our double-CD Frank Loesser centenary celebration (exclusively available from SteynOnline), you can hear me...

We had a Sinatra song from Canada for Dominion Day, and so we surely have to have an American Sinatra song for Independence Day...

Dominion Day looms - on Wednesday - and we always like to have a Canadian song for the national holiday. Sinatra recorded many maple-infused numbers over six decades, from "I'll Never Smile Again" and "Put Your Dreams Away", both by my fellow Torontonian Ruth Lowe, all the way to Joni Mitchell's "Both Sides Now" and, of course, Paul Anka's "My Way" (he wrote the English lyric). But, for a great national occasion, I figured what could be more Canadian than...

I like New York in June
How About You?

A Sinatra classic - as ballad, bossa or swinger

He was the saloon singer - quarter to three, set 'em up, Joe, drinkin' again and thinkin' o' when... spinning round in my brain, like the bubbles in a glass of champagne... But Sinatra liked a non-alcoholic tipple, too. He took "Tea For Two" with Dinah Shore in 1947, and in 1960 recorded "When I Take My Sugar To Tea". But he wasn't averse to something a little more caffeinated:

Way down among Brazilians
Coffee beans grow by the millions
So they've got to find those extra cups to fill...

Happy Father's Day to you and yours. I miss my dad more and more as the years go by. Our Sinatra Century would be incomplete without this particular entry:..

A one-hit wonder who never got to hear her one hit sung by anyone - from Sinatra to Molly Ringwald

On January 9th 1956, Frank Sinatra went into the not yet famous Studio A of Capitol Records at Hollywood and Vine in Los Angeles for the first of a handful of sessions for a new album...

As a companion piece to Friday's "Nancy (with the Laughing Face)", here's a Frank-and-Nancy moment from a couple of decades later...

Seventy-one years ago this Monday, June 8th, a cute little four-year-old girl was having a birthday party, and a couple of pals of her dad decided to present her with a very special gift...

Frank Sinatra rescued a lot of songs over the years, but rarely on the scale he did with this one. It was from an awe-inspiringly hideous train-wreck of a musical. But Sinatra recorded it, and made it a standard - and the only torchy ballad of lost love whose central image is of laundry...

On June 24th 1958 Nelson Riddle raised his baton, and Frank Sinatra made one of the greatest recordings of a great song...

This one stayed in Sinatra's book almost to the end, mainly because he just had so much fun singing it...

What's the connection between Frank Sinatra and Mickey Rooney?

Oh, that's easy. They were both married to Ava Gardner.

What's the connection between Frank Sinatra and William Shakespeare?

Hmm, well, lemme see...

In the pithy summation of Terry Teachout, Alec Wilder "spent his life looking for cracks to fall through". Back in the days when we still had record stores, he didn't quite fit the pop bins or the classical bins or the jazz bins. Which is why, if you're hung up on categorization, it's easier to leave him out of the store altogether...

Many years ago - when a lot of the guys who wrote the American Songbook were still around - I started asking composers and lyricists to name their all-time favorite song. This one came right at the top...

As much as "It Had To Be You" or "The Way You Look Tonight", "I'll Be Seeing You" belongs to a select group of über-standards, the ones we'll still be singing when 90 per cent of the rest have fallen away. It's one of those "our song" songs - especially if you happened to find yourself on a railway platform in the early 1940s waving a loved one off to war...

| | |
| --- | --- |
| | |

When I first got interested in the great standard songs as a teenager, I sort of assumed that they were all written by the big names - Cole Porter, Gershwin. It took a while to dawn that not everything from, say, the Thirties was concocted by a major writer for a famous Broadway score or a Fred Astaire movie. So after a while, when I heard a song I liked, I'd say, "Hey, I wonder who wrote that." Quite often, the answer would be "Matt Dennis & Tom Adair". Let's just stick to the Sinatra end of their catalogue: Who wrote "The Night We Called It A Day"? Matt Dennis & Tom Adair. Who wrote "Let's Get Away From It All"? Matt Dennis & Tom Adair. Who wrote "Violets For Your Furs"? Matt Dennis & Tom Adair. Who wrote "Angel Eyes"? Matt Dennis. Who wrote "There's No You"? Tom Adair. And who wrote..?

Before St George's Day fades for another year, I thought we'd have a Sinatra English song

"Fools Rush In" isn't thought of as a Sinatra song. If you were anywhere near a jukebox or a transistor radio in the early Sixties, you'll think of it in Ricky Nelson's bouncy-bouncy teenypop arrangement. But once upon a time the song was new, and Frank Sinatra was the guy singing it...

We began the week with Sinatra's one big hit with the Harry James band. We end it with his first big hit with the Tommy Dorsey band. This essay contains material from Mark's book A Song For The Season:

I'll Never Smile Again
Until I smile at you
I'll never laugh again
What good would it do?

It was June 1939 and the singer Louise Tobin was in her room in the Lincoln Hotel in Manhattan, packing for a gig in Boston with Bobby Hackett's band. Her hubby was napping on the bed. He was a trumpeter, name of Harry James, who'd just left Benny Goodman to put together his own orchestra. The radio was carrying a remote from some joint in New Jersey, and a male vocalist came on...

| | |
| --- | --- |
| | |

Someday someone should release an album called Classical Frank. I mentioned a couple of days ago that "Take My Love" was adapted from Brahms' Third Symphony. Aside from Brahms (whose Lullaby he also recorded), Sinatra sang over the years Anton Rubinstein, Grieg, Rachmaninov, Ravel and Borodin. That's to say, "If You Are But A Dream" (Rubinstein's Romance No 1), "I Love You" and "Strange Music" (Grieg's "Ich Liebe Dich" and "Wedding Day At Troldhaugen", respectively), "Full Moon And Empty Arms" and "I Think Of You" (both from Rachmaninov's Second Piano Concerto), "The Lamp Is Low" (Ravel's Pavane pour une infante défunte)...

2015 is not only the centenary year of Frank Sinatra but also of Billie Holiday, born April 7th 1915 in Philadelphia. We will mark the occasion formally a little later this week, and acknowledge Sinatra's admiration for Holiday. But the respect was mutual, and on Billie Holiday's last major recording the stand-out track was a Sinatra song...

When Frank Sinatra was 18, it was a very good year. Anything Goes opened at the Alvin Theatre in November 1934 and provided young Frank with a slew of Cole Porter material he would sing in his maturity:.The title song turned up in 1956 on his landmark album Songs For Swingin' Lovers; "Easy To Love" was dropped at the insistence of leading man William Gaxton, but became a highlight of Sinatra's first album at Reprise...

Sinatra sang a lot of Gershwin over the years, but if you had to name the most important "Gershwin song" in his book it would probably be "The Gal That Got Away" - words by Ira Gershwin, but music by Harold Arlen. He made a terrific record of it when the song was new, and then returned to it a quarter-century later to make it - in a medley with "It Never Entered My Mind" - the last great saloon-song sequence to be added to the Sinatra act.

But a lot of George Gershwin tunes stayed with him to the end, too...

Seventy years ago, the 14th Army under the command of General Bill Slim finally liberated Mandalay and returned it to British rule. Given the popularity of this song among British military concert parties of the time, more than a few of Slim's men must have found themselves singing:

Come you back to Mandalay
Where the old flotilla lay...

Where do you head after you've gone "South Of The Border"? Oh, that's easy...

St Patrick's Day looms, and so a Sinatra Irish confection would seem to be appropriate. Unlike Peggy Lee, he never recorded "When Irish Eyes Are Smiling"; unlike Rosie Clooney, he never recorded "Danny Boy". In the 1949 film Take Me Out To The Ball Game, he sang a song called "O'Brien To Ryan To Goldberg" - Gene Kelly, who was of Irish ancestry, played O'Brien; Jules Munshin, who was of Russian Jewish ancestry, played Goldberg; and Frank Sinatra, who was of Italian ancestry, played, er, Ryan.

But what of the great Irish songwriters..?

The night it took 22 takes...

The 1930s were the golden decade of American popular song. The great Broadway blue chips - Cole Porter, Rodgers & Hart - were hitting their stride, and, as we've explored in recent weeks, a whole generation of far lesser known names were providing great individual numbers that, thanks to Sinatra, have lasted across the decades...

What's the connection between the Muslim call to prayer and Frank Sinatra?

E A Swan?

Who's he?

Well, if you saw Frank Sinatra on stage...

A Sinatra classic, born from a happy accident at a summer resort, and a widow's grief

It's the wee small hours after Oscar Night, and so our Sinatra Centenary song is obliged to take a nod at least in the direction of the Academy Awards. Frank made a whole album of Oscar winners, with the unwieldy title of Sinatra Sings Days of Wine and Roses, Moon River, and Other Academy Award Winners...

An anthem to "the town that Billy Sunday couldn't shut down"

On March 27th 1929 the Charles B Cochran revue Wake Up And Dream opened at the London Pavilion, with a host of West End talent, including Jessie Matthews, Sonnie Hale, Tilly Losch and Douglas Byng. And at one point in the evening Britain's "Radio Sweetheart Number One", Elsie Carlisle, stepped forward and sang...

Valentine's Day looms, and, given his contribution to its popularity, we would be remiss not to include in our Sinatra Century the one great Valentine standard...

It's July 8th 1939 and the Harry James orchestra is on stage at the Roseland Ballroom in New York. They have a new singer - a 23-year old boy vocalist who signed with the band a few days earlier - and he steps to the microphone to sing...

The other day I was reading, strictly for pleasure, The Complete Lyrics Of Johnny Mercer, and in particular the work of his somewhat frustrating final years. And a handful of pages before the end you turn the page, and from one of those projects that never came to fruition are a couple of songs bearing the credit "Words and music by Johnny Mercer and Rod McKuen".

My God, what was he thinking?

We're spending this weekend with the Isham Jones/Gus Kahn end of the Sinatra songbook. Following "It Had To Be You" on Friday, here's a song Frank sang for almost half-a-century from June of 1940, as the new boy vocalist with a hit orchestra, to deep into the 1980s, as a lion in winter jumpin' all over a hard-swingin' band...

An ĂĽber-standard everyone sang before Frank

A song as old as Sinatra that he only got to in the Eighties

I received a letter, as I do from time to time and particularly since we launched this series, making the familiar complaint that I "only write about the kind of songs Frank Sinatra sings" and thereby ignore the older, vernacular American musical tradition. Well, I happen to think Frank chose pretty good songs, so why kick the habit? For example, here's a ring-a-ding-ding Sinatra classic he recorded in 1946:

Oh, give me a home where the buffalo roam
And the deer and the antelope play...

It's often said that the pop songs you like when you're 17 years old are the pop songs that stay with you your entire life. And in that respect Frank Sinatra was very fortunate: When he was 17, to pick up where we left off last week, it was a very good year. The songs in the air as a Hoboken schoolboy prepared to start his adult life were the songs he would record a quarter-century later and still be singing on stage, at Caesars' Palace and the Royal Albert Hall, another quarter-century beyond that...

Our Sinatra Song of the Century Number One

This essay is adapted from Mark's book A Song For The Season

I love the Great American Train Song. It's a genre that has the sweep and size of the nation...

After "Cat Scratch Fever", Mister Squaresville goes in search of other rockers to cover

A musical moment from The [Un]documented Mark Steyn

Last week we marked the 75th anniversary of The Wizard Of Oz, but without getting to the film's big song. It's about five minutes in, when we're still in drab, dusty, cheerless, broken-down black-&-white Kansas. Dorothy has tried to tell her folks about an unpleasant incident involving Miss Gulch, but Aunt Em advises her to "stop imagining things" and "find yourself a place where you won't get into any trouble". Dorothy wanders off, taking the injunction seriously. "Do you think there is such a ...

| | |
| --- | --- |
| | |

This month marks the 75th anniversary of one of the greatest and most enduring film musicals ever made, and one of the few to match the dramatic ambition of the best Broadway shows. The Wizard Of Oz gave us a standard song that won the Oscar that year and was potent enough to provide Eva Cassidy with a posthumous hit in the 21st century. We'll get to that next week, but for this week's Song of the Week here's one of my personal favorites from a truly marvelous score: Ding-Dong! The Witch Is ...

| | |
| --- | --- |
| | |

When this weekly feature began eight and a half years ago, our Song of the Week Number One was "San Francisco", to mark the centenary of the 1906 earthquake. But, if I'd been thinking about a Number One song in more profound terms, our Number One song would have been the song we're finally getting round to almost a decade later - because this week's song was really the Number One song for an entire school of songs. As Mel Tormé put it, when Jerome Kern composed this melody, he "invented the popular song". If your idea of a popular song is "Call Me Maybe" or "Ain't Nobody Here But Us Chickens" or "The Tennesee Waltz", Tormé's claim is a bit of a stretch. But it's not unreasonable to claim that with this tune Kern invented what we now call the American Songbook - standards that endure across the decades and can be sung and played in almost any style. It is, thus, the Number One Song, the first and most influential entry in that American Songbook...

| | |
| --- | --- |
| | |

Three hit songs from one flop Sixties musical

A few weeks back, apropos "June Is Bustin' Out All Over", I mentioned that we hadn't done a lot of "month" songs in the years we've been running this feature. Some months - mostly spring ("April Showers", "April In Paris") and fall ("September Song", "September In The Rain") - seem to lend themselves to musicalization. If "June Is Bustin' Out All Over" is about as big a hit title as the sixth month of the year has ever produced, the eighth (which looms this very week) can't even manage a title ...

What with all the Jew-hate around on the streets of Europe in recent days, I thought it would be nice to have a big Europop hit from that fleeting cultural moment when the Continentals regarded Israel not merely as a normal sovereign state but in fact a rather cool and enviable one...

Some musical advice from Mark's graduation season

The all-time great World Cup song

Steyn celebrates the song Ray Charles used to hum in the back of his car on the way to the gig - until one day his driver told him to record it.

Well, it's the beginning of June and that means June is bustin' out all over! Except that June doesn't really bust, does it..?

Happy Memorial Day to all our American readers. My youngest will be playing with the town band in the parade, and I do believe this number is on the song list. This essay is adapted from my book A Song For The Season...

Ninety years ago this Thursday a baby boy was born in Paris ...well, that was the first unexpected plot twist. He was supposed to be born in America...

Four decades ago, "Waterloo" hit Number One in the British charts, and the four Swedes never looked back, except to check whether their hot pants had split...

Mark explores the art of the cigarette song

One of the biggest pop standards of the 20th century celebrates its 90th birthday this month. Exactly nine decades ago - April 21st 1924 - a new musical comedy opened in Chicago on its pre-Broadway tour. The plot was the usual fluff - three couples in Atlantic City, complications ensue, etc. It should have been a breeze, but it wasn't going well...

Six decades ago - April 12th 1954 - a chubby-faced kiss-curled man pushing 30 with a backing group named after a theory published in Synopsis Astronomia Cometicae in 1705 went into the recording studio at the Pythian Temple on West 70th Street in New York and sang a song written by a man born in the 19th century...

A Rodgers & Hart classic - after three false starts...

The 50th anniversary of the Beatles' only showtune

Shirley Temple - singer, dancer, actress, and rock'n'roller

A song for Groundhog Day?

This column comes by way of request from several readers, ever since the demise of Cecil the Lion hit the front pages. Here is the story of the biggest hit ever to come out of Africa - and why its author never reaped the benefits: In the jungle, the mighty jungle The Lion Sleeps Tonight... A third of a century ago, "The Lion Sleeps Tonight" got to Number One in Britain for Tight Fit. Can't quite place Tight Fit? It sounds like a vaguely parodic name for a boy band, but in fact they were a coed ...

Number One in January 1934 ...and January 1959

Happy New Year with one of Mark's favorite songs for the season

Mark tells the story behind "his" Christmas song, and presents an audio special celebrating the man who wrote it...

As the years go by I grow less and less interested in grassy knolls and all the rest, but I am struck by one genuine, non-conspiracy-theorist feature of November 22nd 1963...

2015 is Frank Sinatra's centenary year, which necessitates a few modifications to SteynOnline's music, film and entertainment coverage. Our official observances commence tomorrow when our Song of the Week department becomes a Song of the Semi-Week in order to squeeze in 100 Sinatra songs of the century between now and December. Several other folk seem to have opted for this approach, too - our old friend the Pundette has launched a dedicated Sinatra Centenary site for that very purpose - so we ...

For Bastille Day it seemed appropriate to have a French number for our Song of the Week. Unfortunately, this one's British, but it does have an accordion...

How a psychedelic anthem from the summer of love became an easy-listening blockbuster

A day late for Cinco de Mayo, here's Steyn's Song of the Week: the most successful composition by Mexico's first successful female composer.

~and don't forget, if you like Mark's Song of the Week essays, some of his most requested are collected in his book A Song For The Season - including many songs for national days, from "America The Beautiful" to "Waltzing Matilda". You can order your personally autographed copy exclusively from the SteynOnline bookstore.

April 29th apparently marks the anniversary of the launch of the Islamic conquest of the Iberian peninsula in the year 711. So I thought it would be fun to have a suitably Islamo-dominant number for our Song of the Week.

~and don't forget, some of Mark's most popular Song of the Week essays are collected in his book A Song For The Season. You can order your personally autographed copy exclusively from the SteynOnline bookstore.

Happy Easter and Happy Passover to our readers around the world. We moved our Saturday movie night to Good Friday for Mel Gibson's blockbuster The Passion Of The Christ. So, for the weekend proper, here's a special podcast, audiophonically adapted from an essay that appears in Mark's book A Song For The Season. Mark traces the story of Irving Berlin's "Easter Parade", from its obscure origins as a First World War morale booster to its re-emergence a generation later as the American Songbook's ...