Steyn's Song of the Week
In a fortnight's time, our Song of the Week department will be spawning a TV cousin, as part of the new Mark Steyn Show, which will include live musical performances of each week's song. We hope you'll tune in for this innovative evolution of one of SteynOnline's longest-running features. More details below. So I've been spending the last month or so reconnecting with some dear musical friends, in the course of which I found myself scanning the first-night reviews of the new London production of David Heneker's lovely H G Wells musical, Half a Sixpence. And I was touched to see in The Guardian that my old confrère from the opening-night aisle seats, Michael Billington, observed en passant:
In his excellent 1997 book, Broadway Babies Say Goodnight, Mark Steyn sniffily writes: "British musicals? It still sounds like a contradiction in terms." Steyn concedes the success of the Lloyd Webber canon including Cats, Evita and The Phantom of the Opera, but all of these transcend national barriers and are in no way peculiarly British. Indeed, what we seem to have witnessed in the last 40 years is the emergence of the global musical that has as much resonance in Brisbane or Birmingham as it does in Berlin or on Broadway.

But is the British musical quite the glittering corpse Steyn suggests? One could point to a pre-Cats tradition that stretches from Gilbert and Sullivan to Lionel Bart.
I don't think I meant it quite as sniffily as Michael thinks - more as a characterization of what Broadway buffs make of "British musicals". G&S and Lionel Bart's Oliver! were transatlantic in their appeal, but far more common were massive London hits that had absolutely no resonance on Broadway - Chu Chin Chow, The Bing Boys, Vivian Ellis, Ivor Novello, Salad Days... Many of these shows produced exquisite songs (for example) but they were a little too English in their sensibility to travel, at least to New York.
So here's a bizarre exception to that tradition: a British musical that flopped in Britain, bypassed London entirely and went straight to New York. It's also an exception to a more recent tradition: it was a 1960s show score that produced multiple stand-alone take-home pop tunes at a time when rock'n'roll was crowding Broadway off the record scene. The original production opened on August 3rd 1964 at the Theatre Royal, Nottingham in the English Midlands. The Roar Of The Greasepaint, The Smell Of The Crowd was a British musical from that pre-Lloyd Webber era Michael Billington referenced – that's to say, the days when, with a handful of exceptions, they were considered strictly for local consumption. In the case of Roar Of The Greasepaint, even the locals declined to consume: It sputtered in Nottingham, died on tour, and never made it to the West End. And yet a floppo Brit musical by Leslie Bricusse and Anthony Newley managed to produce a trio of enduring songs:
The first was a classic showbiz rouser:
On A Wonderful Day Like Today
I defy any cloud to appear in the sky
Dare any raindrop to plop in my eye
On A Wonderful Day Like Today!
That's one of those songs no one would write if there weren't stage musicals to write them for. It's what Hal Prince calls "a once-a-year-day number", after the song of the same name in Pajama Game: a moment of such infectious peppiness that is its own justification. It was everywhere in the mid-Sixties and Seventies, a surefire opener for TV variety shows.
The second song from Roar Of The Greasepaint was the big ballad:
Who Can I Turn To
When nobody needs me?
My heart wants to know
And so I must go
Where destiny leads me...
Tony Bennett picked it up and made it a Top Three pop hit, so today it turns up on all those "Tony Bennett Duets With [Insert Name Here]" albums. But over the decades all kinds of other people took a yen to it. Van Morrison wouldn't seem to have much in common with Anthony Newley, but he made a terrific record of it a few years back.
The third song was the slow-burner, the one that didn't seem a big deal at the time, but looks set to be the most enduring of all:
Birds flying high
You know how I feel
Sun in the sky
You know how I feel
Breeze drifting by
You know how I feel
It's a new dawn
It's a new day
It's a new life
For me
And I'm Feeling Good...
"Feeling Good" wasn't sung on stage by one of the two leads but by a character called "the Negro". Nina Simone came across the number and made one of those records that was never a big Top Ten hit but wound up lasting longer than 90 per cent of the ones that were. And, as the years went by, fellows who were barely aware of Tony Newley or Leslie Bricusse started making, in effect, cover versions of the Nina Simone record, just because it was so damn cool. Traffic did it, and the Pussycat Dolls and George Michael, and the version by Muse won the "Best Cover Version of All Time" poll in New Musical Express.
If we were willing to play fast and loose with definitions here at Song of the Week, we'd throw in a trio of other Roar Of The Greasepaint songs that bust out of their stage context: "Where Would You Be Without Me?" became one of those numbers that turn up on TV when the host needs something to do as a duet with the star guest; "The Joker" was recorded by Bobby Rydell and Sergio Mendes; and "Look At That Face" was taken up by Barbra Streisand, Mel Tormé, Carmen McRae and every other discriminating balladeer. But, compared to that first trio, they remain something of a specialized taste. Even so, that's impressive: Three big songs, three more modest breakout tunes, and all from a British show no Britons wanted to see.
What was The Roar Of The Greasepaint, The Smell Of The Crowd that it could produce such a score? Well, it was intended to be a follow-up to Bricusse & Newley's hugely successful first musical, Stop The World – I Want To Get Off? Like Stop The World, its successor had a clever title - an inversion of the stage performer's summation of the theatrical life: The smell of the greasepaint, the roar of the crowd. The sensory pleasures of performance were known mainly to one half of the Bricusse/Newley partnership: Bricusse is a writer of music and lyrics brought to life by others; Newley was a writer - and an actor and a singer; a performer all his life since landing the title role in the British children's serial The Adventures Of Dusty Bates. A poor boy born to an unmarried mum in the East End, young Tony Newley came to the attention of David Lean, who cast him as the Artful Dodger in his film of Oliver Twist. "Every day," he told me, "I'd cycle from Clapton to King's Cross, take the train to Pinewood, then the bus to the studio to be directed by David Lean in scenes with Alec Guinness. Then, every night I'd return to that street and live in one room with my mother. Why wouldn't one want to stay in that world? Why would one want to go back to Clapton?"
He didn't. He went on - to New York, and Hollywood, and Vegas, where he was the "Male Musical Star of the Year" in 1977. There are any number of partnerships where one half is an on-stage star and the other half isn't - Gene Kelly and Stanley Donen, Burt Bacharach and Hal David, Elton John and Bernie Taupin... And you assume it's the guy who isn't getting the ovations and groupies who must be the resentful, festering, embittered soul. But when I first met Bricusse & Newley years ago it was the off-stage half - Leslie Bricusse - who radiated the permatanned contentment of the glamorous life (he lived round the corner from Ira Gershwin) - and the Vegas star - Newley - who was all tormented and eaten up.
He'd had a strange career. Before Stop The World, Newley was a rock'n'roller, spoofing Elvis in the film Idle On Parade (1959). But the parody was mistaken for the real thing, and the songs made the charts. In later life, he wrote and sang for real, while always teetering on the brink of self-parody and often diving straight in. All those mannerisms – the splayed feet, the cupped hands, the exaggerated furrows of the brow, the strange vowel sounds -, surely he couldn't mean it? "I wasn't aware of my effect," he told me. "I was so inside the lyric, my body had a life of its own. When I first saw myself imitated, I was in shock for days. They made me look and sound like a freak: 'Gonna build a mown-tine.' I swore I'd never take my hands out of my pockets again. I may sing like Marcel Marceau, but it was never a style. It's just the way I make my noise."
I always liked that phrase of his: "I was so inside the lyric." Newley was always "so inside" what he was doing. Eventually, he got "so inside", he disappeared. But in the early Sixties Stop The World and Roar Of The Greasepaint were protean "concept musicals". The term wasn't really in currency then, so they were dignified as "allegories", concerned less with plot than with the Big Meaning, and for a while Bricusse & Newley were hailed as "new wave" mold-breakers. Even at the time Leslie Bricusse was more relaxed about the whole business. "We wrote these terrible parables of life," he said to me a few years ago. "Stop The World is the Seven Ages of Man in modern terms. Roar Of The Greasepaint, Smell Of The Crowd is about two survivors after The Bomb. The Good Old Bad Old Days is God, Man and the Devil. They were really just entertainment vehicles for Newley, but he had these intellectual pretensions that I'd try to hold down. He always wanted to declaim from the mountain, and eventually he succeeded. He made a film called Can Hieronymus Merkin Ever Forget Mercy Humpe And Find True Happiness? where he stood on a mountaintop dressed like Jesus and sang 'I'm All I Need'. It was nice, but I think I would have stopped him doing that."
Roar Of The Greasepaint's two post-nuclear survivors are archetypes - the patrician "Sir" and the lowborn "Cocky", because even the H bomb can't kill the British class system. Fifty-two years ago at the Theatre Royal, Nottingham, Sir was played by Willoughby Goddard, to whom it fell to introduce "On A Wonderful Day Like Today":
On a morning like this
I could kiss
Ev'rybody
I'm so full of love and good will
Let me say furthermore
I'd adore ev'rybody
To come and dine
The pleasure's mine
And I will pay the bill...
In context, it seems tailor-made for Willoughby Goddard's rotund bonhomie, yet Lena Horne made a groovy little record of it. It had the good fortune to emerge into the world in the heyday of variety-show television, on which it soon established a ubiquitous presence. A few years ago, when Andy Williams put together a best-of-the-guests compilation from the archives of his weekly show (Bing, Ella, Bobby Darin, Sammy Davis), he shrewdly chose a performance of "Wonderful Day Like Today" as his opener – the definitive opener, one that sums up an entire television genre. In my teenage years, I inveigled my way into a village entertainment because there was a bird in the cast I wanted to put the moves on, and it seemed the easiest way of getting to see her night after night. The am-dram directrix handed me "Wonderful Day", and, being into a lot of terrible progressive rock at the time, I was aghast at the prospect of having to sing in public what I regarded as a supersized slab of cheesy hokum. The last time I mentioned this a longtime SteynOnline reader Daniel Hollombe, a boomer-pop aficionado, reckoned this confession explained everything:
So that's your problem. You went straight from Emerson, Floyd & Wakeman, and delved straight into Anthony Newley, completely bypassing anything and everything in between. You'll just have to take my word for it when I tell you that you're missing out on a lot of great musical craftsmanship that is easily as melodic as "On A Wonderful Day Like Today," that simply wasn't composed for any stage show or movie.
Maybe he's right. Maybe I should have transitioned less alarmingly, from Genesis and Camel to the Tremeloes or Duran Duran. As for "Wonderful Day", once I was up on stage I sorta found it irresistible – in part because you have to be a total incompetent not to stop the show with it:
May I take this occasion to say
That the whole human race should go down on its knees
Show that we're grateful for mornings like these
For the world's in a wonderful way!
On A Wonderful Day Like Today!!!
In Nottingham, the common little everyman Cocky was played by Norman Wisdom. A very British star who never quite made it in America, Wisdom usually played an idiot not-so-savant with plenty of room for slapstick. Beyond the Commonwealth, he was a huge hit in Communist Albania, where the idiosyncratic dictator Enver Hoxha allowed no other western films but Wisdom's to be shown to his people. But Norman Wisdom had a musical side, too. His signature song was a lachrymose ballad called "Don't Laugh At Me 'Cause I'm A Fool". "Who Can I Turn To?" is obviously a kind of sequel to Stop The World's interrogatory ballad, "What Kind Of Fool Am I?", but clearly Bricusse & Newley tailored it to Wisdom, too:
Who Can I Turn To
When nobody needs me?
My heart wants to know
And so I must go
Where destiny leads me
With no star to guide me
And no one beside me
I'll go on my way
And after the day
The darkness will hide me...
Norman Wisdom liked the song enough to have Highland lassie Moira Anderson sing it at his funeral. It's easy to see Norman wallowing in the lugubrious self-pity of the thing, and kind of impressive that Tony Bennett heard something else in it. Certainly few singers have ever been shorter of people to turn to than Bennett: Since his original take, he's recorded it with Queen Latifah and a couple of years later with Gloria Estefan and who knows who else. (A year or so back, I was in a Starbucks with my daughter and she picked up that week's Bennett all-star duets CD at the counter and mused offhandedly, "Tony Bennett's really the duet slut, isn't he?")
For all his music, libretti, screenplays and children's books, Bricusse seems to take most delight in in the intricate word puzzles which lyric writing involves. "I share with Alan Jay Lerner the feeling," he said to me, "that the lyricist is the guardian of the purity of the language." Maybe, but Lerner, lyricist of Gigi and Camelot, once told me he thought Bricusse's "Who Can I Turn To?" would be improved as "Whom Can I Turn To?" and, passing the thought on to Bricusse, I said personally I'd settle for nothing less than "To Whom Can I Turn?" But the author doesn't take this sort of thing lying down. Lerner, in the opening number of My Fair Lady, commits the great solecism of having Professor Henry Higgins, a supposed master of the English language, sing:
By rights they should be taken out and hung
For the cold-blooded murder of the English tongue...
Leslie Bricusse sent Lerner a note:
By rights you should be taken out and hanged
For the cold-blooded murder of the English tanged...
On reflection, I think Lerner and I were wrong. "Whom Can I Turn To?" , never mind "To Whom Can I Turn?", would just get in the way. If you listen to Van Morrison's recording from 2006, it's a great bluesy wail, and the prepositional end is not merely something up with which we should put but is necessary for the vernacular authenticity of it.
There were three other characters in Roar Of The Greasepaint - "the Kid", "the Girl", and "the Negro". The last was played by Cy Grant, born in British Guiana and the first black man to appear regularly on UK television: on the BBC news show "Tonight" he'd had a regular gig for a couple of years singing a "topical calypso" strung around stories from the day's headlines. If a British musical goes to the trouble of making one of its five characters "the Negro", it's no surprise they'd want him to have a solid song. Bricusse & Newley wrote him something in the spirit of the times without ever getting explicit about them:
Fish in the sea
You know how I feel
River running free
You know how I feel
Blossom on a tree
You know how I feel
It's a new dawn
It's a new day
It's a new life
For me
And I'm Feeling Good...
After the original English tour, Cy Grant made a jazzy little record of it with the pianist Bill Le Sage. And then John Coltrane and Chris Connor and Sammy Davis got into it. Nina Simone moved it into r'n'b territory, and then the rock guys wanted a piece of it. Because Bricusse & Newley's greatest song was written to another man's tune - "Goldfinger" (music by John Barry) - I always thought of them as lyric writers who happened to compose music because nobody else was at hand: If you look at "Wonderful Day" or even "Who Can I Turn To?", they're what Sammy Cahn once described to me as "the kind of tune a lyric writer writes" - with internal rhymes to remind themselves of where they need to put the melody's stresses. But "Feeling Good" has a musical sensibility on an entirely different level.
Nobody spotted it on that English tour, alas, as Leslie Bricusse ruefully acknowledged to me many years later. "We took the biggest star in the country – Norman Wisdom – and managed to empty every theatre in the land. I went to see Norman in Liverpool in Sinbad in a 2,800-seater jammed to the roof. Six months later we were in the same place, and there were five people at the Saturday matinee."
"So," I asked, "with the wisdom of hindsight, do you think...?"
"The wisdom of hindsight?" he interrupted me with a hollow laugh. "The Norman Wisdom of hindsight can be very illusory," he cautioned.
It all worked out. David Merrick, Broadway's "abominable showman", caught Greasepaint on tour, and figured he could make money on it in America with Anthony Newley in the lead. In the end, it came to Broadway for eight months in 1965-66, but by then Merrick had recouped his investment on the US road tour, and that was enough. Everything about the show was a hit - except the show. Hit songs, hit star, hit writers ...but no hit musical.
Arthur P Jacobs, producer of Planet Of The Apes, was looking for a songwriter for Dr Doolittle and heard some numbers Bricusse had written for an unproduced musical about Noah. "I was sold to 20th Century Fox on the basis that here was a guy who wrote animal songs. They said, 'Great, great – we'll make a demo.' So we go to Fox and make a demo – me singing 'Talk to the Animals' with a 75-piece orchestra. For a demo? Well, that's Hollywood." Bricusse won an Oscar, and so a permanent team became an occasional one. They got together to write the film of Willy Wonka And The Chocolate Factory and got a Number One record out of it with "The Candy Man" - and that was it for Bricusse & Newley.
"Why did we stop? Neither of us knows the answer," Newley said to me many years ago. He had a Bob Dole-esque habit of talking about himself in the third person. (When I asked him about his version of "What Kind Of Fool Am I?", he said, "Newley sings it in a way that personalizes it.") So, on the break-up with Bricusse, he put it this way: "Newley and Bricusse would both like to find another Newley and Bricusse, with somebody else – just to change the sheets. You have mixed emotions about any collaboration – there's a lot of subjugation, a lot of domination." He stopped, creased his brows and stared with closed eyelids into the distance, as if wrestling with some new concept. "Being gifted without discipline is a wasted gift. I lack discipline. Leslie brought form to my passion. In print this won't look too good over breakfast, but I have to say there is more to this chapter of our being then we know. I have probably been in a family relationship with Leslie in twelve previous lives."
He wasn't exactly feeling good, but he was feeling reasonably confident that in some future life or twelve he and Bricusse would be writing more musicals together. "Leslie has always been disappointed in me because I didn't continue. We wrote these extraordinary shows, and then I just put on a dinner-jacket, started singing and gave them up."
Anthony Newley died 17 years ago. By contrast, Leslie Bricusse just kept going - Victor/Victoria with Henry Mancini, Jekyll & Hyde with Frank Wildhorn (who wrote Whitney Houston's "Where Do Broken Hearts Go?"), a biotuner about his pal Sammy Davis Jr... He was kind enough to ask me along when he was inducted into the Songwriters' Hall of Fame in the Nineties: Cocktails at Liza Minnelli's beforehand, Jackie Collins, Quincy Jones, Dick Clark, Patti LaBelle... He always has a half-dozen projects on the go, too busy living this life to the full to worry about his twelve previous lives. He insisted he's "never thought of songs as having national characteristics", but he was proud of being only the fourth Englishman in the Hall of Fame, after Noel Coward and Lennon & McCartney. As for "my beloved Newley", "we're still mates but we stopped writing together years ago. And, without looking a gift horse in the mouth, I cringe every time I hear 'What Kind Of Fool Am I?' or 'Who Can I Turn To?' I can't bear them anymore. There is life after Newley."
True. But, half-a-century on, one strange, unique Bricusse & Newley song is the slender thread that connects Michael Bublé, Frank Sinatra Jr, George Michael, Jennifer Hudson, Kanye West, David Hasselhoff and a zillion others to Norman Wisdom and a BBC calypso singer on a disastrous tour of the English Midlands in the summer of 1964:
Stars when you shine
You know how I feel
Scent of the pine
You know how I feel
Freedom is mine
And I know how I feel
It's a new dawn
It's a new day
It's a new life
For me
And I'm Feeling Good!
~If you'd like to hear Mark sing Bricusse & Newley, here's the Bond song they wrote with John Barry, which became the title song of a Steyn CD.
If you've enjoyed Steyn's Song of the Week these last ten years, in print, audio or book form, you might like to know that he'll be doing a TV version of his weekly song celebrations as part of his new nightly extravaganza, The Mark Steyn Show. You can watch it from almost anywhere in the planet at any time of the day you like on whatever delivery system you so desire: TV or tablet, Apple or Amazon - and entirely commercial-free, for a full hour, five nights a week. Aside from our Song of the Week, many other favorite SteynOnline features will be translated to television format - including Mark at the Movies, Ave atque vale and Mark's Mailbox.
We hope you'll join us - Monday to Friday, starting in a week's time, on Monday December 5th. You can find out more about The Mark Steyn Show here - and don't forget this special Christmas offer, which includes a free hardback edition of The [Un]documented Mark Steyn. Simply enter the promo code "STEYN BOOK CLUB" at checkout.
from Steyn's Song of the Week, November 27, 2016
Mark on his favorite Leonard Cohen song
An enduring Christmas song that started out as a Thanksgiving song
The only hit song written by a candidate on a winning presidential ticket
A SteynOnline audio special on the 80th anniversary of a great Cole Porter standard
A pop culture footnote to our tenth-anniversary observances of America Alone
The grueling schedule of my sellout Aussie tour kept my nose mostly to the grindstone, but I did get a couple of hours off on the Victoria leg and so treated myself to a matinée of Georgy Girl: The Seekers Musical at Her Majesty's Theatre in Melbourne...
The Steyn Oz tour moves on. We had a great time in Parliament House today, where the Foreign Minister, Julie Bishop, gave me a far better introduction than I deserve. I'll be in Sydney on Tuesday. As I said last week, we always like to have a few Aussie Songs of the Week on my forays Down Under, and I'm not sure "Georgy Girl", written by two Englishmen, quite qualifies. But this one does: Ten years ago, I found myself sitting in a taxi in George Street in Sydney behind another cab bearing a big ...
Hey there, Georgy Girl Swingin' down the street so fancy free... We always like to have an Australian Song of the Week to kick off my tours Down Under, but this one isn't strictly speaking an Aussie song, in the sense that its composer and lyricist are English. On the other hand, it's indelibly associated with the biggest pop group ever to come out of the Lucky Country – and it provides the the title for the brand new biotuner about them that's enjoying its world premiere at Her Majesty's ...
A hit song by the great nephew of Queen Ranavalona III of Madagascar
Happy Australia Day to all our readers Down Under. It's actually Tuesday, which is tomorrow, but tomorrow here is probably already yesterday there, so I may be too late. I'm looking forward to seeing many of those antipodean readers next month on my Aussie tour, which kicks off on Valentine's Day in Perth. Half the dates are already sold out, so, if you haven't booked your seats yet, don't leave it too late. Details of towns, times and tickets can be found via the IPA here. We always like to ...
I've received a remarkable number of emails in the last week more or less taunting me to eschew my usual Jerome Kern and Cole Porter and pick a David Bowie number for our Song of the Week. Well, I like a challenge, and, given that the British press has been full of people with not a thing to say about Bowie saying it at great length, I figured that I might as well get a piece of the action. That said, it would be hard to beat this last word in Bowie-eulogizing from The Croydon Advertiser:
Old Coulsdon man delivered David Bowie's milk in summer of '69
A backbreaker of a blockbuster, courtesy of the company sto'
Mark remembers Natalie Cole, an unforgettable song, and an unshuttupable songwriter
In case you missed it, here's our rundown of Mark's Sinatra Century - 100 years in 100 songs: 1) IT WAS A VERY GOOD YEAR 2) THE SONG IS YOU 3) HOME ON THE RANGE 4) AFTER YOU'VE GONE 5) IT HAD TO BE YOU 6) THE ONE I LOVE (BELONGS TO SOMEBODY ELSE) 7) LOVE'S BEEN GOOD TO ME 8) STARDUST 9) MY FUNNY VALENTINE 10) WHAT IS THIS THING CALLED LOVE? 11) CHICAGO 12) THE CONTINENTAL 13) ALL OF ME 14) WHEN YOUR LOVER HAS GONE 15) NIGHT AND DAY 16) I WON'T DANCE 17) I'VE GOT YOU UNDER MY SKIN 18) SOUTH OF ...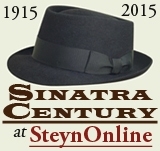 A Christmas song rewritten for Sinatra
Esther Williams and Ricardo Montalban launch the clash of civilizations
A happy 75th birthday to the most famous reindeer of all
Mark hits a new high as he takes a crack at Mariah Carey's Christmas classic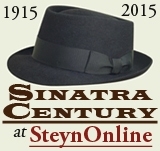 Frank Sinatra called himself a "saloon singer," because that's where he used to sing, way back when, in Jersey juke joints and roadhouses....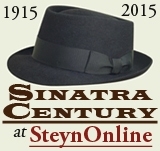 Our 99th Sinatra Century song is, after "My Way", the second most performed Sinatra song written by a Canadian...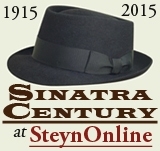 A big hit, but a tense moment in the studio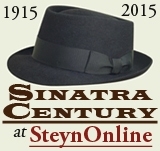 Two takes separated by four decades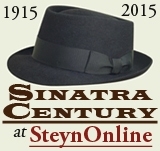 The last crowd-pleaser of a six-decade career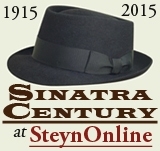 ...but not so easy to sing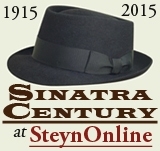 The sexy polka that made a presidential inaugural speech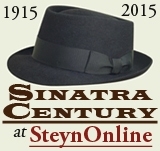 A timeless ballad from a Sinatra stalwart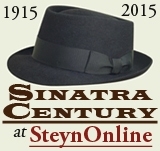 April 14th 1937: a major expansion of the American songbook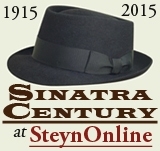 Frank sings a classic Johnny Mercer revenge song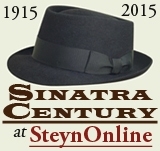 Via Frank and a couple of Londoners, a black American soul classic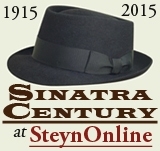 Frank and Nancy sing Sonny and Cher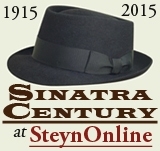 On September 19th 1979 in Los Angeles, it fell to Vinnie Falcone to conduct what would become one of the biggest Sinatra recordings of all time:
Start spreading the news...

On the first of our Sinatra Century audio specials, Frank's longtime pianist and conductor Vincent Falcone talks, among other things, about the singer's relationship with the George Harrison ballad "Something". So I thought we'd spend a little time with the song as we head into the final stretch before the big 100th birthday.

In November 1968 George Harrison and his then missus Pattie Boyd attended the recording sessions in Hollywood for Sinatra's album Cycles...

Until the mid-1960s Broadway was the biggest supplier of the most enduring standards ...and then gradually it all sputtered to a halt, and even hit shows didn't produce really popular songs. With one notable exception...

By sheer coincidence, our scheduled Sinatra song is, in fact, a French song. Indeed, by further coincidence, it belongs to a lost age of Franco-Arab cultural co-mingling...

Sinatra's highly variable results with the acme of the mid-20th century showtune

Ronald Miller's hit-makers share a hot tub...

The meaning of existence, and all that jazz...

The girl who launched a song, and the song that launched an industry

The black cat who crossed Sinatra's path

In 1960, Frank Sinatra left Capitol and founded Reprise Records because he wanted to have total artistic control. But oddly, once he'd got total artistic control, he seemed disinclined to exercise it...

By 1966 it had been over a decade since Frank Sinatra had had a Number One single. It's fine to be acclaimed as a great artist, to have big-selling albums, sell out in Vegas and on world tours, and star in Hollywood movies. But, if popular singing is what you do, there's something special about a Number One hit single...

An encore presentation of Mark's audio salute to James Bond's music man, John Barry

Sinatra Sings The Sacroiliac Songbook

The song Sinatra took with him to the grave

We've been spending a little time this Columbus Day weekend with a man who was born in Columbus, Ohio exactly a century ago - October 10th 1915 - and was at Sinatra's side for some of his most thrilling records of the Fifties and Sixties: Harry "Sweets" Edison, whose trumpet mute was a big part of Frank's Capitol sound.

When you're as good a jazz player as Edison, studio sessions aren't really what you want to do. You'd much rather be in some night spot with a handful of other guys taking a full chorus for every solo...

The master of the muted trumpet, Harry "Sweets" Edison

Sinatra in London with a classic British ballad...

A bluesy ballad Sinatra sang for 30 years

Sinatra, a meadowlark, and a rhymeless romance

A classic Sinatra moment - on record, on film, on TV.

A truly great song for the season isn't about the calendar, or the weather. It's about the seasons of life and love...

According to Johnny Mercer, "Writing music takes more talent, but writing lyrics takes more courage." What he meant was that a tune can be beguiling and melancholy and intoxicating and a lot of other vagaries, but there comes a moment when you have to sit down and get specific, and put the other half of the equation on top of those notes. A songwriter spends his life chasing the umpteenth variation of "I love you"...

In honor of Alan Bergman's 90th birthday, we've been spending a little time this weekend with some of his early hits for Sinatra. Although I myself have recorded an Alan & Marilyn Bergman number, I reluctantly concede that, vocalist-wise, they're better known for their association with Barbra Streisand ("The Way We Were", "You Don't Bring Me Flowers", etc). But long before Barbra they wrote a few songs for Frank that have a different character...

Mark celebrates Alan Bergman's birthday, and one of his biggest hits...

A Sinatra song for Labor Day

A record the songwriter didn't like, of a song the singer didn't like

Steyn on a saloon song classic

Up there where the air is rarefied: Sinatra and the soundtrack of the Jet Age...

First the tide rushes in. Then you rush out and write the song...

I've always loved songs that use magic as an image of romantic seduction...

When Frank Sinatra and Nelson Riddle found their groove in the mid-Fifties, the music just poured out. In 1956 there was so much of it: The year began with the sessions for the defining album of the early LP era - Songs For Swingin' Lovers. It ended with the sessions for Swingin' Lovers' swingin' successor, A Swingin' Affair!...

A Sinatra signature - and the birth of a new songwriting team

The strange story of a one-hit wonder

For over half a century songwriters tried to get their best work to the best singer of the best songs. The sitcom "Frasier" devoted an entire episode to the proposition, after Dad revealed that he'd written a song for Frank, "You're Such A Groovy Lady".

But in the entire history of Getting Songs to Frank there are no luckier guys than Dave Mann and Bob Hilliard...

2015 is the centenary year not only of Frank Sinatra but also of Chet Forrest, born one hundred years ago this weekend on July 31st 1915 in Brooklyn, New York.

Chet who? Well, Robert Wright and his partner George "Chet" Forrest were never exactly household names in the music biz, but they certainly worked with a lot of household names, including Rachmaninov, Tchaikovsky and Rimsky-Korsakov...

A Sinatra song that wore out a jukebox in Toms River, New Jersey...

An ode to youthful optimism

The opening of Frank Sinatra's spectacular Second Act

Frank Sinatra poses a musical question to Mitch Miller....

The early Fifties were a rough time for Sinatra - and for his voice...

We're a day away from Bastille Day, France's fĂŞte nationale, and so it seems appropriate to spend a little time with franco-Sinatra. He sang a lot of French songs over the years, most famously this:

Je me lève et je te bouscule
Tu n'te réveilles pas
Comme d'habitude...

Oh, no, wait. Frank sang the English lyric:

And now the end is near
And so I face
The final curtain...

Frankie sings Frankie

Frank Loesser was a busy Hollywood lyricist who decided he was going to turn himself into a Hollywood lyricist-and-composer. Having pulled that off, he then decided to become one of Broadway's great musical dramatists to boot. His first stage musical, an adaptation of Charley's Aunt, opened in 1948, with a great score and a legendary showstopper of a song in "Once In Love With Amy". On our double-CD Frank Loesser centenary celebration (exclusively available from SteynOnline), you can hear me...

We had a Sinatra song from Canada for Dominion Day, and so we surely have to have an American Sinatra song for Independence Day...

Dominion Day looms - on Wednesday - and we always like to have a Canadian song for the national holiday. Sinatra recorded many maple-infused numbers over six decades, from "I'll Never Smile Again" and "Put Your Dreams Away", both by my fellow Torontonian Ruth Lowe, all the way to Joni Mitchell's "Both Sides Now" and, of course, Paul Anka's "My Way" (he wrote the English lyric). But, for a great national occasion, I figured what could be more Canadian than...

I like New York in June
How About You?

A Sinatra classic - as ballad, bossa or swinger

He was the saloon singer - quarter to three, set 'em up, Joe, drinkin' again and thinkin' o' when... spinning round in my brain, like the bubbles in a glass of champagne... But Sinatra liked a non-alcoholic tipple, too. He took "Tea For Two" with Dinah Shore in 1947, and in 1960 recorded "When I Take My Sugar To Tea". But he wasn't averse to something a little more caffeinated:

Way down among Brazilians
Coffee beans grow by the millions
So they've got to find those extra cups to fill...

Happy Father's Day to you and yours. I miss my dad more and more as the years go by. Our Sinatra Century would be incomplete without this particular entry:..

A one-hit wonder who never got to hear her one hit sung by anyone - from Sinatra to Molly Ringwald

On January 9th 1956, Frank Sinatra went into the not yet famous Studio A of Capitol Records at Hollywood and Vine in Los Angeles for the first of a handful of sessions for a new album...

As a companion piece to Friday's "Nancy (with the Laughing Face)", here's a Frank-and-Nancy moment from a couple of decades later...

Seventy-one years ago this Monday, June 8th, a cute little four-year-old girl was having a birthday party, and a couple of pals of her dad decided to present her with a very special gift...

Frank Sinatra rescued a lot of songs over the years, but rarely on the scale he did with this one. It was from an awe-inspiringly hideous train-wreck of a musical. But Sinatra recorded it, and made it a standard - and the only torchy ballad of lost love whose central image is of laundry...

On June 24th 1958 Nelson Riddle raised his baton, and Frank Sinatra made one of the greatest recordings of a great song...

This one stayed in Sinatra's book almost to the end, mainly because he just had so much fun singing it...

What's the connection between Frank Sinatra and Mickey Rooney?

Oh, that's easy. They were both married to Ava Gardner.

What's the connection between Frank Sinatra and William Shakespeare?

Hmm, well, lemme see...

In the pithy summation of Terry Teachout, Alec Wilder "spent his life looking for cracks to fall through". Back in the days when we still had record stores, he didn't quite fit the pop bins or the classical bins or the jazz bins. Which is why, if you're hung up on categorization, it's easier to leave him out of the store altogether...

Many years ago - when a lot of the guys who wrote the American Songbook were still around - I started asking composers and lyricists to name their all-time favorite song. This one came right at the top...

As much as "It Had To Be You" or "The Way You Look Tonight", "I'll Be Seeing You" belongs to a select group of über-standards, the ones we'll still be singing when 90 per cent of the rest have fallen away. It's one of those "our song" songs - especially if you happened to find yourself on a railway platform in the early 1940s waving a loved one off to war...

When I first got interested in the great standard songs as a teenager, I sort of assumed that they were all written by the big names - Cole Porter, Gershwin. It took a while to dawn that not everything from, say, the Thirties was concocted by a major writer for a famous Broadway score or a Fred Astaire movie. So after a while, when I heard a song I liked, I'd say, "Hey, I wonder who wrote that." Quite often, the answer would be "Matt Dennis & Tom Adair". Let's just stick to the Sinatra end of their catalogue: Who wrote "The Night We Called It A Day"? Matt Dennis & Tom Adair. Who wrote "Let's Get Away From It All"? Matt Dennis & Tom Adair. Who wrote "Violets For Your Furs"? Matt Dennis & Tom Adair. Who wrote "Angel Eyes"? Matt Dennis. Who wrote "There's No You"? Tom Adair. And who wrote..?

Before St George's Day fades for another year, I thought we'd have a Sinatra English song

"Fools Rush In" isn't thought of as a Sinatra song. If you were anywhere near a jukebox or a transistor radio in the early Sixties, you'll think of it in Ricky Nelson's bouncy-bouncy teenypop arrangement. But once upon a time the song was new, and Frank Sinatra was the guy singing it...

We began the week with Sinatra's one big hit with the Harry James band. We end it with his first big hit with the Tommy Dorsey band. This essay contains material from Mark's book A Song For The Season:

I'll Never Smile Again
Until I smile at you
I'll never laugh again
What good would it do?

It was June 1939 and the singer Louise Tobin was in her room in the Lincoln Hotel in Manhattan, packing for a gig in Boston with Bobby Hackett's band. Her hubby was napping on the bed. He was a trumpeter, name of Harry James, who'd just left Benny Goodman to put together his own orchestra. The radio was carrying a remote from some joint in New Jersey, and a male vocalist came on...

Someday someone should release an album called Classical Frank. I mentioned a couple of days ago that "Take My Love" was adapted from Brahms' Third Symphony. Aside from Brahms (whose Lullaby he also recorded), Sinatra sang over the years Anton Rubinstein, Grieg, Rachmaninov, Ravel and Borodin. That's to say, "If You Are But A Dream" (Rubinstein's Romance No 1), "I Love You" and "Strange Music" (Grieg's "Ich Liebe Dich" and "Wedding Day At Troldhaugen", respectively), "Full Moon And Empty Arms" and "I Think Of You" (both from Rachmaninov's Second Piano Concerto), "The Lamp Is Low" (Ravel's Pavane pour une infante défunte)...

2015 is not only the centenary year of Frank Sinatra but also of Billie Holiday, born April 7th 1915 in Philadelphia. We will mark the occasion formally a little later this week, and acknowledge Sinatra's admiration for Holiday. But the respect was mutual, and on Billie Holiday's last major recording the stand-out track was a Sinatra song...

When Frank Sinatra was 18, it was a very good year. Anything Goes opened at the Alvin Theatre in November 1934 and provided young Frank with a slew of Cole Porter material he would sing in his maturity:.The title song turned up in 1956 on his landmark album Songs For Swingin' Lovers; "Easy To Love" was dropped at the insistence of leading man William Gaxton, but became a highlight of Sinatra's first album at Reprise...

Sinatra sang a lot of Gershwin over the years, but if you had to name the most important "Gershwin song" in his book it would probably be "The Gal That Got Away" - words by Ira Gershwin, but music by Harold Arlen. He made a terrific record of it when the song was new, and then returned to it a quarter-century later to make it - in a medley with "It Never Entered My Mind" - the last great saloon-song sequence to be added to the Sinatra act.

But a lot of George Gershwin tunes stayed with him to the end, too...

Seventy years ago, the 14th Army under the command of General Bill Slim finally liberated Mandalay and returned it to British rule. Given the popularity of this song among British military concert parties of the time, more than a few of Slim's men must have found themselves singing:

Come you back to Mandalay
Where the old flotilla lay...

Where do you head after you've gone "South Of The Border"? Oh, that's easy...

St Patrick's Day looms, and so a Sinatra Irish confection would seem to be appropriate. Unlike Peggy Lee, he never recorded "When Irish Eyes Are Smiling"; unlike Rosie Clooney, he never recorded "Danny Boy". In the 1949 film Take Me Out To The Ball Game, he sang a song called "O'Brien To Ryan To Goldberg" - Gene Kelly, who was of Irish ancestry, played O'Brien; Jules Munshin, who was of Russian Jewish ancestry, played Goldberg; and Frank Sinatra, who was of Italian ancestry, played, er, Ryan.

But what of the great Irish songwriters..?

The night it took 22 takes...

The 1930s were the golden decade of American popular song. The great Broadway blue chips - Cole Porter, Rodgers & Hart - were hitting their stride, and, as we've explored in recent weeks, a whole generation of far lesser known names were providing great individual numbers that, thanks to Sinatra, have lasted across the decades...

What's the connection between the Muslim call to prayer and Frank Sinatra?

E A Swan?

Who's he?

Well, if you saw Frank Sinatra on stage...

A Sinatra classic, born from a happy accident at a summer resort, and a widow's grief

It's the wee small hours after Oscar Night, and so our Sinatra Centenary song is obliged to take a nod at least in the direction of the Academy Awards. Frank made a whole album of Oscar winners, with the unwieldy title of Sinatra Sings Days of Wine and Roses, Moon River, and Other Academy Award Winners...

An anthem to "the town that Billy Sunday couldn't shut down"

On March 27th 1929 the Charles B Cochran revue Wake Up And Dream opened at the London Pavilion, with a host of West End talent, including Jessie Matthews, Sonnie Hale, Tilly Losch and Douglas Byng. And at one point in the evening Britain's "Radio Sweetheart Number One", Elsie Carlisle, stepped forward and sang...

Valentine's Day looms, and, given his contribution to its popularity, we would be remiss not to include in our Sinatra Century the one great Valentine standard...

It's July 8th 1939 and the Harry James orchestra is on stage at the Roseland Ballroom in New York. They have a new singer - a 23-year old boy vocalist who signed with the band a few days earlier - and he steps to the microphone to sing...

The other day I was reading, strictly for pleasure, The Complete Lyrics Of Johnny Mercer, and in particular the work of his somewhat frustrating final years. And a handful of pages before the end you turn the page, and from one of those projects that never came to fruition are a couple of songs bearing the credit "Words and music by Johnny Mercer and Rod McKuen".

My God, what was he thinking?

We're spending this weekend with the Isham Jones/Gus Kahn end of the Sinatra songbook. Following "It Had To Be You" on Friday, here's a song Frank sang for almost half-a-century from June of 1940, as the new boy vocalist with a hit orchestra, to deep into the 1980s, as a lion in winter jumpin' all over a hard-swingin' band...

An ĂĽber-standard everyone sang before Frank

A song as old as Sinatra that he only got to in the Eighties

I received a letter, as I do from time to time and particularly since we launched this series, making the familiar complaint that I "only write about the kind of songs Frank Sinatra sings" and thereby ignore the older, vernacular American musical tradition. Well, I happen to think Frank chose pretty good songs, so why kick the habit? For example, here's a ring-a-ding-ding Sinatra classic he recorded in 1946:

Oh, give me a home where the buffalo roam
And the deer and the antelope play...

It's often said that the pop songs you like when you're 17 years old are the pop songs that stay with you your entire life. And in that respect Frank Sinatra was very fortunate: When he was 17, to pick up where we left off last week, it was a very good year. The songs in the air as a Hoboken schoolboy prepared to start his adult life were the songs he would record a quarter-century later and still be singing on stage, at Caesars' Palace and the Royal Albert Hall, another quarter-century beyond that...

Our Sinatra Song of the Century Number One

This essay is adapted from Mark's book A Song For The Season

I love the Great American Train Song. It's a genre that has the sweep and size of the nation...

After "Cat Scratch Fever", Mister Squaresville goes in search of other rockers to cover

A musical moment from The [Un]documented Mark Steyn

Last week we marked the 75th anniversary of The Wizard Of Oz, but without getting to the film's big song. It's about five minutes in, when we're still in drab, dusty, cheerless, broken-down black-&-white Kansas. Dorothy has tried to tell her folks about an unpleasant incident involving Miss Gulch, but Aunt Em advises her to "stop imagining things" and "find yourself a place where you won't get into any trouble". Dorothy wanders off, taking the injunction seriously. "Do you think there is such a ...

This month marks the 75th anniversary of one of the greatest and most enduring film musicals ever made, and one of the few to match the dramatic ambition of the best Broadway shows. The Wizard Of Oz gave us a standard song that won the Oscar that year and was potent enough to provide Eva Cassidy with a posthumous hit in the 21st century. We'll get to that next week, but for this week's Song of the Week here's one of my personal favorites from a truly marvelous score: Ding-Dong! The Witch Is ...

When this weekly feature began eight and a half years ago, our Song of the Week Number One was "San Francisco", to mark the centenary of the 1906 earthquake. But, if I'd been thinking about a Number One song in more profound terms, our Number One song would have been the song we're finally getting round to almost a decade later - because this week's song was really the Number One song for an entire school of songs. As Mel Tormé put it, when Jerome Kern composed this melody, he "invented the popular song". If your idea of a popular song is "Call Me Maybe" or "Ain't Nobody Here But Us Chickens" or "The Tennesee Waltz", Tormé's claim is a bit of a stretch. But it's not unreasonable to claim that with this tune Kern invented what we now call the American Songbook - standards that endure across the decades and can be sung and played in almost any style. It is, thus, the Number One Song, the first and most influential entry in that American Songbook...

A few weeks back, apropos "June Is Bustin' Out All Over", I mentioned that we hadn't done a lot of "month" songs in the years we've been running this feature. Some months - mostly spring ("April Showers", "April In Paris") and fall ("September Song", "September In The Rain") - seem to lend themselves to musicalization. If "June Is Bustin' Out All Over" is about as big a hit title as the sixth month of the year has ever produced, the eighth (which looms this very week) can't even manage a title ...

What with all the Jew-hate around on the streets of Europe in recent days, I thought it would be nice to have a big Europop hit from that fleeting cultural moment when the Continentals regarded Israel not merely as a normal sovereign state but in fact a rather cool and enviable one...

Some musical advice from Mark's graduation season

The all-time great World Cup song

Steyn celebrates the song Ray Charles used to hum in the back of his car on the way to the gig - until one day his driver told him to record it.

Well, it's the beginning of June and that means June is bustin' out all over! Except that June doesn't really bust, does it..?

Happy Memorial Day to all our American readers. My youngest will be playing with the town band in the parade, and I do believe this number is on the song list. This essay is adapted from my book A Song For The Season...

Ninety years ago this Thursday a baby boy was born in Paris ...well, that was the first unexpected plot twist. He was supposed to be born in America...

Four decades ago, "Waterloo" hit Number One in the British charts, and the four Swedes never looked back, except to check whether their hot pants had split...

Mark explores the art of the cigarette song

One of the biggest pop standards of the 20th century celebrates its 90th birthday this month. Exactly nine decades ago - April 21st 1924 - a new musical comedy opened in Chicago on its pre-Broadway tour. The plot was the usual fluff - three couples in Atlantic City, complications ensue, etc. It should have been a breeze, but it wasn't going well...

Six decades ago - April 12th 1954 - a chubby-faced kiss-curled man pushing 30 with a backing group named after a theory published in Synopsis Astronomia Cometicae in 1705 went into the recording studio at the Pythian Temple on West 70th Street in New York and sang a song written by a man born in the 19th century...

A Rodgers & Hart classic - after three false starts...

The 50th anniversary of the Beatles' only showtune

Shirley Temple - singer, dancer, actress, and rock'n'roller

A song for Groundhog Day?

This column comes by way of request from several readers, ever since the demise of Cecil the Lion hit the front pages. Here is the story of the biggest hit ever to come out of Africa - and why its author never reaped the benefits: In the jungle, the mighty jungle The Lion Sleeps Tonight... A third of a century ago, "The Lion Sleeps Tonight" got to Number One in Britain for Tight Fit. Can't quite place Tight Fit? It sounds like a vaguely parodic name for a boy band, but in fact they were a coed ...

Number One in January 1934 ...and January 1959

Happy New Year with one of Mark's favorite songs for the season

Mark tells the story behind "his" Christmas song, and presents an audio special celebrating the man who wrote it...

As the years go by I grow less and less interested in grassy knolls and all the rest, but I am struck by one genuine, non-conspiracy-theorist feature of November 22nd 1963...

2015 is Frank Sinatra's centenary year, which necessitates a few modifications to SteynOnline's music, film and entertainment coverage. Our official observances commence tomorrow when our Song of the Week department becomes a Song of the Semi-Week in order to squeeze in 100 Sinatra songs of the century between now and December. Several other folk seem to have opted for this approach, too - our old friend the Pundette has launched a dedicated Sinatra Centenary site for that very purpose - so we ...

For Bastille Day it seemed appropriate to have a French number for our Song of the Week. Unfortunately, this one's British, but it does have an accordion...

How a psychedelic anthem from the summer of love became an easy-listening blockbuster

A day late for Cinco de Mayo, here's Steyn's Song of the Week: the most successful composition by Mexico's first successful female composer.

~and don't forget, if you like Mark's Song of the Week essays, some of his most requested are collected in his book A Song For The Season - including many songs for national days, from "America The Beautiful" to "Waltzing Matilda". You can order your personally autographed copy exclusively from the SteynOnline bookstore.

April 29th apparently marks the anniversary of the launch of the Islamic conquest of the Iberian peninsula in the year 711. So I thought it would be fun to have a suitably Islamo-dominant number for our Song of the Week.

~and don't forget, some of Mark's most popular Song of the Week essays are collected in his book A Song For The Season. You can order your personally autographed copy exclusively from the SteynOnline bookstore.

Happy Easter and Happy Passover to our readers around the world. We moved our Saturday movie night to Good Friday for Mel Gibson's blockbuster The Passion Of The Christ. So, for the weekend proper, here's a special podcast, audiophonically adapted from an essay that appears in Mark's book A Song For The Season. Mark traces the story of Irving Berlin's "Easter Parade", from its obscure origins as a First World War morale booster to its re-emergence a generation later as the American Songbook's ...