Steyn's Song of the Week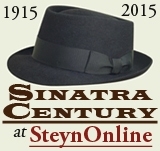 Seventy years ago British troops were on the road to Mandalay - or, actually, coming to the end of it. On March 21st, the 14th Army under the command of General Bill Slim finally liberated the city and returned it to British rule. There wasn't that much left: In taking the city three years earlier, the Japanese had destroyed 60 per cent of the houses. Given the popularity of this song among British military concert parties of the time, more than a few of Slim's men must have found themselves singing:
Come you back to Mandalay
Where the old flotilla lay
Can't you 'ear their paddles chunkin' from Rangoon to Mandalay?
On The Road To Mandalay
Where the flyin' fishes play
An' the dawn comes up like thunder outer China
'Crost the Bay!
The words are by Rudyard Kipling, but, had British troops attempted to use his geography - "by the old Moulmein Pagoda lookin' eastward at the sea" - to reach Mandalay, the Japanese would still be holding it. "My childhood image of this was of a seaside road leading to a place called Mandalay, with a pagoda on the landward side of it and flying fishes 'playing' (an important word for a child) close inshore in the bay," wrote Sir George Engle, whose analysis can stand for a gazillion others:
But the city of Mandalay is 400 miles north of both Moulmein and Rangoon, and a good 200 miles inland... There is a subsidiary puzzle, about dawn coming up 'outer China 'crost the Bay', since the Bay of Bengal and China lie respectively to the west and north of Moulmein. I take it that 'comes up like thunder' likens the sunrise to a sky full of thunder-clouds; but to an observer in Moulmein dawn would surely have come up overland from the east, out of Siam. That Kipling was disorientated is confirmed by the fact that, in the original version of the poem, the first line read: 'By the old Moulmein Pagoda, lookin' eastward to the sea, on which the passage in Murray's Handbook [page 710] mentioning two pagodas at Moulmein comments drily in parenthesis, '(not "looking eastward to the sea")'.
Kipling had been hearing critiques such as the above, ever since he published "Mandalay" as one of his Barrack-Room Ballads in The Scots Observer in 1890. In Something Of Myself, he concedes that Moulmein "is not on the road to anywhere" nor does it "command any view of any sun rising across the Bay of Bengal". Rather, the song's refrain about "the road to Mandalay" should be understood in a more general or metaphorical sense as the "golden path to romance". And, if there's any chap who understands the golden path to romance, it's Frank Sinatra. Which is why, 67 years after the poem's first appearance, Kipling's words found themselves in the mouth of a Hoboken boy who'd never been anywhere near the old Moulmein Pagoda:
By the old Moulmein Pagoda
Lookin' eastward to the sea
There's a Burma broad a-settin'
And I know she thinks of me...
Wait a minute. "Broad"? That doesn't sound like Kipling. Well, no. And Frank's improvisations did not sit well with the keepers of Kipling's flame, as we'll discover.
Nevertheless, he was something of an old Burma hand musically speaking. In fact, "On The Road To Mandalay" was Sinatra's second Mandalay song. The first he'd sung four-and-a-half years earlier, on May 2nd 1953, at the beginning of the Capitol era. It was Frank's second recording session with Nelson Riddle, and - after the "ghosting" for Billy May two days earlier - the very first session of Riddle as Riddle, so to speak. The songs included a rather bland ballad, "Anytime, Anywhere":
You could leave tomorrow, fly to Mandalay
Darling, I would love you anyway
I just couldn't help but care
Anytime, Anywhere...
That makes two more mentions than most South-East Asian cities get in the Sinatra oeuvre, and one more than Singapore (as in "On A Little Street In...", recorded by Frank with the Harry James band in 1939). The only reason Lenny Adelson and Imogene Carpenter were namechecking Mandalay in American pop songs in 1953 was because Kipling had put it on the map. It was one of those select group of places (Timbuktu, for example) that in America had become, somewhat oxymoronically, a familiar, household name for somewhere unfamiliar and remote.
In Britain and the Commonwealth, Mandalay had a more specific identity. The "old flotilla" was a reference to the steamers of the Irrawaddy Flotilla Company, whose chunkin' paddles had been ferrying thousands of British Indian troops the over 400 miles "from Rangoon to Mandalay" since the third Anglo-Burmese war of 1885. Kipling's poem was written from the point of view of an English Tommy smitten by the native girls - as, indeed, the 24-year-old poet had been:
When I die I will be a Burman, with twenty yards of real King's silk that has been made in Mandalay, about my body, and a succession of cigarettes between my lips …and I will always walk about with a pretty almond-coloured girl who shall laugh and jest too, as a young maiden ought. She shall not pull a sari over her head when a man looks at her and glare suggestively from behind it, nor shall she tramp behind me when I walk: for these are the customs of India. She shall look all the world between the eyes, in honesty and good fellowship, and I will teach her not to defile her pretty mouth with chopped tobacco in a cabbage leaf, but to inhale good cigarettes of Egypt's best brand.
Young Rudyard wasn't the only one with an eye for those "pretty almond-coloured girls". Until well into the Seventies, framed prints of "the Burmese girl" were as ubiquitous in English suburban cul-de-sacs as posters of the tennis player scratching her bum were on the walls of bachelor bedsits. Certainly Kipling's British soldier knows the difference between the girlie by the old Moulmein Pagoda and the lasses back home:
Tho' I walks with fifty 'ousemaids outer Chelsea to the Strand,
An' they talks a lot o' lovin', but what do they understand?

Beefy face an' grubby 'and -
Law! Wot do they understand?
I've a neater, sweeter maiden in a cleaner, greener land!
Kipling wrote it to be sung to an old waltz tune he knew, but the journeyman songwriters of the late 19th century had other ideas. There are apparently just shy of two dozen musical settings of the poem, but it was a composer called Oley Speaks who made his tune stick and turned "Mandalay" from a poem into a hit song. Speaks was not a son of Empire but an all-American boy, born in Canal Winchester, Ohio in 1874, and a popular baritone in local churches. When he turned to composition, he favored religious themes - "The Lord Is My Light", "Gently, Lord, Oh, Gently Lead Us", "If You Became A Nun, Dear"... But in 1907 he swapped the Lord for Kipling's "Law'!" and set those Moulmein musings to music:
For the wind is in the palm trees
And the temple bells they say
Come you back, you British soldier
Come you back to Mandalay...
It sold a million copies of sheet music, and for the rest of Oley Speaks' life never stopped selling. He would write a couple of other, semi-popular tunes, such as "Morning", with words by Frank L Stanton (whose "Mighty Lak' A Rose" is another turn-of-the-century song recorded by Sinatra), but nothing like "Mandalay". In America it was a popular song about an exotic love. In Britain and His Majesty's Dominions beyond the seas, it was something more, testifying to the hold Burma had on the imperial imagination, and summed up in Kipling's great line:
If you've 'eard the East a-callin', you won't never 'eed naught else.
Very true. Speaks' setting was taken up by singers throughout the Empire, but none was more associated with the song than the great Aussie bass-baritone Peter Dawson, who sang "On The Road To Mandalay" for some four decades. He sang all kinds of other things, too, but "Mandalay" was special. He liked the words so much he recorded them not only to Oley Speaks' tune but also to Walter Hedgecock's. And in 1945 he made a "Mandalay Potpourri", a six-minute mélange of Kipling's verses in settings by Speaks, Hedgecock, Gerald Cobb and Charles Willeby.
Three years later Burma quit the Empire. I mean, for real - not like India, Pakistan and Ceylon, graduating to Dominion status within the Commonwealth. Brimming with post-war resentments against their imperial masters, Burma just checked out: One minute it was a Crown Colony under the King-Emperor with Sir Herbert Rance as Governor. Then the Union Flag came down and it was a sovereign republic with Sao Shwe Thaik as president. The hereditary Saopha of Yawnghwe, Shwe Thaik died in prison shortly after the 1962 coup - and his saophasate (saopharate?) was abolished, and Burma lost to the world.
And so it might have gone for the great song of imperial romance, too. But on October 1st 1957 Frank Sinatra walked into the studio for the first of three sessions spread over eight days in which he would record his first album with Billy May: Come Fly With Me. You'll know the cover art: Sinatra, hat on head, taking the hand of an unseen lady and beckoning her toward the steps to the jet behind. Frank disliked it, and told his producer, Voyle Gilmore, that it looked like an ad for TWA. But it captured the spirit of the title song, and the set as a whole: "London By Night", "Brazil", "Blue Hawaii"... All fine charts by Billy May, but the album's masterpiece was, of all things, "Mandalay". What was it Kipling said?
Ship me somewhere's east of Suez,
Where the best is like the worst,
Where there aren't no Ten Commandments
An' a man can raise a thirst...
You didn't need to be east of Suez to raise a thirst: Billy May drank at the conductor's podium during the Fly With Me sessions.
He was a famously last-minute arranger. The standard gag is Paul Weston's - that May was so conscientious he'd always be sure to start writing his arrangements at least three hours before the session. He'd arrive with copyists trailing instrumental parts on which the ink was still wet. Often, it worked - it's hard to argue "Come Fly With Me" could be any better if May had worked on it a little longer. And "Mandalay" starts off great, Frank and his "Burma broad", gongs and other oriental flourishes, a little sparring between swing and march tempo in the instrumental, and Sinatra all nice and loosened up for the second verse:
Where there ain't no Ten Commandments
And a cat can raise a thirst
For those crazy bells are calling
And it's there that I would be...
But the end was difficult. Maybe, for once, May should have worked on it a little longer. "Billy had written the arrangement," percussionist Frank Flynn told Sinatra historian Chuck Granata, "so that when we got to the line that says, 'And the dawn comes up like thunder', I would hit this huge gong as a punctuation. Then the arrangement would continue for about another half a chorus."
They ran it down, and Sinatra struggled with the ending. He looked at the gong. "Tell you what," he said to Frank Flynn. "When we get to that line, you hit that mutha with everything you got." He had a quiet word with Billy May, and they started again:
On The Road To Mandalay
Where the flying fishes play
And the dawn comes up like thunder...
And Frank Flynn whacked that gong. Billy May signaled to the band not to play a note, and the musicians looked to Sinatra to pick up the ending. And then, as his lead alto Skeets Herfurt recalled to Will Friedwald, "Instead of going on, Frank put on his hat and threw his coat over his shoulder, like he does, and walked out of the studio! We all laughed like mad. We said, 'What's happening? Is Frank going to come back and do it again?'"
No, he wasn't. The gong was still reverberating and the singer was in the corridor. And that's how they released the track - with Sinatra's improvised ending.
It's a great record. Oley Speaks never heard it - he died in 1948 - nor Rudyard Kipling - he died in 1936. But Kipling's daughter, Elsie Bambridge, heard it, and strongly disliked it. And she forbade the inclusion of "Mandalay" on the Come Fly With Me LP throughout the British Empire. In the United Kingdom, it was replaced with a goofy Capitol single, "French Foreign Legion" (by Guy Wood, who also wrote the Sinatra masterpiece "My One And Only Love"). In Australia and elsewhere, they substituted "Chicago", and some parts of the Commonwealth wound up with "It Happened In Monterey".
Frank didn't care for Mrs Bambridge's enforcement of her copyright, and made a point of singing "Mandalay" in foreign stage appearances, especially in front of British subjects. Live in Melbourne in 1959, he introduced it this way:
This particular song was written from the poem by Rudyard Kipling. Now it seems that we have done a rather different version of 'Road To Mandalay', so that his family has objected, and anywhere in the British Empire it's not to be played on the record. So they took it off the long-playing record of Come Fly With Me and replaced it with 'Chicago'. But this is an unusual version of 'Road To Mandalay' - it's comedic, but it swings, it jumps. I think that Rudyard Kipling's sister [sic] was chicken not to let us put it on the record.
And then he sang:
And those crazy bells keep ringing
'Cause it's there that I long to be
By the Egg Foo Yong Pagoda
Looking eastward to the sea...
Peter Dawson was still around in 1959 - in fact, he'd made his last studio recordings in London only four years earlier. I wonder if he caught Sinatra on that Aussie tour, and, if so, what he made of the Egg Foo Yong Pagoda. Maybe they had one in Adelaide.
Elsie Bambridge died in 1976. And shortly thereafter "On The Road To Mandalay" was restored to its rightful place on British pressings of Come Fly With Me.
Strange that Frank should fall out with the Kipling family. For he was quite a Kiplingite and, Mrs Bambridge notwithstanding, he continued to Kipple. Three years after that Australian tour, he recorded "Pick Yourself Up" in a Bach-esque arrangement by Neal Hefti. Dorothy Fields slips a sly allusion to Kipling's "If" into that one:
And you'll be a man, my son!
In 1966 Sinatra made his first ever spoken-word recording, of another of Kipling's Barrack-Room Ballads, "Gunga Din". He wasn't happy with it, and it remains unreleased, but, if Sinatra wants to record poetry, better Kipling than Rod McKuen.
Time marches on like British troops on the road to Mandalay. Burma's post-independence history has been mostly bloody, brutal and ugly, and much of its own past is unknown to contemporary citizens of "Myanmar". But tourists do come, and they take the road to Mandalay, and the young Burmese tour guides who show them around, if they know Kipling's song at all, know it not through Peter Dawson's or any other imperially evocative recordings but only as a Sinatra swinger. And so these days you'll be on the road to Mandalay and ask the tour guide if he digs the song and the response will be oddly Sinatra-esque. And thus Frankie, the last Tommy as the sun drops low on the rice fields and the hathis ply teak to the paddle steamers:
For the wind is in the palm trees
And the temple bells they say
Come you back, you British soldier
Come you back to Mandalay...
Maybe there's a Burma broad a-settin', after all.
~For an alternative Sinatra Hot 100, the Pundette has launched her own Frank countdown. She's reached Number 78, a lovely trio version of "Autumn Leaves" - Frank's voice, Al Viola's guitar, Harry Klee's flute, recorded live at London's Royal Festival Hall in 1962. Mark tells the story behind "Autumn Leaves" in his book A Song For The Season. And don't forget Steyn's original 1998 obituary of Sinatra, "The Voice", appears in the anthology Mark Steyn From Head To Toe. Personally autographed copies of both books are exclusively available from the Steyn store.
~Bob Belvedere over at The Camp Of The Saints is also counting down his Top 100 Sinatra tracks, and eschews Mandalay for Brazil, where they've got an awful lot of coffee. Evil Blogger Lady is also getting in on the Frank festivities, and eschews Mandalay and Rio in favor of Sorrento.
SINATRA CENTURY
at SteynOnline
6) THE ONE I LOVE (BELONGS TO SOMEBODY ELSE)
8) STARDUST
10) WHAT IS THIS THING CALLED LOVE?
11) CHICAGO
12) THE CONTINENTAL
13) ALL OF ME
15) NIGHT AND DAY
16) I WON'T DANCE
17) I'VE GOT YOU UNDER MY SKIN
19) EAST OF THE SUN (AND WEST OF THE MOON)
from Steyn's Song of the Week, March 23, 2015
Where do you head after you've gone "South Of The Border"? Oh, that's easy...
St Patrick's Day looms, and so a Sinatra Irish confection would seem to be appropriate. Unlike Peggy Lee, he never recorded "When Irish Eyes Are Smiling"; unlike Rosie Clooney, he never recorded "Danny Boy". In the 1949 film Take Me Out To The Ball Game, he sang a song called "O'Brien To Ryan To Goldberg" - Gene Kelly, who was of Irish ancestry, played O'Brien; Jules Munshin, who was of Russian Jewish ancestry, played Goldberg; and Frank Sinatra, who was of Italian ancestry, played, er, Ryan.
But what of the great Irish songwriters..?
The night it took 22 takes...
The 1930s were the golden decade of American popular song. The great Broadway blue chips - Cole Porter, Rodgers & Hart - were hitting their stride, and, as we've explored in recent weeks, a whole generation of far lesser known names were providing great individual numbers that, thanks to Sinatra, have lasted across the decades...
What's the connection between the Muslim call to prayer and Frank Sinatra?
E A Swan?
Who's he?
Well, if you saw Frank Sinatra on stage...
A Sinatra classic, born from a happy accident at a summer resort, and a widow's grief
It's the wee small hours after Oscar Night, and so our Sinatra Centenary song is obliged to take a nod at least in the direction of the Academy Awards. Frank made a whole album of Oscar winners, with the unwieldy title of Sinatra Sings Days of Wine and Roses, Moon River, and Other Academy Award Winners...
An anthem to "the town that Billy Sunday couldn't shut down"
On March 27th 1929 the Charles B Cochran revue Wake Up And Dream opened at the London Pavilion, with a host of West End talent, including Jessie Matthews, Sonnie Hale, Tilly Losch and Douglas Byng. And at one point in the evening Britain's "Radio Sweetheart Number One", Elsie Carlisle, stepped forward and sang...
Valentine's Day looms, and, given his contribution to its popularity, we would be remiss not to include in our Sinatra Century the one great Valentine standard...
It's July 8th 1939 and the Harry James orchestra is on stage at the Roseland Ballroom in New York. They have a new singer - a 23-year old boy vocalist who signed with the band a few days earlier - and he steps to the microphone to sing...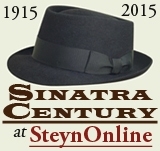 The other day I was reading, strictly for pleasure, The Complete Lyrics Of Johnny Mercer, and in particular the work of his somewhat frustrating final years. And a handful of pages before the end you turn the page, and from one of those projects that never came to fruition are a couple of songs bearing the credit "Words and music by Johnny Mercer and Rod McKuen".
My God, what was he thinking?
We're spending this weekend with the Isham Jones/Gus Kahn end of the Sinatra songbook. Following "It Had To Be You" on Friday, here's a song Frank sang for almost half-a-century from June of 1940, as the new boy vocalist with a hit orchestra, to deep into the 1980s, as a lion in winter jumpin' all over a hard-swingin' band...
An über-standard everyone sang before Frank
A song as old as Sinatra that he only got to in the Eighties
I received a letter, as I do from time to time and particularly since we launched this series, making the familiar complaint that I "only write about the kind of songs Frank Sinatra sings" and thereby ignore the older, vernacular American musical tradition. Well, I happen to think Frank chose pretty good songs, so why kick the habit? For example, here's a ring-a-ding-ding Sinatra classic he recorded in 1946:
Oh, give me a home where the buffalo roam
And the deer and the antelope play...
It's often said that the pop songs you like when you're 17 years old are the pop songs that stay with you your entire life. And in that respect Frank Sinatra was very fortunate: When he was 17, to pick up where we left off last week, it was a very good year. The songs in the air as a Hoboken schoolboy prepared to start his adult life were the songs he would record a quarter-century later and still be singing on stage, at Caesars' Palace and the Royal Albert Hall, another quarter-century beyond that...
Our Sinatra Song of the Century Number One
This essay is adapted from Mark's book A Song For The Season
Esther Williams and Ricardo Montalban launch the clash of civilizations
A happy 75th birthday to the most famous reindeer of all
Mark hits a new high as he takes a crack at Mariah Carey's Christmas classic
I love the Great American Train Song. It's a genre that has the sweep and size of the nation...
After "Cat Scratch Fever", Mister Squaresville goes in search of other rockers to cover
In this week before Halloween, how about a Song of the Week for the witching hour? I've always loved songs that use magic as an image of romantic seduction and intoxication. Cole Porter got in on it early in "You Do Something To Me" (1928):
Let me live 'neath your spell
Do do That voodoo
That you do So well…
Harold Arlen and Johnny Mercer extended the thought in 1944:
That Old Black Magic has me in its spell...
But it was Cy Coleman and Carolyn Leigh who wrapped up the subject once and for all...
A musical moment from The [Un]documented Mark Steyn
It's twenty years since Jule Styne died - back in September 1994. By then he was the last of the Broadway giants, the composer of Funny Girl, Peter Pan and Gentlemen Prefer Blondes, and perhaps the greatest of all American musicals Gypsy; the prodigious hitmaker of "Time After Time" and "People" and "Diamonds Are A Girl's Best Friend"; the guy who'd supplied all those sidewalk Santas and shopping malls with "Let It Snow! Let It Snow! Let It Snow!" I write about him in Mark Steyn's American ...
Mark celebrates the late Bob Crewe and two Sixties classics
Last week we marked the 75th anniversary of The Wizard Of Oz, but without getting to the film's big song. It's about five minutes in, when we're still in drab, dusty, cheerless, broken-down black-&-white Kansas. Dorothy has tried to tell her folks about an unpleasant incident involving Miss Gulch, but Aunt Em advises her to "stop imagining things" and "find yourself a place where you won't get into any trouble". Dorothy wanders off, taking the injunction seriously. "Do you think there is such a ...
| | |
| --- | --- |
| | |
This month marks the 75th anniversary of one of the greatest and most enduring film musicals ever made, and one of the few to match the dramatic ambition of the best Broadway shows. The Wizard Of Oz gave us a standard song that won the Oscar that year and was potent enough to provide Eva Cassidy with a posthumous hit in the 21st century. We'll get to that next week, but for this week's Song of the Week here's one of my personal favorites from a truly marvelous score: Ding-Dong! The Witch Is ...
| | |
| --- | --- |
| | |
When this weekly feature began eight and a half years ago, our Song of the Week Number One was "San Francisco", to mark the centenary of the 1906 earthquake. But, if I'd been thinking about a Number One song in more profound terms, our Number One song would have been the song we're finally getting round to almost a decade later - because this week's song was really the Number One song for an entire school of songs. As Mel Tormé put it, when Jerome Kern composed this melody, he "invented the popular song". If your idea of a popular song is "Call Me Maybe" or "Ain't Nobody Here But Us Chickens" or "The Tennesee Waltz", Tormé's claim is a bit of a stretch. But it's not unreasonable to claim that with this tune Kern invented what we now call the American Songbook - standards that endure across the decades and can be sung and played in almost any style. It is, thus, the Number One Song, the first and most influential entry in that American Songbook...
| | |
| --- | --- |
| | |
Three hit songs from one flop Sixties musical
To mark the centenary of composer Hugh Martin, here's the second part of Mark's two-part audio tribute to the man who gave the world "Have Yourself A Merry Little Christmas"...
As I mentioned yesterday, we're having a mini-Canadian festival on this long weekend for Simcoe Day and whatnot. This month marks the centenary of one of my favorite Canadian songwriters, albeit one who retired far too early, and we're celebrating with her two biggest hits. The section on "I'll Never Smile Again" is adapted from my book A Song For The Season: "I'll Never Smile Again/Until I smile at you..."
A few weeks back, apropos "June Is Bustin' Out All Over", I mentioned that we hadn't done a lot of "month" songs in the years we've been running this feature. Some months - mostly spring ("April Showers", "April In Paris") and fall ("September Song", "September In The Rain") - seem to lend themselves to musicalization. If "June Is Bustin' Out All Over" is about as big a hit title as the sixth month of the year has ever produced, the eighth (which looms this very week) can't even manage a title ...
What with all the Jew-hate around on the streets of Europe in recent days, I thought it would be nice to have a big Europop hit from that fleeting cultural moment when the Continentals regarded Israel not merely as a normal sovereign state but in fact a rather cool and enviable one...
I wouldn't want June to recede too far into the rear mirror without noting that it marked the 50th anniversary of a great and historic recording that, before the Sixties were out, burst the bounds of the planet. In June 1964, Frank Sinatra and Count Basie were in the studio making their second album together, It Might As Well Be Swing. The arranger was Quincy Jones, and his work for the set included a chart Frank kept in the act all the way to his very last concert...
Dominion Day looms - on Tuesday. We always like to have a Canadian song for the national holiday, and what could be more Canadian than...
I like New York in June
How About You?
Some musical advice from Mark's graduation season
The all-time great World Cup song
Steyn celebrates the song Ray Charles used to hum in the back of his car on the way to the gig - until one day his driver told him to record it.
Well, it's the beginning of June and that means June is bustin' out all over! Except that June doesn't really bust, does it..?
This essay is adapted from Mark's book A Song For The Season:
Memorial Day in America – or, if you're a real old-timer, Decoration Day, a day for decorating the graves of the Civil War dead. The songs many of those soldiers marched to are still known today – "The Yellow Rose Of Texas", "When Johnny Comes Marching Home", "Dixie". But this one belongs in a category all its own...
Ninety years ago this Thursday a baby boy was born in Paris ...well, that was the first unexpected plot twist. He was supposed to be born in America...
Four decades ago, "Waterloo" hit Number One in the British charts, and the four Swedes never looked back, except to check whether their hot pants had split...
Mark explores the art of the cigarette song
One of the biggest pop standards of the 20th century celebrates its 90th birthday this month. Exactly nine decades ago - April 21st 1924 - a new musical comedy opened in Chicago on its pre-Broadway tour. The plot was the usual fluff - three couples in Atlantic City, complications ensue, etc. It should have been a breeze, but it wasn't going well...
Six decades ago - April 12th 1954 - a chubby-faced kiss-curled man pushing 30 with a backing group named after a theory published in Synopsis Astronomia Cometicae in 1705 went into the recording studio at the Pythian Temple on West 70th Street in New York and sang a song written by a man born in the 19th century...
A musical postscript to our Marlon Brando movie night
A Rodgers & Hart classic - after three false starts...
The 50th anniversary of the Beatles' only showtune
Shirley Temple - singer, dancer, actress, and rock'n'roller
Mark celebrates a classic saloon song
A song for Groundhog Day?
Pete Seeger and the "folk song" he stole
Number One in January 1934 ...and January 1959
Mark tells the story behind "his" Christmas song, and presents an audio special celebrating the man who wrote it...
Hugh Martin, composer, lyricist, vocal arranger, pianist, singer, actor and the man who gave the world the great seasonal gift of "Have Yourself A Merry Little Christmas", was born one hundred years ago this week...
As the years go by I grow less and less interested in grassy knolls and all the rest, but I am struck by one genuine, non-conspiracy-theorist feature of November 22nd 1963...
2015 is Frank Sinatra's centenary year, which necessitates a few modifications to SteynOnline's music, film and entertainment coverage. Our official observances commence tomorrow when our Song of the Week department becomes a Song of the Semi-Week in order to squeeze in 100 Sinatra songs of the century between now and December. Several other folk seem to have opted for this approach, too - our old friend the Pundette has launched a dedicated Sinatra Centenary site for that very purpose - so we ...
For Bastille Day it seemed appropriate to have a French number for our Song of the Week. Unfortunately, this one's British, but it does have an accordion...
How a psychedelic anthem from the summer of love became an easy-listening blockbuster
A day late for Cinco de Mayo, here's Steyn's Song of the Week: the most successful composition by Mexico's first successful female composer.
~and don't forget, if you like Mark's Song of the Week essays, some of his most requested are collected in his book A Song For The Season - including many songs for national days, from "America The Beautiful" to "Waltzing Matilda". You can order your personally autographed copy exclusively from the SteynOnline bookstore.
April 29th apparently marks the anniversary of the launch of the Islamic conquest of the Iberian peninsula in the year 711. So I thought it would be fun to have a suitably Islamo-dominant number for our Song of the Week.
~and don't forget, some of Mark's most popular Song of the Week essays are collected in his book A Song For The Season. You can order your personally autographed copy exclusively from the SteynOnline bookstore.
An audio special in which Mark traces the story of the only Easter standard in the American songbook