Steyn's Song of the Week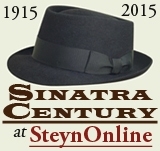 On the first of our Sinatra Century audio specials, Frank's longtime pianist and musical director Vincent Falcone talks about the many years he spent working with the singer mostly on stage but also in the studio. For example, on September 19th 1979 in Los Angeles, it fell to Vinnie Falcone to conduct what would become one of the biggest Sinatra recordings of all time:
Start spreading the news
I'm leaving today
I want to be a part of it...
As I say on the podcast, it's one of the most famous records on the planet. I mention that it turns up as a musical joke en passant during a car chase in the new Bond movie, Spectre. Just the opening bars - that famous John Kander vamp that Vincent Falcone conducts - and that's all it needs, because few records have such an instantly recognizable intro. Everyone in the movie theater got the joke, as I'm sure they did almost everywhere the film's been shown.
It was written by two men: One was John Kander, born in 1927 in Kansas City, Missouri, and educated at Oberlin. I don't know whether he spread the news on the day of his leaving, but he wanted to be a part of it - New York, New York, that is - and he has been, ever since 1957, when he was hired as rehearsal pianist for West Side Story. Two years later, he was the dance arranger on Gypsy, and a couple of years after that he began writing music with a young lyricist called Fred Ebb. Unlike the Missourian Kander, Mr Ebb didn't have to spread the news of his leaving. He was a part of it from day one - born in New York, New York, either in 1928 or 1933, according to which reference book you believe. I knew him from the Eighties onward, and to me he looked young, if only by Broadway standards. He spent his entire life waking up in the city that doesn't sleep, but had a harder job becoming top of the heap. He hung around the theatre; wrote a revue with a guy called Paul Klein, who quit showbiz to go into waterproofing; and was taken under the wing of Phil Springer, composer of Sinatra's "How Little We Know" and "Santa Baby". And then in 1964 he was introduced to John Kander and they wrote a hit song called "My Coloring Book". Four decades later, at the time of Fred's death, their second show Cabaret was virtually a permanent fixture in New York and in London, and the film version of Chicago was an Oscar-winning Best Picture.
This last decade can't have been easy for John Kander, by common consent one of the nicest guys in a business not known for niceness. Ebb's death from a heart attack in 2004, at the peak of Chicago's success on stage and screen, ended the last monogamous writing partnership on Broadway. There used to be a lot of those - George & Ira Gershwin, Rodgers & Hart, Rodgers & Hammerstein - and then there were only Kander & Ebb. "One reason why they've avoided the career slumps that almost everyone else has had is simply that they've stayed together," Alan Jay Lerner once told me. "A composer and lyricist grow together." Lerner had hits like My Fair Lady and flopperoo one-night stands like Dance A Little Closer, the kind of mega-disaster that Kander & Ebb, Broadway's last surviving words-and-music team, almost uniquely managed to steer clear of. "Even when we write lousy, Fred and I always have a good time," Kander said to me a few years ago.
Their last show, starring David Hyde Pierce (from TV's "Frasier"), was, appropriately, Curtains. It was a musical murder mystery, which isn't as surefire a blend of boffo genres as it sounds. There have never really been any mystery musicals, for obvious reasons. "The audience wants to get on with the mystery. So they don't want to stop for songs," Fred Ebb agreed when I pointed this out a couple of years before his death. "That's the challenge - and I love a challenge." By the time it opened, a play about a murderer stalking a Broadway musical had itself lost a few of its creators to the grim reaper, including lyricist Ebb, librettist Peter Stone and orchestrator Michael Gibson. And John Kander found himself facing his first first night since A Family Affair way back in 1964 without his greatest writing partner. Many of their songs are known, but not on this scale:
If I can make it there
I'll make it anywhere
It's up to you
New York, New York!
It's a school of song that's quintessentially American. As Will Friedwald writes:
It exemplifies the anger and the optimism, the ambition and the aggression, the hostility and the energy, the excitement and the excrement that is New York...
"The excitement and the excrement" is a droll way of putting it: Kander & Ebb's valentine to "the city that doesn't sleep" is both a cliché and a triumphant vindication that rises above it. Fred Ebb's words are the last written in conventional American songbook style to become part of the vernacular. I especially loved a column my late colleague at The Independent Miles Kington wrote a few years ago. Even in its denunciation of the buoyant razzle-dazzle optimism of American showbusiness, the headline was a kind of sour tribute to its potency:
If They Can Make It There, Why Can't They Keep It There?
There are lots of New York songs, and at least two others in the preferred US Postal Service city/state formulation. Gerard Kenny's "New York, New York" ("so good they named it twice") post-dates Kander & Ebb, and this one, by Leonard Bernstein, Betty Comden and Adolph Green, pre-dates them by three decades:
New York, New York
A helluva town
The Bronx is up
And the Battery's down...
There's no copyright in title, although I think you'd have to be pretty demented to turn in a new song called "White Christmas" or a novel titled Gone With The Wind. Jule Styne and Sammy Cahn wrote a ballad called "Time After Time" in the Forties and so did Cyndi Lauper in the Eighties, which irked Sammy Cahn no end. As a young man, John Kander had been a rehearsal pianist on Bernstein's West Side Story, so, to avoid (or at least mitigate) offence to the man who composed the show on which he got his break, the new "New York, New York" is officially called "Theme from New York, New York". It was an assignment song. In 1977, Martin Scorsese was making a film about the big band era, with his on-screen alter-ego Robert De Niro as a touring musician, a sax player, one of the boys on the bus. The gal was Liza Minnelli, still hot(ish) from Cabaret and a seemingly shrewd choice for playing the band's canary. That made it all but certain that the songs for the film would be by her off-screen mentors Kander & Ebb. It wasn't a musical, but Scorsese needed a handful of numbers to establish the period and relate to the story, and in particular they needed a big title song to be "written" by De Niro's and Minnelli's characters in the course of the plot. The saxophonist is married to the vocalist, and he writes a tune, and several scenes and dramatic vicissitudes later she puts a lyric to it.
So Kander and Ebb went off and wrote a "New York, New York" number, and they played it for Scorsese and his two stars. Fred Ebb was a lethal song demonstrator, in the same class as Sammy Cahn. With Johnny at the piano, Freddie would put his heart and soul and guts into the song, and if he couldn't sell you a new number nobody could. And they sold this one:
New York, New York
New York, New York
New York, New York
New York, New York
They always say it's a nice place to visit
But I wouldn't want to live there
New York
They always say it's a nice place to sightsee
But I wouldn't want to live there
New York
Of course I do like a 'do on Park Avenue
Or to view a gnu at the Central Park Zoo...
They thought it had gone over well.
And then De Niro beckoned to Scorsese. And, as Fred Ebb put it to me, "They stood up and took one of their famous Italian walks. And we could see but not hear De Niro talking."
"And he was also gesturing," said Kander. "Which we knew was not a good sign."
When the Italian walk was over, De Niro and Scorsese came back to the couch and tried to explain it tactfully. Marty said how much they liked "And The World Goes Round" and the other numbers but that this song was the title song and "Bob thinks" it needs to be really strong, and "Bob wonders" if maybe they wouldn't mind trying again, and Bob this and Bob that and Bob the other. "And we were kind of insulted," chuckled Kander, "at an actor telling us how to write a song. But he turned out to be right."
"Even though," added Ebb, "we wrote the new song in a kind of rage."
It began with a vamp, one of those little musical intros that, when they work, really kick-start a song. But nobody vamps like John Kander, the champ of the vamps. "With Cabaret, we were trying to find the piece, to write our way into it," he once said to me. "The first thing we wrote was 'Willkommen' and the very first thing that ever happened was that little vamp." It was the same with Chicago and "All That Jazz". And, trying to write a big New York song that would be big enough for Robert De Niro, Fred Ebb tossed out a possible first line of lyric:
Start spreading the news.
John Kander liked it and out of the "start sprea-ding the" bit drew a vamp - the "dum-dum-da-de-dum", the all-time great killer vamp that's recognized by the world as a kind of five-note abbreviation for the spirit of New York. That's why Kander loves vamps: they're a good way of letting you know whether you're tonally on track. "When you find something you like, it tells you about the direction you want to go in. I don't mean you go through the process in a doped-up haze, but you have to trust your unconscious."
And from that vamp they never looked back. For a song that to its disparagers sounds like just a big up-and-at-'em showtune, it's actually quite unusually structured. Fred Ebb opted for a "Sunny Side Of The Street" rhyme structure – ie, rhyming not in couplets or quatrains but across the phrases:
Grab your coat and get your hat
Leave your worries on the doorstep
Just direct your feet
To the sunny side of the street

Can't you hear that pitter-pat?
Oh that happy tune is your step
Life can be so sweet
On The Sunny Side Of The Street...
Likewise:
Start spreading the news
I'm leaving today
I want to be a part of it
New York, New York

These vagabond shoes
Are longing to stray
And step around the heart of it
New York, New York...
It was a song that had everything going for it - if only the film hadn't flopped. But it did - and, although "New York, New York" got a Best Song nomination, it lost to "You Light Up My Life", which may be the silliest Oscar verdict in that category since "They Can't Take That Away From Me" was beaten by "Sweet Leilaini" 40 years earlier.
What transformed the song was Sinatra. On our centenary podcast, Vincent Falcone says he has a photograph of the precise moment when he, Frank and the song all got together:
I am sitting at the piano, he is standing behind me, and he handed me the sheet music to 'New York, New York' and he said, 'Play this for me...' He had gone to see the movie with Robert De Niro and Liza Minnelli, New York, New York. And he had heard the song and he brought me the sheet music and he said, 'Play this for me.' We were in rehearsal at NBC and I played it and we knew right away that the song had to be.
I believe the very first time Frank Sinatra sang "New York, New York" was at the Waldorf-Astoria on October 13th 1978, at a benefit for the Mercy Hospital. The eleven months between that first performance and the eventual recording were spent Sinatrafying the song, until he'd got it just the way he wanted it. As Vincent Falcone recalls:
At one point he said to me 'We will never record a song again until we have done it on stage for four or five months' - because he wanted to have the opportunity to fully develop the idea of the song, until he got it to the point that he wanted it.
New York, New York' started off being in the overture of a concert that we did at Carnegie Hall. Don Costa had written a new overture which was all New York songs and it ended with the introduction into "New York, New York" and in that introduction he would walk on stage and sing "New York" as the opening song in the show. Well, after the third night he said to me "We can't do this." He says, yeah That was a development that he did until we recorded it, and the end result was this dramatic way of singing this song, and everywhere we ever played it people were on their feet. You know, it's quite an achievement.
In 1978 he was playing a blockbuster engagement at Carnegie Hall and asked Don Costa to put together an overture of New York tunes – "Autumn In New York", "Sidewalks Of New York", and so on and so forth, concluding with Kander & Ebb's "New York, New York". And right on the opening pow! of the vamp Frank would enter, wait for the cheers to die down, and, as Will Friedwald put it, "start spreading the news".
The news spread pretty quickly. "Man, this thing is getting big," Frank said to Vincent Falcone after the third night. "We have to take it out of the overture."
"We were getting such a roar out of the audience, he realized that he can't open with that," said Falcone, "so I wrote an ending to the overture, took the chart of 'New York, New York' out of the overture and we moved it down into the show until eventually it became the closing song." When it began its life as a stand-alone number, Frank sometimes paired it with the "other" "New York, New York" (which is, after all, from a Sinatra movie) serving as a kind of verse, sung slowly and expectantly:
New York, New York
A helluva town
The Bronx is up
And the Battery's down
And the people ride in a hole in the groun'
New York, New York!
It's a...
Helluva...
Town!
Wham! On "town" the band would wallop in Kander's famous vamp and the crowd would go wild. The song never looked back, notwithstanding Fred Ebb's misgivings about Sinatra's lyrical evolution in the second chorus. In the Liza Minnelli original, rather than a straightforward reprise of "I want to wake up in a city that doesn't sleep/And find I'm king of the hill, top of the heap", Ebb extended the thought to make it even more dramatic:
I want to wake up in a city that doesn't sleep
To find I'm king of the hill
Head of the list
Cream of the crop
At the top of the heap!
That "crop"/"top" internal rhyme is typical of Ebb's unobtrusive professional craftsmanship. For his own even more showstopping rallentando, Sinatra changed it to:
I want to wake up in a city that doesn't sleep
To find I'm A-number one
Top of the list
King of the hill
A-number one!
"I didn't write 'A-number one'," said Ebb. "I don't even like it. But I like Sinatra singing 'New York, New York', and I love having a song that everyone knows."
It got better. In his last years, Frank would blast the final word of that middle section, and then cripple up and clutch his side and howl "Ow!". Or he'd straighten up and go, "Every time I hit that note, I get a big pain right here."
Liza and her "Uncle Frank" were close pals, but eventually his version of the song consumed hers. On their tour together in the late Eighties with Sammy Davis Jr, the concluding 20-minute medley was strung around a joke about Sam trying to avoid letting Frank and Liza sing "New York, New York" - and then he'd forget himself, launch into "There's A Boat That's Leaving Soon For New York", and bang on the "York" the familiar vamp came blasting in. But it was Frank's version, with Liza in effect sitting in on his cover of her song. In a guest shot on "Arrested Development", Miss Minnelli hears Tobias Funke singing "New York, New York" and remarks dryly that when it comes to that particular song "everybody thinks of Frank Sinatra".
Indeed. The song was taken up as the anthem of the New York Yankees: When they won, they played Frank's version. When they lost, they played Liza's. That's one of the all-time greatest musical jokes. Miss Minnelli, alas, didn't care for it, and insisted that after winning games they played her record. So they said nuts to that, lady, we won't play your version at all. Liza subsequently and very wisely relented. But even that bizarre stand-off captures the swagger and attitude the song celebrates.
It's one for the ages now, and millions and millions of Americans and millions more around the world who are entirely unaware of Fred Ebb or John Kander nevertheless would instantly recognize that killer vamp. Years ago, filming a song with Liza Minnelli in Ebb's apartment for a BBC TV special, I noticed the sheet music propped up on Fred's grand piano - "Five Minutes More", a Jule Styne/Sammy Cahn pop hit for Sinatra in the Forties. "I wouldn't have thought that was your kind of song," I said to Ebb.
"Oh, I love that kind of song," he said. "And I love even more writing that kind of song. Too many guys writing for the theatre are writing for a little Broadway crowd that comes in the first few weeks of a show. I want to write songs for everybody, and I love it when everyone knows every word of them." To the best of my knowledge, he was never in Times Square at midnight on New Year's Eve when the ball drops and they play "Auld Lang Syne" and then Sinatr's "New York, New York" - but he would have liked the idea of that big, crazy crowd of tourists happy to be in the city that doesn't sleep and lustily bellowing along:
I want to be a part of it
New York, New York!
It's one for the ages now, thanks to Sinatra and a song that sounds as if it was built for him. It wasn't, any more than was that first "New York, New York" anthem - the Bernstein, Comden and Green opener from On The Town. But, between the first one on screen and its successor on stage, he has a hammerlock on both. In 1993, I interviewed the Broadway director, George Abbott, then aged 106, and asked him about working on On The Town half a century earlier, and in particular about the Bernstein "New York, New York". "I always thought that was the best New York song," said Mister Abbott. "But I must confess that new one is better. The one the little girl sings."
The "little girl", Liza Minnelli, had been given her big break by Mister Abbott on Flora The Red Menace in the early Sixties. It was Liza's first show, and Kander and Ebb's. But you can forgive Abbott, at 106, at still thinking of a star he'd directed when she was 17 and he was already in his 70s as a "little girl".
"Oh," I said, "you mean, 'start spreading the news'? You think that's better than your 'New York, New York'?"
"Yeah."
"Did you ever tell Leonard Bernstein that?"
"No."
"Probably very wise."
As for Sinatra, the last words he ever sang in public were the final "New York" of "New York, New York" at his 80th birthday all-star celebration in 1995:
If I can make it there
I'll make it anywhere
It's up to you
New York, New York!
~Mark's conversation with longtime Sinatra conductor Vincent Falcone, discussing "New York, New York" and many other songs, can be heard here. Steyn's original 1998 obituary of Frank, "The Voice", can be found in the anthology Mark Steyn From Head To Toe, while you can read the stories behind many other Sinatra songs in Mark Steyn's American Songbook. Personally autographed copies of both books are exclusively available from the SteynOnline bookstore.
~For an alternative Frank Hot 100, the Pundette is also counting down her Sinatra hit parade, and at Number Nine has a bona fide classic with "You Go To My Head". Bob Belvedere has completed his own Sinatra Top 100 and at Number 30 has a sweeter side of Frank's New York, "The Brooklyn Bridge". The Evil Blogger Lady, meanwhile, has Sinatra singing Oklahoma! with some help from lovely Shirley Jones and the delightful Gloria Grahame.
SINATRA CENTURY
at SteynOnline
6) THE ONE I LOVE (BELONGS TO SOMEBODY ELSE)
8) STARDUST
10) WHAT IS THIS THING CALLED LOVE?
11) CHICAGO
12) THE CONTINENTAL
13) ALL OF ME
15) NIGHT AND DAY
16) I WON'T DANCE
17) I'VE GOT YOU UNDER MY SKIN
19) EAST OF THE SUN (AND WEST OF THE MOON)
21) A FOGGY DAY (IN LONDON TOWN)
24) OUR LOVE
27) FOOLS RUSH IN
32) I'LL BE AROUND
36) GUESS I'LL HANG MY TEARS OUT TO DRY
37) NANCY (WITH THE LAUGHING FACE)
38) SOMETHIN' STUPID
40) I GET ALONG WITHOUT YOU VERY WELL (EXCEPT SOMETIMES)
41) SOLILOQUY
42) THE COFFEE SONG
44) HOW ABOUT YOU?
46) LUCK BE A LADY
48) (AH, THE APPLE TREES) WHEN THE WORLD WAS YOUNG
49) I HAVE DREAMED
51) I'VE GOT THE WORLD ON A STRING
52) YOUNG AT HEART
54) BAUBLES, BANGLES AND BEADS
55) IN THE WEE SMALL HOURS OF THE MORNING
57) THE TENDER TRAP
59) WITCHCRAFT
60) EBB TIDE
61) COME FLY WITH ME
62) ANGEL EYES
63) JUST IN TIME
65) NICE 'N' EASY
66) OL' MACDONALD
68) AUTUMN LEAVES
78) MOON LOVE
79) ME AND MY SHADOW
81) QUIET NIGHTS OF QUIET STARS
84) MY WAY
86) SOMETHING
from Steyn's Song of the Week Extra, November 27, 2015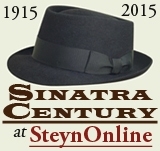 On the first of our Sinatra Century audio specials, Frank's longtime pianist and conductor Vincent Falcone talks, among other things, about the singer's relationship with the George Harrison ballad "Something". So I thought we'd spend a little time with the song as we head into the final stretch before the big 100th birthday.
In November 1968 George Harrison and his then missus Pattie Boyd attended the recording sessions in Hollywood for Sinatra's album Cycles...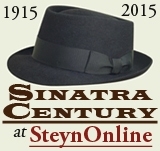 Until the mid-1960s Broadway was the biggest supplier of the most enduring standards ...and then gradually it all sputtered to a halt, and even hit shows didn't produce really popular songs. With one notable exception...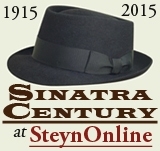 By sheer coincidence, our scheduled Sinatra song is, in fact, a French song. Indeed, by further coincidence, it belongs to a lost age of Franco-Arab cultural co-mingling...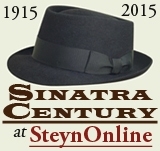 Sinatra's highly variable results with the acme of the mid-20th century showtune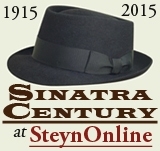 Ronald Miller's hit-makers share a hot tub...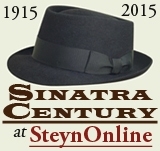 The meaning of existence, and all that jazz...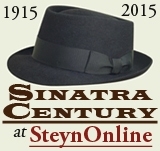 The girl who launched a song, and the song that launched an industry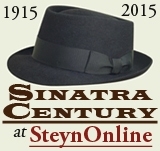 The black cat who crossed Sinatra's path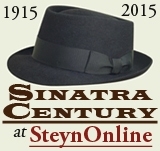 In 1960, Frank Sinatra left Capitol and founded Reprise Records because he wanted to have total artistic control. But oddly, once he'd got total artistic control, he seemed disinclined to exercise it...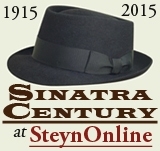 By 1966 it had been over a decade since Frank Sinatra had had a Number One single. It's fine to be acclaimed as a great artist, to have big-selling albums, sell out in Vegas and on world tours, and star in Hollywood movies. But, if popular singing is what you do, there's something special about a Number One hit single...
An encore presentation of Mark's audio salute to James Bond's music man, John Barry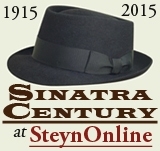 Sinatra Sings The Sacroiliac Songbook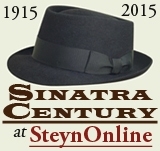 The song Sinatra took with him to the grave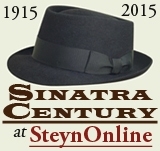 We've been spending a little time this Columbus Day weekend with a man who was born in Columbus, Ohio exactly a century ago - October 10th 1915 - and was at Sinatra's side for some of his most thrilling records of the Fifties and Sixties: Harry "Sweets" Edison, whose trumpet mute was a big part of Frank's Capitol sound.
When you're as good a jazz player as Edison, studio sessions aren't really what you want to do. You'd much rather be in some night spot with a handful of other guys taking a full chorus for every solo...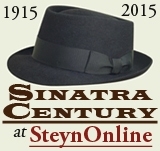 The master of the muted trumpet, Harry "Sweets" Edison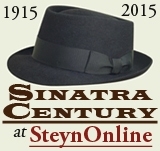 Sinatra in London with a classic British ballad...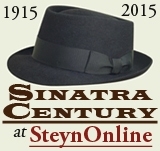 A bluesy ballad Sinatra sang for 30 years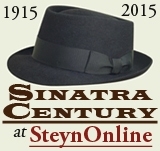 Sinatra, a meadowlark, and a rhymeless romance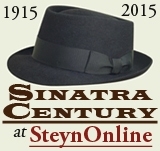 A classic Sinatra moment - on record, on film, on TV.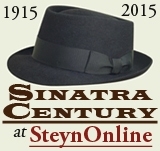 A truly great song for the season isn't about the calendar, or the weather. It's about the seasons of life and love...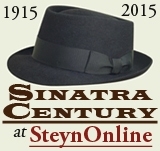 According to Johnny Mercer, "Writing music takes more talent, but writing lyrics takes more courage." What he meant was that a tune can be beguiling and melancholy and intoxicating and a lot of other vagaries, but there comes a moment when you have to sit down and get specific, and put the other half of the equation on top of those notes. A songwriter spends his life chasing the umpteenth variation of "I love you"...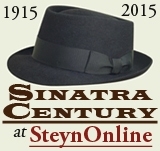 In honor of Alan Bergman's 90th birthday, we've been spending a little time this weekend with some of his early hits for Sinatra. Although I myself have recorded an Alan & Marilyn Bergman number, I reluctantly concede that, vocalist-wise, they're better known for their association with Barbra Streisand ("The Way We Were", "You Don't Bring Me Flowers", etc). But long before Barbra they wrote a few songs for Frank that have a different character...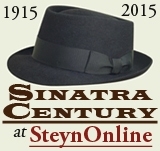 Mark celebrates Alan Bergman's birthday, and one of his biggest hits...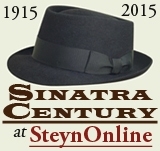 A Sinatra song for Labor Day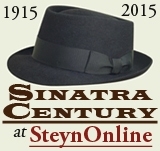 A record the songwriter didn't like, of a song the singer didn't like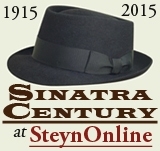 Steyn on a saloon song classic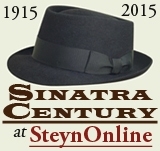 Up there where the air is rarefied: Sinatra and the soundtrack of the Jet Age...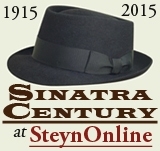 First the tide rushes in. Then you rush out and write the song...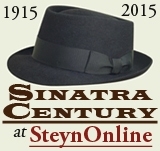 I've always loved songs that use magic as an image of romantic seduction...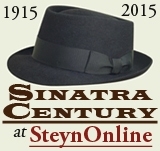 When Frank Sinatra and Nelson Riddle found their groove in the mid-Fifties, the music just poured out. In 1956 there was so much of it: The year began with the sessions for the defining album of the early LP era - Songs For Swingin' Lovers. It ended with the sessions for Swingin' Lovers' swingin' successor, A Swingin' Affair!...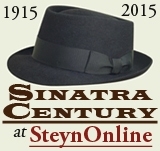 A Sinatra signature - and the birth of a new songwriting team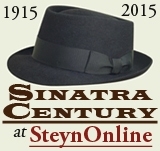 The strange story of a one-hit wonder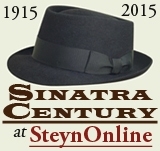 For over half a century songwriters tried to get their best work to the best singer of the best songs. The sitcom "Frasier" devoted an entire episode to the proposition, after Dad revealed that he'd written a song for Frank, "You're Such A Groovy Lady".
But in the entire history of Getting Songs to Frank there are no luckier guys than Dave Mann and Bob Hilliard...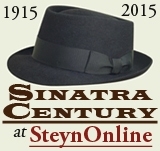 2015 is the centenary year not only of Frank Sinatra but also of Chet Forrest, born one hundred years ago this weekend on July 31st 1915 in Brooklyn, New York.
Chet who? Well, Robert Wright and his partner George "Chet" Forrest were never exactly household names in the music biz, but they certainly worked with a lot of household names, including Rachmaninov, Tchaikovsky and Rimsky-Korsakov...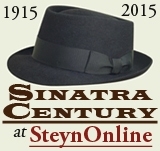 A Sinatra song that wore out a jukebox in Toms River, New Jersey...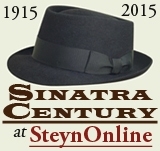 An ode to youthful optimism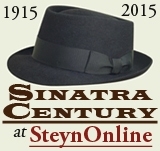 The opening of Frank Sinatra's spectacular Second Act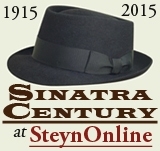 Frank Sinatra poses a musical question to Mitch Miller....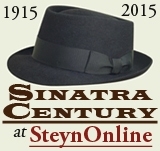 The early Fifties were a rough time for Sinatra - and for his voice...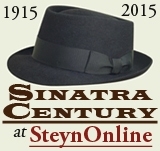 We're a day away from Bastille Day, France's fĂŞte nationale, and so it seems appropriate to spend a little time with franco-Sinatra. He sang a lot of French songs over the years, most famously this:
Je me lève et je te bouscule
Tu n'te réveilles pas
Comme d'habitude...
Oh, no, wait. Frank sang the English lyric:
And now the end is near
And so I face
The final curtain...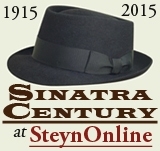 Frankie sings Frankie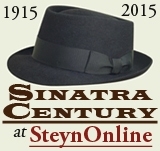 Frank Loesser was a busy Hollywood lyricist who decided he was going to turn himself into a Hollywood lyricist-and-composer. Having pulled that off, he then decided to become one of Broadway's great musical dramatists to boot. His first stage musical, an adaptation of Charley's Aunt, opened in 1948, with a great score and a legendary showstopper of a song in "Once In Love With Amy". On our double-CD Frank Loesser centenary celebration (exclusively available from SteynOnline), you can hear me...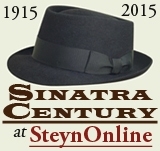 We had a Sinatra song from Canada for Dominion Day, and so we surely have to have an American Sinatra song for Independence Day...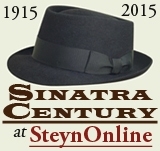 Dominion Day looms - on Wednesday - and we always like to have a Canadian song for the national holiday. Sinatra recorded many maple-infused numbers over six decades, from "I'll Never Smile Again" and "Put Your Dreams Away", both by my fellow Torontonian Ruth Lowe, all the way to Joni Mitchell's "Both Sides Now" and, of course, Paul Anka's "My Way" (he wrote the English lyric). But, for a great national occasion, I figured what could be more Canadian than...
I like New York in June
How About You?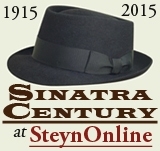 A Sinatra classic - as ballad, bossa or swinger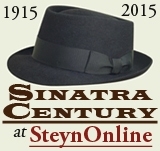 He was the saloon singer - quarter to three, set 'em up, Joe, drinkin' again and thinkin' o' when... spinning round in my brain, like the bubbles in a glass of champagne... But Sinatra liked a non-alcoholic tipple, too. He took "Tea For Two" with Dinah Shore in 1947, and in 1960 recorded "When I Take My Sugar To Tea". But he wasn't averse to something a little more caffeinated:
Way down among Brazilians
Coffee beans grow by the millions
So they've got to find those extra cups to fill...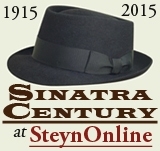 Happy Father's Day to you and yours. I miss my dad more and more as the years go by. Our Sinatra Century would be incomplete without this particular entry:..
A one-hit wonder who never got to hear her one hit sung by anyone - from Sinatra to Molly Ringwald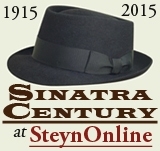 On January 9th 1956, Frank Sinatra went into the not yet famous Studio A of Capitol Records at Hollywood and Vine in Los Angeles for the first of a handful of sessions for a new album...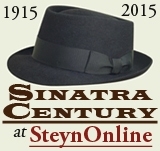 As a companion piece to Friday's "Nancy (with the Laughing Face)", here's a Frank-and-Nancy moment from a couple of decades later...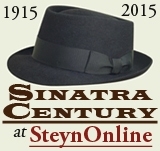 Seventy-one years ago this Monday, June 8th, a cute little four-year-old girl was having a birthday party, and a couple of pals of her dad decided to present her with a very special gift...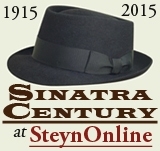 Frank Sinatra rescued a lot of songs over the years, but rarely on the scale he did with this one. It was from an awe-inspiringly hideous train-wreck of a musical. But Sinatra recorded it, and made it a standard - and the only torchy ballad of lost love whose central image is of laundry...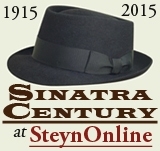 On June 24th 1958 Nelson Riddle raised his baton, and Frank Sinatra made one of the greatest recordings of a great song...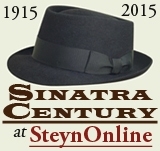 This one stayed in Sinatra's book almost to the end, mainly because he just had so much fun singing it...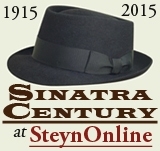 What's the connection between Frank Sinatra and Mickey Rooney?
Oh, that's easy. They were both married to Ava Gardner.
What's the connection between Frank Sinatra and William Shakespeare?
Hmm, well, lemme see...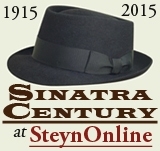 In the pithy summation of Terry Teachout, Alec Wilder "spent his life looking for cracks to fall through". Back in the days when we still had record stores, he didn't quite fit the pop bins or the classical bins or the jazz bins. Which is why, if you're hung up on categorization, it's easier to leave him out of the store altogether...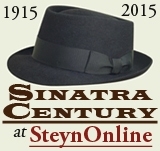 Many years ago - when a lot of the guys who wrote the American Songbook were still around - I started asking composers and lyricists to name their all-time favorite song. This one came right at the top...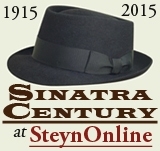 As much as "It Had To Be You" or "The Way You Look Tonight", "I'll Be Seeing You" belongs to a select group of über-standards, the ones we'll still be singing when 90 per cent of the rest have fallen away. It's one of those "our song" songs - especially if you happened to find yourself on a railway platform in the early 1940s waving a loved one off to war...
| | |
| --- | --- |
| | |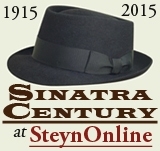 When I first got interested in the great standard songs as a teenager, I sort of assumed that they were all written by the big names - Cole Porter, Gershwin. It took a while to dawn that not everything from, say, the Thirties was concocted by a major writer for a famous Broadway score or a Fred Astaire movie. So after a while, when I heard a song I liked, I'd say, "Hey, I wonder who wrote that." Quite often, the answer would be "Matt Dennis & Tom Adair". Let's just stick to the Sinatra end of their catalogue: Who wrote "The Night We Called It A Day"? Matt Dennis & Tom Adair. Who wrote "Let's Get Away From It All"? Matt Dennis & Tom Adair. Who wrote "Violets For Your Furs"? Matt Dennis & Tom Adair. Who wrote "Angel Eyes"? Matt Dennis. Who wrote "There's No You"? Tom Adair. And who wrote..?
Before St George's Day fades for another year, I thought we'd have a Sinatra English song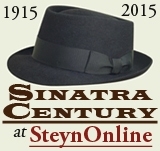 "Fools Rush In" isn't thought of as a Sinatra song. If you were anywhere near a jukebox or a transistor radio in the early Sixties, you'll think of it in Ricky Nelson's bouncy-bouncy teenypop arrangement. But once upon a time the song was new, and Frank Sinatra was the guy singing it...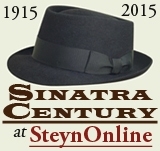 We began the week with Sinatra's one big hit with the Harry James band. We end it with his first big hit with the Tommy Dorsey band. This essay contains material from Mark's book A Song For The Season:
I'll Never Smile Again
Until I smile at you
I'll never laugh again
What good would it do?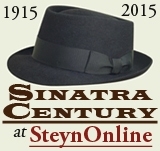 It was June 1939 and the singer Louise Tobin was in her room in the Lincoln Hotel in Manhattan, packing for a gig in Boston with Bobby Hackett's band. Her hubby was napping on the bed. He was a trumpeter, name of Harry James, who'd just left Benny Goodman to put together his own orchestra. The radio was carrying a remote from some joint in New Jersey, and a male vocalist came on...
| | |
| --- | --- |
| | |
Someday someone should release an album called Classical Frank. I mentioned a couple of days ago that "Take My Love" was adapted from Brahms' Third Symphony. Aside from Brahms (whose Lullaby he also recorded), Sinatra sang over the years Anton Rubinstein, Grieg, Rachmaninov, Ravel and Borodin. That's to say, "If You Are But A Dream" (Rubinstein's Romance No 1), "I Love You" and "Strange Music" (Grieg's "Ich Liebe Dich" and "Wedding Day At Troldhaugen", respectively), "Full Moon And Empty Arms" and "I Think Of You" (both from Rachmaninov's Second Piano Concerto), "The Lamp Is Low" (Ravel's Pavane pour une infante défunte)...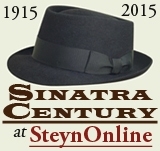 2015 is not only the centenary year of Frank Sinatra but also of Billie Holiday, born April 7th 1915 in Philadelphia. We will mark the occasion formally a little later this week, and acknowledge Sinatra's admiration for Holiday. But the respect was mutual, and on Billie Holiday's last major recording the stand-out track was a Sinatra song...
When Frank Sinatra was 18, it was a very good year. Anything Goes opened at the Alvin Theatre in November 1934 and provided young Frank with a slew of Cole Porter material he would sing in his maturity:.The title song turned up in 1956 on his landmark album Songs For Swingin' Lovers; "Easy To Love" was dropped at the insistence of leading man William Gaxton, but became a highlight of Sinatra's first album at Reprise...
Sinatra sang a lot of Gershwin over the years, but if you had to name the most important "Gershwin song" in his book it would probably be "The Gal That Got Away" - words by Ira Gershwin, but music by Harold Arlen. He made a terrific record of it when the song was new, and then returned to it a quarter-century later to make it - in a medley with "It Never Entered My Mind" - the last great saloon-song sequence to be added to the Sinatra act.
But a lot of George Gershwin tunes stayed with him to the end, too...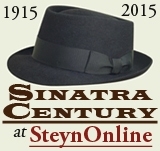 Seventy years ago, the 14th Army under the command of General Bill Slim finally liberated Mandalay and returned it to British rule. Given the popularity of this song among British military concert parties of the time, more than a few of Slim's men must have found themselves singing:
Come you back to Mandalay
Where the old flotilla lay...
Where do you head after you've gone "South Of The Border"? Oh, that's easy...
St Patrick's Day looms, and so a Sinatra Irish confection would seem to be appropriate. Unlike Peggy Lee, he never recorded "When Irish Eyes Are Smiling"; unlike Rosie Clooney, he never recorded "Danny Boy". In the 1949 film Take Me Out To The Ball Game, he sang a song called "O'Brien To Ryan To Goldberg" - Gene Kelly, who was of Irish ancestry, played O'Brien; Jules Munshin, who was of Russian Jewish ancestry, played Goldberg; and Frank Sinatra, who was of Italian ancestry, played, er, Ryan.
But what of the great Irish songwriters..?
The night it took 22 takes...
The 1930s were the golden decade of American popular song. The great Broadway blue chips - Cole Porter, Rodgers & Hart - were hitting their stride, and, as we've explored in recent weeks, a whole generation of far lesser known names were providing great individual numbers that, thanks to Sinatra, have lasted across the decades...
What's the connection between the Muslim call to prayer and Frank Sinatra?
E A Swan?
Who's he?
Well, if you saw Frank Sinatra on stage...
A Sinatra classic, born from a happy accident at a summer resort, and a widow's grief
It's the wee small hours after Oscar Night, and so our Sinatra Centenary song is obliged to take a nod at least in the direction of the Academy Awards. Frank made a whole album of Oscar winners, with the unwieldy title of Sinatra Sings Days of Wine and Roses, Moon River, and Other Academy Award Winners...
An anthem to "the town that Billy Sunday couldn't shut down"
On March 27th 1929 the Charles B Cochran revue Wake Up And Dream opened at the London Pavilion, with a host of West End talent, including Jessie Matthews, Sonnie Hale, Tilly Losch and Douglas Byng. And at one point in the evening Britain's "Radio Sweetheart Number One", Elsie Carlisle, stepped forward and sang...
Valentine's Day looms, and, given his contribution to its popularity, we would be remiss not to include in our Sinatra Century the one great Valentine standard...
It's July 8th 1939 and the Harry James orchestra is on stage at the Roseland Ballroom in New York. They have a new singer - a 23-year old boy vocalist who signed with the band a few days earlier - and he steps to the microphone to sing...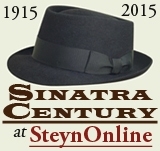 The other day I was reading, strictly for pleasure, The Complete Lyrics Of Johnny Mercer, and in particular the work of his somewhat frustrating final years. And a handful of pages before the end you turn the page, and from one of those projects that never came to fruition are a couple of songs bearing the credit "Words and music by Johnny Mercer and Rod McKuen".
My God, what was he thinking?
We're spending this weekend with the Isham Jones/Gus Kahn end of the Sinatra songbook. Following "It Had To Be You" on Friday, here's a song Frank sang for almost half-a-century from June of 1940, as the new boy vocalist with a hit orchestra, to deep into the 1980s, as a lion in winter jumpin' all over a hard-swingin' band...
An ĂĽber-standard everyone sang before Frank
A song as old as Sinatra that he only got to in the Eighties
I received a letter, as I do from time to time and particularly since we launched this series, making the familiar complaint that I "only write about the kind of songs Frank Sinatra sings" and thereby ignore the older, vernacular American musical tradition. Well, I happen to think Frank chose pretty good songs, so why kick the habit? For example, here's a ring-a-ding-ding Sinatra classic he recorded in 1946:
Oh, give me a home where the buffalo roam
And the deer and the antelope play...
It's often said that the pop songs you like when you're 17 years old are the pop songs that stay with you your entire life. And in that respect Frank Sinatra was very fortunate: When he was 17, to pick up where we left off last week, it was a very good year. The songs in the air as a Hoboken schoolboy prepared to start his adult life were the songs he would record a quarter-century later and still be singing on stage, at Caesars' Palace and the Royal Albert Hall, another quarter-century beyond that...
Our Sinatra Song of the Century Number One
This essay is adapted from Mark's book A Song For The Season
Esther Williams and Ricardo Montalban launch the clash of civilizations
Mark hits a new high as he takes a crack at Mariah Carey's Christmas classic
A happy 75th birthday to the most famous reindeer of all
I love the Great American Train Song. It's a genre that has the sweep and size of the nation...
After "Cat Scratch Fever", Mister Squaresville goes in search of other rockers to cover
A musical moment from The [Un]documented Mark Steyn
Mark celebrates the late Bob Crewe and two Sixties classics
Last week we marked the 75th anniversary of The Wizard Of Oz, but without getting to the film's big song. It's about five minutes in, when we're still in drab, dusty, cheerless, broken-down black-&-white Kansas. Dorothy has tried to tell her folks about an unpleasant incident involving Miss Gulch, but Aunt Em advises her to "stop imagining things" and "find yourself a place where you won't get into any trouble". Dorothy wanders off, taking the injunction seriously. "Do you think there is such a ...
| | |
| --- | --- |
| | |
This month marks the 75th anniversary of one of the greatest and most enduring film musicals ever made, and one of the few to match the dramatic ambition of the best Broadway shows. The Wizard Of Oz gave us a standard song that won the Oscar that year and was potent enough to provide Eva Cassidy with a posthumous hit in the 21st century. We'll get to that next week, but for this week's Song of the Week here's one of my personal favorites from a truly marvelous score: Ding-Dong! The Witch Is ...
| | |
| --- | --- |
| | |
When this weekly feature began eight and a half years ago, our Song of the Week Number One was "San Francisco", to mark the centenary of the 1906 earthquake. But, if I'd been thinking about a Number One song in more profound terms, our Number One song would have been the song we're finally getting round to almost a decade later - because this week's song was really the Number One song for an entire school of songs. As Mel Tormé put it, when Jerome Kern composed this melody, he "invented the popular song". If your idea of a popular song is "Call Me Maybe" or "Ain't Nobody Here But Us Chickens" or "The Tennesee Waltz", Tormé's claim is a bit of a stretch. But it's not unreasonable to claim that with this tune Kern invented what we now call the American Songbook - standards that endure across the decades and can be sung and played in almost any style. It is, thus, the Number One Song, the first and most influential entry in that American Songbook...
| | |
| --- | --- |
| | |
Three hit songs from one flop Sixties musical
To mark the centenary of composer Hugh Martin, here's the second part of Mark's two-part audio tribute to the man who gave the world "Have Yourself A Merry Little Christmas"...
A few weeks back, apropos "June Is Bustin' Out All Over", I mentioned that we hadn't done a lot of "month" songs in the years we've been running this feature. Some months - mostly spring ("April Showers", "April In Paris") and fall ("September Song", "September In The Rain") - seem to lend themselves to musicalization. If "June Is Bustin' Out All Over" is about as big a hit title as the sixth month of the year has ever produced, the eighth (which looms this very week) can't even manage a title ...
What with all the Jew-hate around on the streets of Europe in recent days, I thought it would be nice to have a big Europop hit from that fleeting cultural moment when the Continentals regarded Israel not merely as a normal sovereign state but in fact a rather cool and enviable one...
Some musical advice from Mark's graduation season
The all-time great World Cup song
Steyn celebrates the song Ray Charles used to hum in the back of his car on the way to the gig - until one day his driver told him to record it.
Well, it's the beginning of June and that means June is bustin' out all over! Except that June doesn't really bust, does it..?
Happy Memorial Day to all our American readers. My youngest will be playing with the town band in the parade, and I do believe this number is on the song list. This essay is adapted from my book A Song For The Season...
Ninety years ago this Thursday a baby boy was born in Paris ...well, that was the first unexpected plot twist. He was supposed to be born in America...
Four decades ago, "Waterloo" hit Number One in the British charts, and the four Swedes never looked back, except to check whether their hot pants had split...
Mark explores the art of the cigarette song
One of the biggest pop standards of the 20th century celebrates its 90th birthday this month. Exactly nine decades ago - April 21st 1924 - a new musical comedy opened in Chicago on its pre-Broadway tour. The plot was the usual fluff - three couples in Atlantic City, complications ensue, etc. It should have been a breeze, but it wasn't going well...
Six decades ago - April 12th 1954 - a chubby-faced kiss-curled man pushing 30 with a backing group named after a theory published in Synopsis Astronomia Cometicae in 1705 went into the recording studio at the Pythian Temple on West 70th Street in New York and sang a song written by a man born in the 19th century...
A Rodgers & Hart classic - after three false starts...
The 50th anniversary of the Beatles' only showtune
Shirley Temple - singer, dancer, actress, and rock'n'roller
A song for Groundhog Day?
This column comes by way of request from several readers, ever since the demise of Cecil the Lion hit the front pages. Here is the story of the biggest hit ever to come out of Africa - and why its author never reaped the benefits: In the jungle, the mighty jungle The Lion Sleeps Tonight... A third of a century ago, "The Lion Sleeps Tonight" got to Number One in Britain for Tight Fit. Can't quite place Tight Fit? It sounds like a vaguely parodic name for a boy band, but in fact they were a coed ...
Number One in January 1934 ...and January 1959
Mark tells the story behind "his" Christmas song, and presents an audio special celebrating the man who wrote it...
Hugh Martin, composer, lyricist, vocal arranger, pianist, singer, actor and the man who gave the world the great seasonal gift of "Have Yourself A Merry Little Christmas", was born one hundred years ago this week...
As the years go by I grow less and less interested in grassy knolls and all the rest, but I am struck by one genuine, non-conspiracy-theorist feature of November 22nd 1963...
2015 is Frank Sinatra's centenary year, which necessitates a few modifications to SteynOnline's music, film and entertainment coverage. Our official observances commence tomorrow when our Song of the Week department becomes a Song of the Semi-Week in order to squeeze in 100 Sinatra songs of the century between now and December. Several other folk seem to have opted for this approach, too - our old friend the Pundette has launched a dedicated Sinatra Centenary site for that very purpose - so we ...
For Bastille Day it seemed appropriate to have a French number for our Song of the Week. Unfortunately, this one's British, but it does have an accordion...
How a psychedelic anthem from the summer of love became an easy-listening blockbuster
A day late for Cinco de Mayo, here's Steyn's Song of the Week: the most successful composition by Mexico's first successful female composer.
~and don't forget, if you like Mark's Song of the Week essays, some of his most requested are collected in his book A Song For The Season - including many songs for national days, from "America The Beautiful" to "Waltzing Matilda". You can order your personally autographed copy exclusively from the SteynOnline bookstore.
April 29th apparently marks the anniversary of the launch of the Islamic conquest of the Iberian peninsula in the year 711. So I thought it would be fun to have a suitably Islamo-dominant number for our Song of the Week.
~and don't forget, some of Mark's most popular Song of the Week essays are collected in his book A Song For The Season. You can order your personally autographed copy exclusively from the SteynOnline bookstore.
Happy Easter and Happy Passover to our readers around the world. We moved our Saturday movie night to Good Friday for Mel Gibson's blockbuster The Passion Of The Christ. So, for the weekend proper, here's a special podcast, audiophonically adapted from an essay that appears in Mark's book A Song For The Season. Mark traces the story of Irving Berlin's "Easter Parade", from its obscure origins as a First World War morale booster to its re-emergence a generation later as the American Songbook's ...