Steyn's Song of the Week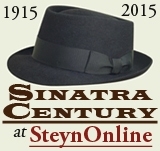 What's the connection between Frank Sinatra and Mickey Rooney?
Oh, that's easy. They were both married to Ava Gardner.
What's the connection between Frank Sinatra and William Shakespeare?
Hmm, well, lemme see... Sinatra and Billy May made a marvelous record of "Falling In Love With Love", introduced by Muriel Angelus in the Broadway show The Boys from Syracuse, which was Rodgers & Hart and George Abbott's version of the Bard's Comedy of Errors. And Frank produced an entire album devoted to Kiss Me, Kate, which is Cole Porter's play-within-a-play take on The Taming of the Shrew. And he recorded Hamlet's soliloquy. Well, okay, just one line of it:
We
Might have been meant for each other
To be
Or not to be
Let our hearts discover...
That's Harold Arlen and Ted Koehler's "Let's Fall In Love". Johnny Mandel's exhilarating arrangement for Sinatra's first Reprise album in 1960 actually opens with that middle section before going into the introductory verse and then the main theme. But, terrific as the record is, the song itself is always disfigured for me by Ted Koehler's lazily impure rhyme of "other" and "discover". I like the way Peggy Lee, on her own recording, cleans it up, via another Shakespearean allusion:
We
Know all the world loves a lover
To be
Or not to be
Let our hearts discover...
At any rate, there's no shortage of connections between Frank Sinatra and William Shakespeare. So let's combine the questions: What's the connection between Frank Sinatra, Mickey Rooney and William Shakespeare?
Well, in 1935, somebody at Warner Brothers had the idea of making a film of A Midsummer Night's Dream and sticking all their biggest stars in it: Dick Powell as Lysander, Olivia de Havilland as Hermia, Joe E Brown as Flute, Jimmy Cagney as Bottom, and a 15-year old Mickey Rooney as Puck. It fell to various composers loafing around the Warners lot to supply the incidental score, and so Hoagy Carmichael found himself dashing off a bit of background music for one of Mickey Rooney's scenes. Carmichael is the composer of our Sinatra song #8 "Stardust", and he doesn't seem the obvious go-to guy for Shakespearean background music. Still, he turned in a pretty nice tune - until some fellow in the Warners front office discovered that a fellow called Mendelssohn had already written a ton of music for A Midsummer Night's Dream, and it might lend the whole project a touch of class. Also, he'd died in 1847, so it wouldn't cost them anything, and the guy wouldn't be too picky about how they used it. So out went Hoagy's tune, and in went Felix's.
A couple of years fly by, and Carmichael moves on from Warner Bros to Paramount, and has a movie hit with Frank Loesser on "Two Sleepy People", for Bob Hope and Shirley Ross. And then he hooks up with a lyricist called Ned Washington, and he remembers that theme he'd written for Mickey Rooney as Puck that he's had lying in the bottom drawer of his desk all this time. And Ned Washington likes the melody, and sits down and writes:
It's not the pale moon that excites me
That thrills and delights me
Oh, no
It's just The Nearness Of You...
I love Hoagy Carmichael's music, but after a while you begin to notice something about his catalogue: he wrote songs about birds ("Skylark"), states ("Georgia On My Mind"), rivers ("Up A Lazy..."), sloth ("Lazybones") and British colonies ("Hong Kong Blues"), but not a lot of straightforward love songs. Even the blockbuster "Stardust" is really a song about a love song - "a memory of love's refrain" - rather than a love song per se.
Likewise, Ned Washington. He wrote the lyrics for Dumbo and Pinocchio, including Disney's signature song, "When You Wish Upon A Star"; and he wrote a lot of big movie themes - for Green Dolphin Street, High Noon, A Town Without Pity. Merciless municipalities were his bread and butter. But again: as with Hoagy, not a lot of on-the-nose love songs. And yet out of the blue, and just the once, Carmichael and Washington came together to write the most unabashedly romantic ballad in either man's oeuvre. It's very simply structured. The main strain tells you all the things that don't excite and thrill and delight, and then lets you in on what does:
It isn't your sweet conversation
That brings this sensation
Oh, no
It's just The Nearness Of You...
The phrase looks a little odd in print, laid out cold on the page. But, set to Hoagy's notes, it seems like the most natural thought in the world, and very romantic. Alec Wilder called the song "simple and unclever. Its line is sensuous without being sensual." As Sinatra's pal Jule Styne always used to say, it's easy to be clever but much harder to be simple. "It's the sort of song," wrote Wilder, "that an academic musical mind would sneer at, yet it is a very tender, forthright expression of the romantic world." "Forthright" is right. The middle section is very direct in its words and music, yet flowing and lyrical:
When I'm in your arms
And I feel you so close to me
All my wildest dreams come true...
Hard to believe Hoagy Carmichael got that melodically rhapsodic over Mickey Rooney. But apparently so. I would love to know which of the two writers came up with the title. Because, by comparison with the thrilling intervals of "Skylark" or the vaudevillian bravura of "Cool, Cool, Cool Of The Evening" or the bluesy wail of "Georgia", it's a very intimate tune - it sounds, so to speak, nearer than the others. Perhaps Carmichael knew that even when he was thinking of Puck and Shakespeare. Or perhaps he didn't grasp it until Ned Washington said, "Hey, how about this for a title..?"
Reborn as "The Nearness Of You", the tune was scheduled for a picture called Romance In The Rough. But the movie never got made, and the song went back in the drawer for another stretch until Sid Kornheiser of Paramount's music department started pushing it in New York. When Billboard published their first ever pop chart on July 20th 1940, the very first Number One was Sinatra and Tommy Dorsey with "I'll Never Smile Again", but a little further down the rankings there at last was the dropped Puck theme: "The Nearness Of You", as recorded by Glenn Miller and his Orchestra.
Frank happened to be on the radio that night of July 20th, live on NBC with the Tommy Dorsey orchestra at the Astor Hotel in New York. For whatever reason, Dorsey chose not to do their brand new Number One, "I'll Never Smile Again", but instead had his boy vocalist take a crack at Glenn Miller's hit, "The Nearness Of You".
It was a slow-burn standard, but it picked up: "Lately," noted Hoagy Carmichael, "'The Nearness Of You' has been giving 'Stardust' a run for its money." Sinatra played his part in that, choosing to revive the song in 1947, when nobody was singing it. By the time he returned for a second shot at the song in 1960, everybody was singing it. It would be nice to think that Frank's Columbia recording established the number, but it seems the record that made the difference was Bob Manning's treacly treatment with Monty Kelly (of 101 Strings) in 1953. Within three years of Mr Manning's concentrated saccharine, Chet Baker, Gerry Mulligan, Stan Getz, Ella and Louis, Lionel Hampton and Gene Krupa had all recorded the song, and made it a standard.
Sinatra's later version of "The Nearness Of You" was supposed to be the title track for an album of classic ballads arranged by Nelson Riddle. But then Lew Spence and Alan and Marilyn Bergman presented Frank with a new number: "Nice'n'Easy." And, even though it wasn't entirely simpatico with the other tracks, Capitol decided to make that the title song, and ditch "The Nearness Of You" entirely. It surfaced in 1962 on a ragbag compilation called Sinatra Sings of Love and Things, and wasn't restored to its rightful place with the Nice'n'Easy tracks until the CD era. Yet there it is on the new centennial Ultimate Sinatra collection, selected as one of one hundred tracks encompassing the entirety of Frank's career.
As with "Stardust", I sometimes wish the two Sinatra versions could be combined into one ultimate "Nearness of You". In a strange way, Axel Stordahl's 1947 arrangement and Nelson Riddle's 1960 chart are the precise inversion of each other. Stordahl starts with one of his characteristic orchestral introductions - string writing of almost classical beauty, overlaid by a flute. And then Frank enters. On the Riddle arrangement, Frank starts cold:
It's not the pale moon that excites me...
There's nothing under him until "pale moon", at which point Bill Miller's piano comes in. And for the first eight bars that's it: Sinatra, Miller and a "Nearness of You" that's nearer and up closer than it's ever got. And then at the end of that first title phrase Riddle throws in a little rhythmic vamp - like Stordhal's legato intro, it's flute-driven, by the great Harry Klee. Both Riddle and Stordahl were musically fecund, and hardly ever just scored a song without adding new melodic material in the form of intros and fills and codas and counter-melodies. On the 1960 chart, Riddle introduces a new string line during the second eight, and another at the end, and another in the middle section. And, although Sinatra's vocal is direct and unaffected, what's going on underneath starts to sound a little busier than it ought to be.
Stordahl goes the opposite route. After the big intro, he draws his forces back, and you're aware of Frank's voice against the guitar, flute and other individual instruments. And he does something quite beautiful in the middle section, taking out the rhythm section entirely for the full eight bars so that, in the intimacy of the suspended pulse, Sinatra and the song seem to have moved even nearer.
Which is the right way to do "The Nearness of You"? Either. Both. I love Stordahl's intro, but I like Frank opening cold, too. On balance, I prefer Sinatra's mature vocal with Riddle on the 1960 chart, but I wonder what it would sound like against the more sensitive Stordahl arrangement. Perhaps in some celestial recording studio Frank, Ax and Nelson have worked it all out.
Everybody sings it now, but the trick is to keep it simple and unaffected. Nat Cole and Rosie Clooney and Hoagy's fellow composer Cy Coleman do it very nicely, and Julie London's and Johnny Hartman's are a pair of surefire bearskin-rug recordings. And a few years ago something odd happened: "The Nearness Of You" became one of those select Golden Age standards to do better with the rock and post-rock crowd than it had ever done in the heyday of the American songbook. The ladies love it - Sheena Easton, Crystal Gayle, Diana Krall, and, of course, Norah Jones on her breakout album, Come Away With Me, which sold 20 million copies and presumably means there are a lot of people who hear the Sinatra/Riddle track and wonder who the guy lousing up that Norah Jones song is. But the gents like it, too - James Brown and Rod Stewart, Michael Brecker and James Taylor, and even Keith Richards, who in his dotage has started performing it live at Rolling Stones gigs. He has a somewhat haphazard relationship with Hoagy's muscular melody, and God knows what Sir Mick makes of it, since his general opinion on the Great American Songbook is that it's all "crap". But in the second decade of the 21st century it's no bad thing to be the preferred ballad of every grizzled old rocker still working.
Sinatra sang other Hoagy Carmichael tunes, from "The Lamplighter's Serenade", one of his first solo recordings with Axel Stordahl in 1942, to "I Get Along Without You Very Well", whose Nelson Riddle chart Sinatra still sang in concert as late as the 1980s. He sang even more Ned Washington lyrics, from "(I Don't Stand) A Ghost of a Chance" in 1945, to the song that ended Sinatra's solo recording career: "My Foolish Heart", which Sinatra sang to a sexy, cookin' Billy May arrangement on June 6th 1988. It was the first song on the session and there was nothing wrong with his performance, but he wasn't happy with it. And, after a quick glance at the other tracks scheduled for that evening, he said to the band, "Good night, ladies and gentlemen. Thank you." And, within the exception of a Christmas charity single and the celebrity duets projects of the Nineties, Sinatra's 49-year solo recording career came to an end - with a Ned Washington lyric.
Still, Washington's only standard with Hoagy Carmichael is hard to beat, and we owe it all to the son of a glover from Snitterfield, Warwickshire: Will Shakespeare. Without Shakespeare, we wouldn't have had A Midsummer Night's Dream. And without A Midsummer Night's Dream, we wouldn't have had Mickey Rooney as Puck. And without Mickey Rooney as Puck, we wouldn't have had Hoagy Carmichael's tune. And without Hoagy Carmichael's tune, Ned Washington would never have written:
I need no soft lights to enchant me
If you'll only grant me
The right
To hold you ever so tight
And to feel in the night
The Nearness Of You.
I love that triple rhyme right at the climax, and young Blue Eyes in 1947 and his older self in 1960 both sing it beautifully. The nearness of Frank Sinatra, Ned Washington, Hoagy Carmichael, Mickey Rooney ...and William Shakespeare.
~For an alternative Sinatra Hot 100, the Pundette has launched her own Frank countdown. She's into the Top 60 now, but it all began with another Hoagy Carmichael song, at Number 100, "In The Cool, Cool, Cool Of The Evening". Bob Belvedere over at The Camp Of The Saints is also counting down his Top 100 Sinatra tracks, and he's up to Number 47, Jerome Kern and Dorothy Fields' "I Won't Dance".
~There's more Sinatra songs in Mark Steyn's American Songbook, and Steyn's original 1998 obituary of Sinatra, "The Voice", appears in the anthology Mark Steyn From Head To Toe. Personally autographed copies of both books are exclusively available from the Steyn store.
SINATRA CENTURY
at SteynOnline
6) THE ONE I LOVE (BELONGS TO SOMEBODY ELSE)
8) STARDUST
10) WHAT IS THIS THING CALLED LOVE?
11) CHICAGO
12) THE CONTINENTAL
13) ALL OF ME
15) NIGHT AND DAY
16) I WON'T DANCE
17) I'VE GOT YOU UNDER MY SKIN
19) EAST OF THE SUN (AND WEST OF THE MOON)
21) A FOGGY DAY (IN LONDON TOWN)
24) OUR LOVE
27) FOOLS RUSH IN
32) I'LL BE AROUND
from Steyn's Song of the Week Extra, May 22, 2015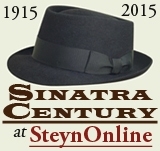 In the pithy summation of Terry Teachout, Alec Wilder "spent his life looking for cracks to fall through". Back in the days when we still had record stores, he didn't quite fit the pop bins or the classical bins or the jazz bins. Which is why, if you're hung up on categorization, it's easier to leave him out of the store altogether...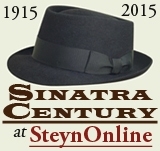 Many years ago - when a lot of the guys who wrote the American Songbook were still around - I started asking composers and lyricists to name their all-time favorite song. This one came right at the top...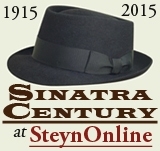 As much as "It Had To Be You" or "The Way You Look Tonight", "I'll Be Seeing You" belongs to a select group of über-standards, the ones we'll still be singing when 90 per cent of the rest have fallen away. It's one of those "our song" songs - especially if you happened to find yourself on a railway platform in the early 1940s waving a loved one off to war...
| | |
| --- | --- |
| | |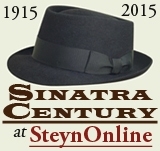 When I first got interested in the great standard songs as a teenager, I sort of assumed that they were all written by the big names - Cole Porter, Gershwin. It took a while to dawn that not everything from, say, the Thirties was concocted by a major writer for a famous Broadway score or a Fred Astaire movie. So after a while, when I heard a song I liked, I'd say, "Hey, I wonder who wrote that." Quite often, the answer would be "Matt Dennis & Tom Adair". Let's just stick to the Sinatra end of their catalogue: Who wrote "The Night We Called It A Day"? Matt Dennis & Tom Adair. Who wrote "Let's Get Away From It All"? Matt Dennis & Tom Adair. Who wrote "Violets For Your Furs"? Matt Dennis & Tom Adair. Who wrote "Angel Eyes"? Matt Dennis. Who wrote "There's No You"? Tom Adair. And who wrote..?
Before St George's Day fades for another year, I thought we'd have a Sinatra English song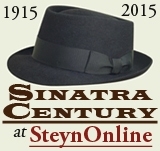 "Fools Rush In" isn't thought of as a Sinatra song. If you were anywhere near a jukebox or a transistor radio in the early Sixties, you'll think of it in Ricky Nelson's bouncy-bouncy teenypop arrangement. But once upon a time the song was new, and Frank Sinatra was the guy singing it...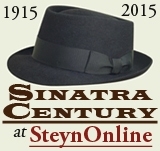 We began the week with Sinatra's one big hit with the Harry James band. We end it with his first big hit with the Tommy Dorsey band. This essay contains material from Mark's book A Song For The Season:
I'll Never Smile Again
Until I smile at you
I'll never laugh again
What good would it do?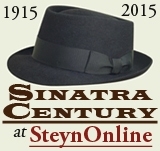 It was June 1939 and the singer Louise Tobin was in her room in the Lincoln Hotel in Manhattan, packing for a gig in Boston with Bobby Hackett's band. Her hubby was napping on the bed. He was a trumpeter, name of Harry James, who'd just left Benny Goodman to put together his own orchestra. The radio was carrying a remote from some joint in New Jersey, and a male vocalist came on...
| | |
| --- | --- |
| | |
Someday someone should release an album called Classical Frank. I mentioned a couple of days ago that "Take My Love" was adapted from Brahms' Third Symphony. Aside from Brahms (whose Lullaby he also recorded), Sinatra sang over the years Anton Rubinstein, Grieg, Rachmaninov, Ravel and Borodin. That's to say, "If You Are But A Dream" (Rubinstein's Romance No 1), "I Love You" and "Strange Music" (Grieg's "Ich Liebe Dich" and "Wedding Day At Troldhaugen", respectively), "Full Moon And Empty Arms" and "I Think Of You" (both from Rachmaninov's Second Piano Concerto), "The Lamp Is Low" (Ravel's Pavane pour une infante défunte)...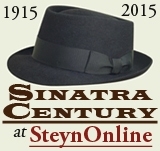 2015 is not only the centenary year of Frank Sinatra but also of Billie Holiday, born April 7th 1915 in Philadelphia. We will mark the occasion formally a little later this week, and acknowledge Sinatra's admiration for Holiday. But the respect was mutual, and on Billie Holiday's last major recording the stand-out track was a Sinatra song...
When Frank Sinatra was 18, it was a very good year. Anything Goes opened at the Alvin Theatre in November 1934 and provided young Frank with a slew of Cole Porter material he would sing in his maturity:.The title song turned up in 1956 on his landmark album Songs For Swingin' Lovers; "Easy To Love" was dropped at the insistence of leading man William Gaxton, but became a highlight of Sinatra's first album at Reprise...
Sinatra sang a lot of Gershwin over the years, but if you had to name the most important "Gershwin song" in his book it would probably be "The Gal That Got Away" - words by Ira Gershwin, but music by Harold Arlen. He made a terrific record of it when the song was new, and then returned to it a quarter-century later to make it - in a medley with "It Never Entered My Mind" - the last great saloon-song sequence to be added to the Sinatra act.
But a lot of George Gershwin tunes stayed with him to the end, too...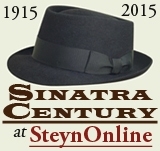 Seventy years ago, the 14th Army under the command of General Bill Slim finally liberated Mandalay and returned it to British rule. Given the popularity of this song among British military concert parties of the time, more than a few of Slim's men must have found themselves singing:
Come you back to Mandalay
Where the old flotilla lay...
Where do you head after you've gone "South Of The Border"? Oh, that's easy...
St Patrick's Day looms, and so a Sinatra Irish confection would seem to be appropriate. Unlike Peggy Lee, he never recorded "When Irish Eyes Are Smiling"; unlike Rosie Clooney, he never recorded "Danny Boy". In the 1949 film Take Me Out To The Ball Game, he sang a song called "O'Brien To Ryan To Goldberg" - Gene Kelly, who was of Irish ancestry, played O'Brien; Jules Munshin, who was of Russian Jewish ancestry, played Goldberg; and Frank Sinatra, who was of Italian ancestry, played, er, Ryan.
But what of the great Irish songwriters..?
The night it took 22 takes...
The 1930s were the golden decade of American popular song. The great Broadway blue chips - Cole Porter, Rodgers & Hart - were hitting their stride, and, as we've explored in recent weeks, a whole generation of far lesser known names were providing great individual numbers that, thanks to Sinatra, have lasted across the decades...
What's the connection between the Muslim call to prayer and Frank Sinatra?
E A Swan?
Who's he?
Well, if you saw Frank Sinatra on stage...
A Sinatra classic, born from a happy accident at a summer resort, and a widow's grief
It's the wee small hours after Oscar Night, and so our Sinatra Centenary song is obliged to take a nod at least in the direction of the Academy Awards. Frank made a whole album of Oscar winners, with the unwieldy title of Sinatra Sings Days of Wine and Roses, Moon River, and Other Academy Award Winners...
An anthem to "the town that Billy Sunday couldn't shut down"
On March 27th 1929 the Charles B Cochran revue Wake Up And Dream opened at the London Pavilion, with a host of West End talent, including Jessie Matthews, Sonnie Hale, Tilly Losch and Douglas Byng. And at one point in the evening Britain's "Radio Sweetheart Number One", Elsie Carlisle, stepped forward and sang...
Valentine's Day looms, and, given his contribution to its popularity, we would be remiss not to include in our Sinatra Century the one great Valentine standard...
It's July 8th 1939 and the Harry James orchestra is on stage at the Roseland Ballroom in New York. They have a new singer - a 23-year old boy vocalist who signed with the band a few days earlier - and he steps to the microphone to sing...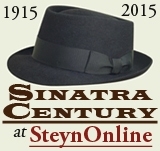 The other day I was reading, strictly for pleasure, The Complete Lyrics Of Johnny Mercer, and in particular the work of his somewhat frustrating final years. And a handful of pages before the end you turn the page, and from one of those projects that never came to fruition are a couple of songs bearing the credit "Words and music by Johnny Mercer and Rod McKuen".
My God, what was he thinking?
We're spending this weekend with the Isham Jones/Gus Kahn end of the Sinatra songbook. Following "It Had To Be You" on Friday, here's a song Frank sang for almost half-a-century from June of 1940, as the new boy vocalist with a hit orchestra, to deep into the 1980s, as a lion in winter jumpin' all over a hard-swingin' band...
An über-standard everyone sang before Frank
A song as old as Sinatra that he only got to in the Eighties
I received a letter, as I do from time to time and particularly since we launched this series, making the familiar complaint that I "only write about the kind of songs Frank Sinatra sings" and thereby ignore the older, vernacular American musical tradition. Well, I happen to think Frank chose pretty good songs, so why kick the habit? For example, here's a ring-a-ding-ding Sinatra classic he recorded in 1946:
Oh, give me a home where the buffalo roam
And the deer and the antelope play...
It's often said that the pop songs you like when you're 17 years old are the pop songs that stay with you your entire life. And in that respect Frank Sinatra was very fortunate: When he was 17, to pick up where we left off last week, it was a very good year. The songs in the air as a Hoboken schoolboy prepared to start his adult life were the songs he would record a quarter-century later and still be singing on stage, at Caesars' Palace and the Royal Albert Hall, another quarter-century beyond that...
Our Sinatra Song of the Century Number One
This essay is adapted from Mark's book A Song For The Season
Esther Williams and Ricardo Montalban launch the clash of civilizations
Mark hits a new high as he takes a crack at Mariah Carey's Christmas classic
A happy 75th birthday to the most famous reindeer of all
I love the Great American Train Song. It's a genre that has the sweep and size of the nation...
After "Cat Scratch Fever", Mister Squaresville goes in search of other rockers to cover
In this week before Halloween, how about a Song of the Week for the witching hour? I've always loved songs that use magic as an image of romantic seduction and intoxication. Cole Porter got in on it early in "You Do Something To Me" (1928):
Let me live 'neath your spell
Do do That voodoo
That you do So well…
Harold Arlen and Johnny Mercer extended the thought in 1944:
That Old Black Magic has me in its spell...
But it was Cy Coleman and Carolyn Leigh who wrapped up the subject once and for all...
A musical moment from The [Un]documented Mark Steyn
It's twenty years since Jule Styne died - back in September 1994. By then he was the last of the Broadway giants, the composer of Funny Girl, Peter Pan and Gentlemen Prefer Blondes, and perhaps the greatest of all American musicals Gypsy; the prodigious hitmaker of "Time After Time" and "People" and "Diamonds Are A Girl's Best Friend"; the guy who'd supplied all those sidewalk Santas and shopping malls with "Let It Snow! Let It Snow! Let It Snow!" I write about him in Mark Steyn's American ...
Mark celebrates the late Bob Crewe and two Sixties classics
Last week we marked the 75th anniversary of The Wizard Of Oz, but without getting to the film's big song. It's about five minutes in, when we're still in drab, dusty, cheerless, broken-down black-&-white Kansas. Dorothy has tried to tell her folks about an unpleasant incident involving Miss Gulch, but Aunt Em advises her to "stop imagining things" and "find yourself a place where you won't get into any trouble". Dorothy wanders off, taking the injunction seriously. "Do you think there is such a ...
| | |
| --- | --- |
| | |
This month marks the 75th anniversary of one of the greatest and most enduring film musicals ever made, and one of the few to match the dramatic ambition of the best Broadway shows. The Wizard Of Oz gave us a standard song that won the Oscar that year and was potent enough to provide Eva Cassidy with a posthumous hit in the 21st century. We'll get to that next week, but for this week's Song of the Week here's one of my personal favorites from a truly marvelous score: Ding-Dong! The Witch Is ...
| | |
| --- | --- |
| | |
When this weekly feature began eight and a half years ago, our Song of the Week Number One was "San Francisco", to mark the centenary of the 1906 earthquake. But, if I'd been thinking about a Number One song in more profound terms, our Number One song would have been the song we're finally getting round to almost a decade later - because this week's song was really the Number One song for an entire school of songs. As Mel Tormé put it, when Jerome Kern composed this melody, he "invented the popular song". If your idea of a popular song is "Call Me Maybe" or "Ain't Nobody Here But Us Chickens" or "The Tennesee Waltz", Tormé's claim is a bit of a stretch. But it's not unreasonable to claim that with this tune Kern invented what we now call the American Songbook - standards that endure across the decades and can be sung and played in almost any style. It is, thus, the Number One Song, the first and most influential entry in that American Songbook...
| | |
| --- | --- |
| | |
Three hit songs from one flop Sixties musical
To mark the centenary of composer Hugh Martin, here's the second part of Mark's two-part audio tribute to the man who gave the world "Have Yourself A Merry Little Christmas"...
A few weeks back, apropos "June Is Bustin' Out All Over", I mentioned that we hadn't done a lot of "month" songs in the years we've been running this feature. Some months - mostly spring ("April Showers", "April In Paris") and fall ("September Song", "September In The Rain") - seem to lend themselves to musicalization. If "June Is Bustin' Out All Over" is about as big a hit title as the sixth month of the year has ever produced, the eighth (which looms this very week) can't even manage a title ...
What with all the Jew-hate around on the streets of Europe in recent days, I thought it would be nice to have a big Europop hit from that fleeting cultural moment when the Continentals regarded Israel not merely as a normal sovereign state but in fact a rather cool and enviable one...
I wouldn't want June to recede too far into the rear mirror without noting that it marked the 50th anniversary of a great and historic recording that, before the Sixties were out, burst the bounds of the planet. In June 1964, Frank Sinatra and Count Basie were in the studio making their second album together, It Might As Well Be Swing. The arranger was Quincy Jones, and his work for the set included a chart Frank kept in the act all the way to his very last concert...
Dominion Day looms - on Tuesday. We always like to have a Canadian song for the national holiday, and what could be more Canadian than...
I like New York in June
How About You?
Some musical advice from Mark's graduation season
The all-time great World Cup song
Steyn celebrates the song Ray Charles used to hum in the back of his car on the way to the gig - until one day his driver told him to record it.
Well, it's the beginning of June and that means June is bustin' out all over! Except that June doesn't really bust, does it..?
Happy Memorial Day to all our American readers. In order to observe the occasion, we're postponing our Sinatra Century song for 24 hours for a seasonal salute. My youngest will be playing with the town band in the parade, and I do believe this number is on the song list. This essay is adapted from my book A Song For The Season:
Memorial Day in America – or, if you're a real old-timer, Decoration Day, a day for decorating the graves of the Civil War dead. The songs many of those soldiers marched to are still known today – "The Yellow Rose Of Texas", "When Johnny Comes Marching Home", "Dixie". But this one belongs in a category all its own:
Mine eyes have seen the glory of the coming of the Lord
He is trampling out the vintage where the grapes of wrath are stored...
In 1861, the United States had nothing that was recognized as a national anthem, and, given that they were now at war, it was thought they ought to find one – a song "that would inspire Americans to patriotism and military ardor"...
Ninety years ago this Thursday a baby boy was born in Paris ...well, that was the first unexpected plot twist. He was supposed to be born in America...
Four decades ago, "Waterloo" hit Number One in the British charts, and the four Swedes never looked back, except to check whether their hot pants had split...
Mark explores the art of the cigarette song
One of the biggest pop standards of the 20th century celebrates its 90th birthday this month. Exactly nine decades ago - April 21st 1924 - a new musical comedy opened in Chicago on its pre-Broadway tour. The plot was the usual fluff - three couples in Atlantic City, complications ensue, etc. It should have been a breeze, but it wasn't going well...
Six decades ago - April 12th 1954 - a chubby-faced kiss-curled man pushing 30 with a backing group named after a theory published in Synopsis Astronomia Cometicae in 1705 went into the recording studio at the Pythian Temple on West 70th Street in New York and sang a song written by a man born in the 19th century...
A musical postscript to our Marlon Brando movie night
A Rodgers & Hart classic - after three false starts...
The 50th anniversary of the Beatles' only showtune
Shirley Temple - singer, dancer, actress, and rock'n'roller
Mark celebrates a classic saloon song
A song for Groundhog Day?
Pete Seeger and the "folk song" he stole
Number One in January 1934 ...and January 1959
Mark tells the story behind "his" Christmas song, and presents an audio special celebrating the man who wrote it...
Hugh Martin, composer, lyricist, vocal arranger, pianist, singer, actor and the man who gave the world the great seasonal gift of "Have Yourself A Merry Little Christmas", was born one hundred years ago this week...
As the years go by I grow less and less interested in grassy knolls and all the rest, but I am struck by one genuine, non-conspiracy-theorist feature of November 22nd 1963...
2015 is Frank Sinatra's centenary year, which necessitates a few modifications to SteynOnline's music, film and entertainment coverage. Our official observances commence tomorrow when our Song of the Week department becomes a Song of the Semi-Week in order to squeeze in 100 Sinatra songs of the century between now and December. Several other folk seem to have opted for this approach, too - our old friend the Pundette has launched a dedicated Sinatra Centenary site for that very purpose - so we ...
For Bastille Day it seemed appropriate to have a French number for our Song of the Week. Unfortunately, this one's British, but it does have an accordion...
How a psychedelic anthem from the summer of love became an easy-listening blockbuster
A day late for Cinco de Mayo, here's Steyn's Song of the Week: the most successful composition by Mexico's first successful female composer.
~and don't forget, if you like Mark's Song of the Week essays, some of his most requested are collected in his book A Song For The Season - including many songs for national days, from "America The Beautiful" to "Waltzing Matilda". You can order your personally autographed copy exclusively from the SteynOnline bookstore.
April 29th apparently marks the anniversary of the launch of the Islamic conquest of the Iberian peninsula in the year 711. So I thought it would be fun to have a suitably Islamo-dominant number for our Song of the Week.
~and don't forget, some of Mark's most popular Song of the Week essays are collected in his book A Song For The Season. You can order your personally autographed copy exclusively from the SteynOnline bookstore.
Happy Easter and Happy Passover to our readers around the world. We moved our Saturday movie night to Good Friday for Mel Gibson's blockbuster The Passion Of The Christ. So, for the weekend proper, here's a special podcast, audiophonically adapted from an essay that appears in Mark's book A Song For The Season. Mark traces the story of Irving Berlin's "Easter Parade", from its obscure origins as a First World War morale booster to its re-emergence a generation later as the American Songbook's ...