Steyn's Song of the Week
The grueling schedule of my sellout Aussie tour kept my nose mostly to the grindstone, but I did get a couple of hours off on the Victoria leg and so treated myself to a matinée of Georgy Girl: The Seekers Musical at Her Majesty's Theatre in Melbourne.
That's where the Seekers started in folk clubs and coffee houses over half-a-century back, of course, and the hometown crowd loved the show. The creators don't make the mistake of many jukebox musicals of over-complicating things, and it's a very winning cast. If it comes out more as "The Judith Durham Story" than "The Seekers Story", perhaps that's the nature of the beast: even among the chaps' roles, her late husband and a straying English boyfriend are in dramatic terms the male leads while Athol, Keith and Bruce seem at times to be relegated to the supporting cast. The dancing is excellent, which seems an odd thing to say about a Seekers musical, and parts of the Second Act are tragic and moving if a little undernourished in the set-up.
But I have two modest quibbles. The songs divide into two categories - "book songs", intended to advance the plot, and "performance songs": here we are at Abbey Road recording a single, etc. "Georgy Girl" falls into both camps: It's "performed" campily at the Oscars in the style of Mitzi Gaynor and her dancing boys (the Seekers were unable to attend, due to a tour date in Britain) and then emerges for the Act One finale as a "book song" in which Judith Durham is taken on a shopping expedition down Carnaby Street in order that she might "shed those dowdy feathers and fly - a little bit". So we don't really hear it in familiar Seekers-style until the very end of the show as a kind of encore. (By the way, the cast don't pucker up for the intro, which would tend to support the view of SteynOnline readers that that's non-anthropogenic whistling on the record.) But I'm not sure that's really the best way to get the full bang for the buck from the title song.
Another Seekers smash winds up with very perfunctory treatment. Judith is in hospital with appendicitis, and the lads gather round her bedside to sing:
Train whistle blowing
Makes a sleepy noise
Underneath their blankets
Go all the girls and boys

Rockin', rollin', ridin'
Out along the bay
All bound for Morningtown
Many miles away...
When Hal Prince revived Show Boat in the Nineties, I complained that he'd turned "Why Do I Love You?", a grown-up love song, into a children's song, for Elaine Stritch to sing to a newborn babe. "Morningtown Ride" is a children's song that certainly resonates for grown-ups, especially in the Seekers' wonderfully rich vocal blend - but not if it's a partial rendition, cut off by the narrator cynically remarking that the bedside scene never happened. It seems a terrible waste of one of the most evocative of their hits. Ever since writing about "Georgy Girl" a fortnight back, I've been in a Seekerish vibe, and the one I've been warbling in the shower from Perth to Brisbane to Cloncurry and Mount Isa has been "Morningtown Ride", a child's lullaby that, at least for me, seems to take on deeper shades as the years roll by.
They first recorded it in 1964 for the grimly titled Hide & Seekers LP, with Bobby Richards' orchestra, and then two years on re-made it, with Tom Springfield producing. It hit Number Two in Britain - or one place higher than "Georgy Girl" got a couple of months later.
By then the song was almost a decade old. It was written in 1957 by Malvina Reynolds. When first her name caught my eye on a record sleeve many years ago, I assumed she was vaguely Hispanic - the Argentines like to call the Falkland Islands las Islas Malvinas, which President Obama, pandering to his Latin hosts a couple of years back, rendered as "the Maldives" (close enough). But Malvinas is an Hispanicization of the French name Îles Malouines, so called because the first Frenchman to stumble on them, Louis-Antoine de Bougainville, had set sail from St-Malo in Brittany. "Malvina" as a name turns out to be Gaelic - from mala mhinn, meaning "smooth brow", which the Scots poet James Macpherson turned into a girl's name in the 18th century. Napoleon was a big fan of Macpherson's poetry, so the name became popular in Scandinavia, because Napoleon was a godfather to several children of King Carl XIV Johan of Sweden and King Carl III Johan of Norway - they're the same guy, but they had different numerals in each realm, as indeed I recall CJAD's Tommy Schnurmacher once suggesting Queen Elizabeth ought to have in Canada...
I seem to have wandered rather far afield here. Where was I? Oh, yeah... When I first saw the name Malvina, I thought it was very mellifluous and thus a perfect name for a maker of music. And then I discovered that Malvina Reynolds's best known work was one of the most repulsive songs of the 1960s (which is a very competitive title). One day Mrs Reynolds and her husband were driving from their home in San Francisco to La Honda, where she was booked to sing for the Friends Committee on National Legislation. Motoring through Daly City, California, she was so aghast at the suburban tract housing that she pulled over, got her hubby to take the wheel, and en route to the Committee meeting wrote:
Little Boxes on the hillside
Little Boxes made of ticky-tacky
Little Boxes, Little Boxes,
Little Boxes all the same...
And then she moved on to the people inside the little boxes:
And they all play on the golf-course
And drink their martini dry
And they all have pretty children...
And they all get put in boxes
And they all come out the same...
The lyric is one giant condescending sneer at so-called suburban conformity. Tom Lehrer, a far more gifted social observer, called it "the most sanctimonious song ever written". If you go to those post-war sub-divisions now, the little boxes are individualized with dormers and porches and bay windows and a spare room above the garage. If Malvina Reynolds wanted to see little people living little lives in little boxes, she should have seen the totalitarian housing the Communists warehoused their citizens in throughout the Warsaw Pact: two-room flats, seriously little boxes, and all identical.
But the tune was child-like, and the composer's pal Pete Seeger succeeded in passing it off as a kind of kiddie song, and for a while the word "ticky-tacky" entered the vernacular - with the result that this preening, snobbish horror remains Malvina Reynolds' best known song in the United States.
She was born Malvina Milder in San Francisco in 1900, the daughter of socialist immigrant non-observant Jews. There are all kinds of little boxes: unlike many red-diaper babies, she came out the same, and stayed the same. By the age of ten she was contributing poems to The International Socialist Review:
Workers of the World unite!
And make your heavy burden light;
Let Tyranny fade away,
Let us see the better day.
The day when everyone must work
They'll get nothing, those who shirk,
Those who do all will get the all,
Those who do little will get the small
And everything will be alright,
If the workers of the world unite.

From our little Comrade
Malvina Milder
That's certainly a precocious effort for a ten-year old, albeit not quite on message for Bernie 2016: These days socialists no longer demand that "everyone must work" and that "those who shirk" should "get nothing". Au contraire.
"Our little Comrade" went to Berkeley, married a labor organizer and never strayed too far from the Bay Area. The Grade Five socialist apparently gave no thought to setting her injunctions against shirkers to music until, well into middle-age, she went to a Pete Seeger gig:
It was in 1947, at a hootenanny in Los Angeles, a middle-aged woman asked if she could speak to me. 'What is it?' says I. 'Well, I need more time than we have here.'

Next day she came to where I and my small family were staying, and said 'I'd like to try doing what you do - sing for unions, for people trying to do something good in their corner of the world.' I said, well you don't get rich but you meet all sorts of wonderful people. I probably told her to get on the phone when she read the papers about something interesting going on, and tell 'em she had a song which would hit the spot for their meeting.

She was 46 or 47, had a shock of beautiful white hair. I was 28; I remember thinking 'Gee, she's kinda old to get started.' I had a lot to learn. Pretty soon she was turning out song after song after song!
It wasn't all paeans to the tireless working man. In 1977, a year before her death, Malvina Reynolds told an interviewer that once in a while she had something she wanted to say to children:
I remember how it was when I was little. I know youngsters hate to go to bed at night because it seems like, as far as they're concerned, it is the end of the world. Going to sleep means you are going to be cut off from everything, and I wanted to help them understand that they were heading somewhere, when they got into bed, that they were heading for morning.
And so, in 1957, she wrote:
Train whistle blowing
Makes a sleepy noise
Underneath their blankets
Go all the girls and boys

Heading from the station
Out along the bay
All bound for Morningtown
Many miles away...
It's just a terrific song idea: The notion of sleep as a railway journey all through the night until you arrive in Morningtown.
In Mrs Reynolds' conception, the children are running the show:
Sarah's at the engine
Tony rings the bell
John swings the lantern
To show that all is well...
The first major recording was by the Limelighters in 1962. If you've seen A Mighty Wind, you'll be familiar with the "Folksmen". They conjure at least in part the Limelighters, a now obscure folk group who nevertheless in 1962 made the first significant recording of "Morningtown Ride" - but with a two-thirds cast change:
Judy's at the engine
Tony rings the bell
Seymour swings the lantern
To show that all is well...
Seymour? Where'd that come from? The Performer's Guide to Lyric Changes by Seymour Sales? Two years later, for the Seekers' first outing to Morningtown, the verse had been - wisely, in my opinion - universalized:
Driver at the engine
Fireman rings the bell
Sandman swings the lantern
To show that all is well...
"Sandman" is a kind of pun. He's the traditional bringer of sleep and dreams (as in "Mr Sandman"), but, if you know your locomotives, you'll be aware that trains come equipped with a sandbox, to spray sand on the tracks in rainy weather to assist traction. On this ride, I'd rather have a sandman than John or Seymour. It's comforting:
Maybe it is raining
Where our train will ride
All the little travelers
Are warm and snug inside

Rockin', rollin', ridin'
Out along the bay
All bound for Morningtown
Many miles away...
[UPDATE: Many Aussie readers seem genuinely to think it's about Mornington, a Victorian seaside town. For example, John Walters:
I always understood that the journey from Melbourne to Mornington is (at least partially) what the song is about.
That's a coincidence. It's no more about Mornington, Oz than it is about Mornington Crescent (of BBC "I'm Sorry I Haven't A Clue" fame). It's an American song by a California writer who never set foot in Australia. "Morningtown" is an idea: the land of the new day after a long journey through the night.]
Shortly after the Seekers' hit single, there was a spirited recording made by Stan Butcher, His Birds and Brass. The LP cover featured a representative of both the brass and the birds, although it's the bird that registers. On "Morningtown Ride", the brass cheep out the first phrase very perkily, and Stan's birds respond with "Dup-dup-dur-dur-dup". You only have to play the opening bars and two generations of British children will instantly recognize it as the theme to the BBC's "Junior Choice" with Ed Stewart. Stewpot died last month, after playing "Morningtown Ride" one last time on the special Christmas edition of "Junior Choice". (If you'd like to hear Stan, His Birds and Brass once more for old times' sake, Anneka Rice hosted a tribute to Ed on Radio 2 a couple of weeks back.)
For seasonal telly Down Under, the Seekers occasionally offer a Christmas version - a rather awkward mash-up of nocturnal mythology that makes Morningtown less special. Malvina Reynolds recorded the song herself in 1970, but she was not a distinguished performer even of her own work. Brahms' Lullaby is more interesting musically but Mrs Reynolds has the edge lyrically: This lullaby doesn't simply instruct you to go to sleep, but presents it as a great night-long adventure. The tune is good enough, a bit of a round-trip train journey in itself, climbing up the hill to "...sleepy noise" in the first four bars and then back down to "girls and boys" at the station in the second four bars. But it's Judith Durham's golden voice and Athol, Bruce and Keith's harmonies that seem to conjure within that one word "Morningtown" a whole world of anticipated magic. Had the song been written by, say, Irving Berlin, Morningtown would have been just around the corner rather than "many miles away". And somehow the track lengthens across the horizon as the song goes on:
Somewhere there is sunshine
Somewhere there is day
Somewhere there is Morningtown...
Professor Charles Smith of Western Kentucky University observed:
It is difficult to dismiss this work as 'just another children's song': it has a bit too much backbone. Notice in particular how Malvina concludes the song with the rather sobering lines: 'Somewhere there is sunshine, somewhere there is day, somewhere there is Morningtown, many miles away.' Surely the deliberate use of the word 'somewhere' here - three times, where it is absent in the earlier verses - does not help allay fears there might be storms to weather before the nirvanic destination (i.e., 'Morningtown') is finally achieved..? From the perspective of her many years Malvina knew as well as anyone that 'sunshine' and 'day' are not givens in the voyage of life, they are earned. And yet the song seems hopeful. In the end it may indeed send a message that is - to a child anyway - warm and comforting, but we who sing this song to our children no longer find ourselves in this blissful place...
As Johnny Mercer, who knew a thing or two about this territory, wrote a few years after "Morningtown Ride":
The Days of Wine and Roses
Laugh and run away
Like a child at play
Through a meadow land
Toward a closing door
A door marked 'Nevermore'...
It's so easy to ride to Morningtown when you're seven years old, and it gets harder and harder as the decades roll by. In Australia the other day, I mentioned in response to the Foreign Minister Julie Bishop's too kind words about me that these days I trudge up to greet the sandman increasingly burdened by the gloom of our times. At a certain point, we'd all love to be spirited along the bay to wake in Morningtown. But the past, and childhood particularly, is another country:
Somewhere there is sunshine
Somewhere there is day
Somewhere there is Morningtown
Many miles away

Rockin', rollin', ridin'
Out along the bay
All bound for Morningtown
Many miles away

All bound for Morningtown
Many miles away.
Are we too late? Is that the lonesome whistle down the track? As Shakespeare almost said: To sleep, perchance to steam...
February 29, 2016
The Steyn Oz tour moves on. We had a great time in Parliament House today, where the Foreign Minister, Julie Bishop, gave me a far better introduction than I deserve. I'll be in Sydney on Tuesday. As I said last week, we always like to have a few Aussie Songs of the Week on my forays Down Under, and I'm not sure "Georgy Girl", written by two Englishmen, quite qualifies. But this one does: Ten years ago, I found myself sitting in a taxi in George Street in Sydney behind another cab bearing a big ...
| | |
| --- | --- |
| | |
Hey there, Georgy Girl Swingin' down the street so fancy free... We always like to have an Australian Song of the Week to kick off my tours Down Under, but this one isn't strictly speaking an Aussie song, in the sense that its composer and lyricist are English. On the other hand, it's indelibly associated with the biggest pop group ever to come out of the Lucky Country – and it provides the the title for the brand new biotuner about them that's enjoying its world premiere at Her Majesty's ...
A hit song by the great nephew of Queen Ranavalona III of Madagascar
Happy Australia Day to all our readers Down Under. It's actually Tuesday, which is tomorrow, but tomorrow here is probably already yesterday there, so I may be too late. I'm looking forward to seeing many of those antipodean readers next month on my Aussie tour, which kicks off on Valentine's Day in Perth. Half the dates are already sold out, so, if you haven't booked your seats yet, don't leave it too late. Details of towns, times and tickets can be found via the IPA here. We always like to ...
I've received a remarkable number of emails in the last week more or less taunting me to eschew my usual Jerome Kern and Cole Porter and pick a David Bowie number for our Song of the Week. Well, I like a challenge, and, given that the British press has been full of people with not a thing to say about Bowie saying it at great length, I figured that I might as well get a piece of the action. That said, it would be hard to beat this last word in Bowie-eulogizing from The Croydon Advertiser:
Old Coulsdon man delivered David Bowie's milk in summer of '69
A backbreaker of a blockbuster, courtesy of the company sto'
Mark remembers Natalie Cole, an unforgettable song, and an unshuttupable songwriter
In case you missed it, here's our rundown of Mark's Sinatra Century - 100 years in 100 songs: 1) IT WAS A VERY GOOD YEAR 2) THE SONG IS YOU 3) HOME ON THE RANGE 4) AFTER YOU'VE GONE 5) IT HAD TO BE YOU 6) THE ONE I LOVE (BELONGS TO SOMEBODY ELSE) 7) LOVE'S BEEN GOOD TO ME 8) STARDUST 9) MY FUNNY VALENTINE 10) WHAT IS THIS THING CALLED LOVE? 11) CHICAGO 12) THE CONTINENTAL 13) ALL OF ME 14) WHEN YOUR LOVER HAS GONE 15) NIGHT AND DAY 16) I WON'T DANCE 17) I'VE GOT YOU UNDER MY SKIN 18) SOUTH OF ...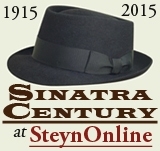 A Christmas song rewritten for Sinatra
Esther Williams and Ricardo Montalban launch the clash of civilizations
A happy 75th birthday to the most famous reindeer of all
Mark hits a new high as he takes a crack at Mariah Carey's Christmas classic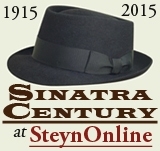 Frank Sinatra called himself a "saloon singer," because that's where he used to sing, way back when, in Jersey juke joints and roadhouses....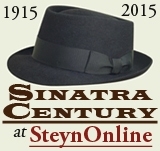 Our 99th Sinatra Century song is, after "My Way", the second most performed Sinatra song written by a Canadian...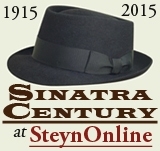 A big hit, but a tense moment in the studio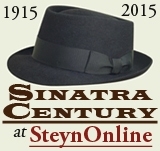 Two takes separated by four decades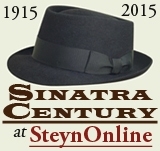 The last crowd-pleaser of a six-decade career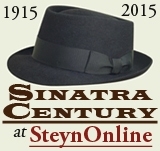 ...but not so easy to sing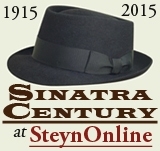 The sexy polka that made a presidential inaugural speech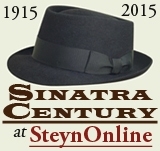 A timeless ballad from a Sinatra stalwart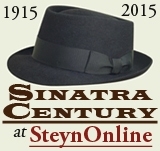 April 14th 1937: a major expansion of the American songbook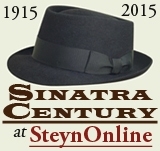 Frank sings a classic Johnny Mercer revenge song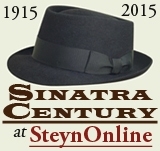 Via Frank and a couple of Londoners, a black American soul classic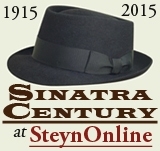 Frank and Nancy sing Sonny and Cher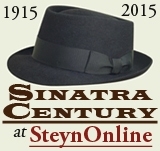 On September 19th 1979 in Los Angeles, it fell to Vinnie Falcone to conduct what would become one of the biggest Sinatra recordings of all time:
Start spreading the news...

On the first of our Sinatra Century audio specials, Frank's longtime pianist and conductor Vincent Falcone talks, among other things, about the singer's relationship with the George Harrison ballad "Something". So I thought we'd spend a little time with the song as we head into the final stretch before the big 100th birthday.

In November 1968 George Harrison and his then missus Pattie Boyd attended the recording sessions in Hollywood for Sinatra's album Cycles...

Until the mid-1960s Broadway was the biggest supplier of the most enduring standards ...and then gradually it all sputtered to a halt, and even hit shows didn't produce really popular songs. With one notable exception...

By sheer coincidence, our scheduled Sinatra song is, in fact, a French song. Indeed, by further coincidence, it belongs to a lost age of Franco-Arab cultural co-mingling...

Sinatra's highly variable results with the acme of the mid-20th century showtune

Ronald Miller's hit-makers share a hot tub...

The meaning of existence, and all that jazz...

The girl who launched a song, and the song that launched an industry

The black cat who crossed Sinatra's path

In 1960, Frank Sinatra left Capitol and founded Reprise Records because he wanted to have total artistic control. But oddly, once he'd got total artistic control, he seemed disinclined to exercise it...

By 1966 it had been over a decade since Frank Sinatra had had a Number One single. It's fine to be acclaimed as a great artist, to have big-selling albums, sell out in Vegas and on world tours, and star in Hollywood movies. But, if popular singing is what you do, there's something special about a Number One hit single...

An encore presentation of Mark's audio salute to James Bond's music man, John Barry

Sinatra Sings The Sacroiliac Songbook

The song Sinatra took with him to the grave

We've been spending a little time this Columbus Day weekend with a man who was born in Columbus, Ohio exactly a century ago - October 10th 1915 - and was at Sinatra's side for some of his most thrilling records of the Fifties and Sixties: Harry "Sweets" Edison, whose trumpet mute was a big part of Frank's Capitol sound.

When you're as good a jazz player as Edison, studio sessions aren't really what you want to do. You'd much rather be in some night spot with a handful of other guys taking a full chorus for every solo...

The master of the muted trumpet, Harry "Sweets" Edison

Sinatra in London with a classic British ballad...

A bluesy ballad Sinatra sang for 30 years

Sinatra, a meadowlark, and a rhymeless romance

A classic Sinatra moment - on record, on film, on TV.

A truly great song for the season isn't about the calendar, or the weather. It's about the seasons of life and love...

According to Johnny Mercer, "Writing music takes more talent, but writing lyrics takes more courage." What he meant was that a tune can be beguiling and melancholy and intoxicating and a lot of other vagaries, but there comes a moment when you have to sit down and get specific, and put the other half of the equation on top of those notes. A songwriter spends his life chasing the umpteenth variation of "I love you"...

In honor of Alan Bergman's 90th birthday, we've been spending a little time this weekend with some of his early hits for Sinatra. Although I myself have recorded an Alan & Marilyn Bergman number, I reluctantly concede that, vocalist-wise, they're better known for their association with Barbra Streisand ("The Way We Were", "You Don't Bring Me Flowers", etc). But long before Barbra they wrote a few songs for Frank that have a different character...

Mark celebrates Alan Bergman's birthday, and one of his biggest hits...

A Sinatra song for Labor Day

A record the songwriter didn't like, of a song the singer didn't like

Steyn on a saloon song classic

Up there where the air is rarefied: Sinatra and the soundtrack of the Jet Age...

First the tide rushes in. Then you rush out and write the song...

I've always loved songs that use magic as an image of romantic seduction...

When Frank Sinatra and Nelson Riddle found their groove in the mid-Fifties, the music just poured out. In 1956 there was so much of it: The year began with the sessions for the defining album of the early LP era - Songs For Swingin' Lovers. It ended with the sessions for Swingin' Lovers' swingin' successor, A Swingin' Affair!...

A Sinatra signature - and the birth of a new songwriting team

The strange story of a one-hit wonder

For over half a century songwriters tried to get their best work to the best singer of the best songs. The sitcom "Frasier" devoted an entire episode to the proposition, after Dad revealed that he'd written a song for Frank, "You're Such A Groovy Lady".

But in the entire history of Getting Songs to Frank there are no luckier guys than Dave Mann and Bob Hilliard...

2015 is the centenary year not only of Frank Sinatra but also of Chet Forrest, born one hundred years ago this weekend on July 31st 1915 in Brooklyn, New York.

Chet who? Well, Robert Wright and his partner George "Chet" Forrest were never exactly household names in the music biz, but they certainly worked with a lot of household names, including Rachmaninov, Tchaikovsky and Rimsky-Korsakov...

A Sinatra song that wore out a jukebox in Toms River, New Jersey...

An ode to youthful optimism

The opening of Frank Sinatra's spectacular Second Act

Frank Sinatra poses a musical question to Mitch Miller....

The early Fifties were a rough time for Sinatra - and for his voice...

We're a day away from Bastille Day, France's fĂȘte nationale, and so it seems appropriate to spend a little time with franco-Sinatra. He sang a lot of French songs over the years, most famously this:

Je me lĂšve et je te bouscule
Tu n'te réveilles pas
Comme d'habitude...

Oh, no, wait. Frank sang the English lyric:

And now the end is near
And so I face
The final curtain...

Frankie sings Frankie

Frank Loesser was a busy Hollywood lyricist who decided he was going to turn himself into a Hollywood lyricist-and-composer. Having pulled that off, he then decided to become one of Broadway's great musical dramatists to boot. His first stage musical, an adaptation of Charley's Aunt, opened in 1948, with a great score and a legendary showstopper of a song in "Once In Love With Amy". On our double-CD Frank Loesser centenary celebration (exclusively available from SteynOnline), you can hear me...

We had a Sinatra song from Canada for Dominion Day, and so we surely have to have an American Sinatra song for Independence Day...

Dominion Day looms - on Wednesday - and we always like to have a Canadian song for the national holiday. Sinatra recorded many maple-infused numbers over six decades, from "I'll Never Smile Again" and "Put Your Dreams Away", both by my fellow Torontonian Ruth Lowe, all the way to Joni Mitchell's "Both Sides Now" and, of course, Paul Anka's "My Way" (he wrote the English lyric). But, for a great national occasion, I figured what could be more Canadian than...

I like New York in June
How About You?

A Sinatra classic - as ballad, bossa or swinger

He was the saloon singer - quarter to three, set 'em up, Joe, drinkin' again and thinkin' o' when... spinning round in my brain, like the bubbles in a glass of champagne... But Sinatra liked a non-alcoholic tipple, too. He took "Tea For Two" with Dinah Shore in 1947, and in 1960 recorded "When I Take My Sugar To Tea". But he wasn't averse to something a little more caffeinated:

Way down among Brazilians
Coffee beans grow by the millions
So they've got to find those extra cups to fill...

Happy Father's Day to you and yours. I miss my dad more and more as the years go by. Our Sinatra Century would be incomplete without this particular entry:..

A one-hit wonder who never got to hear her one hit sung by anyone - from Sinatra to Molly Ringwald

On January 9th 1956, Frank Sinatra went into the not yet famous Studio A of Capitol Records at Hollywood and Vine in Los Angeles for the first of a handful of sessions for a new album...

As a companion piece to Friday's "Nancy (with the Laughing Face)", here's a Frank-and-Nancy moment from a couple of decades later...

Seventy-one years ago this Monday, June 8th, a cute little four-year-old girl was having a birthday party, and a couple of pals of her dad decided to present her with a very special gift...

Frank Sinatra rescued a lot of songs over the years, but rarely on the scale he did with this one. It was from an awe-inspiringly hideous train-wreck of a musical. But Sinatra recorded it, and made it a standard - and the only torchy ballad of lost love whose central image is of laundry...

On June 24th 1958 Nelson Riddle raised his baton, and Frank Sinatra made one of the greatest recordings of a great song...

This one stayed in Sinatra's book almost to the end, mainly because he just had so much fun singing it...

What's the connection between Frank Sinatra and Mickey Rooney?

Oh, that's easy. They were both married to Ava Gardner.

What's the connection between Frank Sinatra and William Shakespeare?

Hmm, well, lemme see...

In the pithy summation of Terry Teachout, Alec Wilder "spent his life looking for cracks to fall through". Back in the days when we still had record stores, he didn't quite fit the pop bins or the classical bins or the jazz bins. Which is why, if you're hung up on categorization, it's easier to leave him out of the store altogether...

Many years ago - when a lot of the guys who wrote the American Songbook were still around - I started asking composers and lyricists to name their all-time favorite song. This one came right at the top...

As much as "It Had To Be You" or "The Way You Look Tonight", "I'll Be Seeing You" belongs to a select group of über-standards, the ones we'll still be singing when 90 per cent of the rest have fallen away. It's one of those "our song" songs - especially if you happened to find yourself on a railway platform in the early 1940s waving a loved one off to war...

| | |
| --- | --- |
| | |

When I first got interested in the great standard songs as a teenager, I sort of assumed that they were all written by the big names - Cole Porter, Gershwin. It took a while to dawn that not everything from, say, the Thirties was concocted by a major writer for a famous Broadway score or a Fred Astaire movie. So after a while, when I heard a song I liked, I'd say, "Hey, I wonder who wrote that." Quite often, the answer would be "Matt Dennis & Tom Adair". Let's just stick to the Sinatra end of their catalogue: Who wrote "The Night We Called It A Day"? Matt Dennis & Tom Adair. Who wrote "Let's Get Away From It All"? Matt Dennis & Tom Adair. Who wrote "Violets For Your Furs"? Matt Dennis & Tom Adair. Who wrote "Angel Eyes"? Matt Dennis. Who wrote "There's No You"? Tom Adair. And who wrote..?

Before St George's Day fades for another year, I thought we'd have a Sinatra English song

"Fools Rush In" isn't thought of as a Sinatra song. If you were anywhere near a jukebox or a transistor radio in the early Sixties, you'll think of it in Ricky Nelson's bouncy-bouncy teenypop arrangement. But once upon a time the song was new, and Frank Sinatra was the guy singing it...

We began the week with Sinatra's one big hit with the Harry James band. We end it with his first big hit with the Tommy Dorsey band. This essay contains material from Mark's book A Song For The Season:

I'll Never Smile Again
Until I smile at you
I'll never laugh again
What good would it do?

It was June 1939 and the singer Louise Tobin was in her room in the Lincoln Hotel in Manhattan, packing for a gig in Boston with Bobby Hackett's band. Her hubby was napping on the bed. He was a trumpeter, name of Harry James, who'd just left Benny Goodman to put together his own orchestra. The radio was carrying a remote from some joint in New Jersey, and a male vocalist came on...

| | |
| --- | --- |
| | |

Someday someone should release an album called Classical Frank. I mentioned a couple of days ago that "Take My Love" was adapted from Brahms' Third Symphony. Aside from Brahms (whose Lullaby he also recorded), Sinatra sang over the years Anton Rubinstein, Grieg, Rachmaninov, Ravel and Borodin. That's to say, "If You Are But A Dream" (Rubinstein's Romance No 1), "I Love You" and "Strange Music" (Grieg's "Ich Liebe Dich" and "Wedding Day At Troldhaugen", respectively), "Full Moon And Empty Arms" and "I Think Of You" (both from Rachmaninov's Second Piano Concerto), "The Lamp Is Low" (Ravel's Pavane pour une infante défunte)...

2015 is not only the centenary year of Frank Sinatra but also of Billie Holiday, born April 7th 1915 in Philadelphia. We will mark the occasion formally a little later this week, and acknowledge Sinatra's admiration for Holiday. But the respect was mutual, and on Billie Holiday's last major recording the stand-out track was a Sinatra song...

When Frank Sinatra was 18, it was a very good year. Anything Goes opened at the Alvin Theatre in November 1934 and provided young Frank with a slew of Cole Porter material he would sing in his maturity:.The title song turned up in 1956 on his landmark album Songs For Swingin' Lovers; "Easy To Love" was dropped at the insistence of leading man William Gaxton, but became a highlight of Sinatra's first album at Reprise...

Sinatra sang a lot of Gershwin over the years, but if you had to name the most important "Gershwin song" in his book it would probably be "The Gal That Got Away" - words by Ira Gershwin, but music by Harold Arlen. He made a terrific record of it when the song was new, and then returned to it a quarter-century later to make it - in a medley with "It Never Entered My Mind" - the last great saloon-song sequence to be added to the Sinatra act.

But a lot of George Gershwin tunes stayed with him to the end, too...

Seventy years ago, the 14th Army under the command of General Bill Slim finally liberated Mandalay and returned it to British rule. Given the popularity of this song among British military concert parties of the time, more than a few of Slim's men must have found themselves singing:

Come you back to Mandalay
Where the old flotilla lay...

Where do you head after you've gone "South Of The Border"? Oh, that's easy...

St Patrick's Day looms, and so a Sinatra Irish confection would seem to be appropriate. Unlike Peggy Lee, he never recorded "When Irish Eyes Are Smiling"; unlike Rosie Clooney, he never recorded "Danny Boy". In the 1949 film Take Me Out To The Ball Game, he sang a song called "O'Brien To Ryan To Goldberg" - Gene Kelly, who was of Irish ancestry, played O'Brien; Jules Munshin, who was of Russian Jewish ancestry, played Goldberg; and Frank Sinatra, who was of Italian ancestry, played, er, Ryan.

But what of the great Irish songwriters..?

The night it took 22 takes...

The 1930s were the golden decade of American popular song. The great Broadway blue chips - Cole Porter, Rodgers & Hart - were hitting their stride, and, as we've explored in recent weeks, a whole generation of far lesser known names were providing great individual numbers that, thanks to Sinatra, have lasted across the decades...

What's the connection between the Muslim call to prayer and Frank Sinatra?

E A Swan?

Who's he?

Well, if you saw Frank Sinatra on stage...

A Sinatra classic, born from a happy accident at a summer resort, and a widow's grief

It's the wee small hours after Oscar Night, and so our Sinatra Centenary song is obliged to take a nod at least in the direction of the Academy Awards. Frank made a whole album of Oscar winners, with the unwieldy title of Sinatra Sings Days of Wine and Roses, Moon River, and Other Academy Award Winners...

An anthem to "the town that Billy Sunday couldn't shut down"

On March 27th 1929 the Charles B Cochran revue Wake Up And Dream opened at the London Pavilion, with a host of West End talent, including Jessie Matthews, Sonnie Hale, Tilly Losch and Douglas Byng. And at one point in the evening Britain's "Radio Sweetheart Number One", Elsie Carlisle, stepped forward and sang...

Valentine's Day looms, and, given his contribution to its popularity, we would be remiss not to include in our Sinatra Century the one great Valentine standard...

It's July 8th 1939 and the Harry James orchestra is on stage at the Roseland Ballroom in New York. They have a new singer - a 23-year old boy vocalist who signed with the band a few days earlier - and he steps to the microphone to sing...

The other day I was reading, strictly for pleasure, The Complete Lyrics Of Johnny Mercer, and in particular the work of his somewhat frustrating final years. And a handful of pages before the end you turn the page, and from one of those projects that never came to fruition are a couple of songs bearing the credit "Words and music by Johnny Mercer and Rod McKuen".

My God, what was he thinking?

We're spending this weekend with the Isham Jones/Gus Kahn end of the Sinatra songbook. Following "It Had To Be You" on Friday, here's a song Frank sang for almost half-a-century from June of 1940, as the new boy vocalist with a hit orchestra, to deep into the 1980s, as a lion in winter jumpin' all over a hard-swingin' band...

An ĂŒber-standard everyone sang before Frank

A song as old as Sinatra that he only got to in the Eighties

I received a letter, as I do from time to time and particularly since we launched this series, making the familiar complaint that I "only write about the kind of songs Frank Sinatra sings" and thereby ignore the older, vernacular American musical tradition. Well, I happen to think Frank chose pretty good songs, so why kick the habit? For example, here's a ring-a-ding-ding Sinatra classic he recorded in 1946:

Oh, give me a home where the buffalo roam
And the deer and the antelope play...

It's often said that the pop songs you like when you're 17 years old are the pop songs that stay with you your entire life. And in that respect Frank Sinatra was very fortunate: When he was 17, to pick up where we left off last week, it was a very good year. The songs in the air as a Hoboken schoolboy prepared to start his adult life were the songs he would record a quarter-century later and still be singing on stage, at Caesars' Palace and the Royal Albert Hall, another quarter-century beyond that...

Our Sinatra Song of the Century Number One

This essay is adapted from Mark's book A Song For The Season

I love the Great American Train Song. It's a genre that has the sweep and size of the nation...

After "Cat Scratch Fever", Mister Squaresville goes in search of other rockers to cover

A musical moment from The [Un]documented Mark Steyn

Last week we marked the 75th anniversary of The Wizard Of Oz, but without getting to the film's big song. It's about five minutes in, when we're still in drab, dusty, cheerless, broken-down black-&-white Kansas. Dorothy has tried to tell her folks about an unpleasant incident involving Miss Gulch, but Aunt Em advises her to "stop imagining things" and "find yourself a place where you won't get into any trouble". Dorothy wanders off, taking the injunction seriously. "Do you think there is such a ...

| | |
| --- | --- |
| | |

This month marks the 75th anniversary of one of the greatest and most enduring film musicals ever made, and one of the few to match the dramatic ambition of the best Broadway shows. The Wizard Of Oz gave us a standard song that won the Oscar that year and was potent enough to provide Eva Cassidy with a posthumous hit in the 21st century. We'll get to that next week, but for this week's Song of the Week here's one of my personal favorites from a truly marvelous score: Ding-Dong! The Witch Is ...

| | |
| --- | --- |
| | |

When this weekly feature began eight and a half years ago, our Song of the Week Number One was "San Francisco", to mark the centenary of the 1906 earthquake. But, if I'd been thinking about a Number One song in more profound terms, our Number One song would have been the song we're finally getting round to almost a decade later - because this week's song was really the Number One song for an entire school of songs. As Mel Tormé put it, when Jerome Kern composed this melody, he "invented the popular song". If your idea of a popular song is "Call Me Maybe" or "Ain't Nobody Here But Us Chickens" or "The Tennesee Waltz", Tormé's claim is a bit of a stretch. But it's not unreasonable to claim that with this tune Kern invented what we now call the American Songbook - standards that endure across the decades and can be sung and played in almost any style. It is, thus, the Number One Song, the first and most influential entry in that American Songbook...

| | |
| --- | --- |
| | |

Three hit songs from one flop Sixties musical

A few weeks back, apropos "June Is Bustin' Out All Over", I mentioned that we hadn't done a lot of "month" songs in the years we've been running this feature. Some months - mostly spring ("April Showers", "April In Paris") and fall ("September Song", "September In The Rain") - seem to lend themselves to musicalization. If "June Is Bustin' Out All Over" is about as big a hit title as the sixth month of the year has ever produced, the eighth (which looms this very week) can't even manage a title ...

What with all the Jew-hate around on the streets of Europe in recent days, I thought it would be nice to have a big Europop hit from that fleeting cultural moment when the Continentals regarded Israel not merely as a normal sovereign state but in fact a rather cool and enviable one...

Some musical advice from Mark's graduation season

The all-time great World Cup song

Steyn celebrates the song Ray Charles used to hum in the back of his car on the way to the gig - until one day his driver told him to record it.

Well, it's the beginning of June and that means June is bustin' out all over! Except that June doesn't really bust, does it..?

Happy Memorial Day to all our American readers. My youngest will be playing with the town band in the parade, and I do believe this number is on the song list. This essay is adapted from my book A Song For The Season...

Ninety years ago this Thursday a baby boy was born in Paris ...well, that was the first unexpected plot twist. He was supposed to be born in America...

Four decades ago, "Waterloo" hit Number One in the British charts, and the four Swedes never looked back, except to check whether their hot pants had split...

Mark explores the art of the cigarette song

One of the biggest pop standards of the 20th century celebrates its 90th birthday this month. Exactly nine decades ago - April 21st 1924 - a new musical comedy opened in Chicago on its pre-Broadway tour. The plot was the usual fluff - three couples in Atlantic City, complications ensue, etc. It should have been a breeze, but it wasn't going well...

Six decades ago - April 12th 1954 - a chubby-faced kiss-curled man pushing 30 with a backing group named after a theory published in Synopsis Astronomia Cometicae in 1705 went into the recording studio at the Pythian Temple on West 70th Street in New York and sang a song written by a man born in the 19th century...

A Rodgers & Hart classic - after three false starts...

The 50th anniversary of the Beatles' only showtune

Shirley Temple - singer, dancer, actress, and rock'n'roller

A song for Groundhog Day?

This column comes by way of request from several readers, ever since the demise of Cecil the Lion hit the front pages. Here is the story of the biggest hit ever to come out of Africa - and why its author never reaped the benefits: In the jungle, the mighty jungle The Lion Sleeps Tonight... A third of a century ago, "The Lion Sleeps Tonight" got to Number One in Britain for Tight Fit. Can't quite place Tight Fit? It sounds like a vaguely parodic name for a boy band, but in fact they were a coed ...

Number One in January 1934 ...and January 1959

Happy New Year with one of Mark's favorite songs for the season

Mark tells the story behind "his" Christmas song, and presents an audio special celebrating the man who wrote it...

As the years go by I grow less and less interested in grassy knolls and all the rest, but I am struck by one genuine, non-conspiracy-theorist feature of November 22nd 1963...

2015 is Frank Sinatra's centenary year, which necessitates a few modifications to SteynOnline's music, film and entertainment coverage. Our official observances commence tomorrow when our Song of the Week department becomes a Song of the Semi-Week in order to squeeze in 100 Sinatra songs of the century between now and December. Several other folk seem to have opted for this approach, too - our old friend the Pundette has launched a dedicated Sinatra Centenary site for that very purpose - so we ...

For Bastille Day it seemed appropriate to have a French number for our Song of the Week. Unfortunately, this one's British, but it does have an accordion...

How a psychedelic anthem from the summer of love became an easy-listening blockbuster

A day late for Cinco de Mayo, here's Steyn's Song of the Week: the most successful composition by Mexico's first successful female composer.

~and don't forget, if you like Mark's Song of the Week essays, some of his most requested are collected in his book A Song For The Season - including many songs for national days, from "America The Beautiful" to "Waltzing Matilda". You can order your personally autographed copy exclusively from the SteynOnline bookstore.

April 29th apparently marks the anniversary of the launch of the Islamic conquest of the Iberian peninsula in the year 711. So I thought it would be fun to have a suitably Islamo-dominant number for our Song of the Week.

~and don't forget, some of Mark's most popular Song of the Week essays are collected in his book A Song For The Season. You can order your personally autographed copy exclusively from the SteynOnline bookstore.

Happy Easter and Happy Passover to our readers around the world. We moved our Saturday movie night to Good Friday for Mel Gibson's blockbuster The Passion Of The Christ. So, for the weekend proper, here's a special podcast, audiophonically adapted from an essay that appears in Mark's book A Song For The Season. Mark traces the story of Irving Berlin's "Easter Parade", from its obscure origins as a First World War morale booster to its re-emergence a generation later as the American Songbook's ...